Import your content from a Miro board so you can start working within the most advanced idea & innovation management software available. 
Important Note:
This feature is currently in Beta development.
Please speak to your Customer Success Manager if you would like to enable this functionality.
Exporting from Miro board:
Open the Miro board you want to export.
From the toolbar at the top left of the page, select the option to

 

Export this board.
Choose

 

Save as PDF.
Drag the handles on the canvas to include content you want to export. You may need to zoom out to capture the entire board.
Choose

 

Save as PDF, option again.
Choose the "Best quality" option
Click

 

Export. Your frame will save to your computer as a PDF file.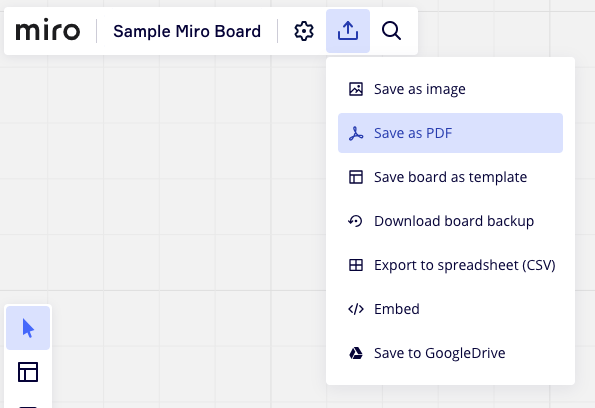 Importing to Whiteboard (BETA):
Navigate to the Whiteboard where you wish to import the PDF. You can use an existing board or start a new one.
Drag your PDF file from it location, directly onto your Whiteboard.
The import process will automatically start and complete