Within Brightidea, we allow all our customers to be fully customizable with their systems - especially when it comes to the terminology and text you decide to use.  We give our administrators many options to allow extensive customization in regards to the labels in all parts of Brightidea.  Please review all options to below to get started on editing labels. 
Option 1 - Label Edit via the UI
Label edit mode allows the administrator to change 'labels' in their site.
Please conduct the following:

It is located under "Enable Widget Setup Mode", gear menu on the page.

Enabling Label Edit Mode is also found on the bottom left of each page when logged in as a Site Administrator in Site, or System Administrator in Enterprise: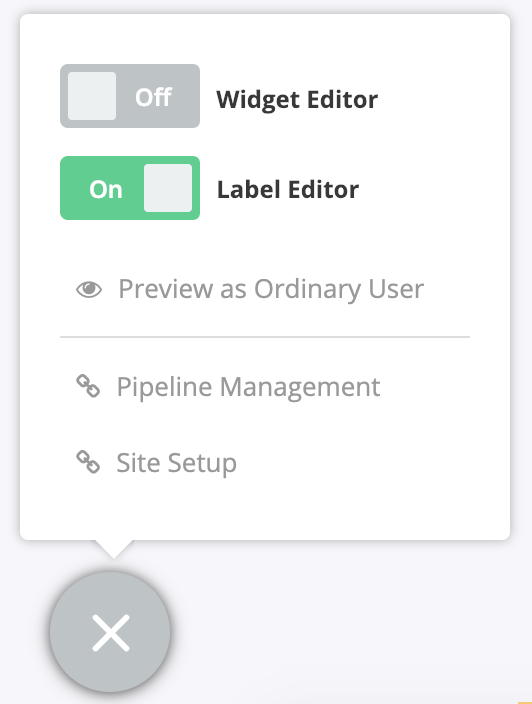 Navigate back to the page to edit a label on.  
Hover over the orange highlighted text to change the desired label.  
Once hovered over, enter in the new text and select "Save" to update it.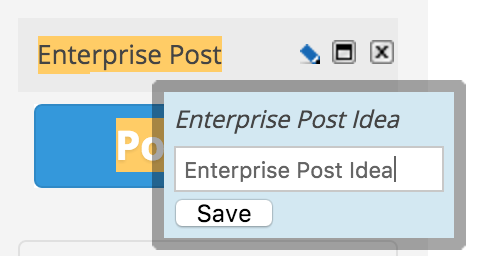 Navigate back to Site or Enterprise Setup and disable "Label Mode" after you are done.
Please Note: 

The "Setup" link in login widget cannot be changed as only admins can see this part. We remove this portion to be edited as it wont effect end users.
All label editing accepts foreign characters (i.e. characters in Spanish, Portuguese, Russian, and more) however they do not accept special characters like single quotes.
Option 2 - Label Edit via Enterprise / Site Setup
Please Note: The labels are editable here in Enterprise or Site Setup as some labels are hard to reach within the normal UI of Brightidea - we felt it would be easier for administrators to do it in one unified area
The Site or System administrator will find a new section under Site or Enterprise Setup > Site > Labels Import/Export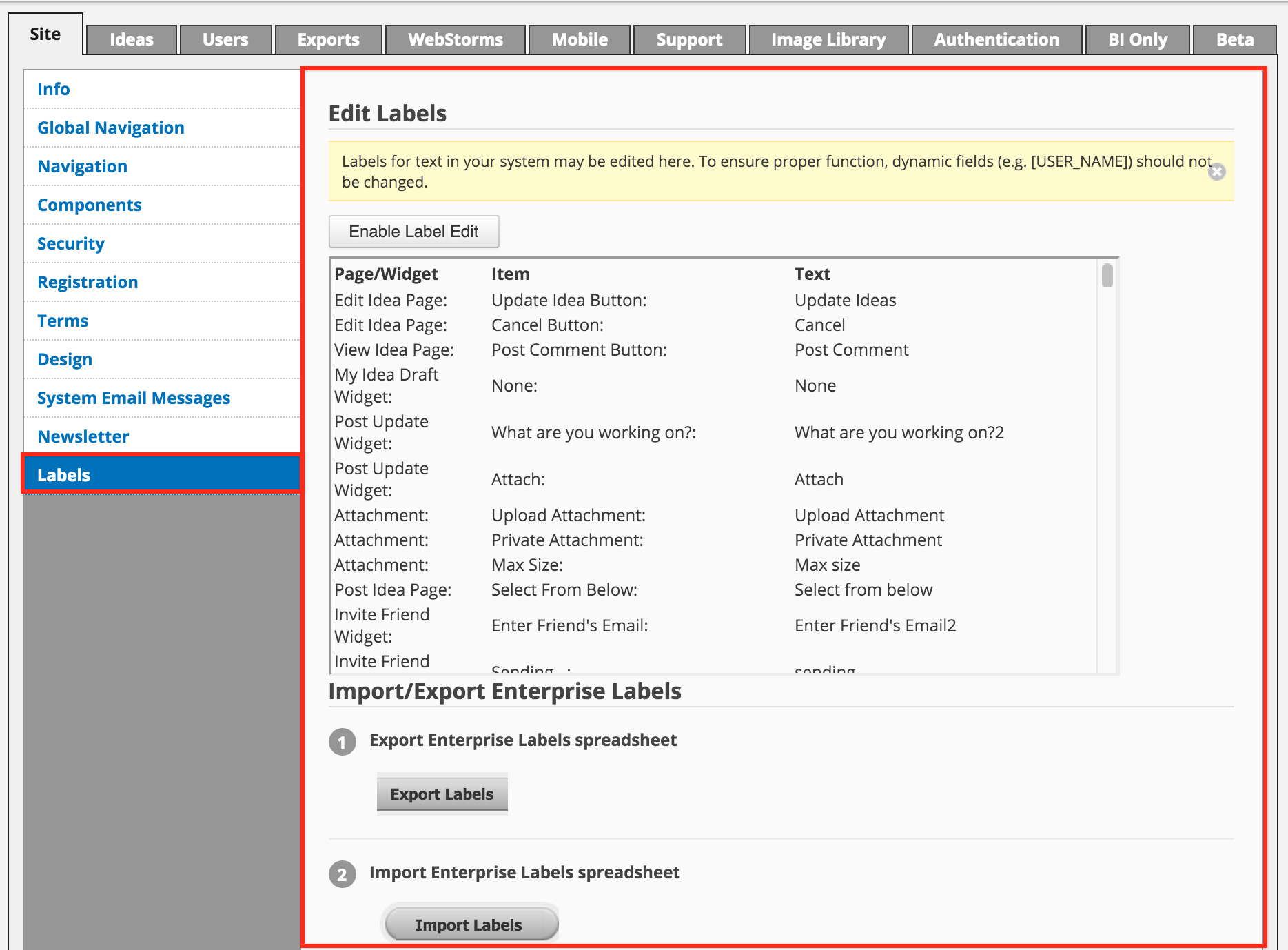 Here, the administrator can select "Enable Label Edit"
Once that is selected, the page will refresh and will allow the administrator to edit labels on the corresponding level (either Site or Enterprise)

To do so - make sure Label Edit is enabled, hover over the highlighted orange labels
Enter in the label to overwrite - the administrator must select "Save" on each label

Once finished editing all labels, select "Disable Label Edit"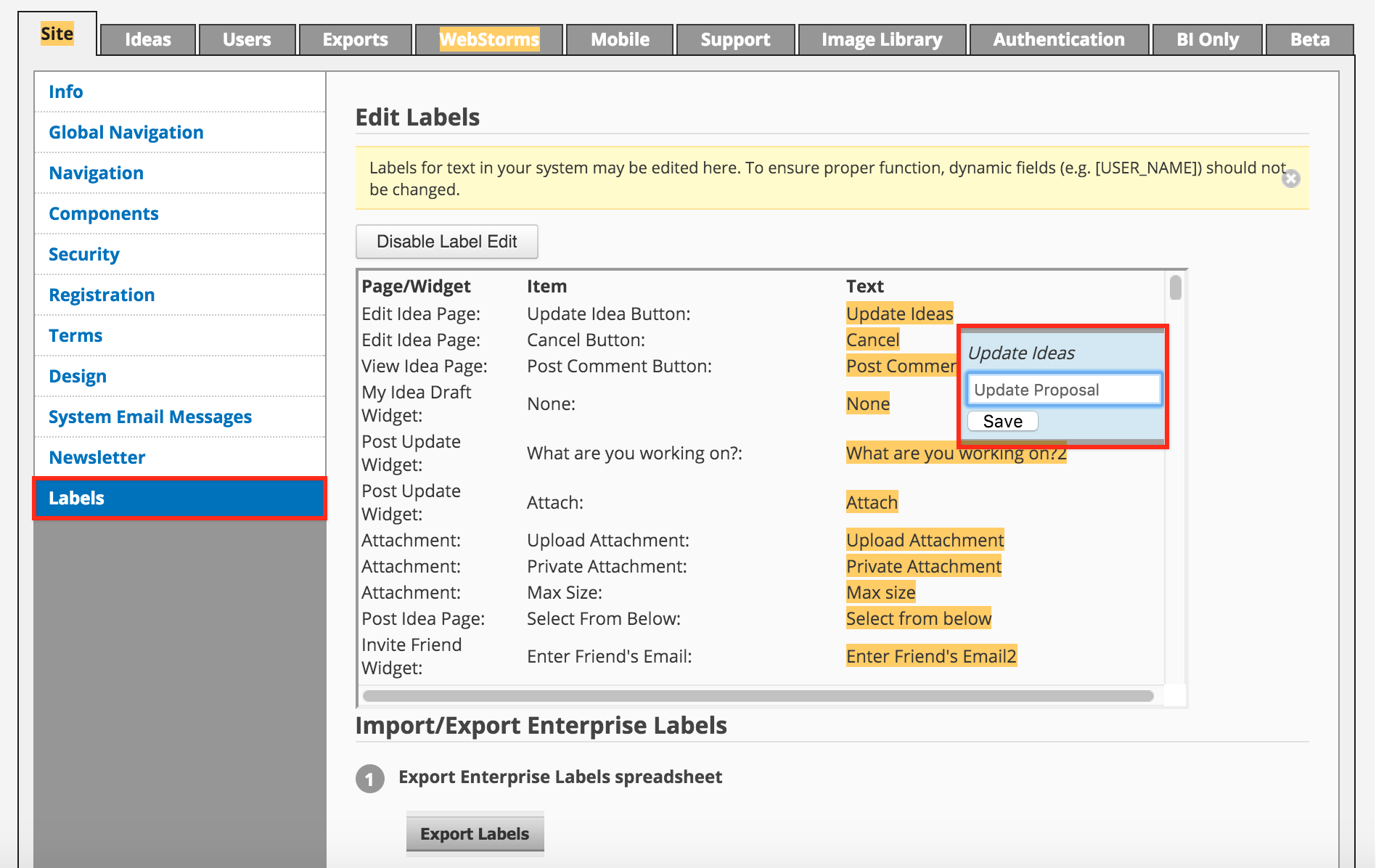 Option 3 - Label Export & Import
With this feature the administrator has the ability to import existing system labels, or export from their current system and import elsewhere.  This will definitely come in handy for customers using other languages and key terminology for Brightidea elements.
Navigate to the "Labels" section within Enterprise or Site Setup > Site
Scroll down and Selecting "Export Labels" will export the current Site or Enterprise label .xls file.
When the system exports labels in the system  - it does so in Excel format with foreign character support (UTF-8)
Exports contain the following information:

key: defines the label type (e.g. LBL_ENT_WIDGET_ALL_STATS)
value: defines the name of the label (e.g. All Stats (Cross-Site)); if the administrators' label has been edited, this will show the current label
new_value: This column is where the administrator may input new labels; once the Excel file is imported, labels for the new_value column will replace original labels
The administrator can then either update the exported list or import an existing labels spreadsheet by selecting "Import Labels"
The administrator selects their file and will receive an "Uploading File..." processing icon                                                                 
Once successful, the system will prompt the admin with a "Labels uploaded successfully!" pop up verification.
All pre-existing labels will then be converted to the labels defined in the csv spreadsheet uploaded.
Important Note: 
Not everything within Brightidea is a label that can be edited/translated at this time.

Items that are

not

highlighted in yellow when label edit mode is enabled usually can't be changed.

This point is very important if you are attempting to do a complete translation to another language, it will not be possible to translate 100% all of the terms used in Brightidea.

Note: inputting special non-text characters into labels can cause issues and things to break, e.g. single quotes.

Please make sure to only input letters or numbers if making any label changes.

As an alternetive, Google translation services can be used (e.g. plugin in Chrome) to translate a site on the user's side.