Everything You Need to Know About Site Level Submission 'Statuses'!

Innovation Program Managers & Challenge Administrators can use statuses to filter which submissions you want to review or get a consensus of how ideas are progressing. It also helps the administrator keep track of new submissions and the current cycle or process the organization may be running.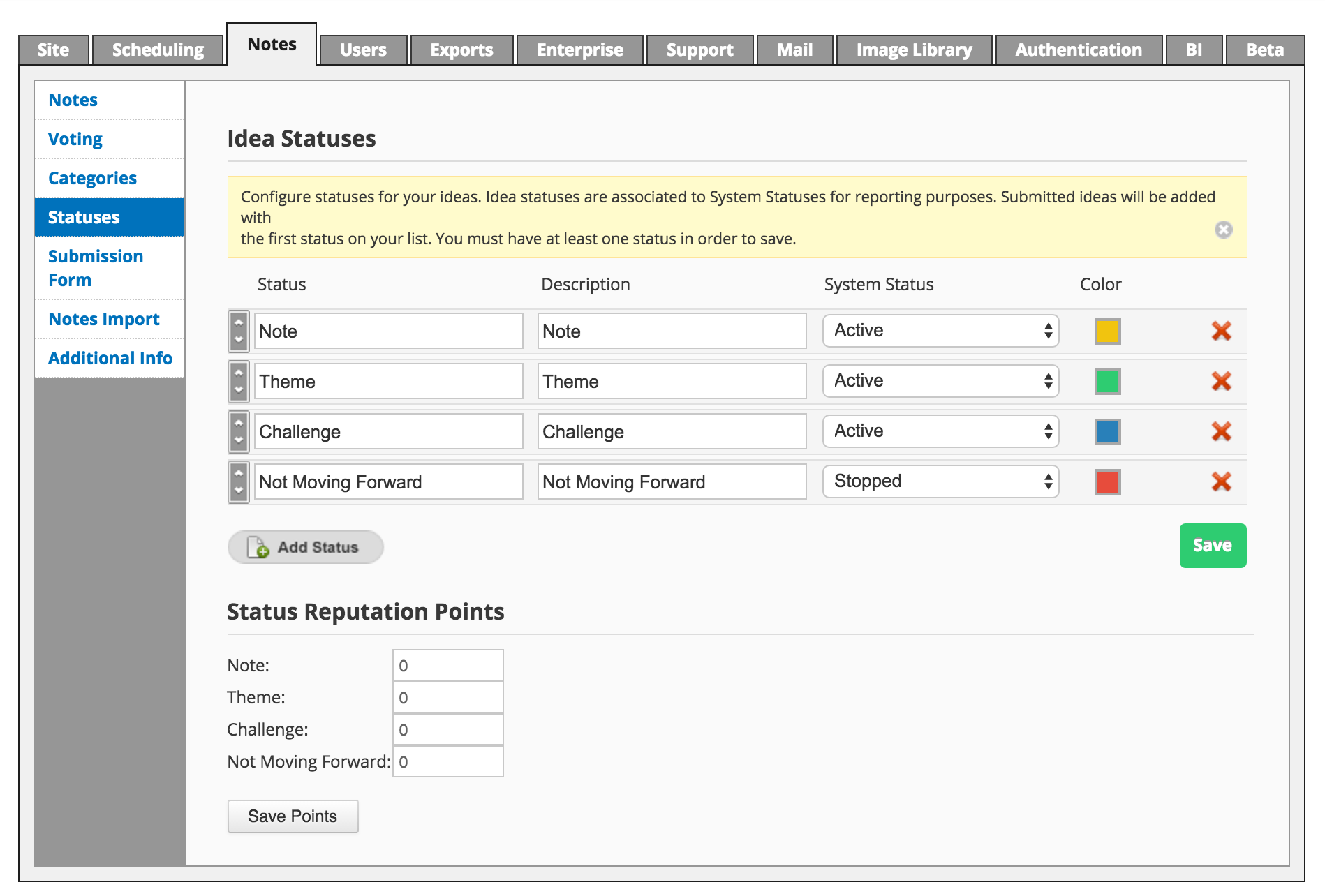 Table of Contents:
Getting Started
By default Enterprise level statuses are enabled and used throughout your Brightidea site.  
However, the administrator(s) have the option of enabling Challenge/Site specific submission 'Statuses'  

To enable Site level status navigate to

 

Site Setup > Ideas Tab > Statuses or under the Ideas > Ideas tab: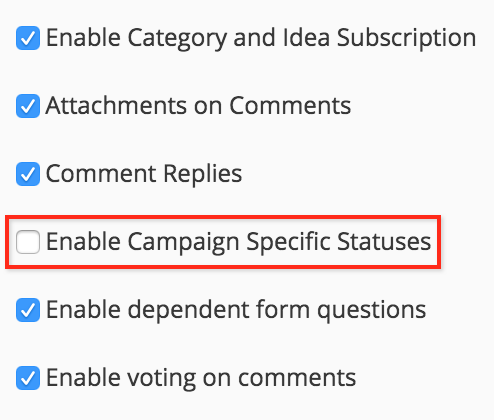 Site Specific Statuses is irreversible; it cannot be undone if you choose to enable this option!
Adding a New Status
To add a new status, select the "Add Status" button at the bottom.

A new row will appear at the bottom that allows the Administrator to enter the status name, description and system status mapping.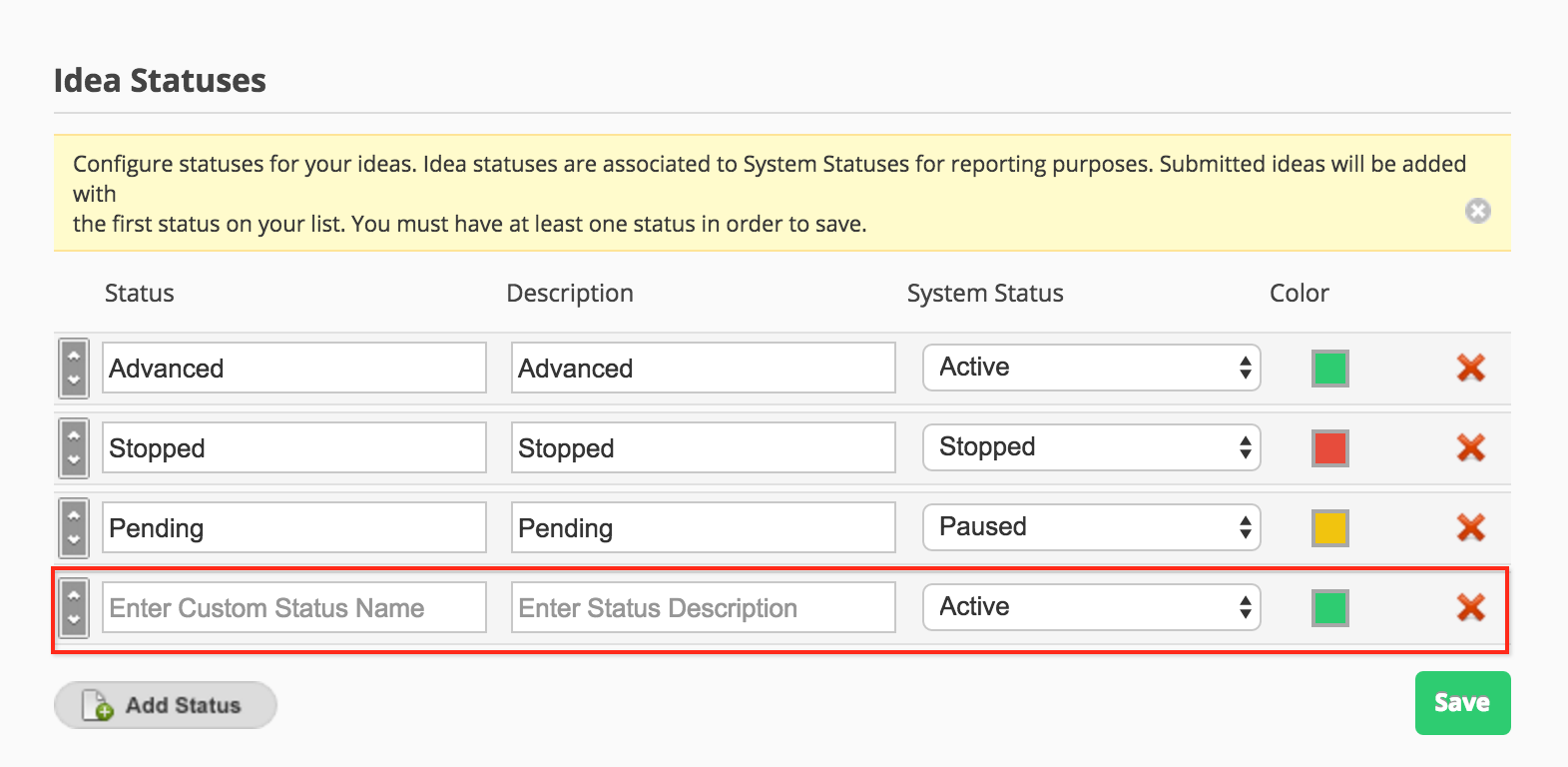 Custom Status Names

This field is what will appear in the Enterprise/Site/Pipeline interface when users view or change the idea status.

Status Description

This is the user defined status description which will ultimately be displayed at various locations through the UI

Note

: Currently this field is not used throughout the software however there are plans to incorporate this in future feature. For the time being, we recommend using the same name for status description as for status name.

System Status

The system status mapping allows quick and efficient tracking of ideas throughout the entire Brightidea Platform.

 More information on this

here

!

For every entered status, please select one of the available system status options from the drop-down:

Active

- Idea(s) are still active and are moving through the Pipeline.

Paused

- Paused can be used for ideas that have not yet been decided upon.

Complete

- Idea(s) which have moved through the Pipeline are marked complete.

Stopped

- The stopped status means the idea(s) are stopped and will no longer be considered.

Hand-off

- Ideas which have moved through the Pipeline and are 'handed-off' to business unit for implementation.

Status Color

The status color allows you to define a color of the selected status which will then display in the Pipeline Step view.

Setting different colors for each status will help you quickly identity which idea(s) are in which status.

Important Note:

the status colors will only work with our

Idea Boards

and

View Idea 2.0

pages, they do not work with the old Idea List or View 1.0 pages!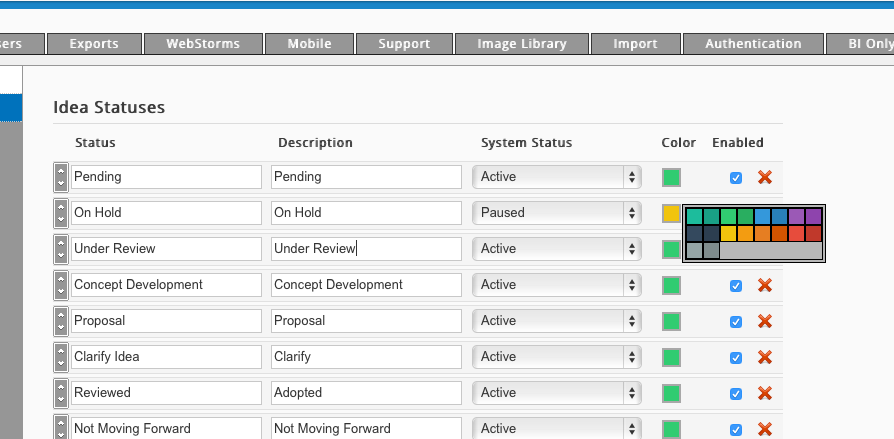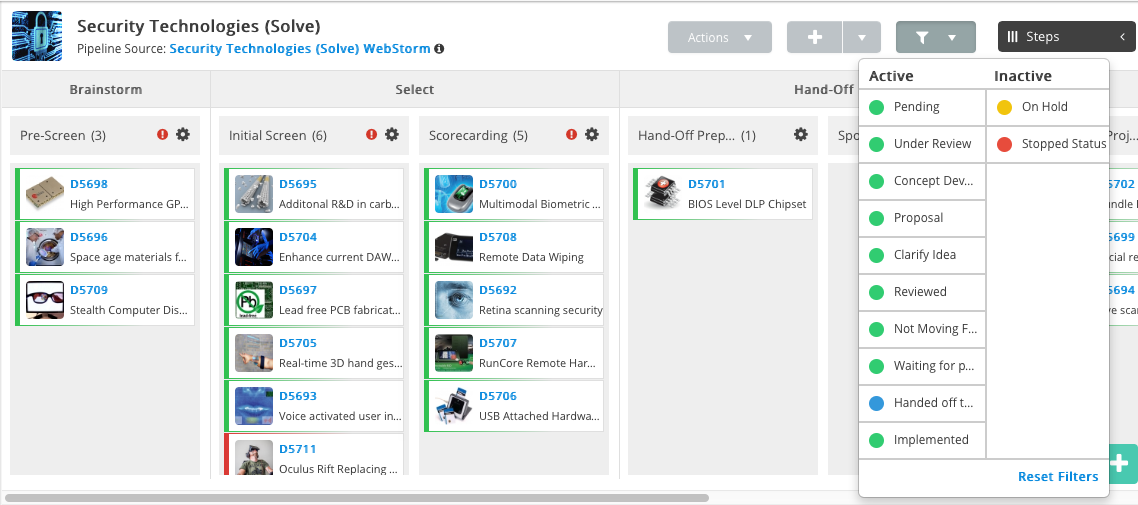 When finished entering new statuses click "Save." 
Removing a Status
Select "Delete" next to the applicable name.  
The administrator will always have one status that cannot be deleted. One status must always be present in the Site.
Warning: Please refrain from deleting statuses unless absolutely necessary, please speak to your Brightidea representative before doing so.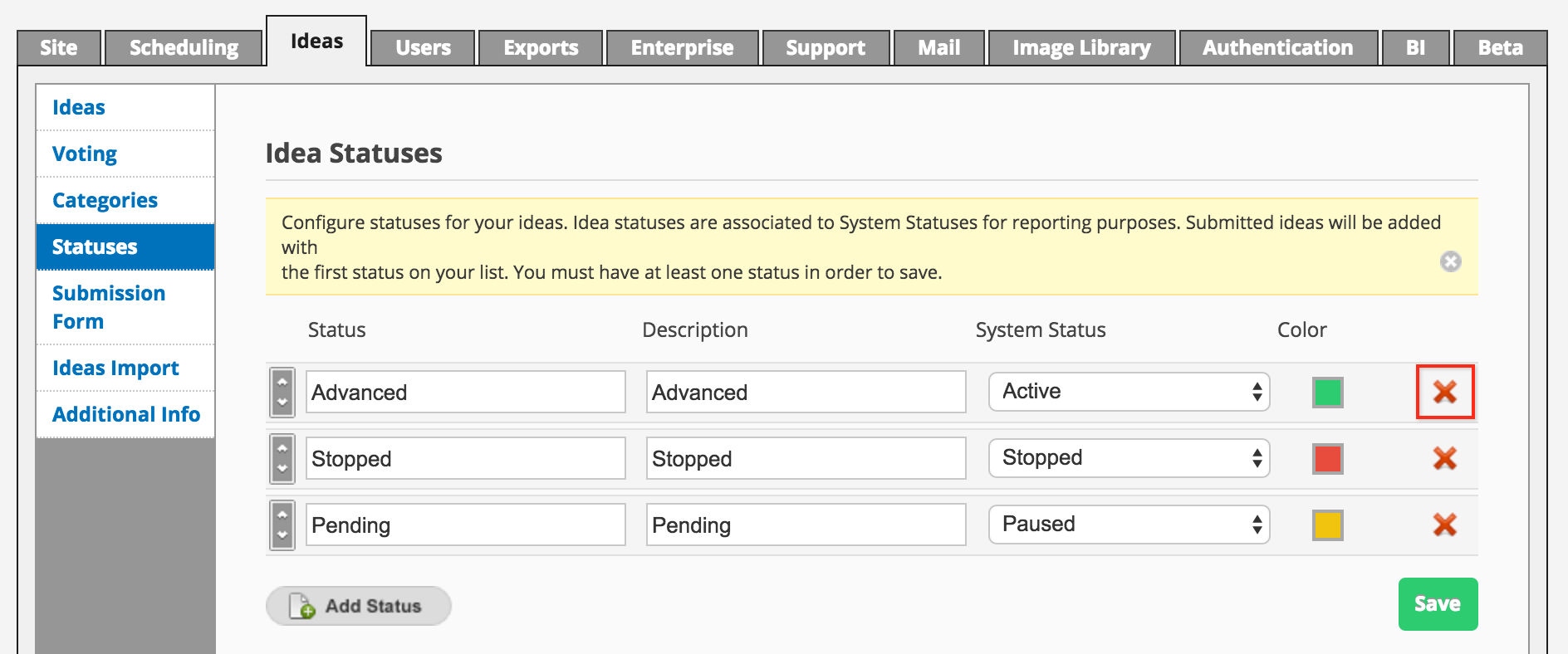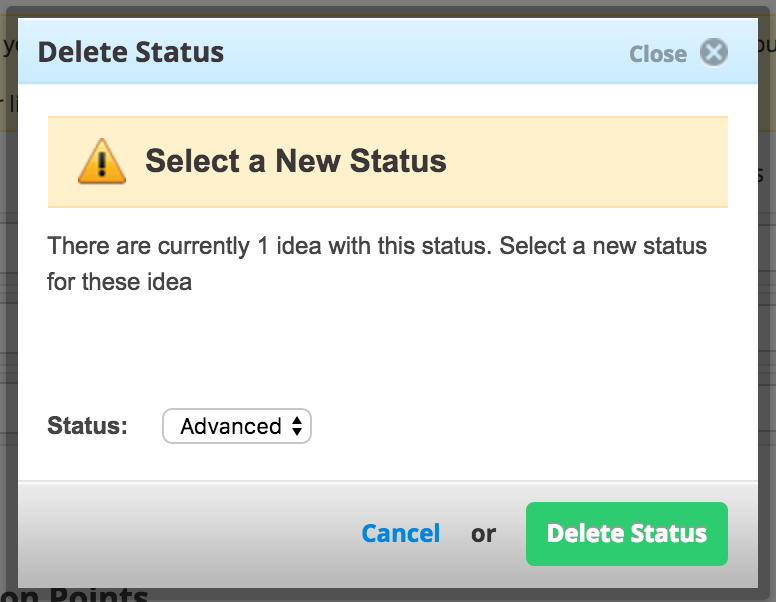 Editing a Status 
The administrator can always edit any existing statuses to a new name, description and system status. It will reflect with all ideas in that campaign. 
To modify an existing status, navigation to the appropriate status row and freely modify the text in either the status name or description name fields or select a new "System Status" mapping from the drop-down menu: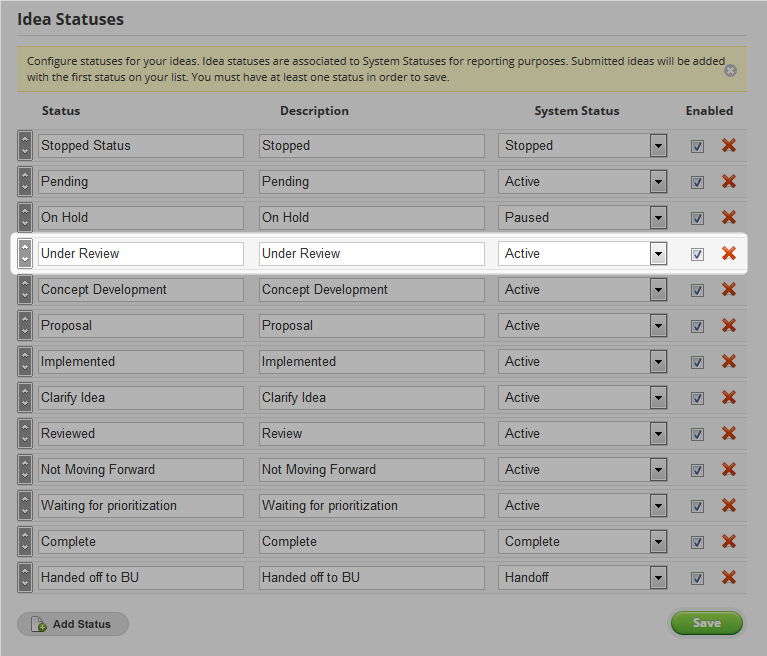 Changing Order of Statuses
The administrator can also change the order by clicking and dragging the bars in whichever order you select.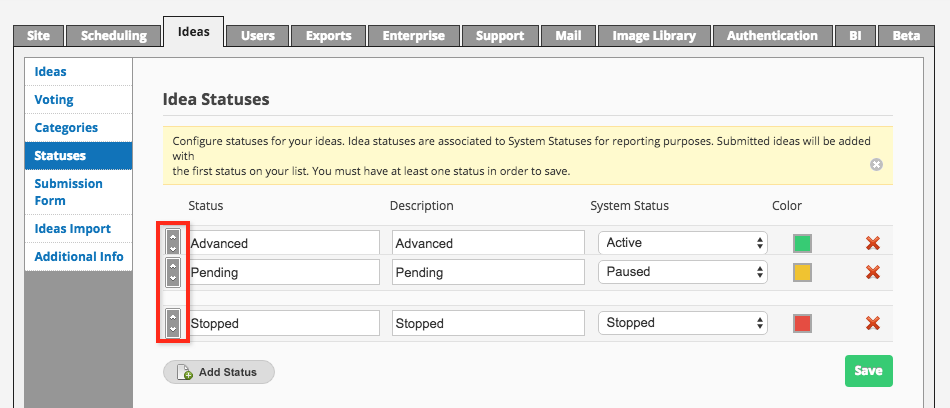 Reputation Point Allocation when Changing Status
We now have the capability to give reputation points to users if their idea status is changed to something specific.  

In 

Site Setup > Ideas > Statuses, 

the administrator will see a section for 'Status Reputation Points:

To read more about reputation points, refer to this

article

. 
Note that if the statuses are configured on the Enterprise level, there will be link to Enterprise to view, as well as show all statuses.
Each status can be given points (i.e. any idea moving forward might garner users to get extra points)  The administrator can add those allotments and select 'Save Changes'!
If any idea is changed to a specific status, and that has a point allotment, that idea's submitter will receive those reputation points. 
These points will be reflected in:
Changing Idea Status via Rules Engine
Using automated custom rules, the administrator can trigger an automatic status change based on specific conditions.
Read more about how to do conduct that, here!
Idea Status Change Email Templates
Please note respective emails that will be triggered when an idea's status is changed.

Also note that you must configure your email template for your reason on the Site level

The administrator can configure both Idea Status Change email templates (one for subscribers /contributors, one for the submitter)

Please add the dynamic field of

'Comment'

to the template to have the reason be reflected in the notification sent.