Brightidea allows for Submissions to be submitted by a Team of Users. All Team members will be treated as Submitters and will all have Submitter permissions.
These permissions include Editing a Submission, being notified when a Comment is made, etc.
Admins can enable Team Submission under Site Setup > Ideas > Ideas:

There is a sub-option that Admins can enable as well. With this option enabled, Admins can have all Submitters get points (for both Post Idea and Idea promotion) or the Team Leader will get the points (whoever sets up the team and submits the idea).
Once enabled, any existing User can be added to the Submission Team (Note: they must have an existing account in your Brightidea). When the User posts a Submission - they will see an area to add Team members within the Submission Form...

... or through the View Submission page after the Submission has been created. The Submission Team can be viewed via the Idea Team widget.
Note: There is no limit on the number of Users that can be part of the Submission Team, but if a Team member is added to the Submission after the Submission is created, they will not receive any email notifications or points.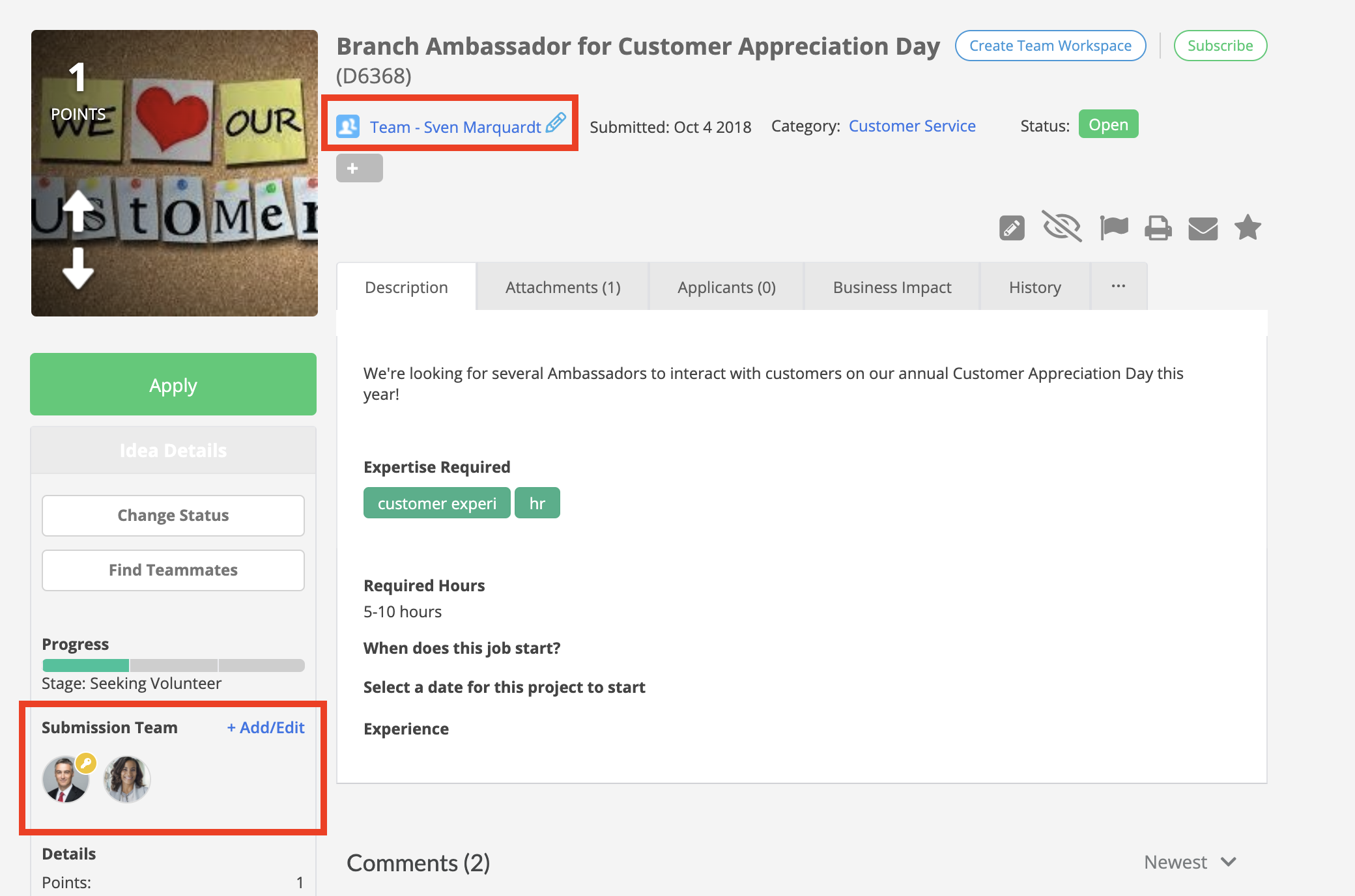 Important Notes:
Administrators cannot use pre-existing Teams (that have already submitted ideas). Each Team will need to be created for each Submission
The Team name will show up in all Submission information, including reports, and Site Admin/Pipeline interface.
Administrators can not import Submissions as a 'Team Submissions'.
In regards to seeing ideas in history or profiles:

Let's say Team One with User A, User B, and User C submit an idea. User A is the leader of the team.
If User B and User C and go to their profile, they will not see that idea listed on my idea history.
The idea can only have one owner in regards to the records. The points are distributed evenly however.