Tags within Brightidea allow innovation programs to thrive as it permits further customization across many system components.  In this article, we'll discuss where users and administrators will experience tags, and how to use them across the entire Brightidea system.  Let's get started!

Table of Contents
Idea Tags
Also known as keywords, tags allow the admins' user community to self-categorize their ideas.  

When submitting an idea, there is an option to add keywords/tags that will be associated. 
Adding Idea Tags
To have tags (key words) working for idea submission in an Initiative, the administrator must enable "Idea tags" under Site Setup > Ideas > Ideas > Idea Tags on the Initiative level.
To enable tags for duplicate checker - the option is is also under Site Setup > Ideas > Ideas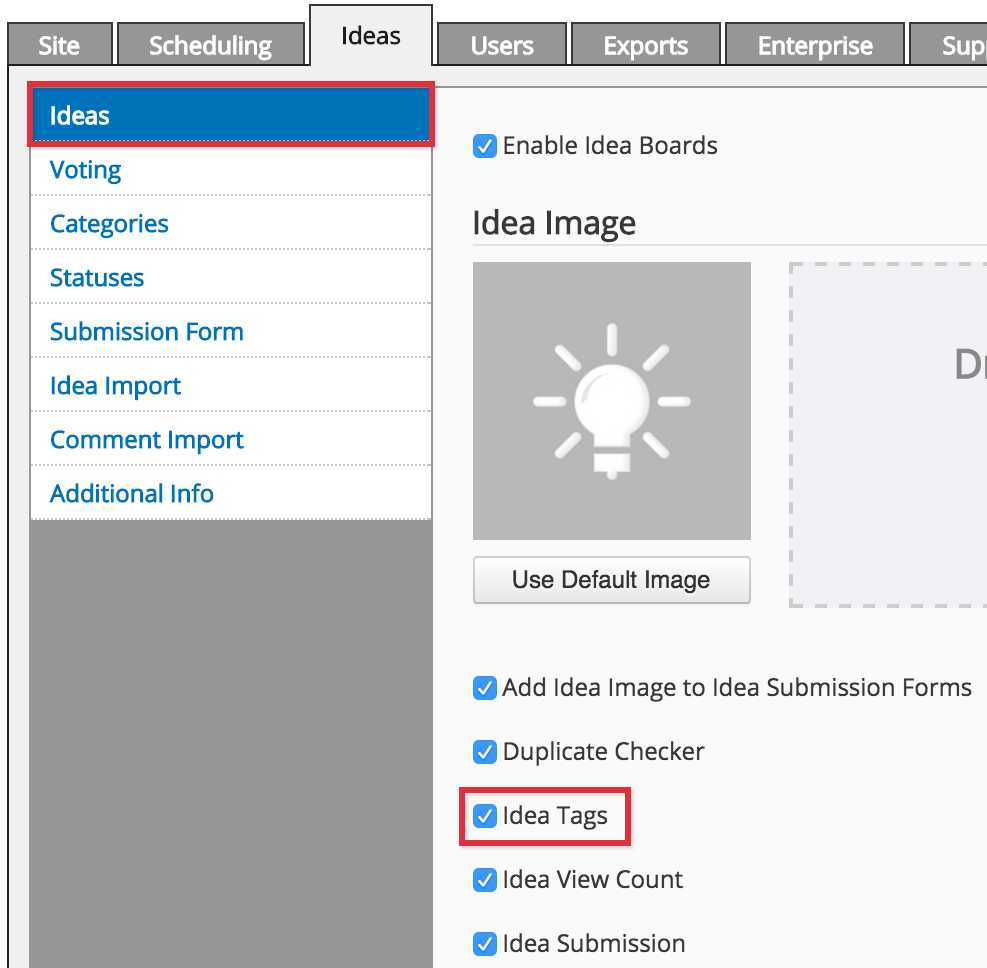 This will populate ideas based upon the tags entered when posting an idea.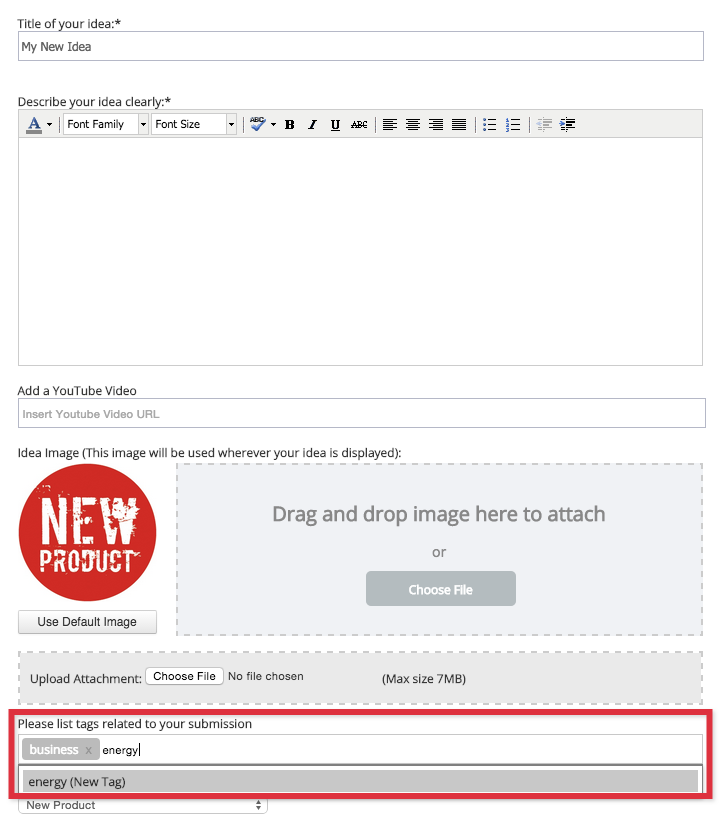 Adding Idea Tags Via Pipeline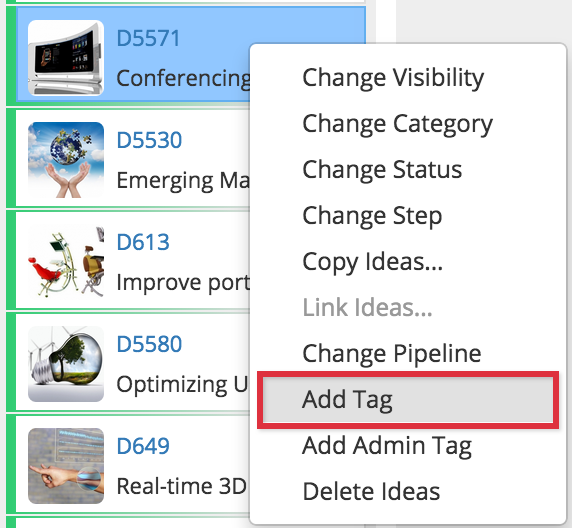 Once selected the administrator will be prompted to add tags in the pop up box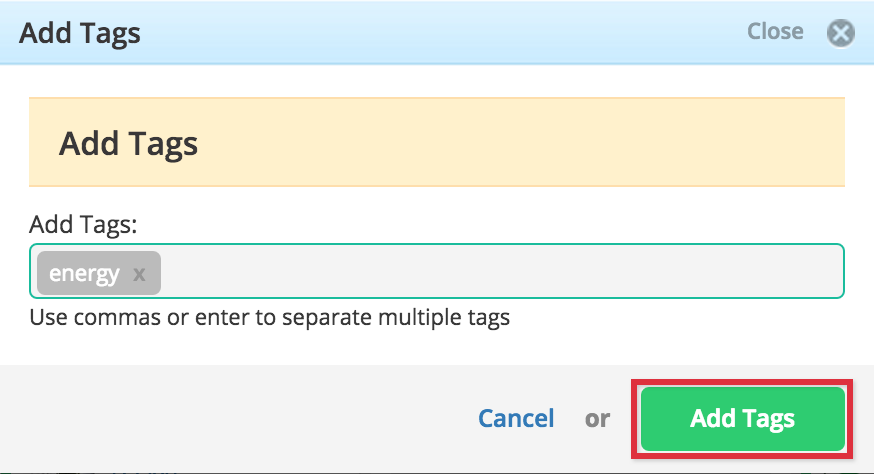 When finished click "Add Tags"
Editing Tags
As an administrator, navigate to Site Setup > Ideas > Ideas tab
Make sure the proper "idea editing" options are enabled.
Once set, the user can then go into the specific idea's page, select the associated "X" to the tag they wish to remove
Once selecting the "X" the tag is removed from the idea.

Edits to tags can be made pre & post idea submission - as long as idea editing and tags are enabled in Setup.
Searching Tags
Tags can be used to search on both Enterprise & Initiative levels.  

Searching for specific tags will return idea results. 

Learn more here around Brightidea's searching capability.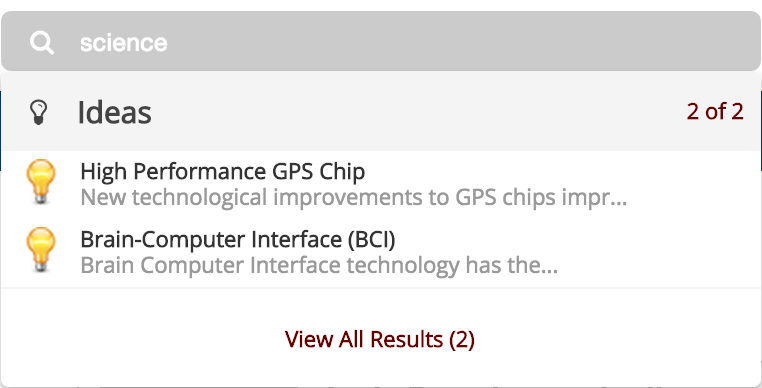 Tag Reporting
At the moment - tags are available for reporting via our Excel ideas' reports in Initiative & Enterprise setup (Ideas Report)

The Tag Followers Report is now a feature of Brightidea's System

The report can be accessed in Enterprise  Setup > Exports > Tag Followers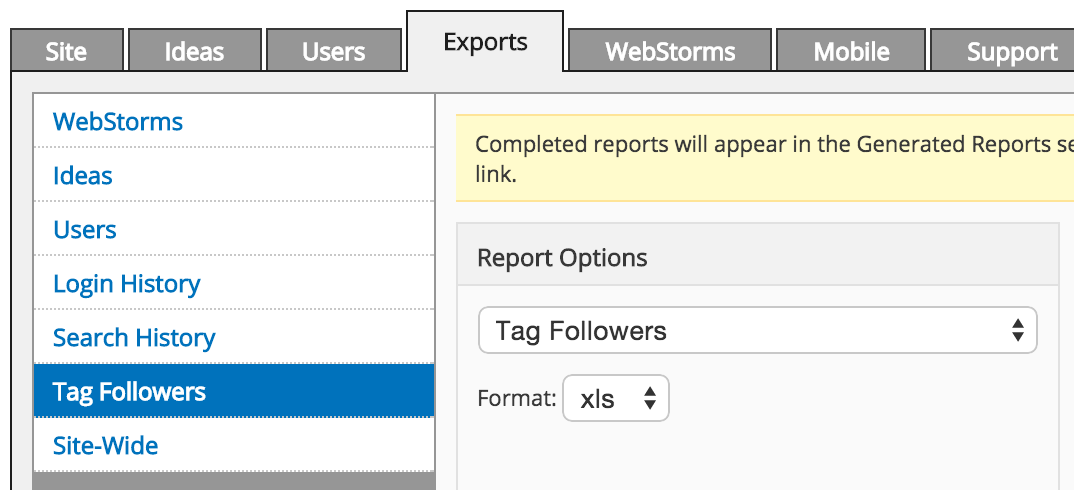 The Tag Followers Report displays the Tag, Follower, Email, and the Date the follower subscribed to the the tag.

Tags are also available via our API
Tags Widgets
The Tags widget and Mini Tag Cloud widgets display an associated list with most commonly used tags appearing in larger text and least commonly used tags in smaller text.
The Mini Tag Cloud widget will show popular tags in a block format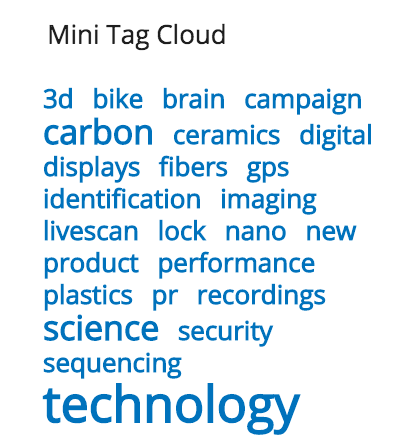 Once more ideas become submitted, the keywords will become bigger and bolder based on how many times the word is being used
The Tags widget will show a list of all tags and have a "more" link to a page where it shows the rest of the tags.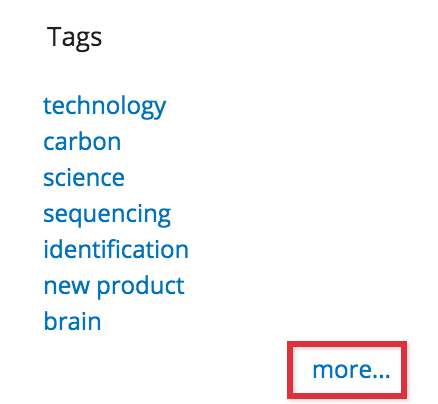 Once more ideas become submitted, the keywords will become bigger and bolder based on how many times the word is being used

Tags of ideas that are hidden will not show in the tag cloud.
If another idea that is not hidden has the same tag, only that idea will be visible on the idea view page with tag filter.
Auto-Suggest Tagging

On idea submission, the tag suggestion feature will automatically search and display tags that already exist in the WebStorm the user is submitting an idea to:

It will suggest existing tag(s) based on what user is typing to prevent duplication and encourage tag use
It also allows for multi-word tags and comma separation
This is available for both end users and administrator

E.g. User types in "timez", tag suggestion feature will automatically search for similar tags and display them in the drop-down. The user can then select the existing tag and add it to their idea.
Tag Subscription

On View Idea 2.0 page, a user is able to mouse over a tag and will display bubble text allowing the user to:

Subscribe to the tag if they are not already subscribed
Unsubscribe if they are already subscribed
View a count of the number of people subscribing to the tag

Please Note: a single tag can cross objects. As such, if a user subscribes a tag when in the context as a project, it would have the same effect as subscribing a tag in the context of an idea.

An email will be sent to the user once any ideas or projects are created that are associated with that particular tag.
The template is found under Enterprise Setup > Site > System Email Messages > WebStorm > Alert Idea Tag Subscriber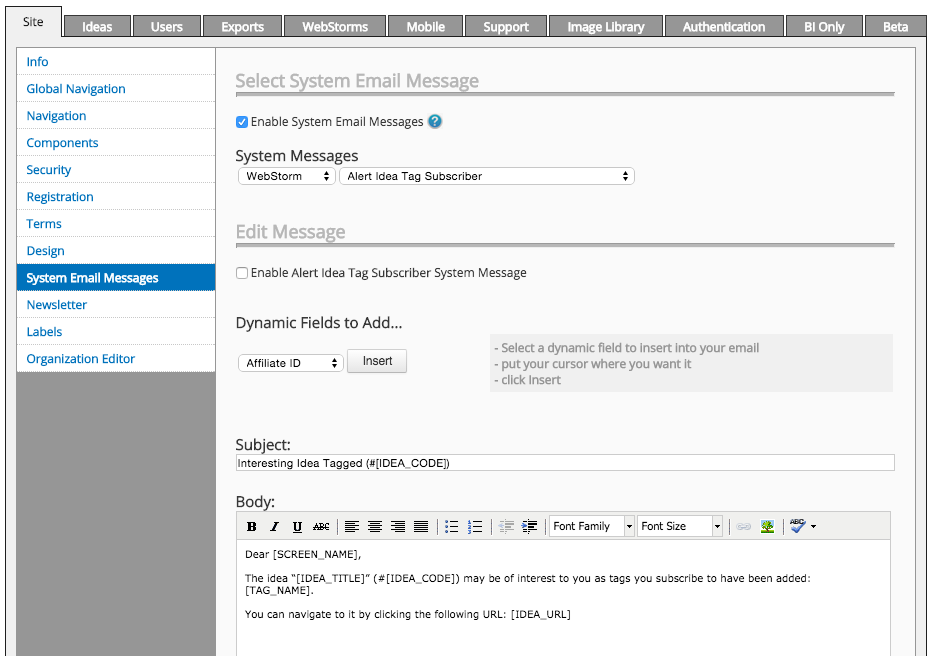 Idea Tags Automatic Subscription
This option is located on Enterprise level:  Enterprise Setup > Ideas > Info >  

When enabled, this automatically subscribes users to tags that they add to ideas when submitting -OR- any tags users add to an idea when editing an idea.

For example, if John submits or edits his idea with the tag "revenue" - all future uses of that tag in other users' ideas will trigger a notification/email to him letting him know so.

The user can opt out to unsubscribe to tag(s) at any time.
Blog Tags
Blog tags are only visible when the administrator posts a new blog, on the view idea page, tags widgets, view blog page, and Pipeline project page.
Tags are shared across the system.  Blog tags = Idea tags = Project tags.
Tags for blogs are shared for Enterprise and WebStorm throughout. 

Blog Tag Example: If User A goes to WebStorm A, post a blog with tags. Then User B goes to WebStorm B, and post a new blog, User B will see those tags.
Idea Tag Example: If User A goes to WebStorm A, post an IDEA with tags.  Then User B goes to WebStorm B, and post a new blog, User B will see those idea tags.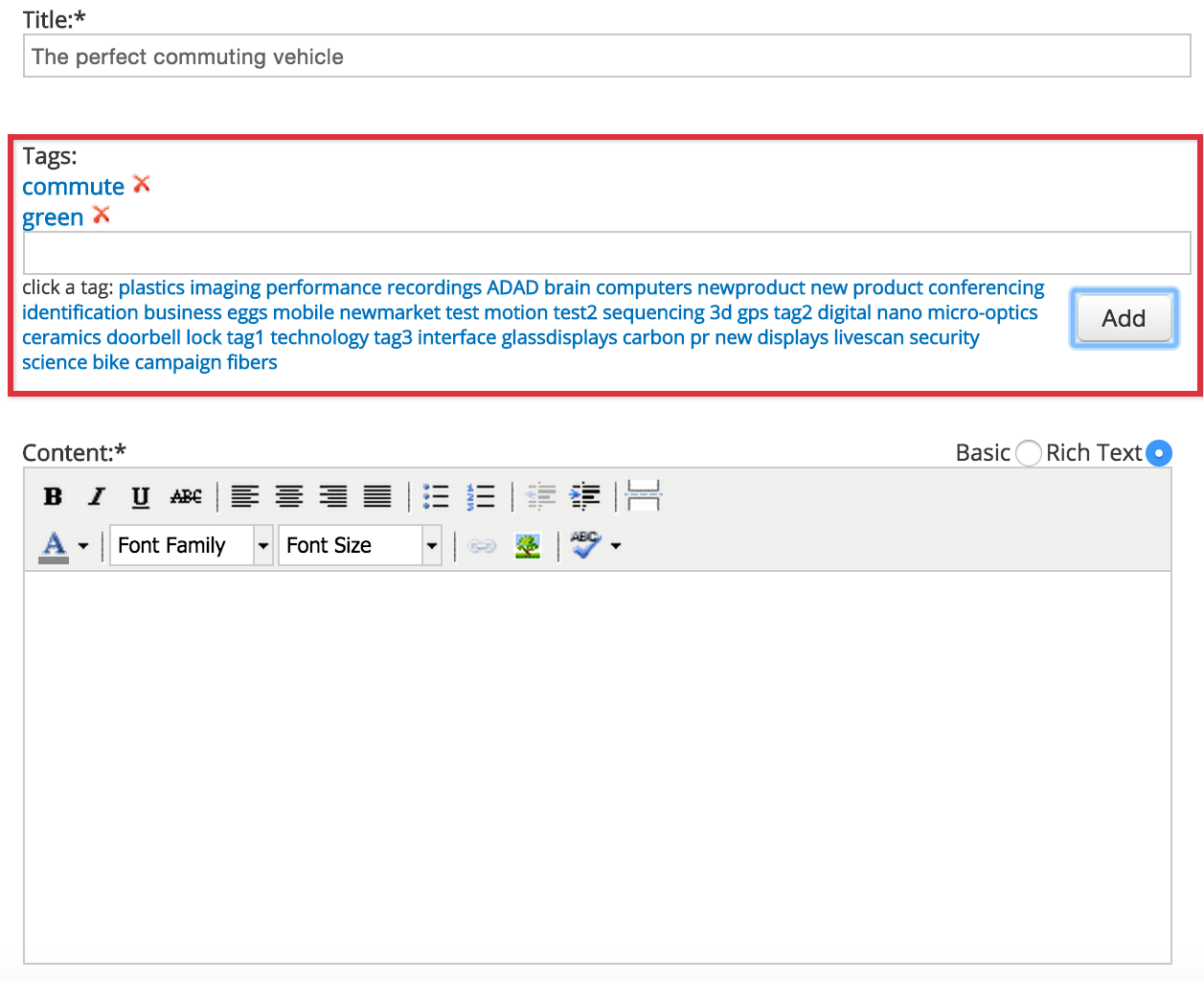 Project Tags in Project Management
Tags are used in Pipeline as well for projects

Refer to this article for more information around Project Tags.
| | |
| --- | --- |
| WebStorm | Pipeline |
|   |   |
|           |          |
Important Things to Note:
Tags are shared across the system, including tags from both blogs and ideas - see more details here.
Tags are not case sensitive.
Tag suggestions can be restricted to a specific Initiative via the "Restrict Tag Suggestions to WebStorm" beta option under the beta tab.
Tags cannot be pre-selected or modified - this list is generated automatically by the system. 
There is no limit to how many tags a user can attach to an idea.
Tags are not case sensitive.
All tags are formatted with lower case letters. 

Therefore, if a user submitted an idea with two tags that said "Green" and "green" - once the idea was submitted - it would show one tag that said "green"

All tags accommodate foreign characters as well. 
Two word tags can be entered with a dash in the middle. (Example: "great-idea" will be one tag, but "great" and "idea" will result in two separate tags)
End users and/or administrators are able to make edits to tags.