Question:
How do I delete a WebStorm?
Answer:
NOTE: Delete WebStorm/Pipeline action is not reversible, all data is permanently removed from our database!   
To delete a WebStorm/Pipeline, navigate to your Enterprise Setup --> WebStorms --> Manage WebStorms

Once there, select your WebStorm from the main dropdown.

                             

Select the "Delete" button to delete the WebStorm.  

The administrator will receive a prompted confirmation, select "Yes" to proceed. 

 

Alternatively, the WebStorm/Pipeline can be deleted by right clicking on the Pipeline name in Pipeline Management and selecting "Delete" option: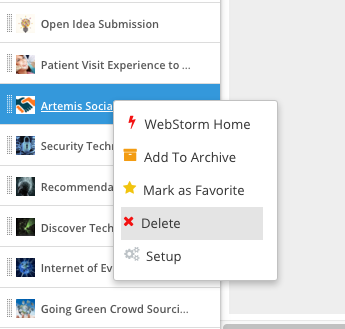 Deleting a WebStorm/Pipeline will:

Remove all ideas
Remove all votes
Remove all comments
Remove all points accumulated by users

Example, if someone voted for your idea, and they received 3 points for doing so, those points and all applicable points will be deducted back.

Remove the associated Pipeline with all configured steps, rules, stages, etc...