This article provides brief descriptions of each setup options available in Challenge/Site.
System and Challenge/Site administrators can access the Setup page to enable or disable available options.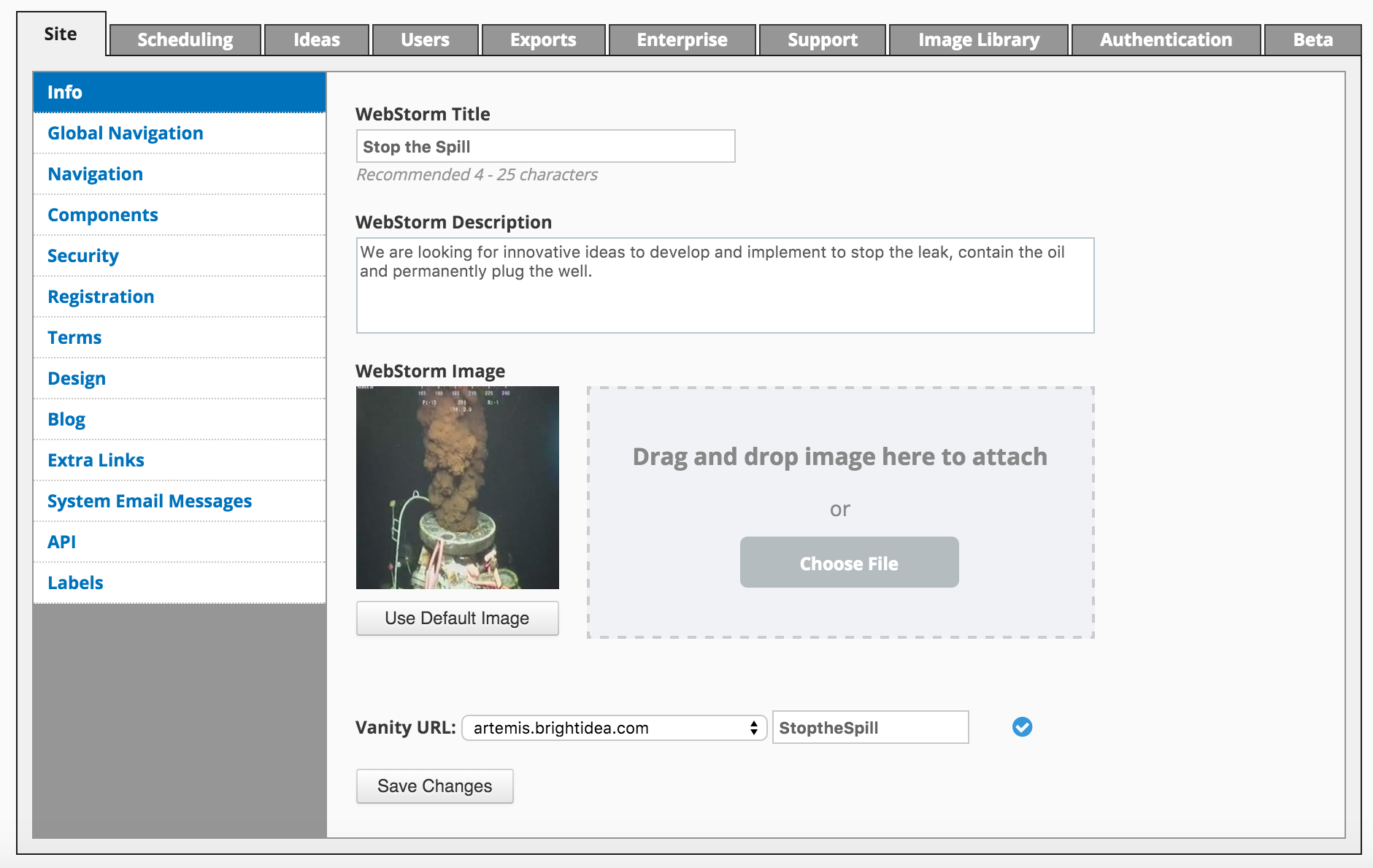 To access the Site Setup page, log in to your Site with an administrator account. Click on the Setup button that is located in the navigation bar.
The Site Setup Page is divided into seven main tabs: Site, Ideas, Users, Exports and Enterprise, Support, and Image Library.
Each main tab contains more detailed tabs that categorize each option.

The options in each tab are described below.
Whenever settings are modified in one tab, remember to click "Save Changes" before moving on to another tab. 
Table of Contents
Site
Info 

Site Title: Edit the title of the Challenge/Site. This title will be reflected on users' browsers when on the Site page.
Site Description: Description provides a concise explanation of a Site's topic or content. 
Site Image: Administrators can change the main image of the Site which will be reflected in the Visual Site List and other places.
Vanity URL: Input a vanity URL for your Challenge/Site that can be posted on websites and included in emails and promotional materials. 

Enable Global Navigation on this Site: When enabled, Global Navigation will appear in the header of the Challenge/Site for all pages.

Administrators can set/configure Dynamic Navigation below the Challenge/Site banner with links to various pages.

Components
Profiles: Enables a user profiles for each account in the Site, which a user can edit to provide the personal information they desire.

The user profile will be visible to all users unless disabled.

User Networks: Users can invite other users to their "network". Once in a network, each user can see others' in the same network via the 'My Network widget'.
Private Messaging: Private Messaging allows users to send messages to each other directly. 
Dashboard for End Users: Allows end users to have access to the Challenge/Site Dashboard via the navigation bar, which typically only Administrators can see if this option is not enabled. 
RSS Feeds: When set, a standard RSS icon will display, and users can "subscribe" to the Site/Challenge RSS feed. Note, this only works with the old Idea List and not Idea Boards. 
Site baby-sitter: The email account entered as site baby sitter will be cc'ed on all Challenge/Site generated emails.

Note, this must be an actual registered user on your site.

After Login Page: Choose which page you wish the user be navigated to after logging in.

You can select the Home Page, View Ideas page, or News Blog Page.

Enable Email this page: This option allows you to email hyperlink of any page in Site to another user.
Enable Date Formatting: To accommodate other formats of time and dates in your Site, please be aware of the feature to change your DD/MM/YYYY format. 
Ended Site redirection: URL: To re-route any Site (Ended or Not Ended) you can enable this option. This will re-route any user trying to access this Challenge/Site, once this is on, all users will go to the URL you provide. 
Advanced Email Options:

Enable Daily Mail Digest Queue & Weekly Mail Digest Queue: Users can select a Daily or Weekly Email Digest that will email their activity in Challenge/Site or Enterprise.
NOTE: This enables the OPTION for users to choose, it does not force them to follow this regimen.

Security

Registration

Allow users to Post to Blog: Turns the blog feature into a "forum"-type functionality, where all end users have the ability to post to the blog page. 
Comments Submission: Allows users to make comments to blog posts.
Subscribe User to Blog on Registration: When enabled, this will add newly-registered users to the Blog subscription list automatically.
Manage Blog Subscriptions: Admins can add or remove members to be subscribed to blogs.
Select "Get Current Subscribers" to see full list of blog option to remove them.
Populates the Extra Links widget with links to specified URLs. (Title appears in the widget; URL is hyperlinked.)

Here and in the Pipeline Communications area email templates can be configured for the Site. Please see this article for complete information on setting up the individual system email templates.

Developers can learn how to build on top of Brightidea with our New API documentation site. Please click here to learn more. 

Edit Labels: This section allows you to edit labels within the Challenge/Site that would otherwise be difficult to reach with standard label edit mode (e.g. registration pop-up box).
Import/Export Site Labels: Here admins can export the Site Labels spreadsheet.
Learn more about the Site Scheduler and how it can be configured here. 
Idea Submission: When enabled allows users to submit ideas to the Challenge/Site. 
Enable Post Idea 2.0: Enables the updated Post Idea 2.0 for the Challenge/Site: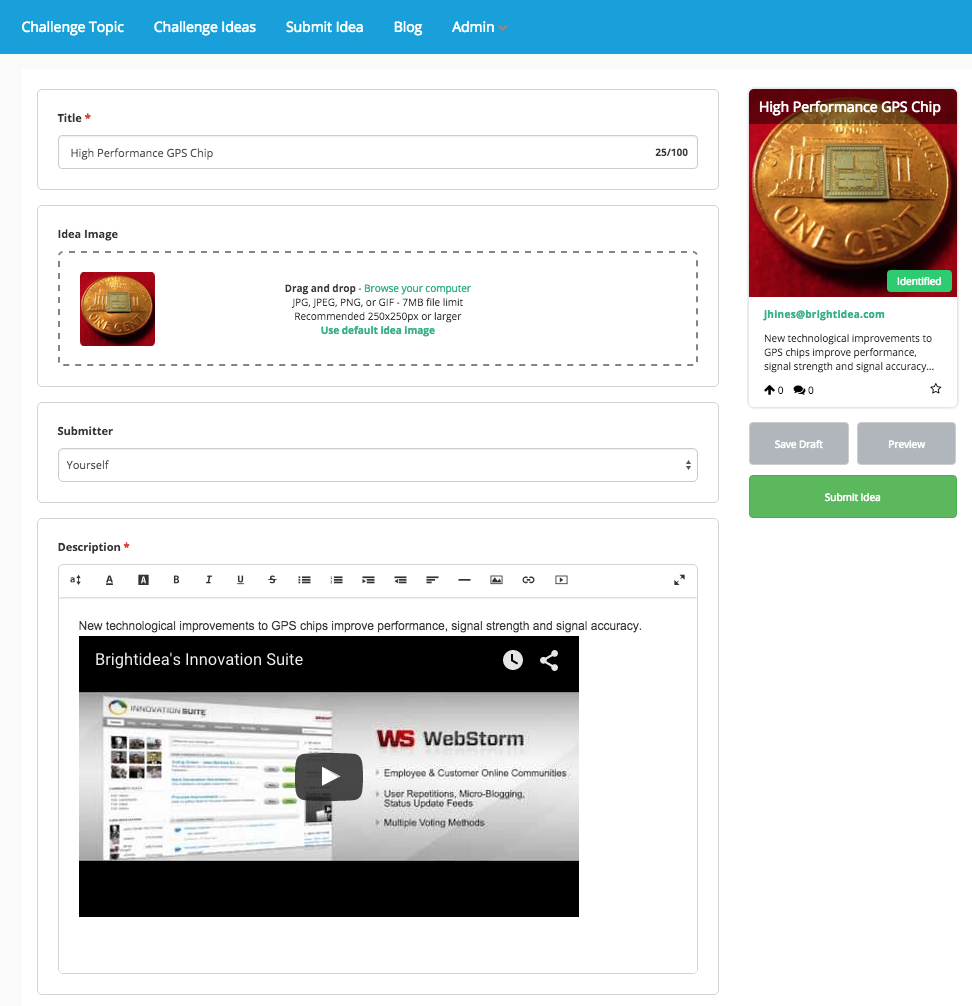 Add Idea Image to Idea Submission Forms: Allows users to add their own idea image when posting any idea.
Idea Image: Set a default idea image for newly submitted ideas.
Similar Ideas (Duplicate Checker):  This feature helps reduce duplicate ideas in your Challenge/Site. 
Idea Tags: When enabled tags allow your user community to self-categorize their ideas by adding tags.
Rich text for Idea description: A Rich Text Editor is available to users when submitting an idea. Note, this option is only for the old Post Idea 1.0 page.
Enable dependent form questions: Idea submission form questions can be set dependent based on the answers of the already answered questions.
Private Attachments: Allows users to attach a file that only evaluators and administrators can see as part of the idea.
Enable Next/Previous Buttons in View Idea Page: Once enabled, "Next & Previous" buttons will appear on the view idea page and allow users to navigate to the next or previous ideas more easily.
Idea View Count: View count allows administrators to easily recognize which ideas are the most popular both in Site. Note, this option is only for the old View Idea 1.0 page.

View Idea 2.0 includes the view count by default in the "Idea Details" widget.
My Favorites: Allows end users to build a list of their favorite ideas submitted to the Site.
Tweet This!: Allows users to "tweet" idea links via their Twitter accounts by clicking the Tweet This! Icon that appears for each submitted idea on the Idea List and View Idea pages.
Enable Category and Idea Subscription: Allows end users to subscribe to categories or individual ideas.
Enable admin ability to subscribe other users: Allows admins to subscribe/unsubscribe end users to ideas and Sites.
Enable Campaign Specific Statuses: Allows statuses specific to the Site to be configured rather than Enterprise.

Important Note: Once this option is enabled, it can't be disabled!

Enable Expertise on Ideas: This option enables Expertise to be collected on the Post Idea 2.0 page and displayed on the View Idea 2.0 page.
Enable Evaluations Tab on View Idea 2.0: Enables ability to display evaluation results to submitters and team members.
Enable Amazon Alexa Submissions: Administrators can enable submissions through Amazon Alexa. 
Use Site alias in URL: Here the administrator can select which URL format they wish to have for their ideas. "Idea Code" is the recommended option for this feature.
Allow Idea Editing: Here administrators have the ability to edit any ideas as well as submitters of ideas
Allow all users to see extra questions: Allows users to see extra submission form questions. (For Post Idea 1.0 only)
Hide extra questions from submitter: Hides extra submission form questions. (For Post Idea 1.0 only)
Enable Category Alert Lists:Category alerts allow Brightidea participants to be subscribed to any ideas coming into a specific category.
Hide Vote History: When selected it removes the 'Votes Tab' on the View Idea 2.0 page.
Idea Ranking By Vote Multiplier: Idea Ranking By Vote Multiplier allows you to choose the weight of points for voting in your Site.
Anonymous Submission: When selected users cannot see the name of the idea submitter.
Team Submission: Once enabled any existing user can be added to the idea team
All submitters get points (for post Idea and Idea promoted): Administrators can determine whether all submitters (including team members) or only the main idea submitter (team leader) will get points
Enable "Find Teammates": Allows users to find teammates for their submissions with the Find Teammates button on the Idea Details widget.
The administrator of the initiative can select the Idea board version to use in their initiative. 

Idea Boards 1.0 (Old Idea List)
Idea Boards 3.0 (This replaces the old Idea Boards 2.0 page)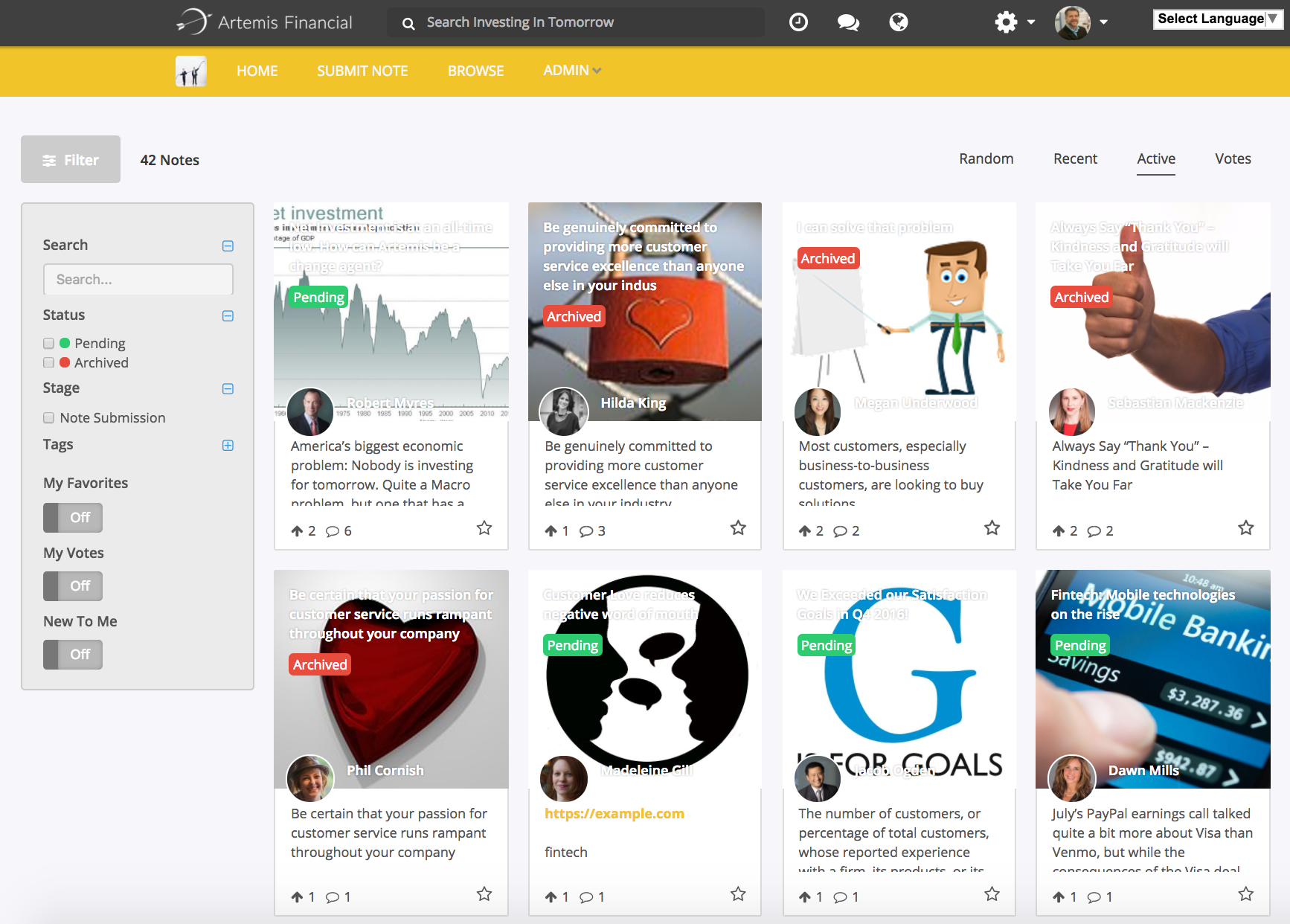 For Idea Boards 3.0 only, the administrator can also select the default sorts and available filters in this tab as well.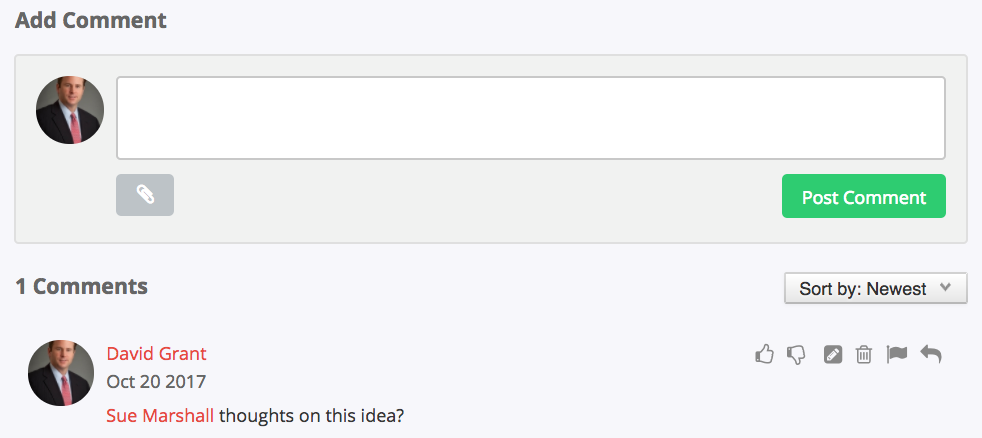 Comment Editing for Submitter: Once enabled, the end user can edit their comment after submission.
Comment Deleting for Submitter: This feature gives the end user the option to delete their comment after submission.
Attachments on Comments: Allows end users can add attachments to comments and comment replies.
Voting on comments: Allow users to vote on their favorite comments.
Show Comment Demote Count: This allows administrators to see which comments are the least favorited through the demote feature.
Voting: By default, users can vote to promote an idea, this can be disable by unchecking the voting option.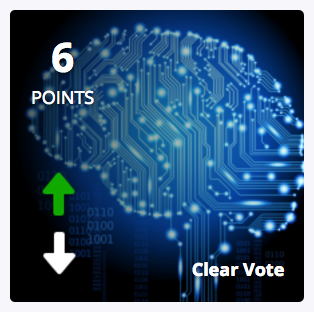 Demote Voting: By checking the checkbox for 'Demote Voting' will be enabled, which users to demote an idea.
Simple Voting: Simple Voting means that each user only can vote once on each idea, they do not get an unlimited or multiple amount of votes.     
Restrictive Voting: Restrictive Voting allows one vote per user per Site.
Chips Voting: When enabled the administrator can set the total amount of votes each user has to spread over all the ideas and can set the number of maximum votes a user can place on a single idea.
Enable Promote Reason: Allows users to list a reason for promoting an idea.
Enable Demote Reason: Allows users to list a reason for demoting an idea.
Submitter auto-promote on submission: Administrators can choose to have default vote on submission to be on or off. By default, a vote added to one's idea when submitted will be the default behavior, but administrators have the option to disable.
Categories section allows the Administrator to add, edit, and delete categories for ideas submitted to this Challenge/Site.

When Site specific statuses is enabled the statuses editor allows the Administrator to add, edit, and delete idea statuses specific to that Site.
Status Reputation Points: When configured users will receive reputation points when their idea receives a particular status. 

Questions can be added and removed as needed.

This section allows the administrator to edit the submission form for a Challenge/Site by clicking the paper and pencil icon that appears to the right of the form name.
Here, the administrator can configure the Business Model form used in Team WorkSpace.
Here administrator can import the Site Idea Import spreadsheet.
Once the spreadsheet is filled with ideas, they can import the new ideas into the Challenge/Site.
Additional Info Editor: This options allow for additional administrator only questions to be configured that will be displayed under the 'additional info' tab on the View Idea 2.0 page.  
Here, the administrator can enable the Team WorkSpace and associated functionality for the initiative. 
Manage

Allows the administrator to search for users and create new user accounts. 

Administrators

Allows the system administrators to configure Site Sponsors, Site Administrators, and Moderators.

Administrators can configure user reputation points in this section. Click here to learn more.

The administrator can send a personalized email and communication to select amount of users to promote registration of your Site. 

Here admins can add and remove users to groups that have access to the Site. 

Administrators can send a notification to all users with access to the Site.

Here you will find a list of all Blocked Users.
Brightidea offers various reports available via export. Reports are organized by Ideas, Votes, Users, Login History, Search History, Categories, API, Trend Tracking, and Follower. Click here to learn more. 
Standard

Enterprise: This option includes this Site in your system's Enterprise structure or excludes it if disabled.
Allow users to search other Pipelines: Enable this option to allow users searching in the Global Navigation to search all Pipelines in the system.
Restrict Global Navigation user search results to this Site's Access Group: When enabled users will not be able to search for ideas that are part of Sites they do not have access to.
Enterprise Profiles: Enables a system-wide Enterprise User Profile, which will be accessible across all Sites.
Exclude From Enterprise Lists: Excludes the Site from the overarching Enterprise system. This Site will not be visible or accessible from the Enterprise Home Page.
Enterprise Home in WS Navigation: Enables an Enterprise Home link in the Site navigation bar.
Allows the administrator to quickly access the Brightidea Support Portal.
Please utilize the Support Tab to find articles, guides and submit any tickets to further assist you.
In the Mail tab, administrators can allow users to post submissions and comments via email.
In the Image Library, the administrator can upload images, documents, or media files for use for the Challenge/Site system.
In this tab, Single-Sign-On can be configured for the Challenge/Site. Click here to learn more and read our complete SAML SSO documentation.