The Brightidea Analyst role has the ability to check on progress or run reports, similar to Administrator permissions, without having to worry about misconfiguring settings. This role is great to apply to users who need access to all the data in an Initiative, but have not had formal training on how to change/edit the different sections.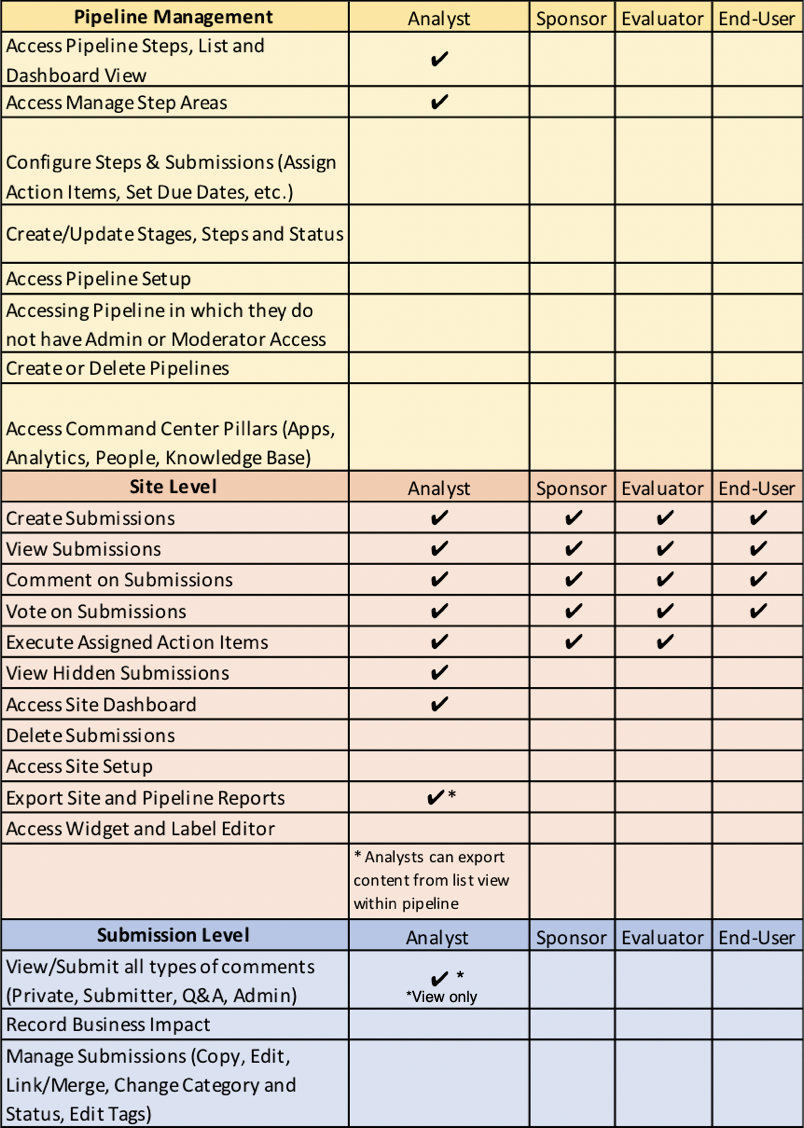 Table of Contents
Getting Started
Within an Initiative, the System, Community and Pipeline Administrator can give a user Analyst rights.  
To add a user as the Analyst role, please follow these steps:

Go to the Site setup. Click on Manage Pipeline > Setup > Roles.
There should be a new section below Moderators that allows Administrators to add a user as an Analyst Administrator.
Add a user in this new role, the same way you would as a Pipeline Administrator or a Moderator.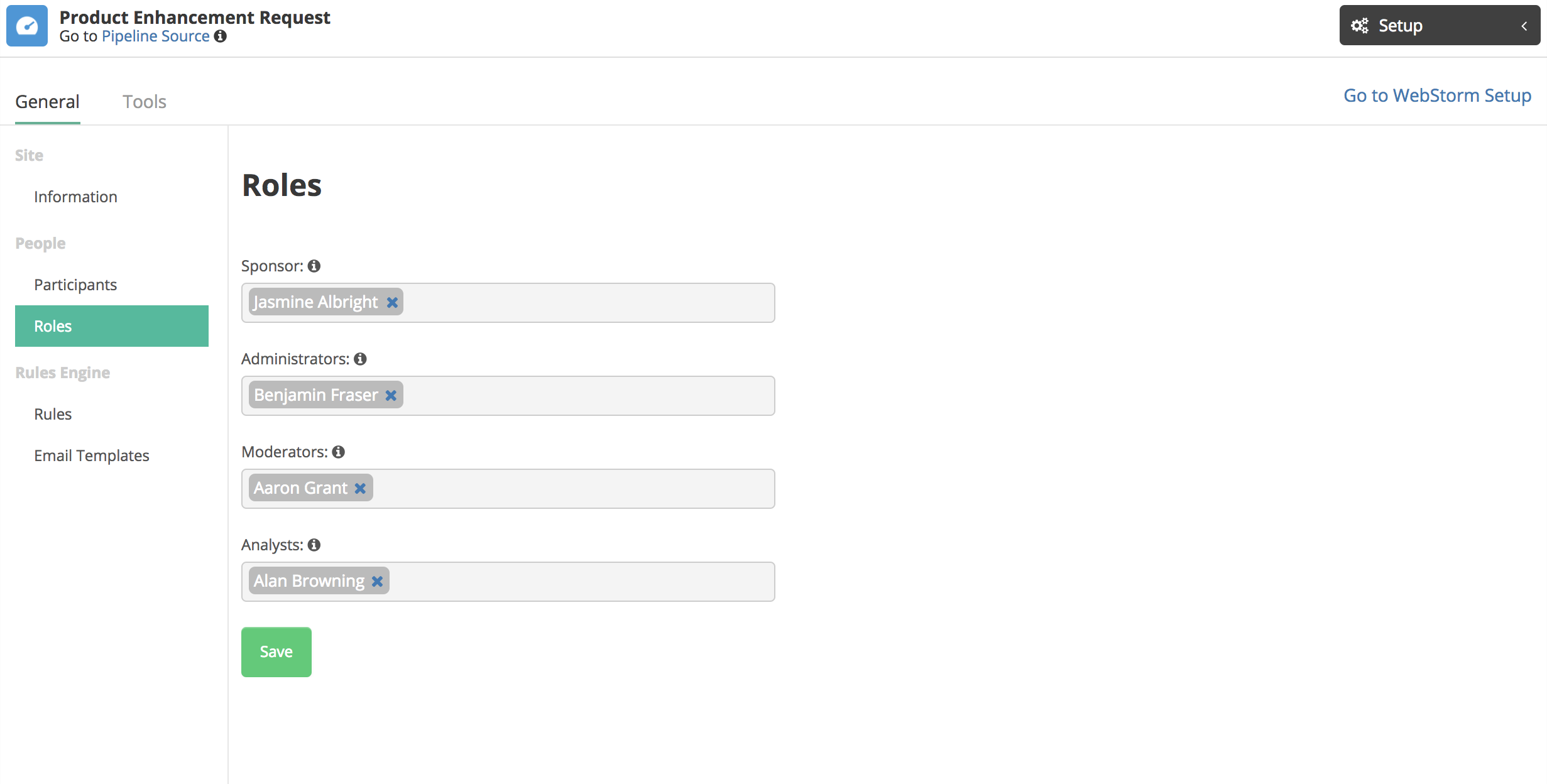 Permissions of Analyst Role
The Analyst Role is strictly a "Read-Only Role". Analysts cannot configure or modify any settings outside of End-User permissions. The Analyst can view nearly every section an Administrator could access without any of the same configure permissions.
Once a user has been granted the Analyst role, the gear icon in the top-right section of the header should appear for them, similar to how Administrators have. Except, for Analysts, the only option they have when clicking on the gear icon will be 'View Pipelines'.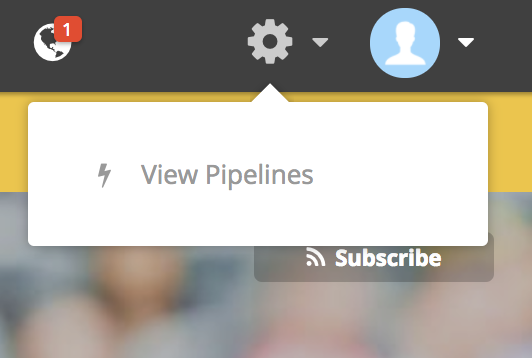 Analysts will then be directed to the back-end Pipeline Action Item Manager. Analysts will see all the Sites/Challenges they have permissions for as well as Action items that allow for managing / viewing different submissions.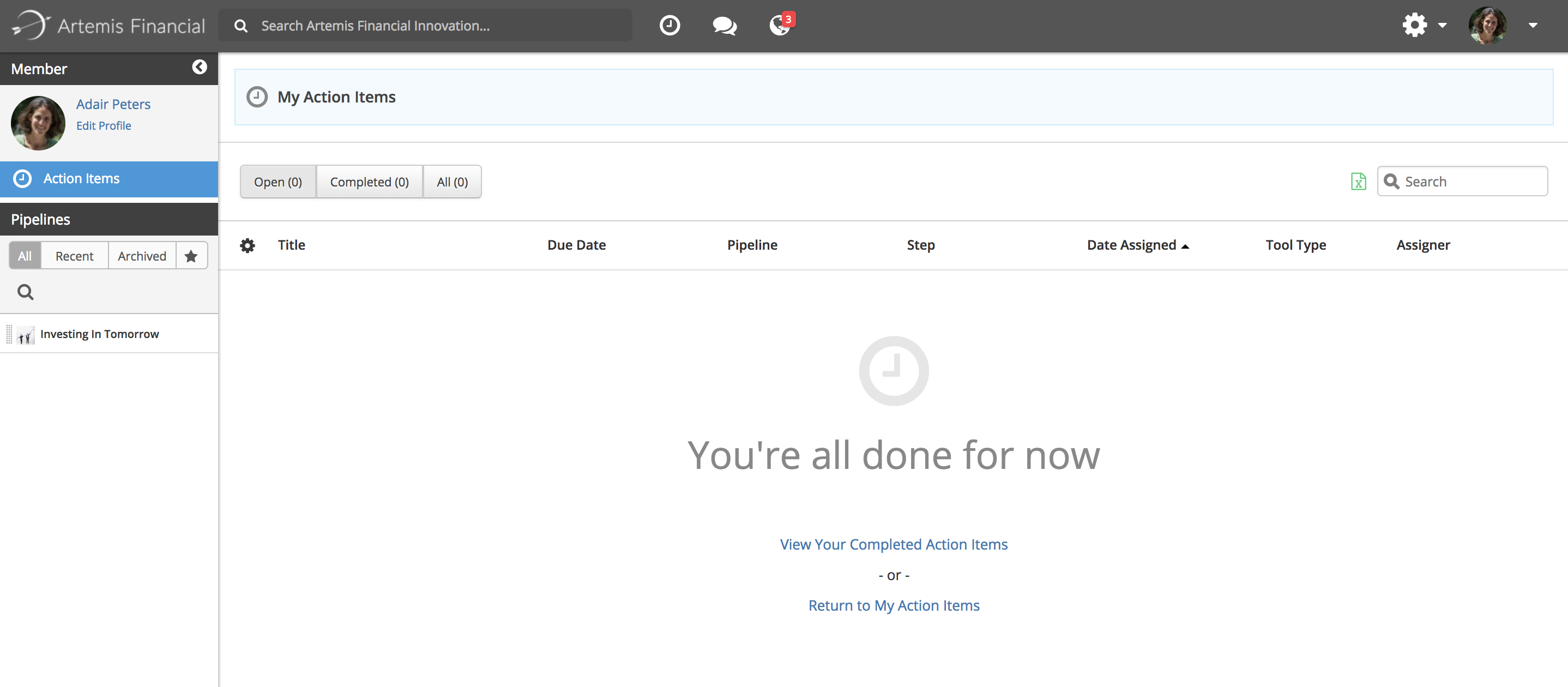 When an Analyst click on a Pipeline from the left-hand column, they can choose a submission from the Steps View. Once a submission has been chosen, the ellipsis icon (three-dots icon) will provide them with a Manage Review option.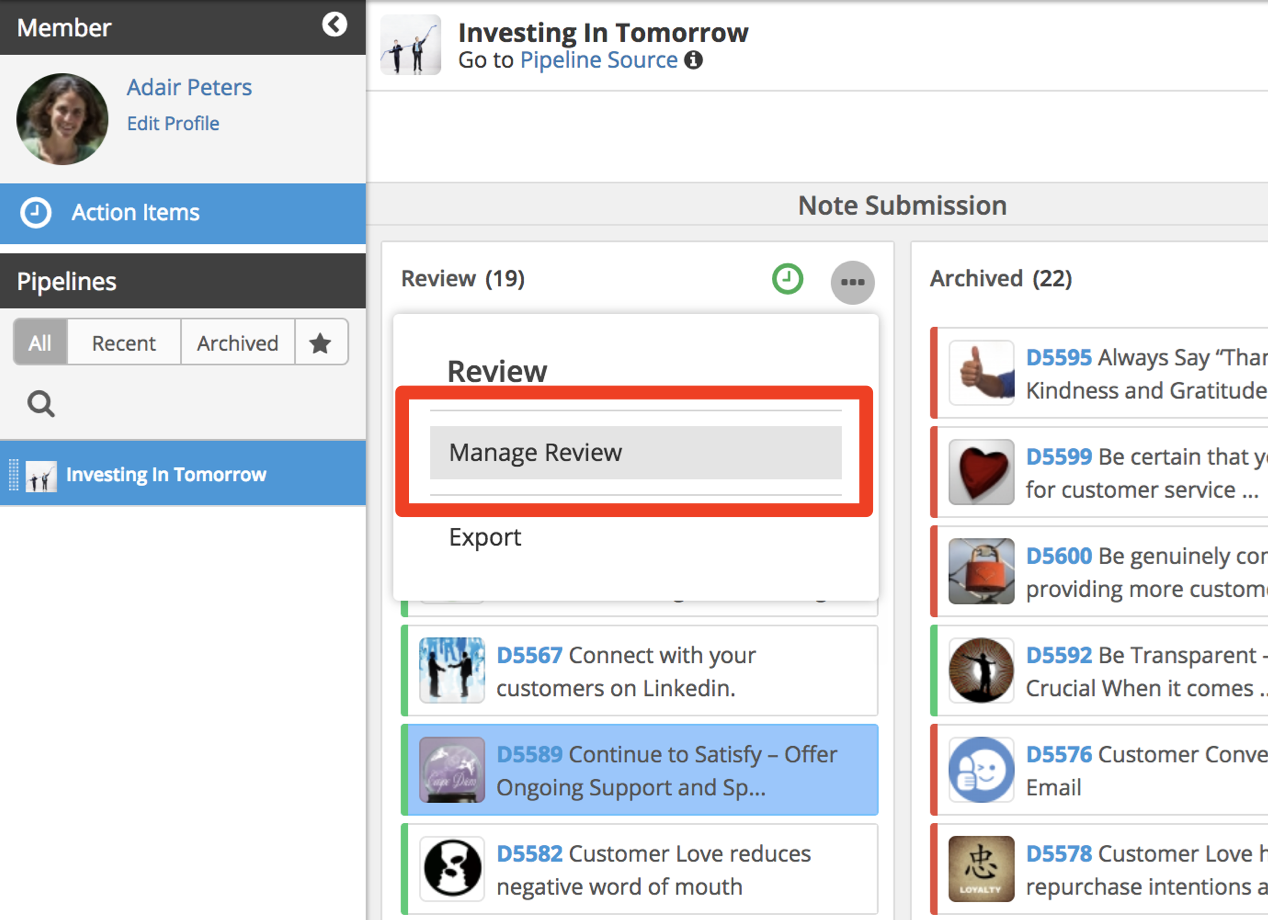 When clicking on the Manage Review option, Analysts will have access to 2 tabs: Currently In Step and Step History. This view is similar to Administrators, but without the ability to configure projects.
The Action Item Progress will allow Analysts to track which items have been sent out, completed or are waiting to be completed.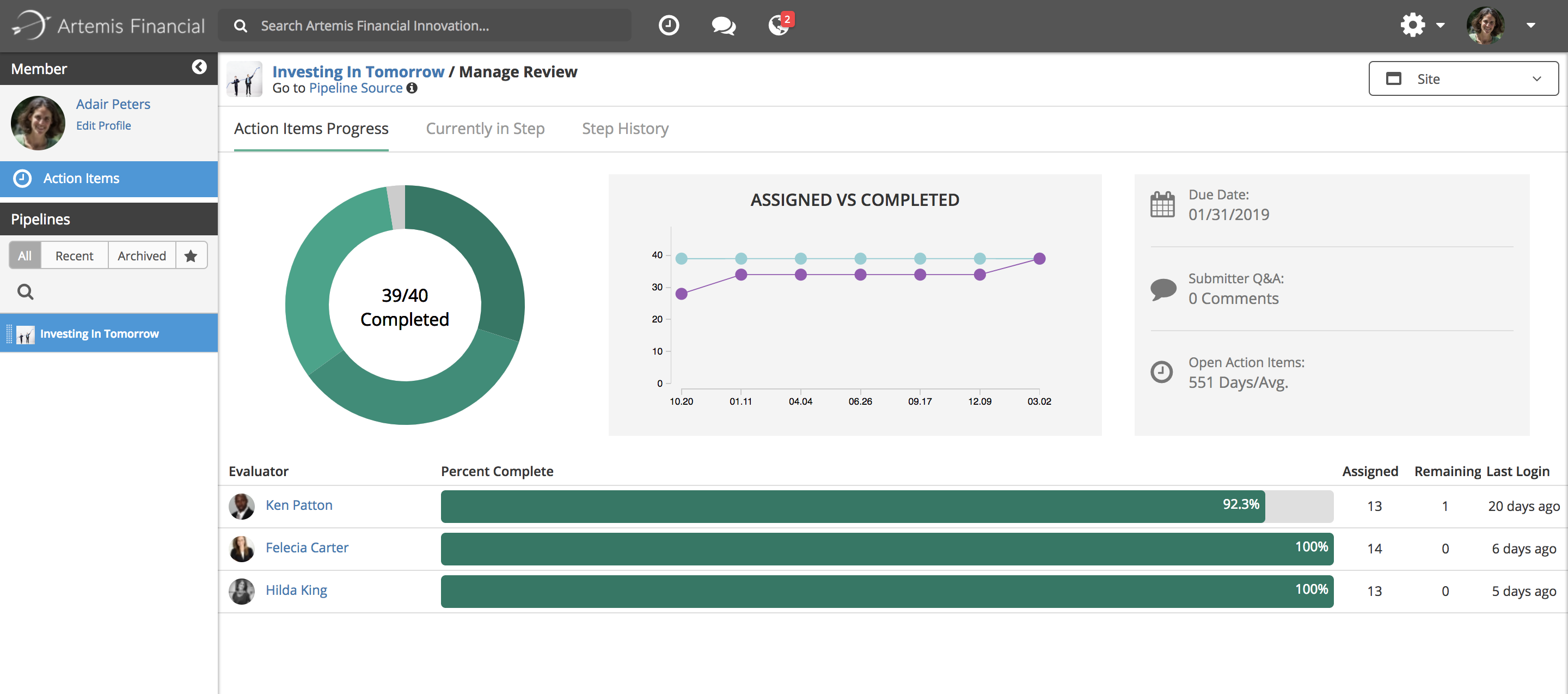 This view will allow Analysts to see a more detailed look at which ideas are in the step.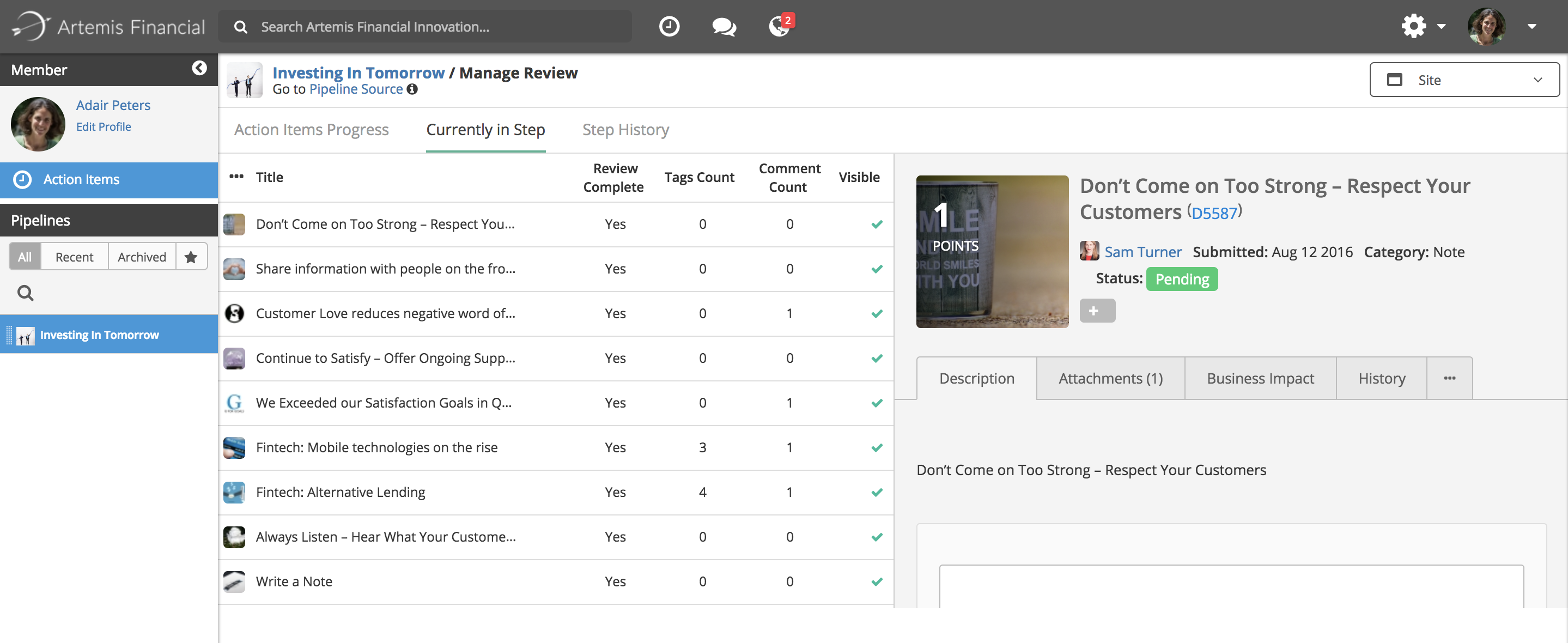 This view will give a brief look at the Step History for each idea.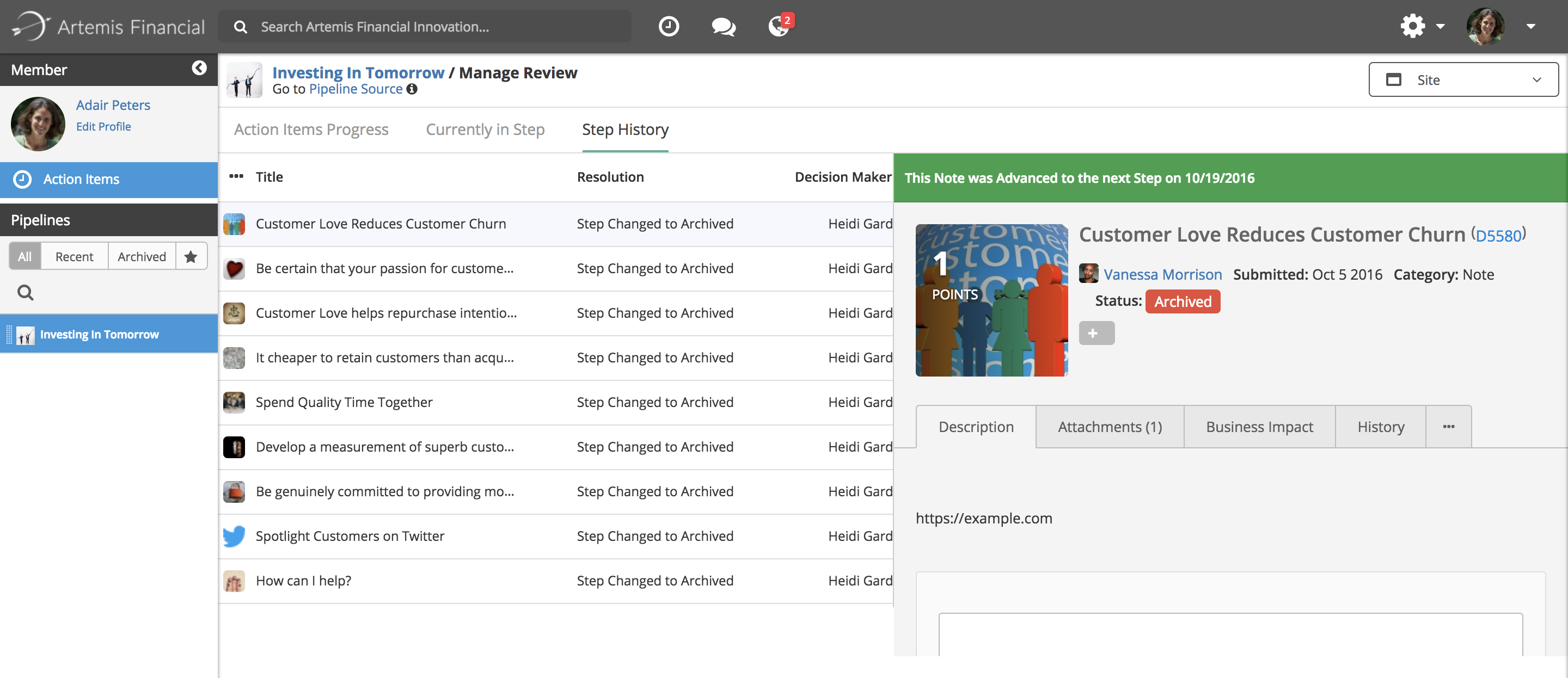 Analyst Export Feature
When Analysts are viewing the Pipeline within the Step View, they will have the ability to export all Action Items or Submissions within a Step. 
Analysts can choose an submission within a step, click on the ellipsis icon (three-dot icon) and choose the Export option.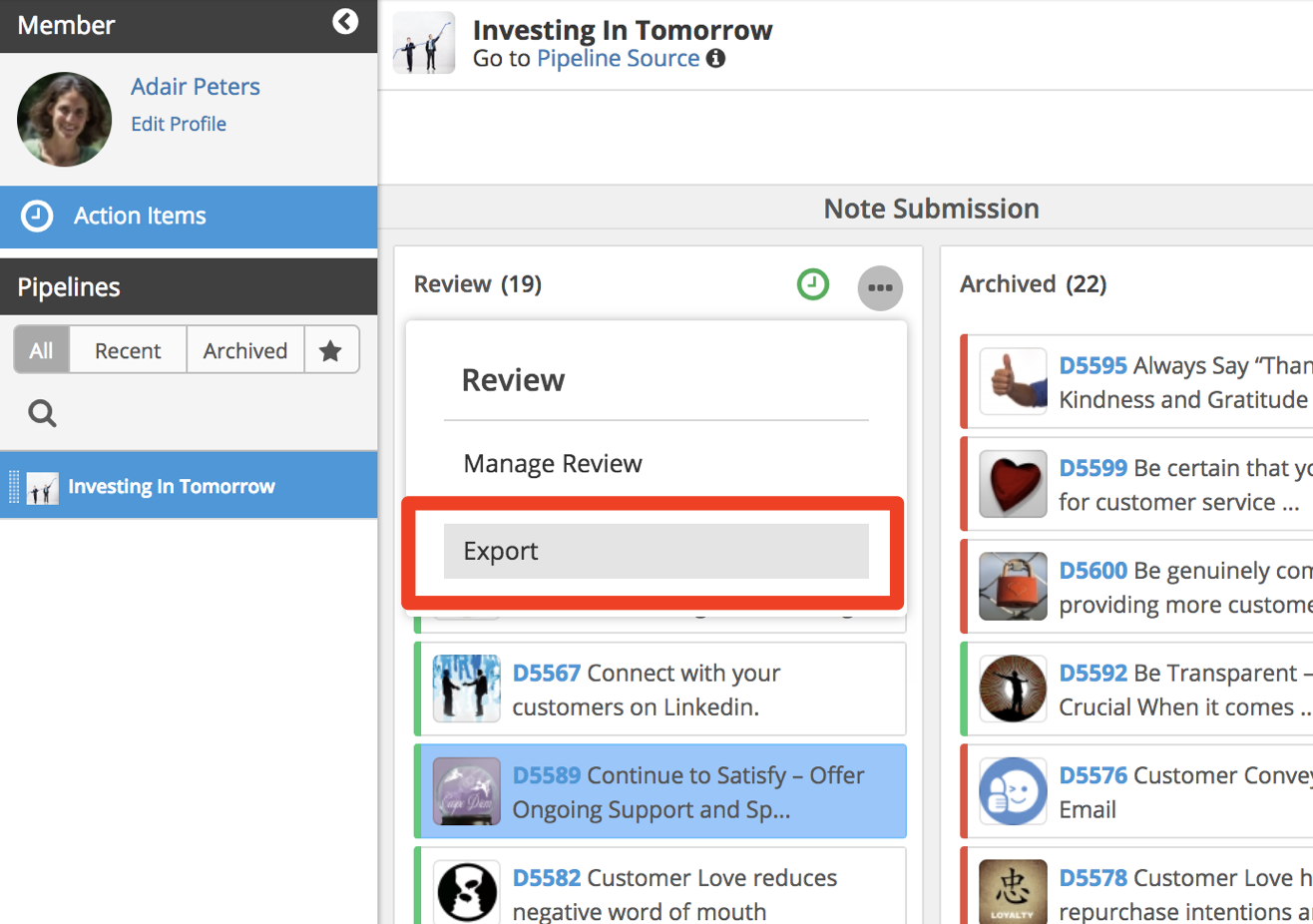 Once a submission has been chosen to Export, a screen will appear that will prompt Analysts to choose the data they want to receive, whether its Action Items, Submissions, or both.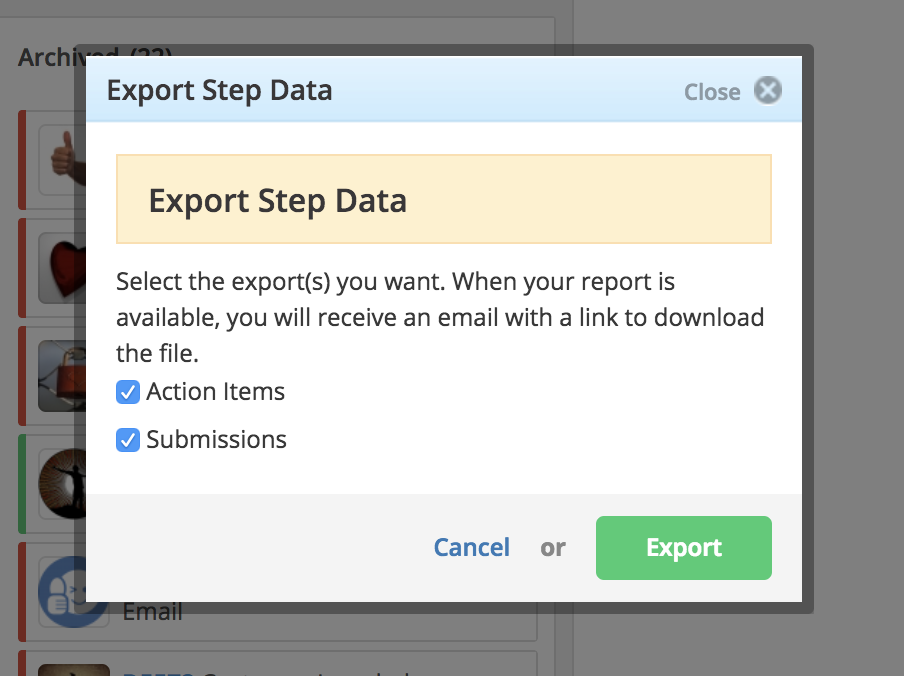 Limitations of Analyst Role
Analysts will also not have access to the Command Center, which means they cannot view Analytics or the People Pillar.
In addition, Analysts won't have permissions to export any reports through the Initiative setup screen.
Finally, Analysts will see the back-end Pipeline the same way an Administrator would, but without a few permissions:

Cannot see the Pipeline folder button on the left panel
Limited ability with the Actions button on the Pipeline Step View
Cannot perform drag-and-drop on an idea