Important Note: This feature is currently in beta, and can be enabled by opting in under the 'System Setup' beta tab. Please test first with non-critical data, report any issues to support, and post enhancement requests to IdeaSpace.
Everything You Need to Know about Merging Ideas!
The relaunched "Merge Ideas" feature allows admins to establish a parent-child relationship between similar or duplicate ideas. All original ideas remain intact and accessible, with parent ideas maintaining the ability for crowd interactions and evaluations, while children will be limited in those regards.
About the Merged Parent-Child Relationship
A parent idea may have any number of children
A child idea corresponds to a single parent
Initially on merging, children will have their step and status synced to the selected parent
Voting and comments will be blocked on children
Children will have their visibility sync'ed with parents
Children will not show in 'Steps' view
Children will not trigger action items
Getting Started:
First, make sure the parent-child merge beta feature is enabled in 'System Setup' under the beta tab.
To merge ideas:
Navigate to 'Steps' or 'List' view for your activity
Select

at least two ideas to merge
Use the dropdown or right click menu to access 'Actions' and select 'Merge Ideas'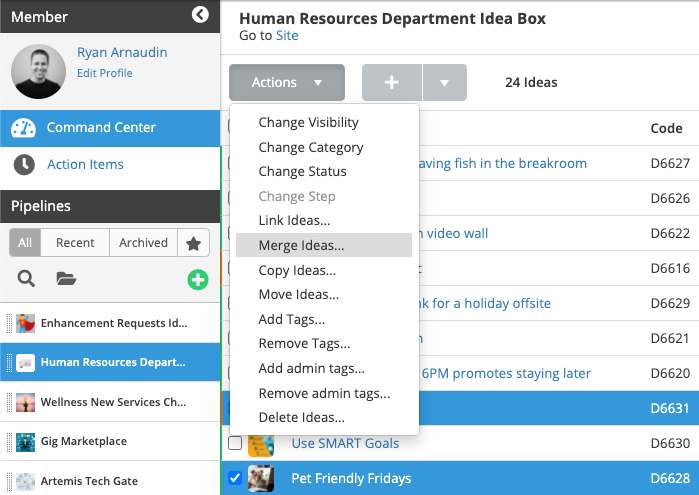 Merging Ideas
When choosing to merge ideas, a parent idea must be selected

Parent ideas will retain visibility everywhere throughout the platform; they will remain open to crowd engagement and trigger action items
Child ideas will be initially synced with parents, and will change step with them (see details below)
Child ideas will retain visibility in most areas, but crowd engagement will be disabled and action items will not be triggered
Tags from child ideas will be "rolled up" to the parent

Additional ideas can later be merged with existing parents by selecting a parent and any number of un-merged ideas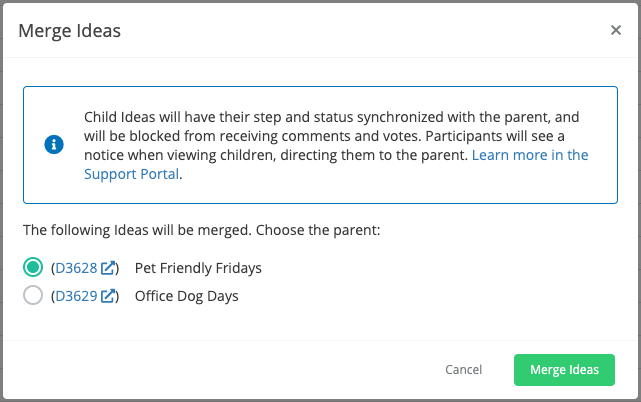 Individual ideas can be reviewed by clicking the idea code link to open them in a new window
By default, the oldest idea will be selected to be the parent
Click 'Merge Ideas' to complete the action; a confirmation will be shown at the top of the screen

Un-Merging Ideas
Merged ideas can be un-merged to break the parent-child relationship. Note: Any automatic changes steps or statuses will not be undone by un-merging. Children that are un-merged will have crowd interactions re-enabled, and will once again begin triggering action items.
Navigate to 'Steps' or 'List' view for your activity
Highlight any number of merged ideas

Children can be individually un-merged from their parents
If a parent idea is selected to be un-merged, all children to that idea will be un-merged

Use the dropdown or right click menu to access 'Actions' and select 'Un-Merge Ideas'
If a parent idea is deleted, children will be un-merged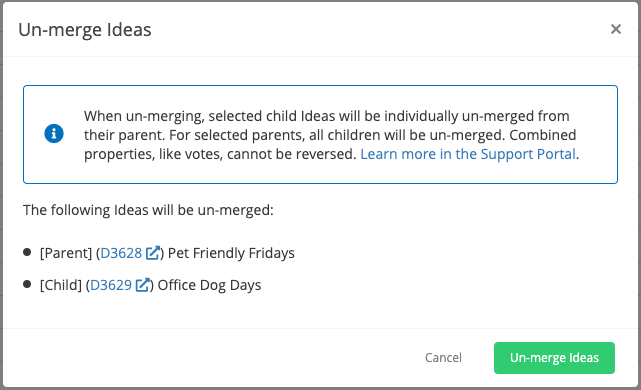 Managing Merged Ideas
Children are not displayed in 'Steps' view
Children are displayed in 'List' view and the 'Innovations Pillar'

Two new columns are available for sorting and data processing: 'Merged' and 'Merged With'
These columns will be included in exports from both areas

Additional ideas can be merged with an existing parent by selecting the ideas and invoking the 'Merge Ideas' command

End-user Interaction with Merged Ideas
There is a new pipeline email named 'Idea Merged' that can be used to send notifications to submitters when their ideas are merged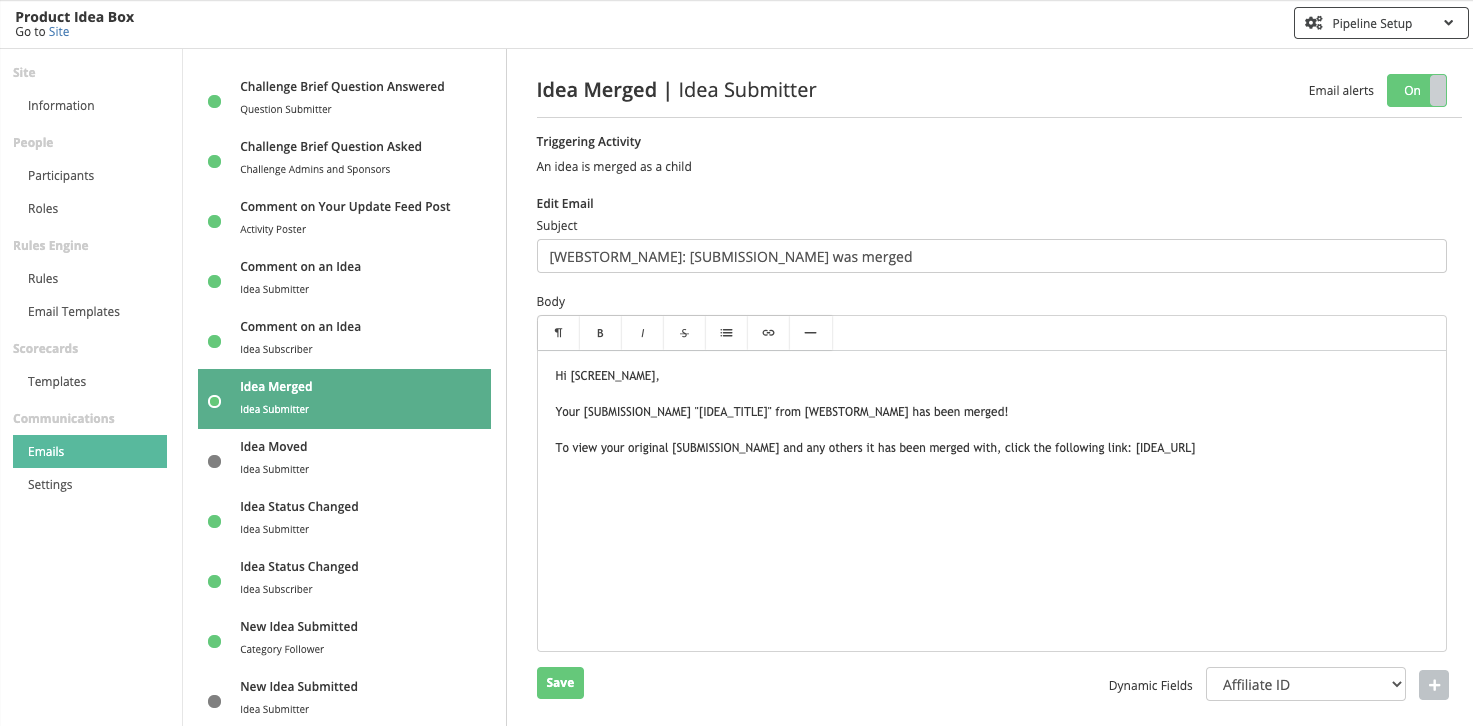 When viewing a child idea, end-users will be directed to the parent via the banner

Users will be unable to vote or comment on children
All pre-existing votes and comments

will remain unaffected

on the child idea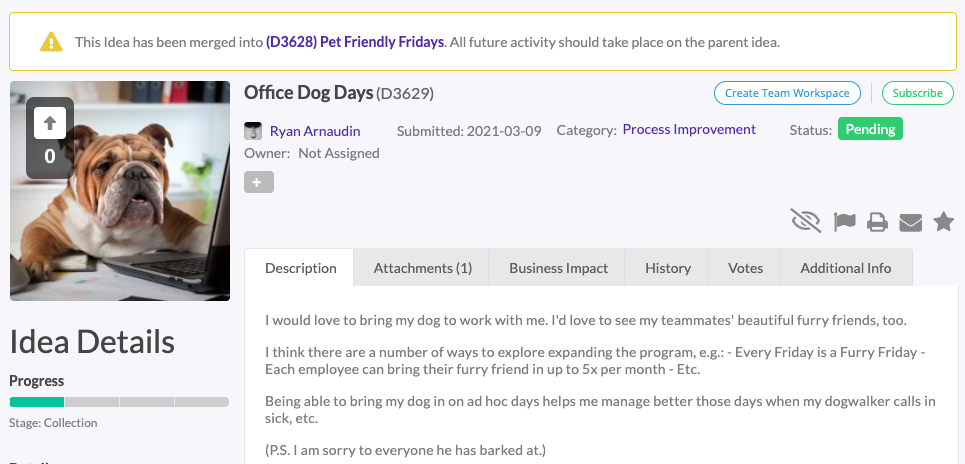 When viewing a parent idea, any merged children will be displayed as links in the 'Idea Details' widget; hover over the title for more details

Merged Ideas will be visible based on user permissions for those ideas
Votes for the Parent Idea will hold true; at this time it will not take into account votes on the child idea(s)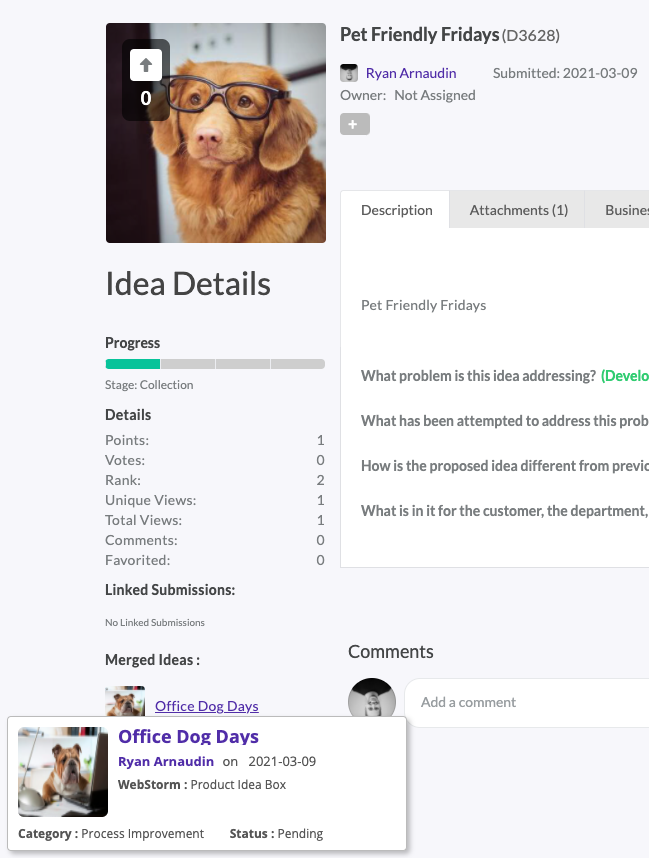 Children ideas will show in a user's submissions (e.g. on User Home and Profile)
Children ideas will be searchable
Children ideas will be shown in Idea Boards
For the end user,

points & statistics stay the same.
Evaluator Interaction with Merged Ideas
Parent ideas will trigger action items and evaluations
Children will not trigger action items or evaluations
Merged ideas will be displayed in the 'Details' tab on evaluations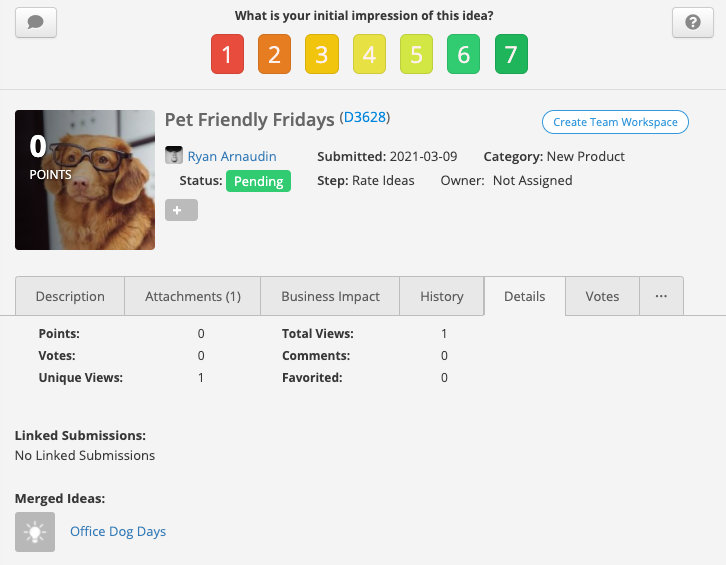 Frequently Asked Questions
I don't see the "Merge" and "Un-merge" action commands?

Please review the notice at the top of this article, and make sure the beta option is enabled in 'System Setup'

Can I change the parent idea?

The parent cannot be changed, as such. A workaround would be to un-merge ideas from the existing parent, and then subsequently select those ideas to merge again. You will be prompted to select a parent at that time.

Will statuses stay synced from parents to children?

Statuses are initially synced when ideas are merged. However, subsequently changing status of parent idea

will not

change the status of child ideas.

Will step stay synced from parents to children?

Child ideas will be moved along with parents to other steps in the pipeline
Child ideas will not automatically be moved to different pipelines if parents are moved

What will appear in reports?

Both the parent and child ideas

will still be included

in Activity and Enterprise-level reports and dashboards

What will appear in search results?

Both parent and child ideas will be visible from search. If you wish to hide an idea, toggle the visibility to 'hidden'