Providing your innovation program's bottom line is critical.  Brightidea is excited to announce to our IPMs more opportunities to track both financial and non-financial business impact! Business impact can now be recorded directly on the View Idea 2.0 page, more specifics are below!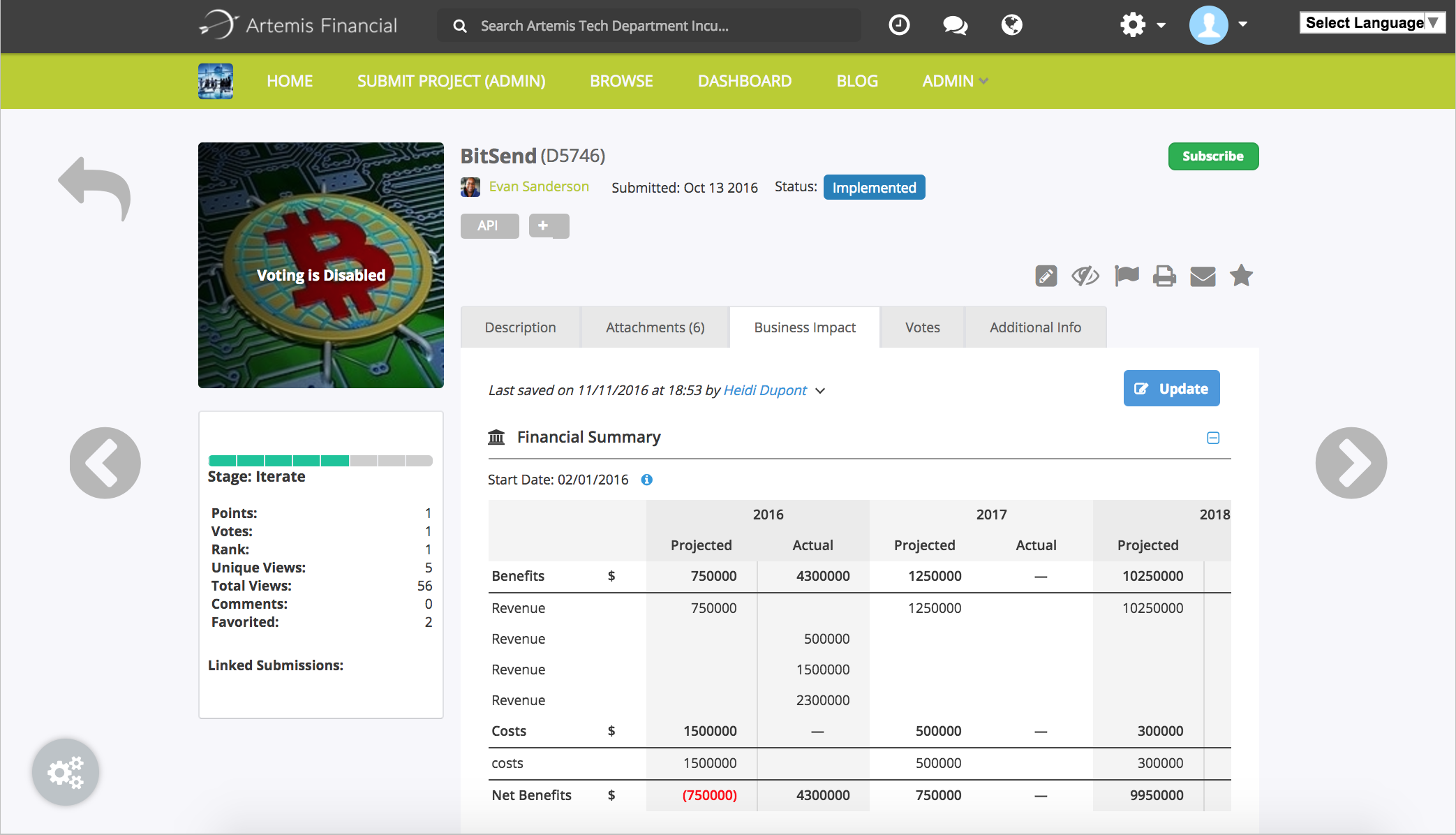 Table of Contents
Getting Started:
Once this option is enabled in Enterprise setup-->Ideas-->Ideas tab navigate to any idea page and select the "Business Impact" tab: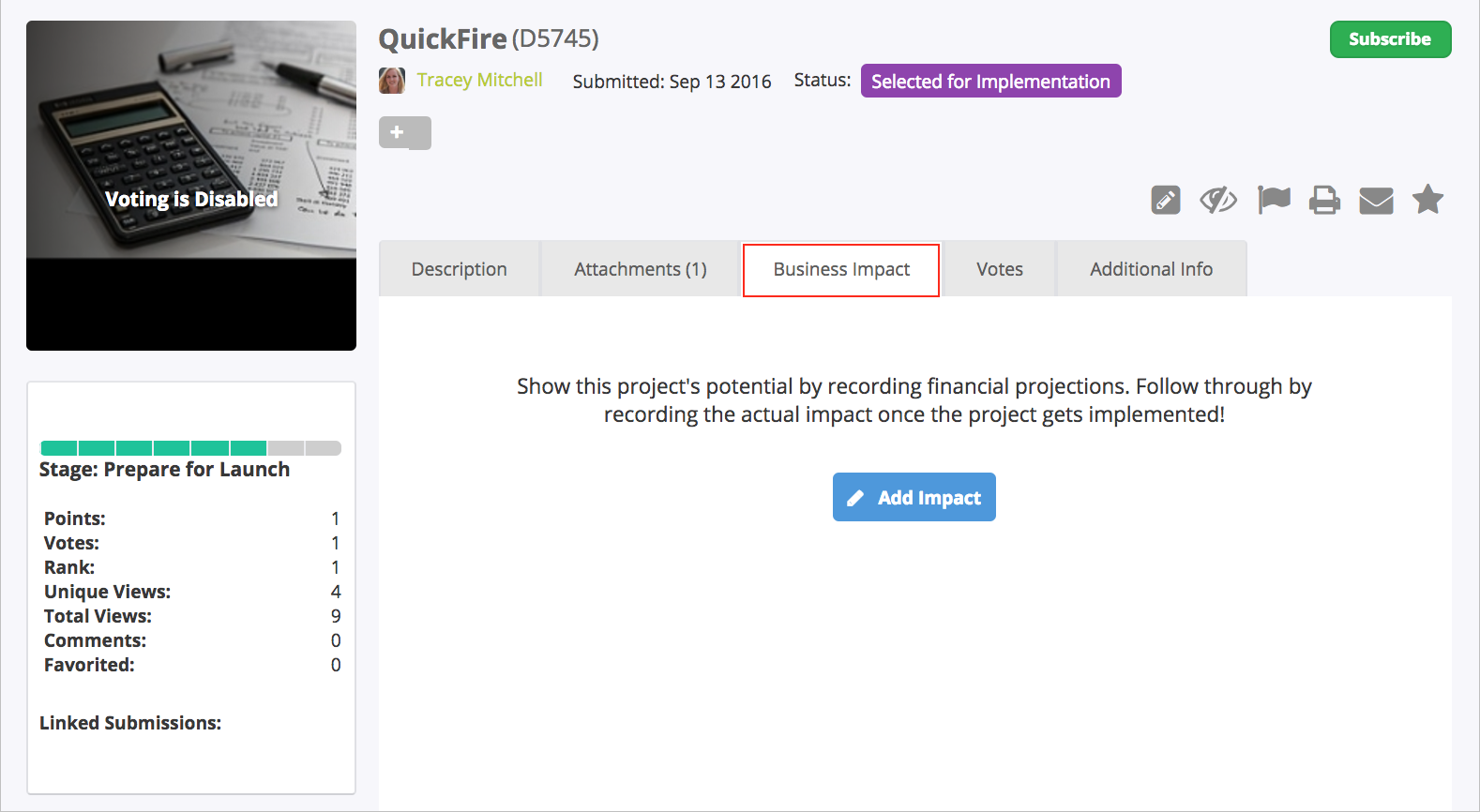 To start, select the blue "Add Impact" button: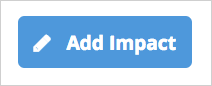 Adding Business Impact
Within this tab, the System / Site / Pipeline Administrator can calculate projected and actual impact associated with the idea.
Business impact includes:

Financial impact
Non-financial impact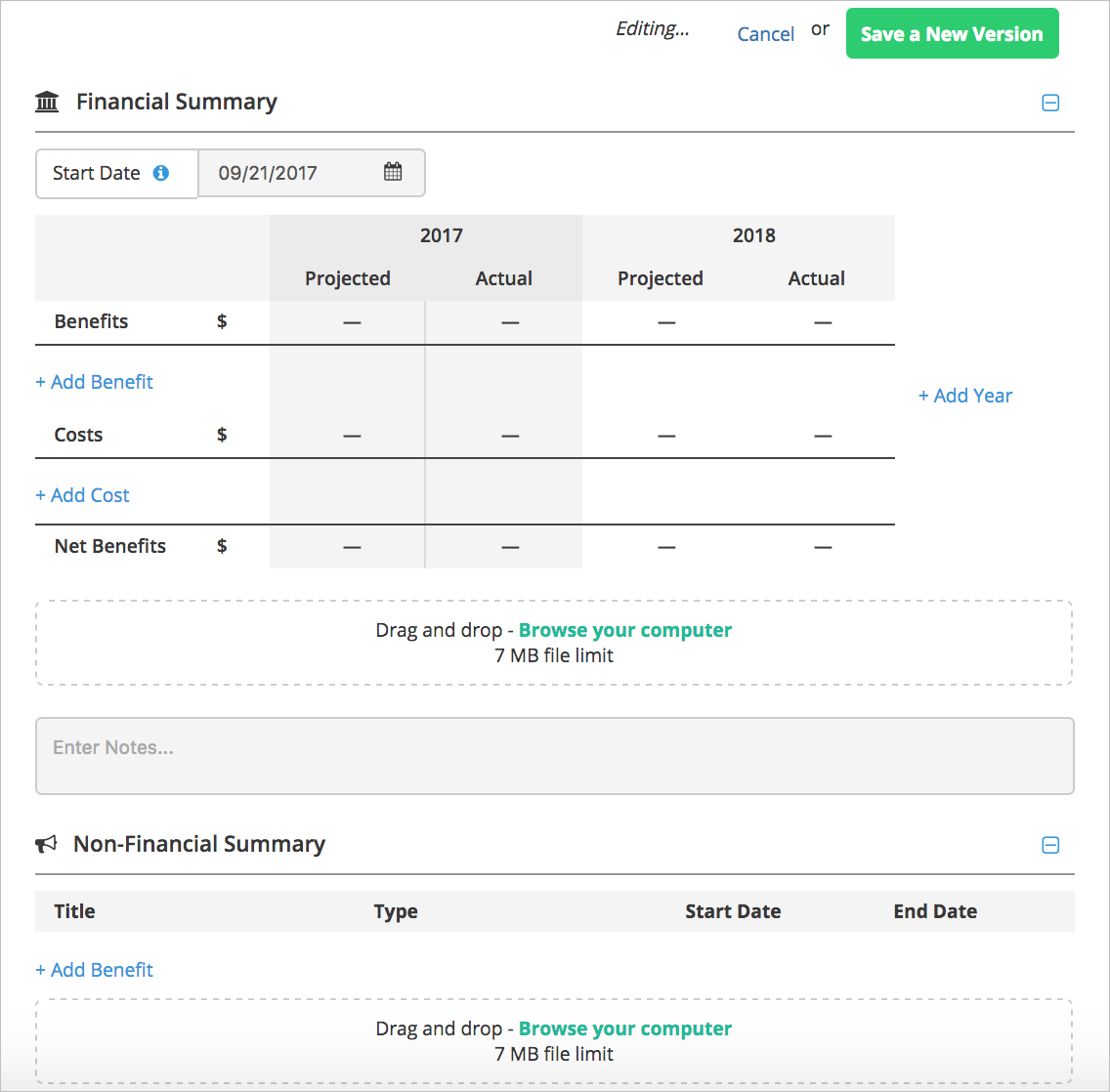 Fill in financial impact by selecting/entering the following:

Start Date
Benefits (Projected and Actual)

Cost Avoidance
Cost Savings
Revenue
Other

Costs (Projected and Actual)
Attachments
Notes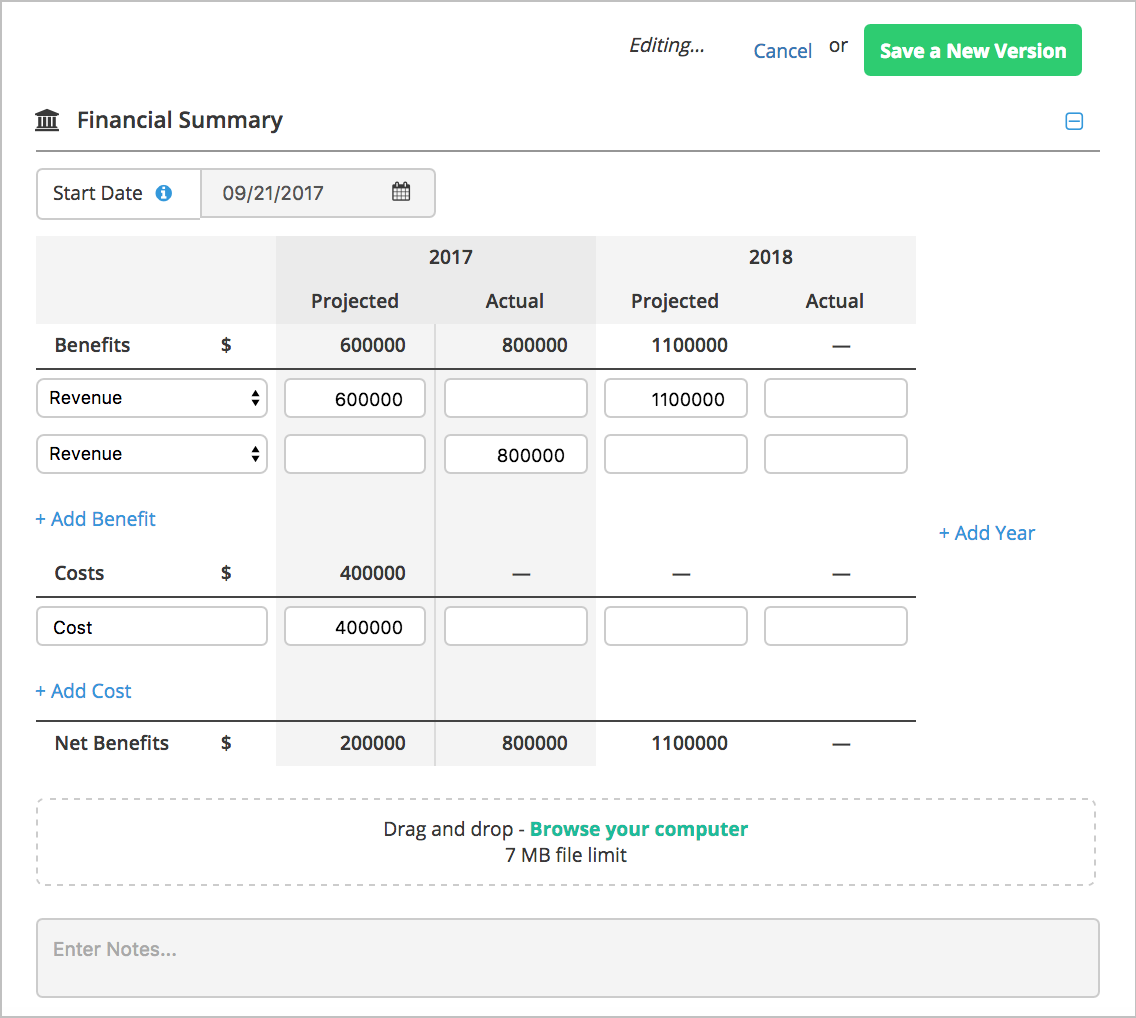 Fill in non-financial impact by selecting/entering the following:

Benefits

Title
Type 

Brand Awareness
Customer Satisfaction
Employee Engagement
Social/Environmental Impact
Other

Start Date
End Date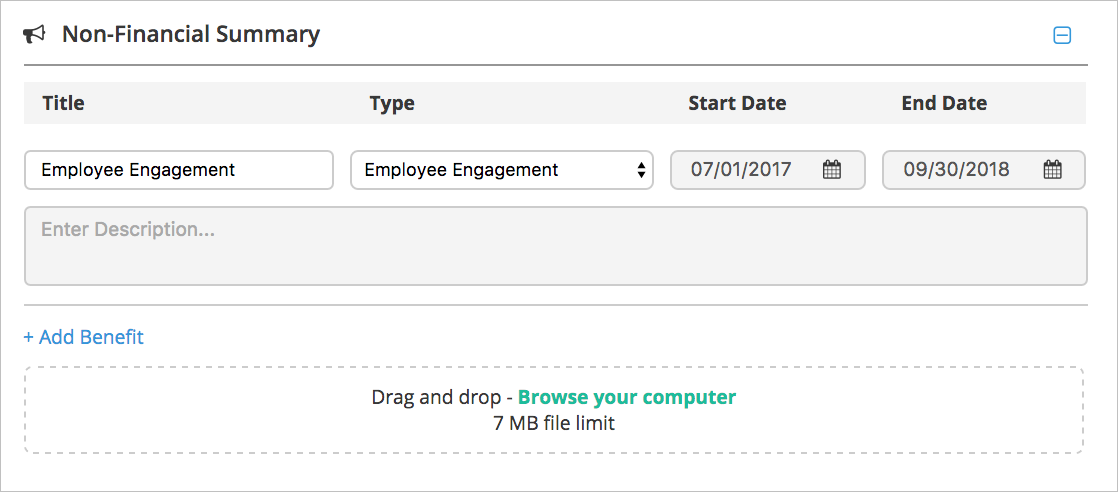 Once the form data is filled in, finish by selecting "Save a New Version" 

The newly added business impact will be recorded on the view idea page:
Submitter Access to Business Impact
Administrators may also allow Submitters access by navigating to Site Setup > Ideas > Ideas.

With this setting enabled, users that submit ideas/projects will have the ability to view the Business Impact that has been set up with their submission.
Managing Business Impact:
Keep in mind - by default this tab is only visible to administrators, moderators and evaluators - however, if the option is enabled to allow submitter access, that will allow them to also view and edit.
Editing Business Impact
To edit business impact select "Update"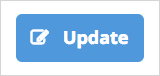 A history of business impact entries for that idea can be viewed at the top of the Business Impact tab
Deleting Business Impact
To delete business impact, select the 'trash' icon next to the benefit or cost:
Exporting Business Impact
The following columns can be added to the Pipeline Idea List using the 'gear' menu:

"Projected Net Benefit"
"Actual Benefits"
"Non-Financial Benefits"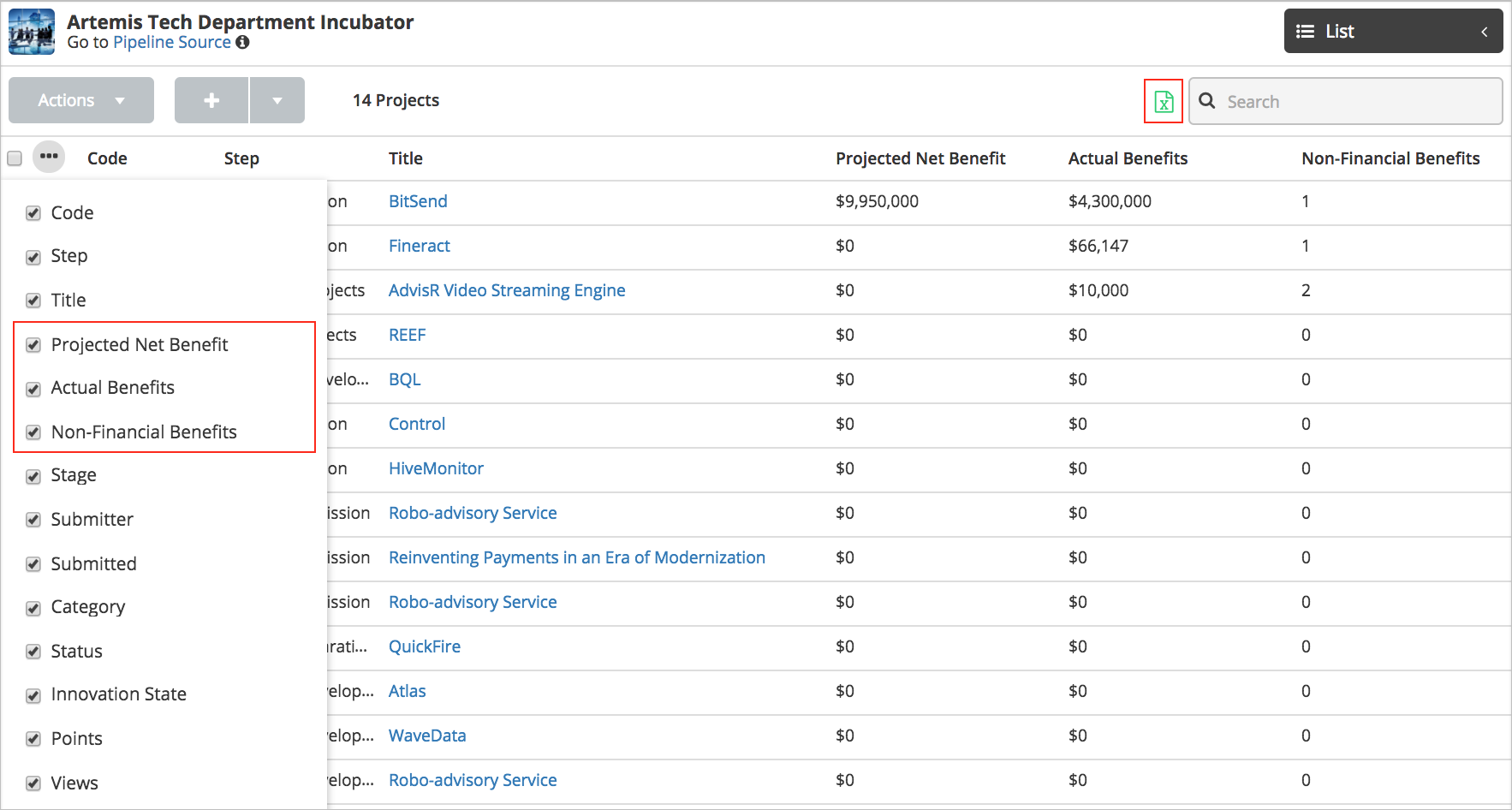 Once the columns are added to the list view, run the export by selecting the green 'Excel' icon on the upper right.
Assigning Business Impact Action Items
Any development team members, when selected to edit idea attributes, can now enter projected and actual business impact via a development action item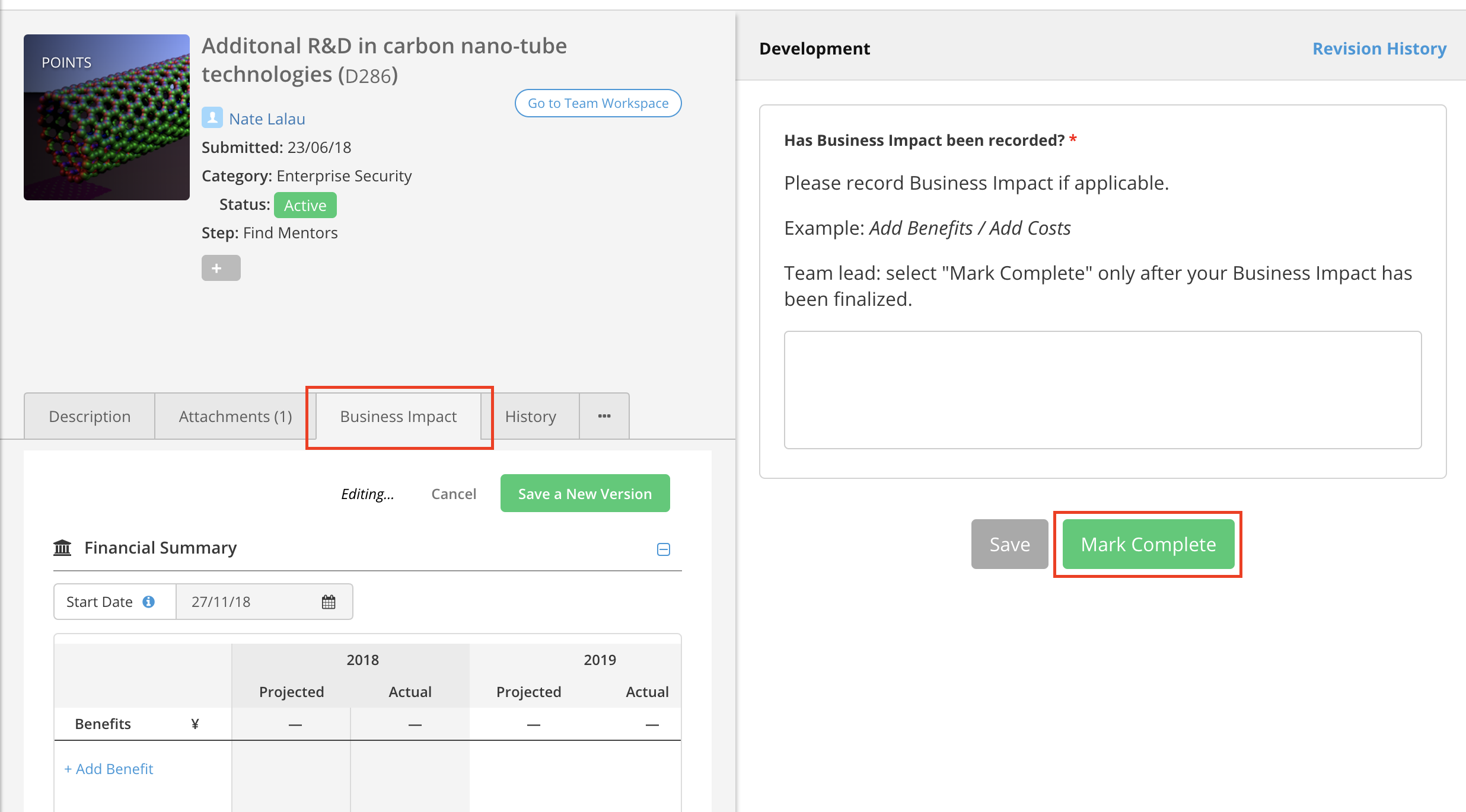 The Administrator / Pipeline Moderator can add a new Development step in the Pipeline workflow to conduct this action:

Use development submission form question to ask if business impact is recorded... and the assignee can go to those areas and fill out business impact.
"Allow Assignees to Edit Idea Attributes" must be enabled.
The administrator can also create a custom email for the step so when the action item goes out, it reflects the assigned action:
When the assignee, gets the action item, the user can enter business impact for the idea assigned to them, while also choosing a development field question:
Command Center Dashboard
Business impact for all ideas will be reflected in the overall metrics in the Command Center main dashboard: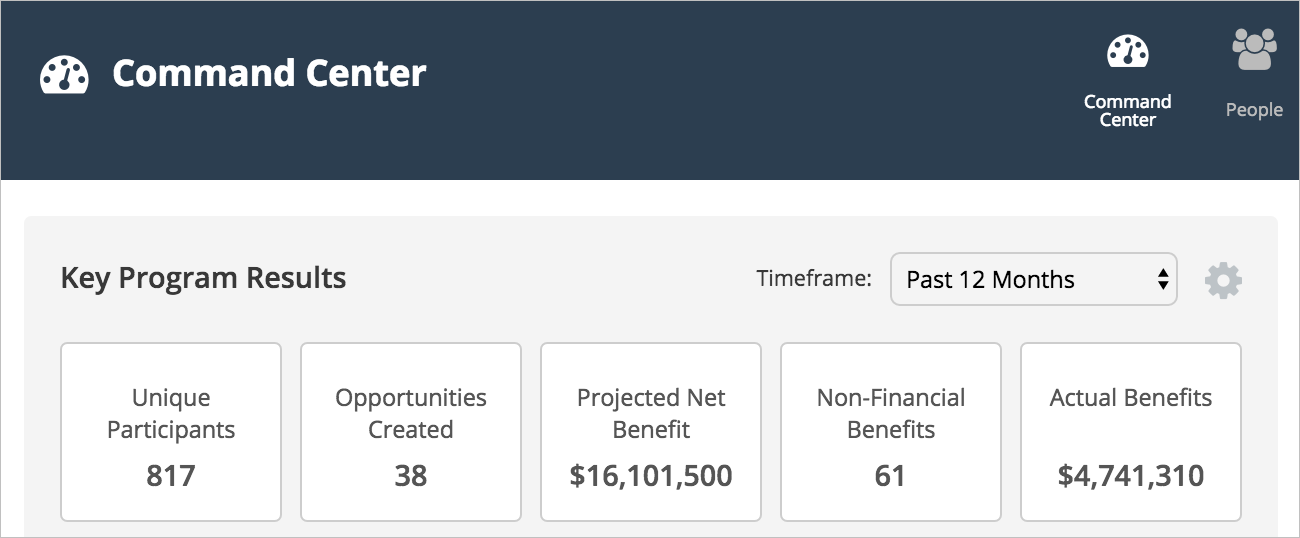 In this screen administrators can view Projected Net Benefit, Non-Financial Benefits, and Actual Benefits by individual Site, a selected group of Sites, or for all Sites.
Business Impact Dashboard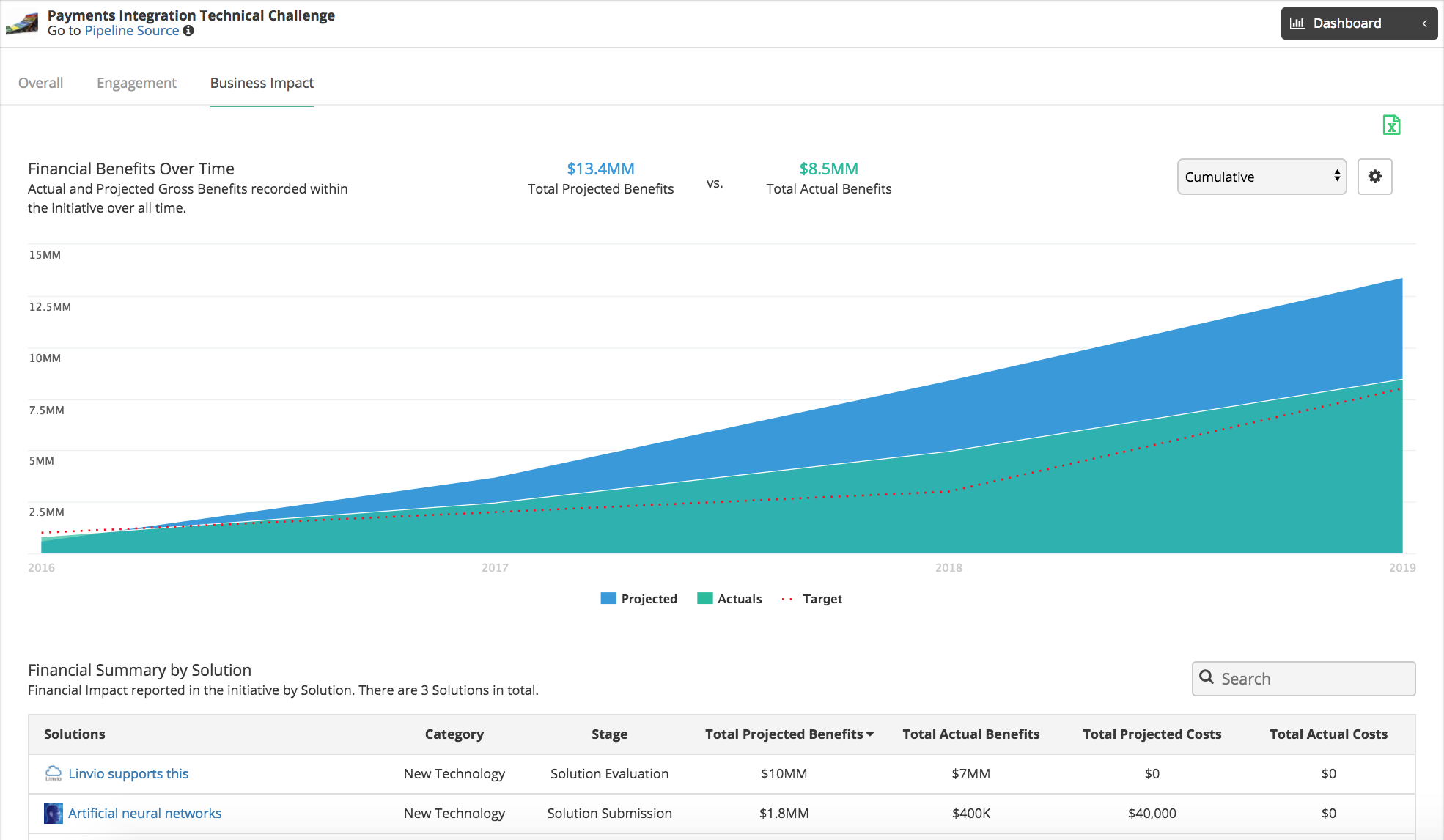 Administrators can view Financial Benefits Over Time and Financial Summary by Innovation.

Administrators can also export business impact from the Pipeline dashboard.