Commenting
Comments are entered in real-time in the Brightidea editor. Any comments made by other users that have access to the Memo will be displayed immediately
To add a comment, users can highlight text, which will display the comment icon, or can click on the comment icon in the main toolbar

Once the comment icon is selected, a comment prompt will pop up. User can then add their comment, tag a user, or assign the comment to another user
Once posted, comments can be managed by selecting the three dots in the upper right corner of the comment. This provides options to edit the comment, delete the comment, generate a link to the memo document, or, if assigned to the comment, mark it as complete/resolved
Tagging a user
Within a comment, users can search for and tag each other by adding the '@' sign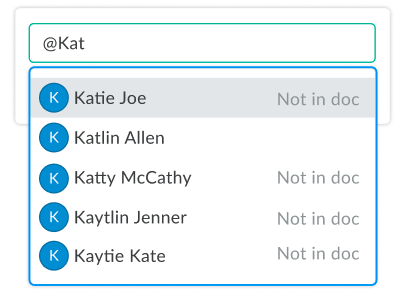 User tags will then remain persistent within the comment, and send the tagged user a notification with an invitation to the memo
As a note, a user needs to have a registered account in the system in order to tag; if not in the system, they will need to be added, and complete their registration
Assigning a comment
When a user is tagged in a comment, there will be a prompt to assign the comment to them. If more than one user is tagged in a comment, the author of the comment will need to choose who the assignment should go to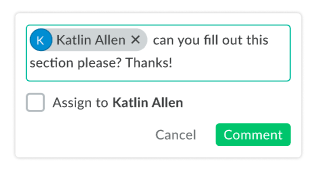 Once a comment is assigned, the user will receive a notification with a link to the comment and document
Assigned comments will also have a top banner indicating who it was assigned to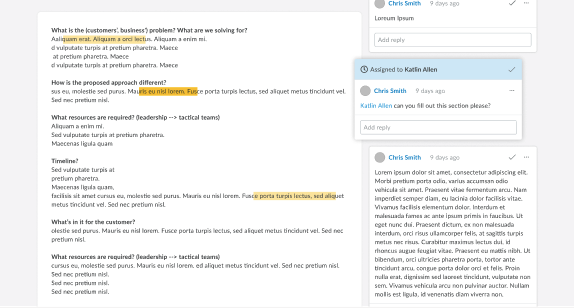 Any user can add a reply or reassign the comment, or they can mark the comment as resolved
View All and Filters
Within the top toolbar, users can select the comment icon to see all comments within the document.
This shows all comments that are open, assigned to them, and resolved.
Users can click the top filter button to limit the view within this screen.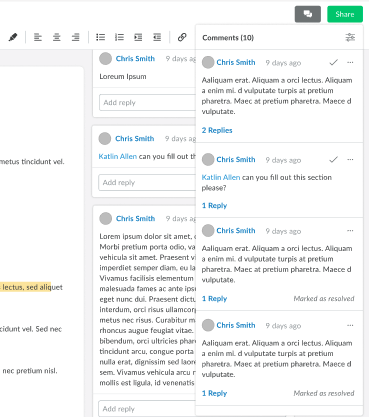 Further information related to the Review Process can be found here.