Below are specific elements and topics to review when using Brightidea's Project Room feature.
Creation of a project room
Project Rooms can be created in a couple different ways.
When viewing a record
When viewing a record within your pipeline, you can add the "Project Room" widget to View Idea 3, or select a more actions button on the record and select the "Send to Project Room..." action.
If you are sending to an existing room, no new room will be created.
If you are creating a new room when sending the record, a room will automatically be created
Once the record is added, you will see the project room(s) listed within the View Idea 3 widget, as well as see the idea within the room space.
Within the project room lander
When viewing all Project Rooms available to you, there is an ability to create a new project room.
This will create a completely blank space, and all objects, assets, and team members will need to be manually added.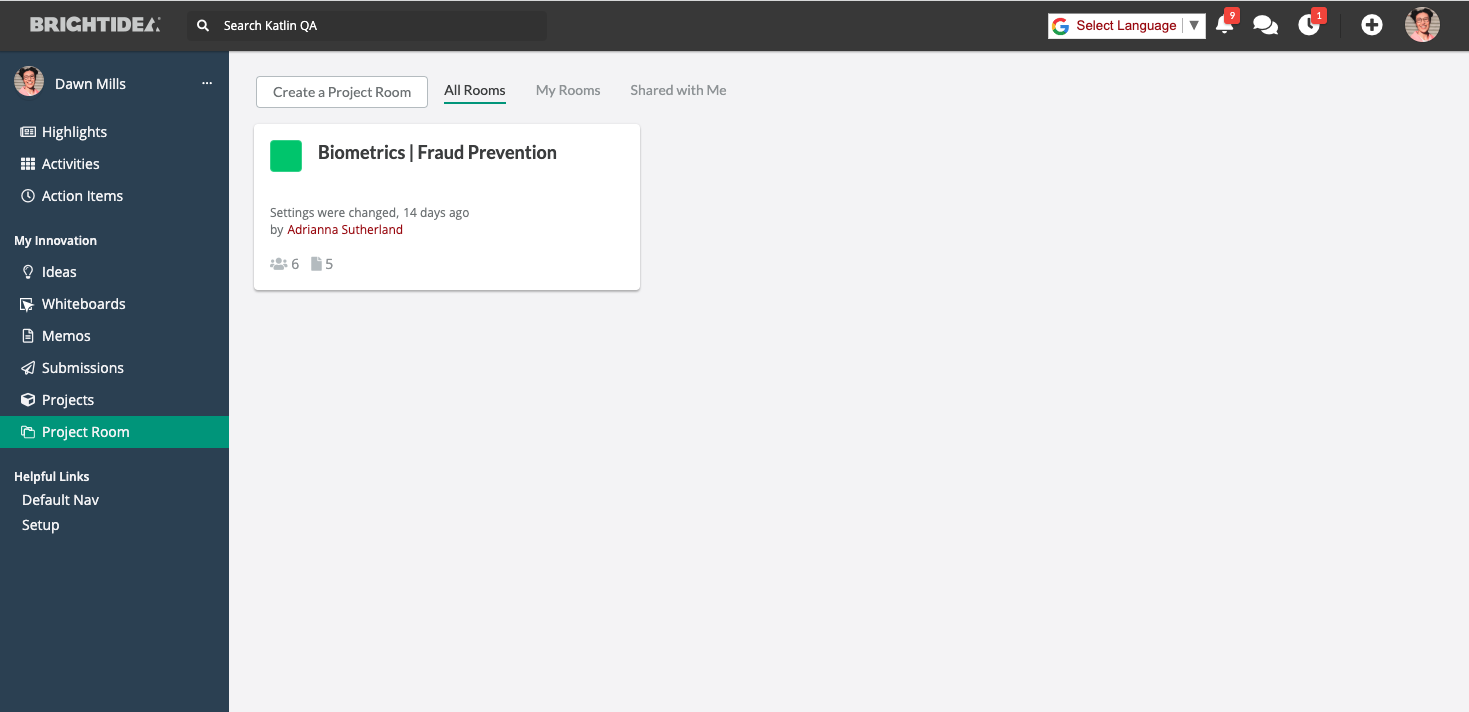 Updates Page
When viewing a project room, team members will be able to see the description, a list of team members, and the current task count with the associated status.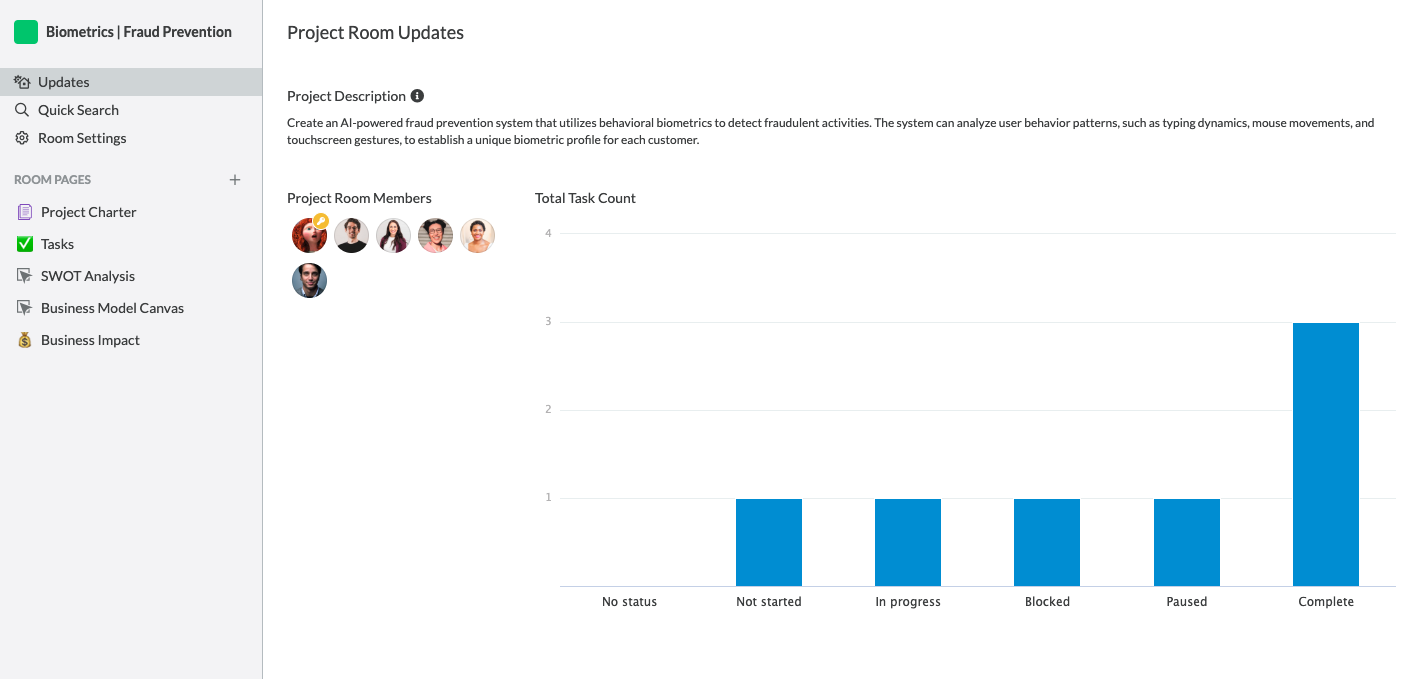 Configuration and Sharing
When under Project Room settings, users have the ability to rename the room, update the colored icon, and ability to add a project description to be shown the lander.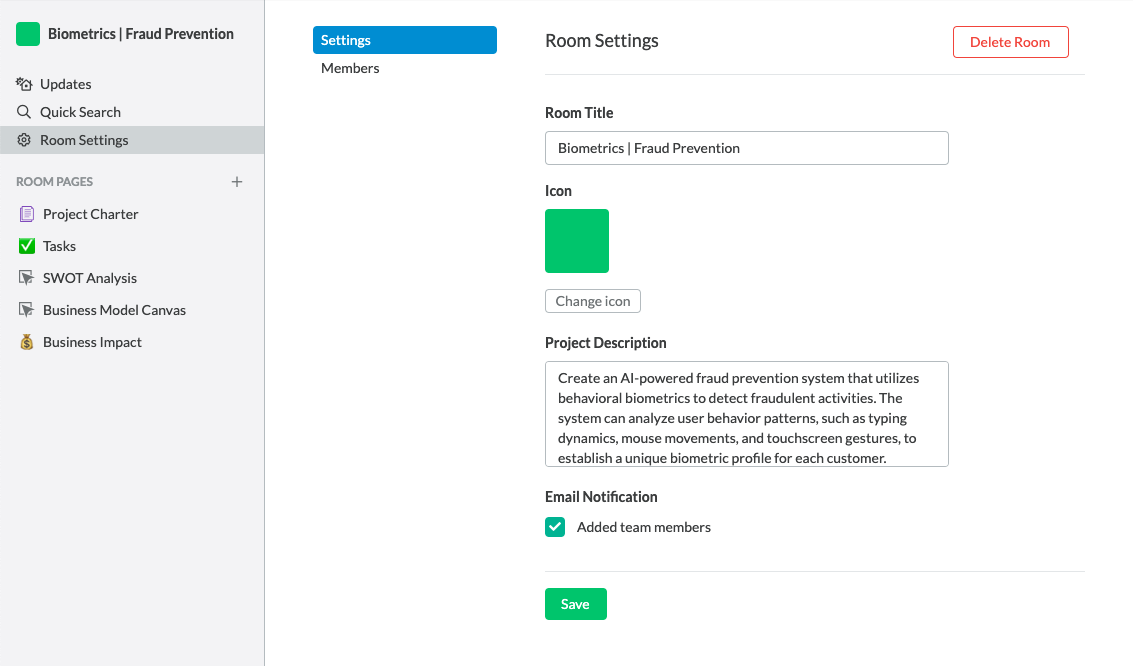 Under the Members tab, new project room team members can be added. Once a user is added to a room, they will receive a notification via email, which can be turned off under team settings.
⚠️ As a note, team members will need to still be invited to individual Ideas, Whiteboards, or Memos should they not have explicit permission to view or edit those objects.
Adding, editing, and removing objects
In the left rail of the project room, users can add:
Folders
Ideas
Memos
Whiteboards
Links
Business Impact
Tasks
All objects can be moved and organized within the left rail, including the ability to add items within folders, one level deep. All objects once added can also be renamed, favorited, or opened in a new tab.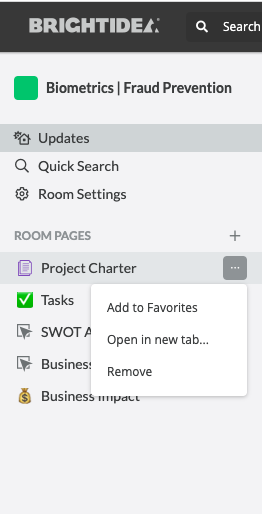 Task Management
Multiple task pages can be added to a Project Room. Each tasks consist of:
A task name
Assignee - will only show team members within room
Status
Due Date
Tasks can be bulk edited to mark them as complete or exported.