Admins have the ability to duplicate their Initiative if they wish to create multiple copies of similar challenges. In order to do this, navigate to your Command Center > Products (formerly known as Apps) page and scroll down to the Duplicate tile: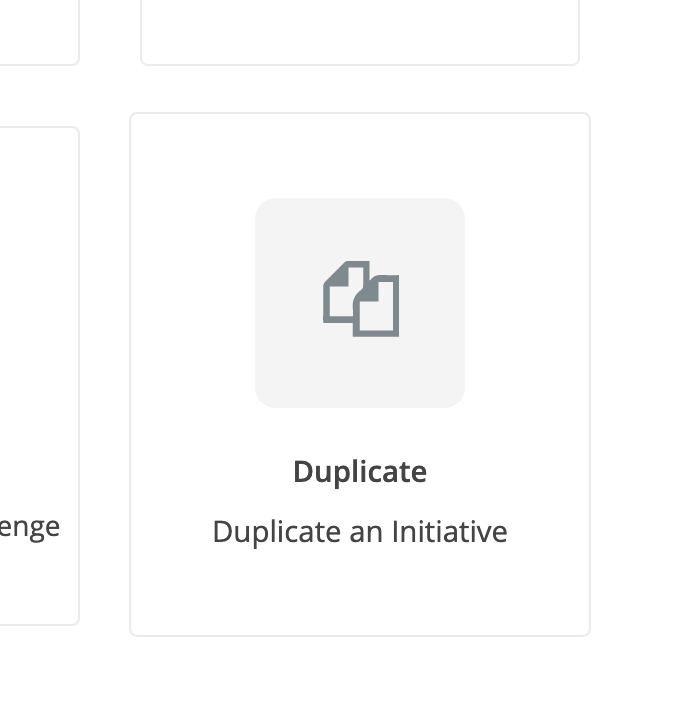 Select the existing Initiative to copy the settings from, (aka the Pipeline the admin wishes to inherit the settings from.) They will choose which properties to carry over and select "Duplicate." The Duplicate Initiative will copy over all Pipeline-level email templates, as well as displaying the General Access groups, Administrators, and Moderators to edit before duplicating the initiative.
Duplicate DOES copy:
Dependent Form Questions in Submission Form
All Widgets
All Labels
All Terms and Conditions
All Design Changes
All Idea List Tabs
Dynamic Navigation
Administrator Selection
All Submission Forms
All Backend event handlers
All Categories
All Statuses
Idea Multiplier
Navigation
Reputation Point settings
All Checkbox Options
Custom Email Templates
The date formatting selection will not copy over, but the enabled option will.


Duplicate DOES NOT copy:
Email Digest dropdown Selection
Total number of Chips per user (if using Chip Voting)
As of the 2021 Winter Product Update, system administrators can now duplicate Idea Boxes from the Duplicate Initiative popup. Idea Boxes will appear in the dropdown list of initiatives to select. Pipeline Managers, Pipeline Moderators, and General Access groups can also be edited before duplicating.
Note: Nothing happens with the ideas if the admin uses an active Pipeline to duplicate. It only changes the look and feel.
Alternatively, please see Create Pipeline wizard to create a new template of a Pipeline with look and feel, but it will not take all selected options over.