Below is what the administrator needs to do in order to copy all design and settings to a new or existing Pipeline within Enterprise:
Navigate to your Command Center > Products (formerly known as Apps) page and scroll down to the Duplicate tile: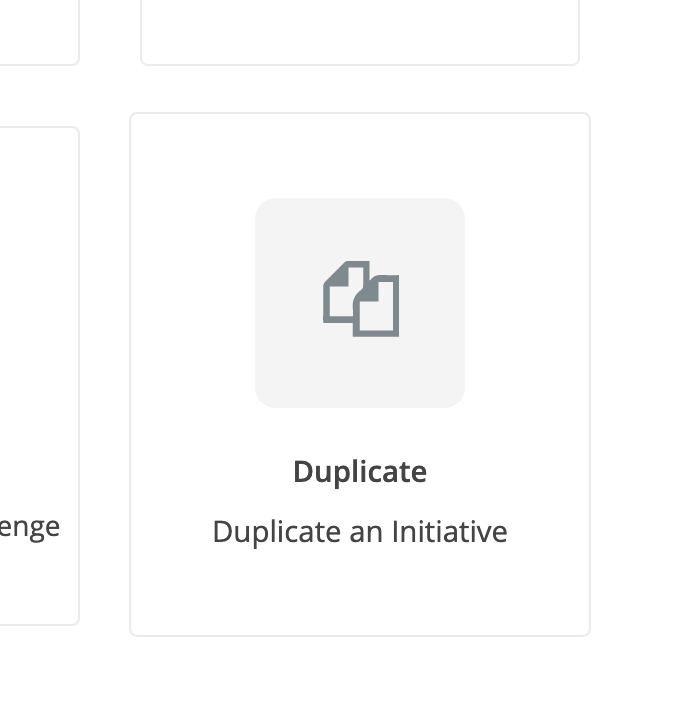 Select the existing Initiative/Pipeline to copy the settings FROM, (aka the Pipeline the admin wishes to inherit the settings from.) He/she will select which properties to carry over. Select "Duplicate".
NEW: The Duplicate Initiative popup has been updated with an improved look and feel

Pipeline-level email templates are now copied to the new Initiative

General Access groups, Administrators, and Moderators will now be displayed and editable before duplicating the initiative
Duplicate DOES copy the following:

Includes: Dependent Form Questions in Submission Form
PLEASE BE CAREFUL IF THERE IS A PRE-EXISTING SUBMISSION FORM WITH QUESTIONS AND ANSWERS.
All copied questions will override the current submission form configuration and existing idea submission form data WILL BE LOST.

All Widgets
All Labels
All Terms and Conditions
All Design Changes
All Idea List Tabs
Dynamic Navigation
Administrator Selection
All Submission Forms
All Backend event handlers
All Categories
All Statuses
Idea Multiplier
Navigation
Reputation Point settings
All Checkbox Options

However no "Dropdown" selections > Therefore, for example for Email Digest:

Custom Email Templates
The date formatting selection will not copy over, but the enabled option will.



Duplicate DOES NOT copy over:

This is by design to take into consideration for security

Email Digest dropdown Selection
Total number of Chips per user (if using Chip Voting)
Groups associated with the Pipeline

Nothing happens with the ideas if the admin uses an active Pipeline to duplicate

It only changes the look and feel. If the admin made any label changes, those will be changed so keep that in mind.

If the admin uses Duplicate, it will create a replica of the current Pipeline with all options and details.
If the admin uses Create Pipeline wizard, it will create a new template of a Pipeline with look and feel, but it will not take all selected options over.