Categories help organize submission in your Challenge/Site. Having the category submission when entering idea helps the administrator monitor which ideas are coming in as well as help prioritize any ideas they may be looking for.
Categories also help users have a better and more clear visualization of which ideas are being submitted.
Other Benefits:
The user can subscribe to a category so they can view only those submissions.
Categories also aid in keeping the Site goal from beginning to end.
Categories are also most commonly used for the following four purposes:
Routing of ideas to different experts for evaluation
Routing of ideas to different implementation teams
Reporting purposes to better understand either pain points, solutions, etc that have been suggested by your community.
End User filtering of ideas submitted during the community collaboration phase.
Table of Contents
Getting Started:
Login as a Site or System administrator
Select Site Setup > Ideas Tab > Categories

Enter New Category:
Enter in Text for the Category and Select " + Add" to add a new category

To Delete / Remove a Category:
Select "Delete" next to the applicable name.

WARNING: PLEASE REFRAIN from deleting categories if there are existing ideas.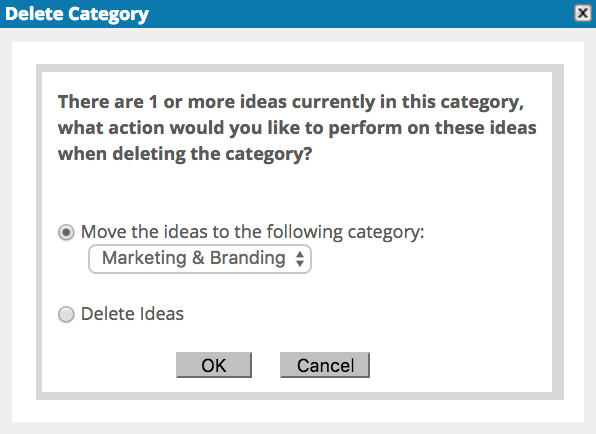 When deleting a category, the adminstrator will be prompted to either delete the existing ideas in that category, or move them to another category.
The administrator must make sure to move ideas if they wish to save any data in their Site
Edit a Category:
The administrator can always edit any existing categories to a new name by just editing the title of the current category
It will reflect with all ideas in that Site.
Change Order of Categories:
The administrator can also change the order by clicking and dragging the bars in whichever order you select.

Change the "Categories" label for your end users:
Also - the administrator can edit the text of the Categories field on the submission form

Navigate to Site Setup > Ideas > Submission Form
Refer to this article for more information
Assign Image to Category for use in Idea Boards:
Expanded the utility of Idea Boards by allowing administrators to assign images to each Idea Category automatically as ideas come in. If idea submitters don't add images for ideas, this feature ensures that Idea Board lists still look great.
Important Note: This is a BETA feature and must be enabled under Site Setup 'Beta' tab.
Once enabled, administrators can assign individual images to idea categories by selecting the "Upload Category Image" button

When the category is selected on idea submission, the idea image will automatically update to reflect the category image uploaded

Change the Category for Idea(s) in Pipeline Management
The administrator is able to change category of an idea in Pipeline Management.
The Pipeline 'Actions' menu allows the administrator to change category on the selected ideas(s) in both the List and Step views.
Please note:

No email is sent to idea submitter or idea subscriber(s)
Users who are alerted via Category do not receive alerts if any idea's categories are changed.
Step View
To edit an idea category from the Step View, the administrator can click on the idea(s) and either click the "Actions" button or right click and then select "Change Category"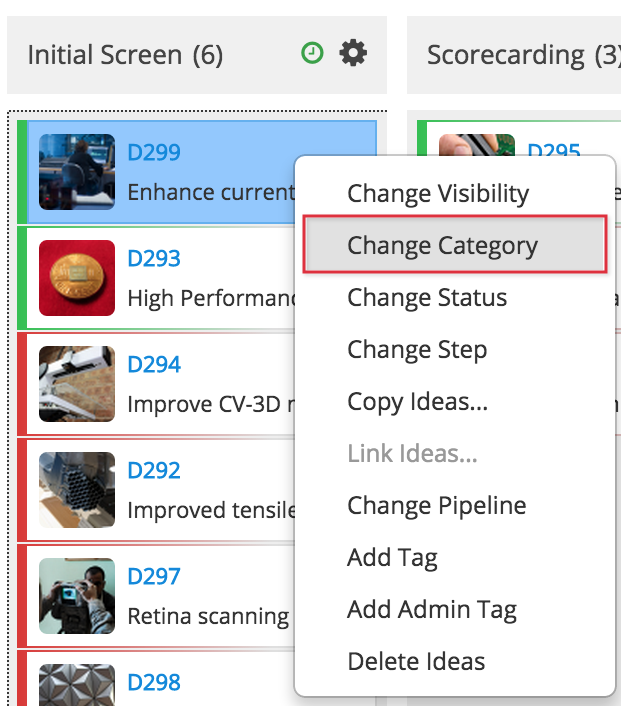 Once "Change Category" is selected the administrator will see a pop up box to select the new category for the idea: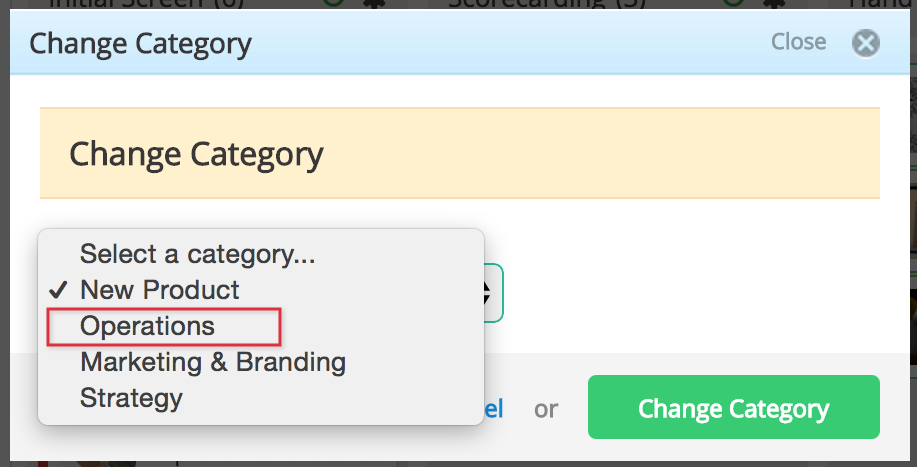 To submit the change click "Change Category"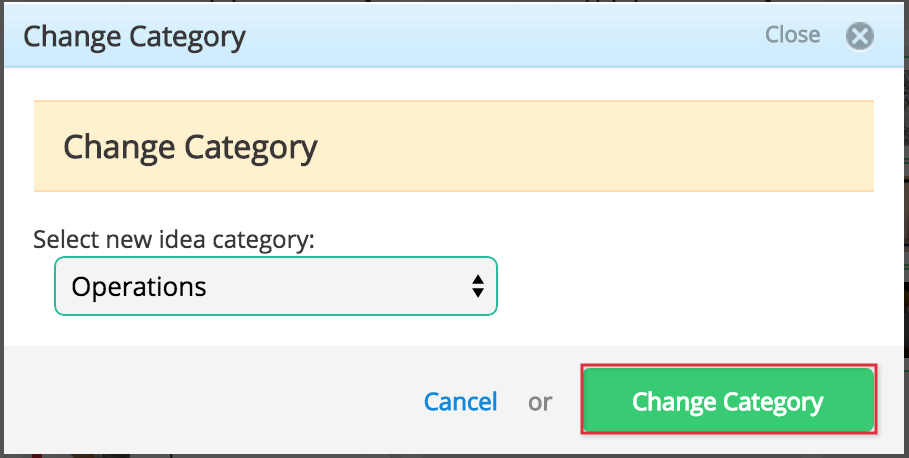 After "Change Category" is submitted the user will see a pop up confirming that change

List View
There are two ways to edit an idea category from List View

One way is to highlight the idea(s) by selecting the checkbox in the left column and then click the "Actions" button or right click and then select "Change Category"
Once "Change Category" is selected the administrator will see a pop up box and go through the same process as in Step View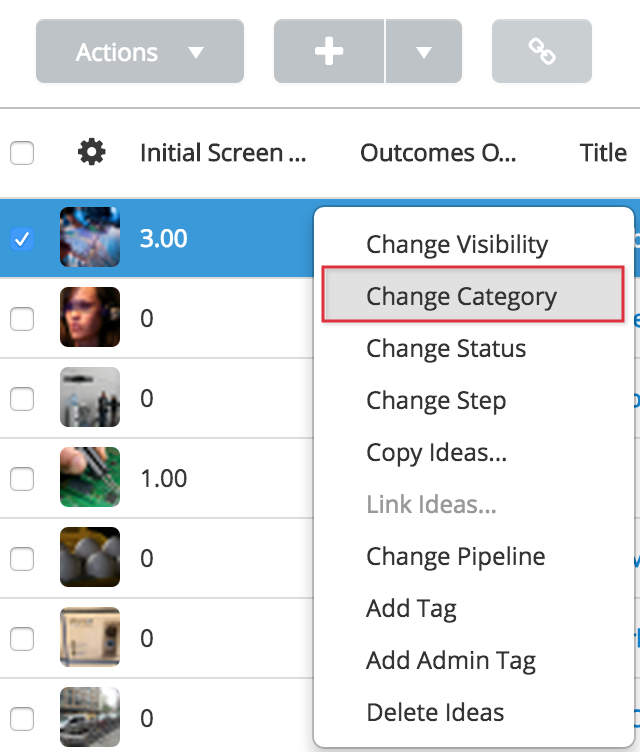 The second way to change an idea category from List View is with Inline Editing
To begin make sure that "Category" is an enabled column in the List View by selecting "Category" from the gear icon: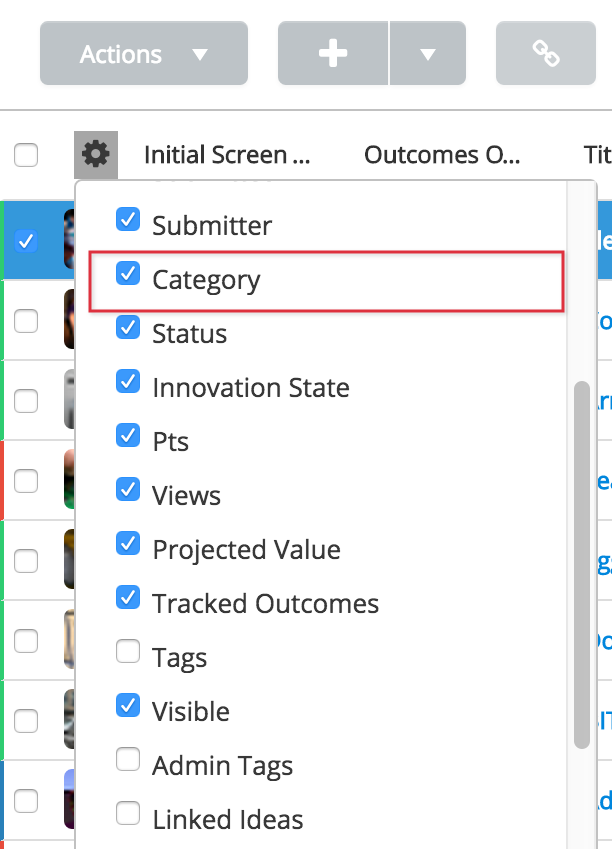 Navigate to the "Category" column and click directly on the idea category:

The administrator will be prompted to select a new idea category from the drop down menu: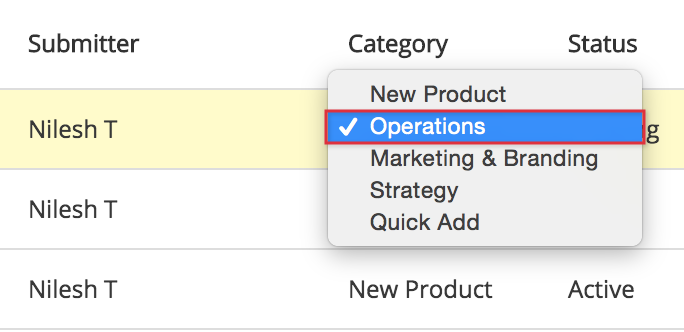 Once selected the administrator can click anywhere outside of the category box and the new category will automatically save:

Important Things to Note:
NEW Initiatives MUST have at least one Category. If your Initiative only has one Category, the Submission Form will automatically hide the Category field.
Categories can be setup with alerts based on new ideas in those categories submitted.
Refer to this article to learn more about category alerts