Question:
What is the 'Daily / Weekly' email digest feature?
Answer:
The email digest feature (available on both Initiative and Enterprise levels) allows users to minimize the amount of emails received due to activity. The email digest rolls up certain activity and sends on a certain date or time with a summation of all activity placed within that time period.
The digest email summary includes the content of the following email templates in Brightidea:

Idea Submission confirmation emails
Comment Notification emails
Status Change Emails
Category Change Emails

Note: To have this feature working on the Initiative level, Administrators need to enable it on the Enterprise level
Under Enterprise or Site Setup > Site > General Settings is where the Administrator can enable options for users to choose in their profile in regards to email settings.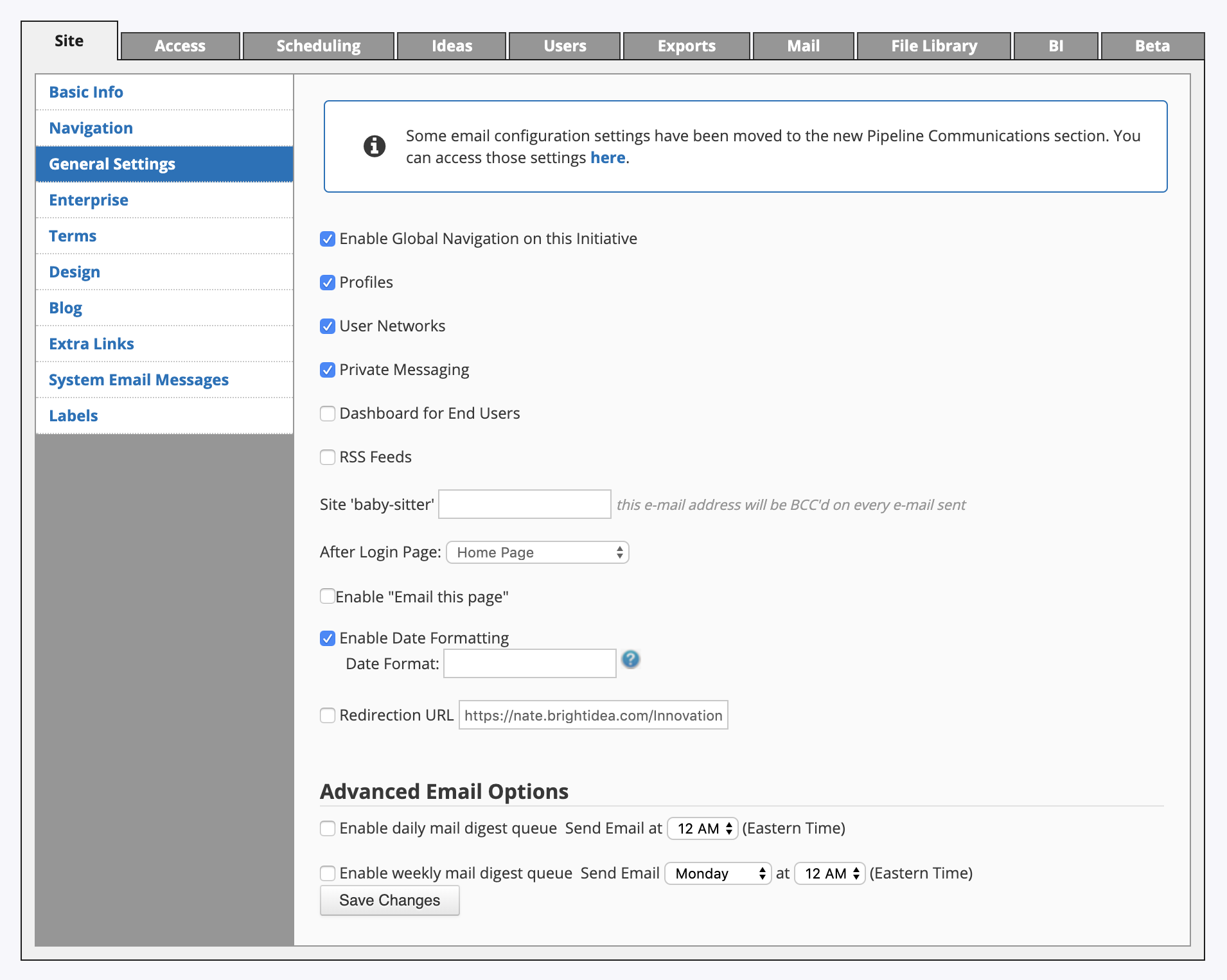 They can select a Daily or Weekly Email digest that will show their activity in Initiative or Enterprise.
This enables the OPTION for users to choose, it does not force them to follow this regimen.

For example: If you enable both Daily and Weekly Digest at 5AM and on a Monday, these will be the default options when a user edits their profile.
However, this does NOT mean users will automatically inherit this setting. They need to choose it for themselves.

Users can also change the day and time accordingly in their profile.
For Enterprise profiles, system administrators must enable options on BOTH Enterprise and Initiative level.
Important things to Note:
Only certain emails (mentioned above) are roped into the digest emails. Other emails will be sent directly to the user regardless of the digest settings.
The digest email feature does not support custom time-zone settings, all digests will go out according to Eastern Standard Time only!

If using Enterprise profiles, once email digest options are enabled within Enterprise, it will be for everyone who uses Enterprise profiles, they will have the option to enable it in their "My Profile"

We also have the Initiative level options in case there is no Enterprise system active.

So for Initiative where the admin has them not affiliated with Enterprise and do not use Enterprise profiles, they have the option as well.

As of now, users need to

choose

that option in their profile, we cannot mass default or update unfortunately.

For an example on how email digests work with changing the templates associated with them:10:00pm - User A submits an idea in Initiative
10:01pm - Email confirmation gets queued up in User A's digest. The email template on that confirmation says "ABC"

10:05pm - Admin goes into Setup and change the template to DEF

10:10pm - User A submits another idea into

Initiative

10:11pm - Email confirmation gets queued up User A's digest. The email template on that confirmation says "DEF"

11:00pm - The time arrives for User A's digest to send my summary email, User A has two emails, one that says "ABC" and one that says "DEF"
So when the change is made, it will only effect going forward emails.