Everything You Need to Know About Hiding Submissions!
Hiding submissions provides a great & quick way for administrators to shield any submission(s) from their users for any reason.  It is very simple to do, and undo! Please see the details below.
Hiding Submissions via View Submission Page
When the admin is logged in to the Site as an Admin, he/she will see an icon labeled "Toggle Idea Visibility" when viewing a submission page

Once the submission is selected as "Hidden", it will only be visible to the administrator and not end users.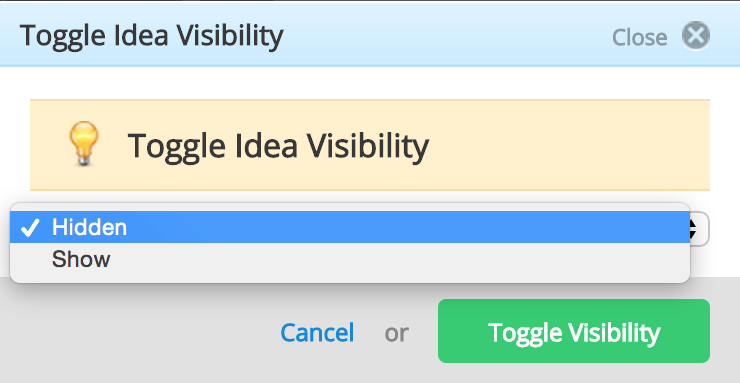 The administrator can do the reverse and select "Show" to unhide the submission via Submission Page
Hiding Submissions from Pipeline
In the Pipeline, the administrator can easily set the visibility of the submissions through this interface. 
Please note, this hiding feature will only hide submissions from END USERS, not administrators or the submitter (including team)!

Administrators for the Site will see the submissions by default.
First, the administrator must select the submissions he/she wishes to hide and select "Change Visibility" from the Actions menu or right mouse click: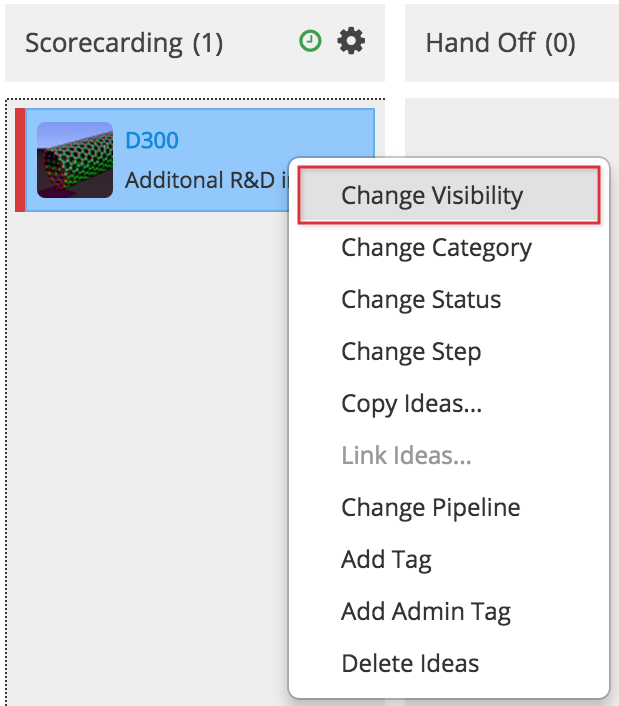 Second, the admin will receive a confirmation to hide/unhide the submissions and select "Change Visibility":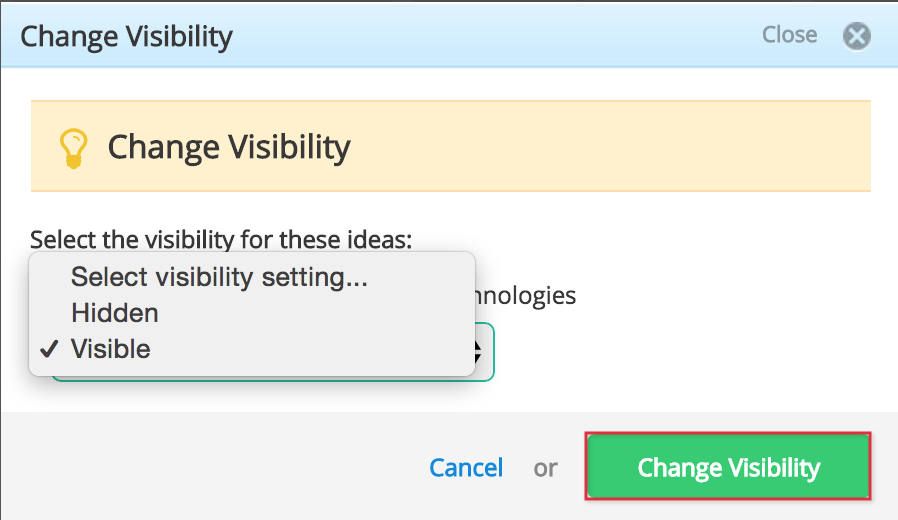 The administrator will then see the visibility of the submissions in their List view:                                                           

The administrator can perform the same action again by selecting/ deselecting "Visible" to make the submissions visible/hidden.  
End users cannot see a submission once it is hidden, except if they are the submitter or on the idea team.  

Administrators (Site or System) can see all submissions regardless if it's hidden or not.
Viewing which submissions are hidden
Using the Submission Page, the administrator can see if a submission is hidden.  If it says "This idea is hidden" then the admin knows it is hidden.  
The easiest way however, is within the Pipeline List View, the administrator can see which submissions are hidden or visible via the 'Visible' column
Leveraging Brightidea's API can also give the administrator a clearer report of which submissions are hidden.
Hiding on Submission
Submissions can be hidden automatically on submission if the option "Hide ideas after submission" is enabled.  

This feature can only be enabled in Site Setup > Beta > "Hide Ideas After Submission" option. 

With this option enabled, all end users (except the submitter) will be prevented from viewing all hidden submissions.

The Administrator would need to manually un-hide submissions in order to make them visible to all end users.
Important Things to Note:  
The submitter will be able to view their submission if their submission is hidden. 

Note: This will only work for Brightidea's newest set of features including Idea Boards and View Submission 2.0.

If your Brightidea site is using the old Idea List page or View Submission 1.0, the end user will not be able to see their hidden submission, only administrator(s) can.

Reputation points for users accrue on submission - not when the submission is un-hidden.
When hiding a submission - any attachment(s) will ALSO BE HIDDEN to the end user.

Administrators will always have access to the submission and its attachment

No email alert is sent to the submitter when and if an administrator hides their submission.
Once the administrator hides a submissino- It will NOT show on the updates widgets.  If administrator is logged in, they still will see it, end users will not. 
Tags of submissions that are hidden don't show in the tag cloud.
There is no accessible report or log of the toggle visibility activity.
All submissions, hidden or not, reflect in respective Site and Enterprise reports. 
If another submission that is not hidden has the same tag, only that submission will be visible on the submission view page with tag filter.
How Statistics work:

On Challenge/Site level for an End-User: 

If a submission is hidden, it will not show those submission(s) which are hidden by an administrator in any area. 

On Site level, for a Site Administrator or System Administrator: 

Statistics will accumulate regardless of any submissions hidden or not.

In Pipeline Management, for Administrators: 

By default all statistics will accumulate regardless of any submissions hidden or not.