Within Pipeline Management and View Idea 2.0 page, certain Users are able to link submissions. This allows Users to create distinct relationships between the Submissions that are coming in - as well as create shortcuts to ideas that are similar.
Additionally, Admins can link any Submission to another across all Initiatives. If there is a Submission that provides great value to another Submission, but they are both in separate Initiatives, Admins can link them to each other to provide additional collaboration.


Linking Submissions Via Pipeline
In any Pipeline, Submissions can be linked to another Submission by navigating to either the Step View and List View.
Step View
To Link Submissions from the Step View, Administrators can select two or more Submissions and either click the "Actions" button or right click and then select "Link Submissions"
Note: Within the Steps view, the Submissions must be selected at the same time (with shift key) to link them.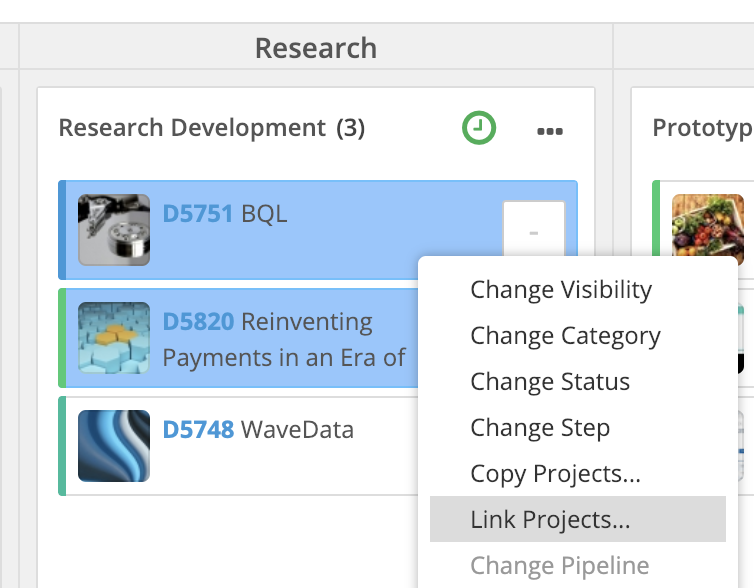 Once "Link Submissions" is selected Administrators will see a pop up box to confirm linking the submissions. To confirm click "Link Submissions".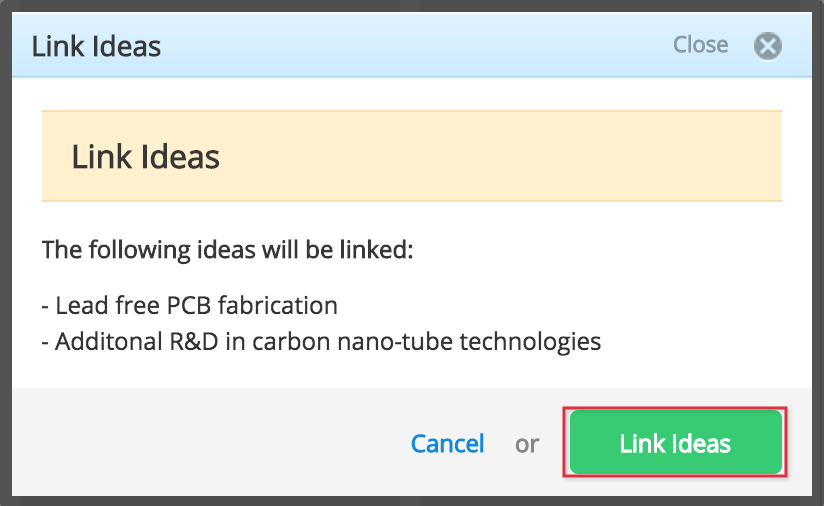 After "Link Submissions" is submitted the User will see a pop up to confirm that the ideas have been linked.

List View
To Link Submissions from List View, Administrators can highlight the submissions by selecting the checkbox in the left column and then click the "Actions" button, or right-clicking and then select "Link Ideas".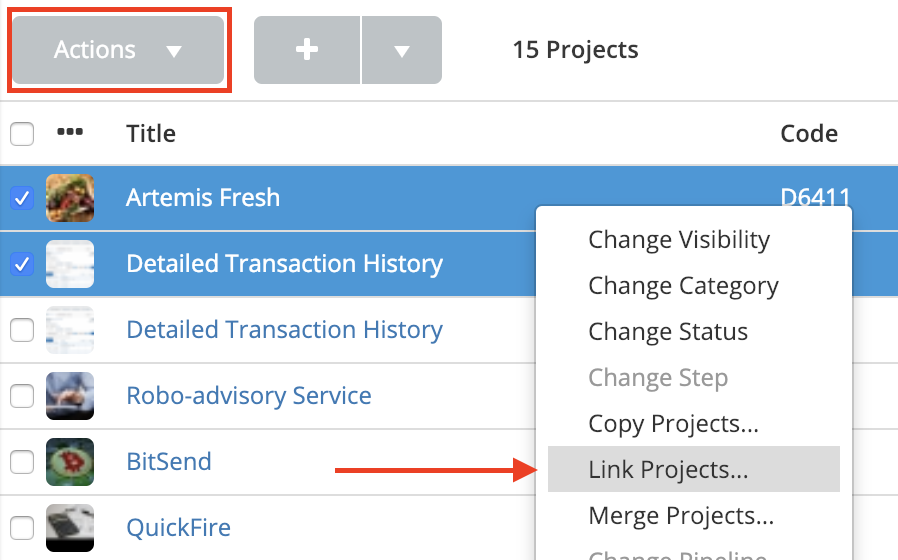 Within List View, Administrators also have the ability to view all Linked Submissions within that Pipeline. To view Submissions that are linked make sure that "Linked Submissions" is selected as an enabled column in the List View by selecting "Link Submissions" from the ellipsis (three-dot) icon.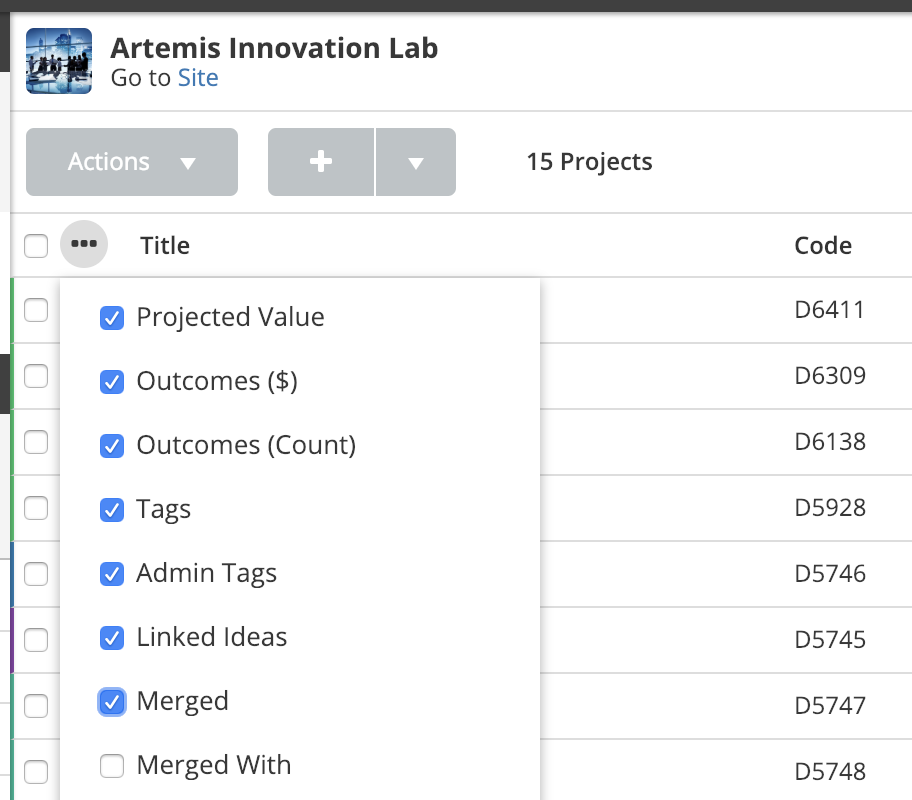 The Administrator will now be able to see which submissions are linked in List View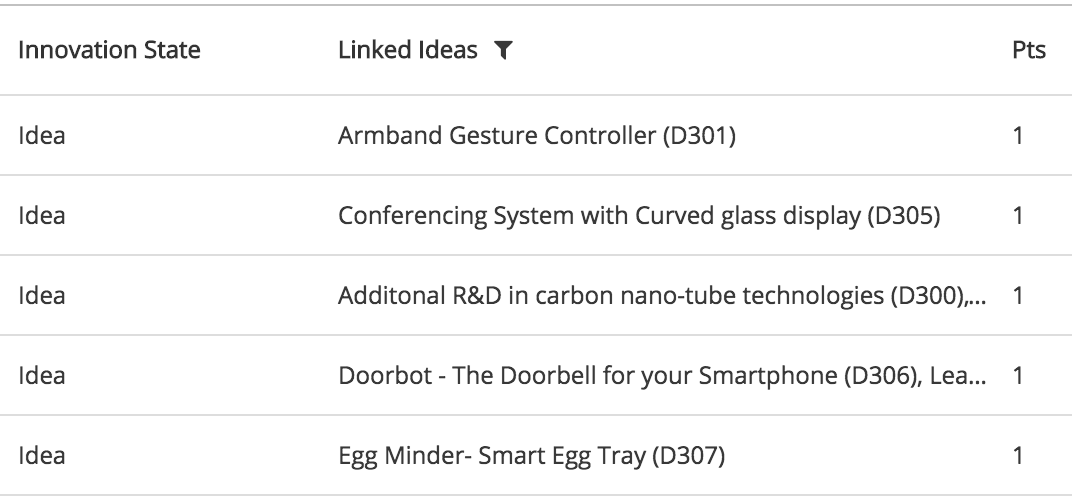 Linking Ideas Via "Idea Details" Widget
On the View Submissions page Users can view linked submissions with the "Idea Details" widget.
Submitters and Submission Teams can link their own Submissions, while Administrators can link any Submission. To link Submissions with the "Idea Details" widget hover over the "Linked Submission" section of the widget and click the pencil icon:


Within this view, the Users can link additional Submissions.


Also, within this view, Users can also unlink submissions by hovering over any of the linked submissions and clicking on the "X" icon. When finished linking/unlinking ideas click "Save Changes".


Important Things to Note:
The submissions will be noted to be linked for both administrators and end users.

Comments on linked submissions are not shared, they are respective to the submission they were made on.

Linking submission(s) does not change any points or change idea ownership

Brightidea will trigger the "Link Idea Notification" email template to all respective idea submitters - when ideas are linked

There is no limit to how many submissions you can link in Pipeline or View Idea 2.0 page.

There is no current API for linked submissions.

Linking submissions have no effect on action item scores and/or the evaluation process - It is just a reference to submissions for better decision making.

Link actions will be recorded in the idea history tab