Brightidea's Initiative Dashboard allows administrators to view metrics associated with the selected Initiative. This article will review all components of the Dashboard, and what information the administrator should be aware of!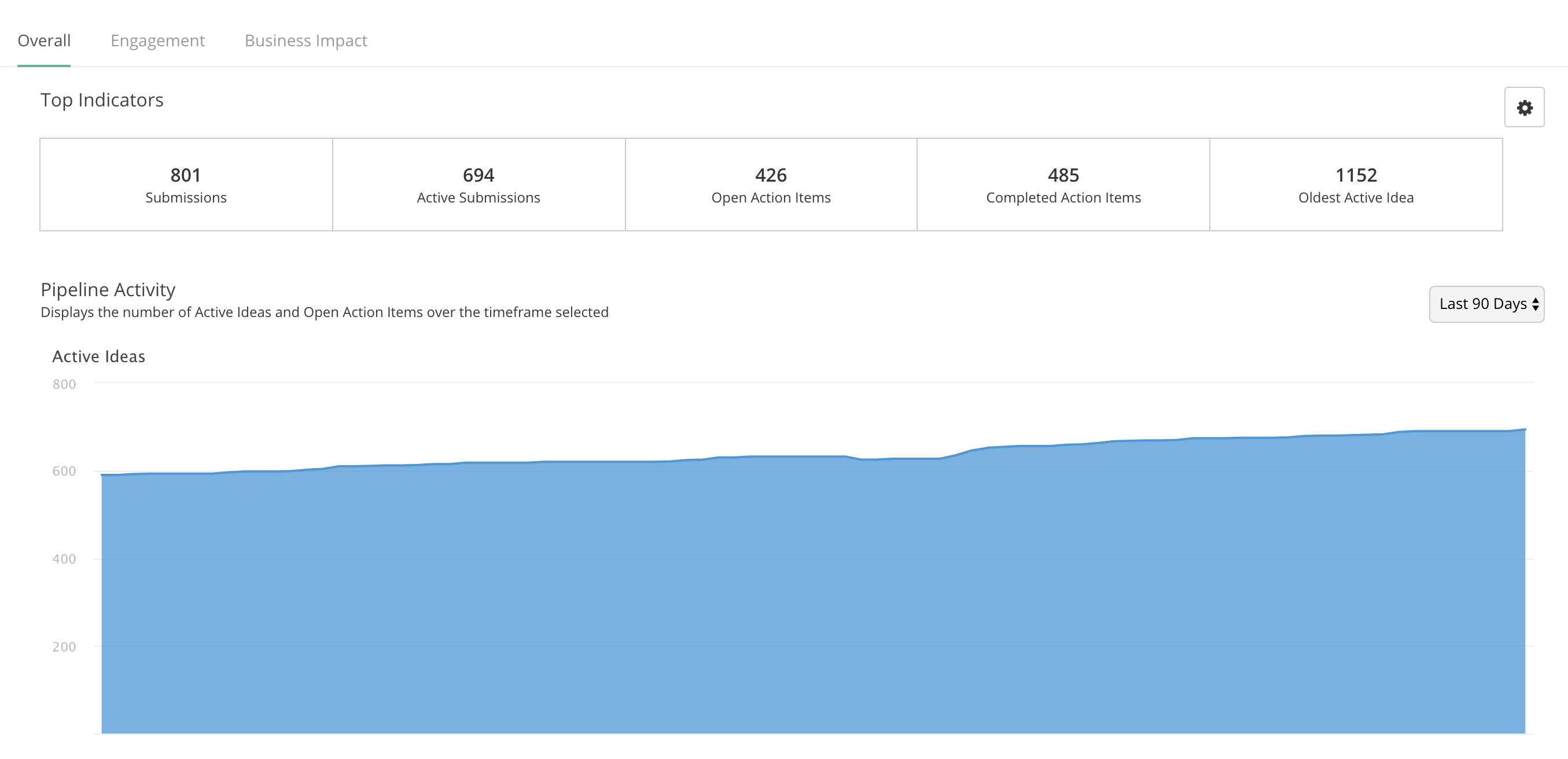 To access Dashboard in Pipeline select Dashboard from the top menu from the default step view: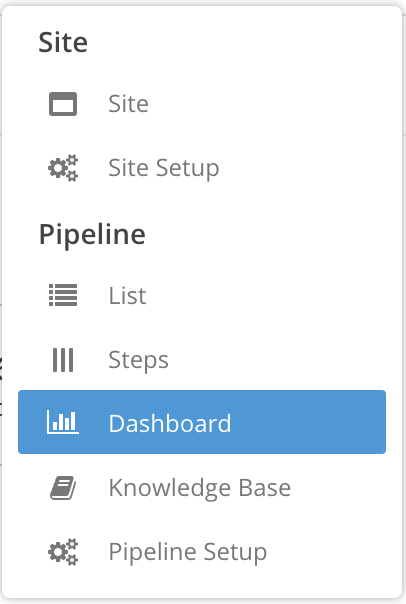 Overall  
The first thing the admin can view in Dashboard is Top Indicators. The admin can configure what indicators to display in Dashboard by selecting the gear icon:

Each indicator is a general overview of idea metrics in Pipeline: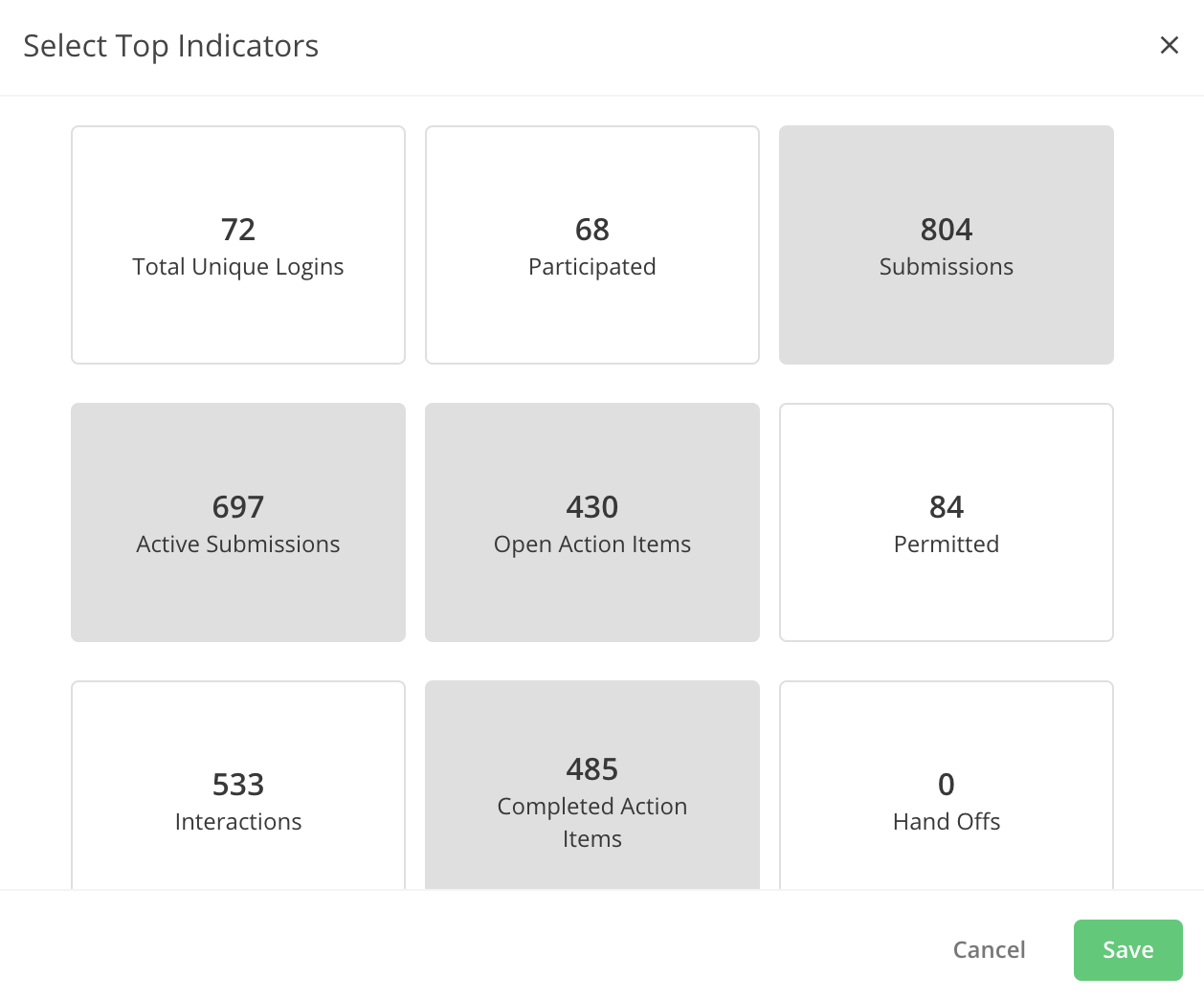 Total Unique Logins: Count of unique user logins
Participated: Number of unique users who have submitted, voted, or commented
Submissions: Number of ideas submitted for all statuses
Active Submissions: Count of active idea submissions
Open Action Items: Count of open action items
Permitted: Number of unique users who have Group access
Interactions: Number of team submission and comment interactions
Completed Action Items: Count of completed action items
Hand - Offs: Count of ideas with a Hand-off status
Projected Net Benefit: Total projected profits recorded in the pipeline
Non-Financial Benefits: Count of Revenue, Savings, and Other Outcomes recorded
Actual Benefits: Total Dollars of Revenue, Savings, and Other Outcomes recorded
Oldest Active Idea: Age (in days) of the oldest Active Idea
The next metric the administrator can view is Pipeline Activity. 

Note - An active idea is one that is mapped to the system status of "Active".

Pipeline Activity displays data for the number of Active Ideas and Open Action Items: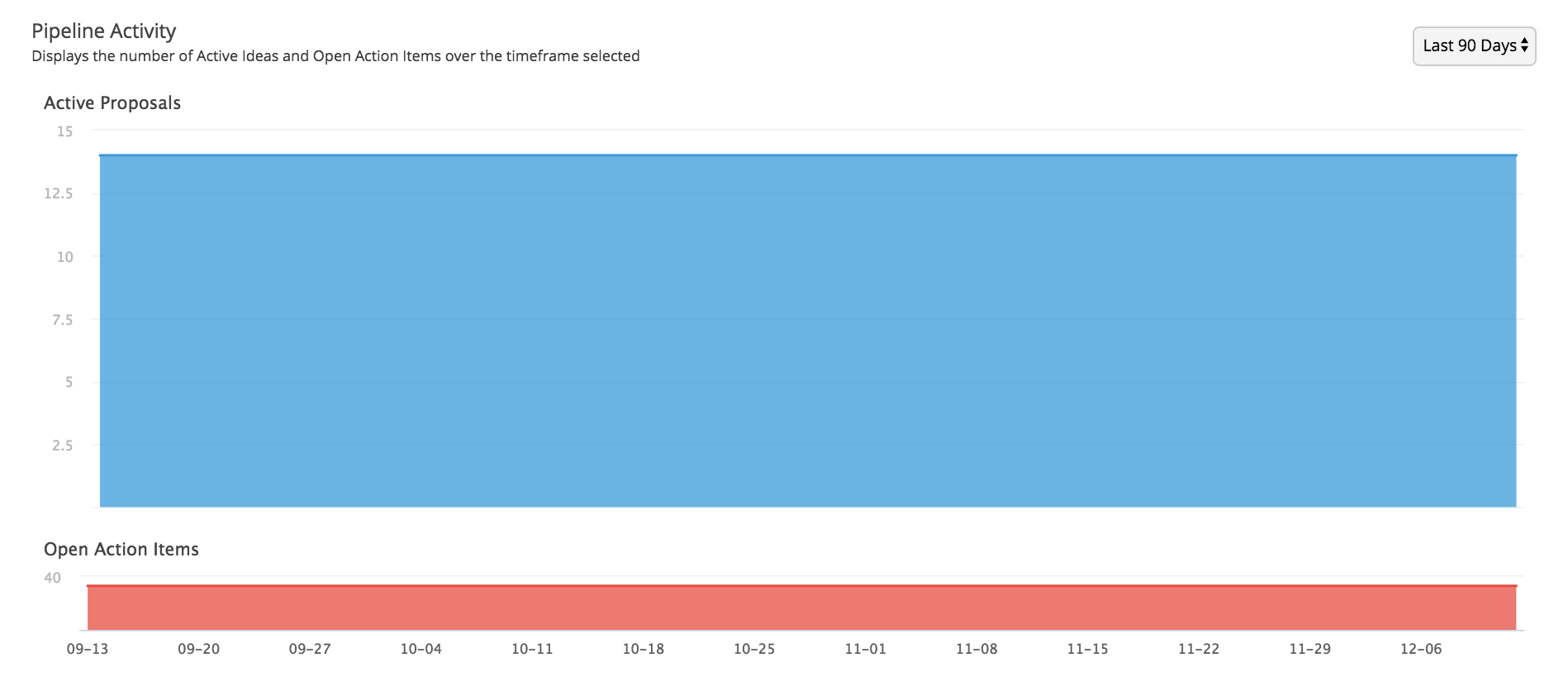 In Pipeline Activity the admin has the option to view activity over a specific period of time: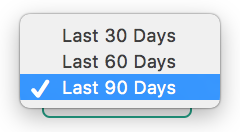 Average Days Per Step displays the average amount of days that idea(s) have spent in a Pipeline step:

Current Items Per Step displays the total number of ideas currently in a particular Pipeline step:

Items Per Status displays a percentage of the amount of ideas in the selected Pipeline that belong to a specific status:

Engagement
The Engagement Over Time dashboard consists of unique Participants and Visitors for your WebStorm over the timeframe selected.

Participants are Users who have contributed, commented, or voted on a submission. Visitors are Users who have accessed the site at least once.
Note: Visitor data is available only after January 2015.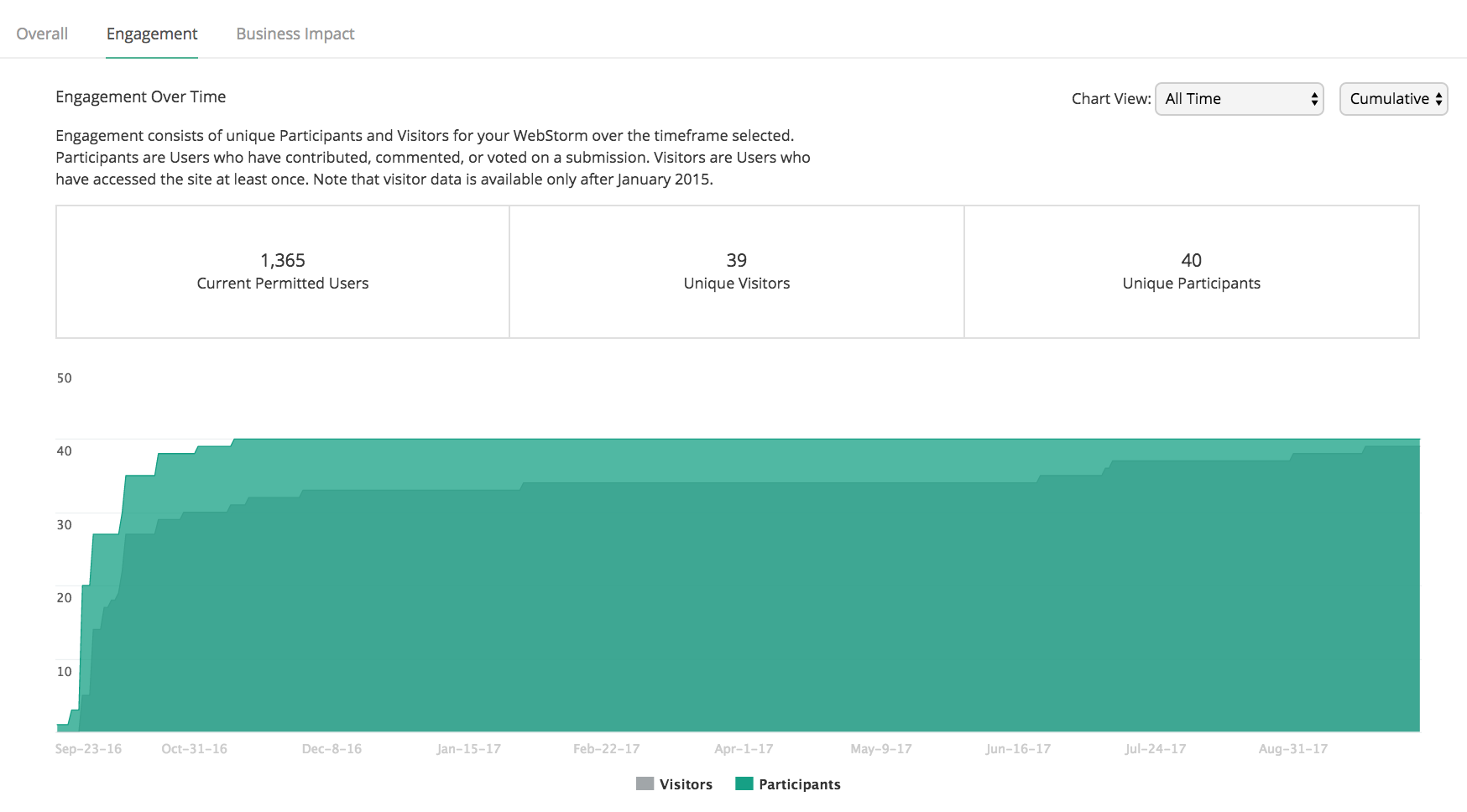 In the Cross-Collaborations Dashboard Cross Collaborations are counted whenever a user engages with a user from a different Department or Location (configured in the User Profile).

The visualization shows the top ten most collaborative Departments and Locations as circles on the chart.

The size of each circle represents the number of other Departments or Locations each collaborated with.

Hover over to see more details and connections between the Departments or Locations.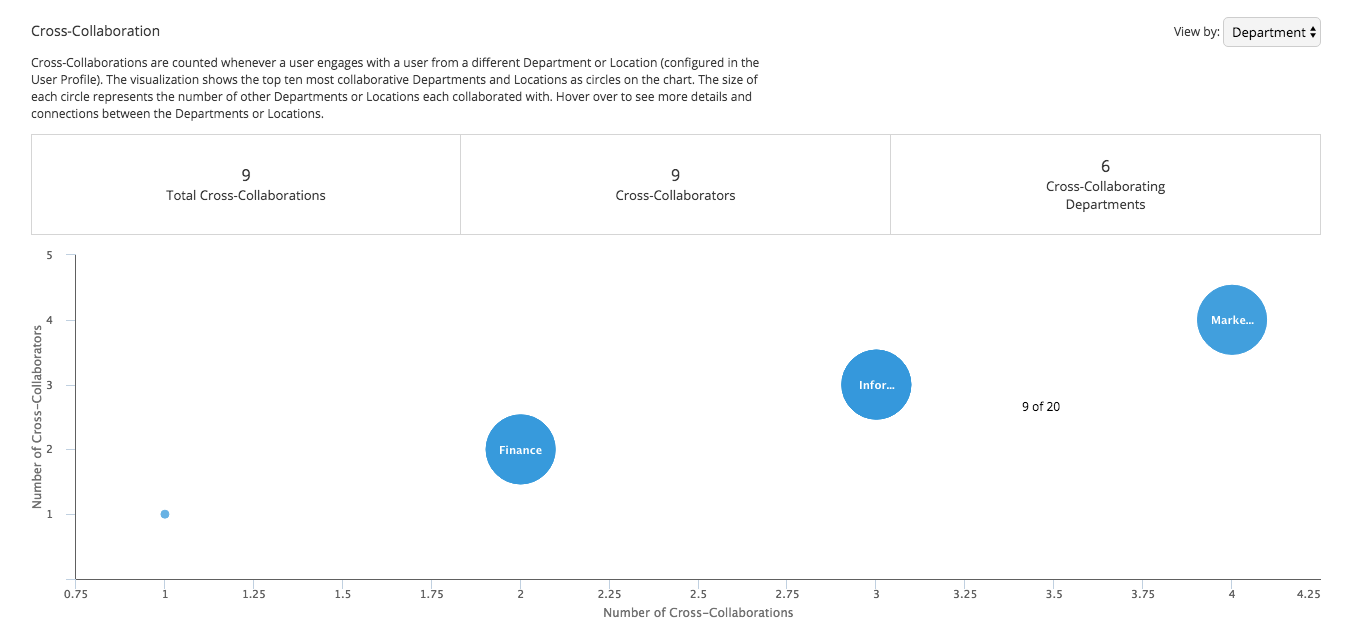 In the Participation by Geography Dashboard you can view where your audience is participating with your Initiative.

IP addresses are not always 100% accurate in terms of where the participant is actually located, so please keep in mind that this will be an approximation of your participants' location.

Each circle represents a submission, comment, or vote in your Initiative.
Larger circles represent more Participation from that location.
Note: The location data in this map is based on user's IP address and not the location data on their profile.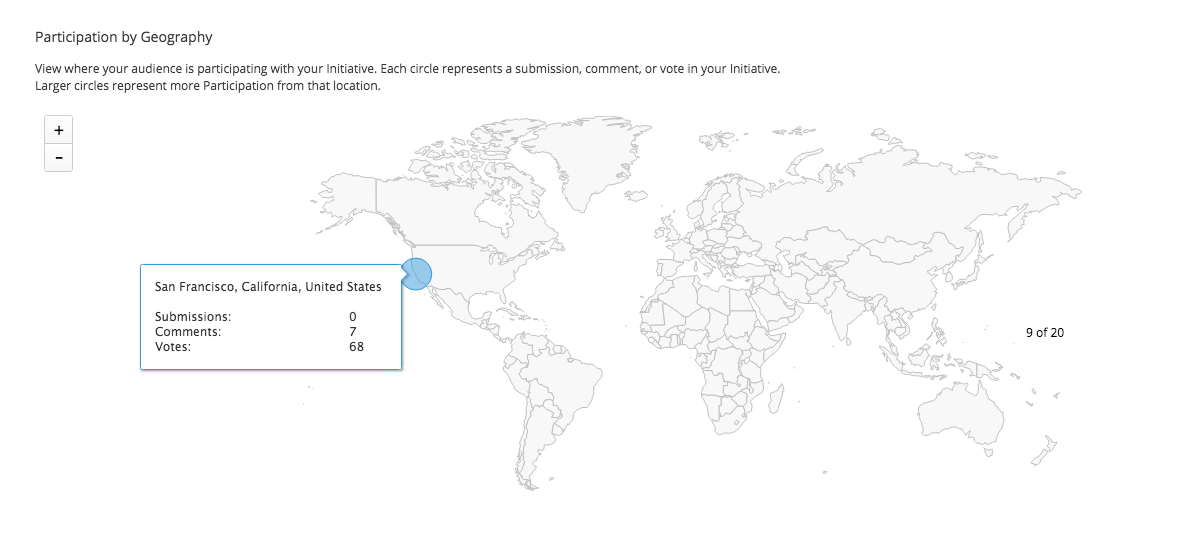 Business Impact
The Financial Benefits Over Time dashboard consists of actual and projected gross benefits recorded within the initiative over time.

Financial benefits can be viewed cumulatively or yearly.

To set financial targets, click on the gear icon in the top right: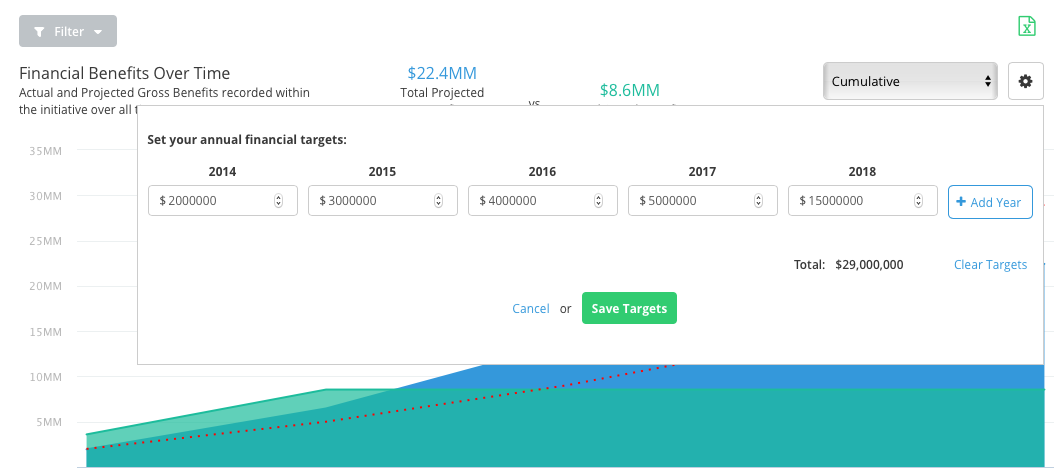 Business impact can also be exported by selecting the green Excel icon: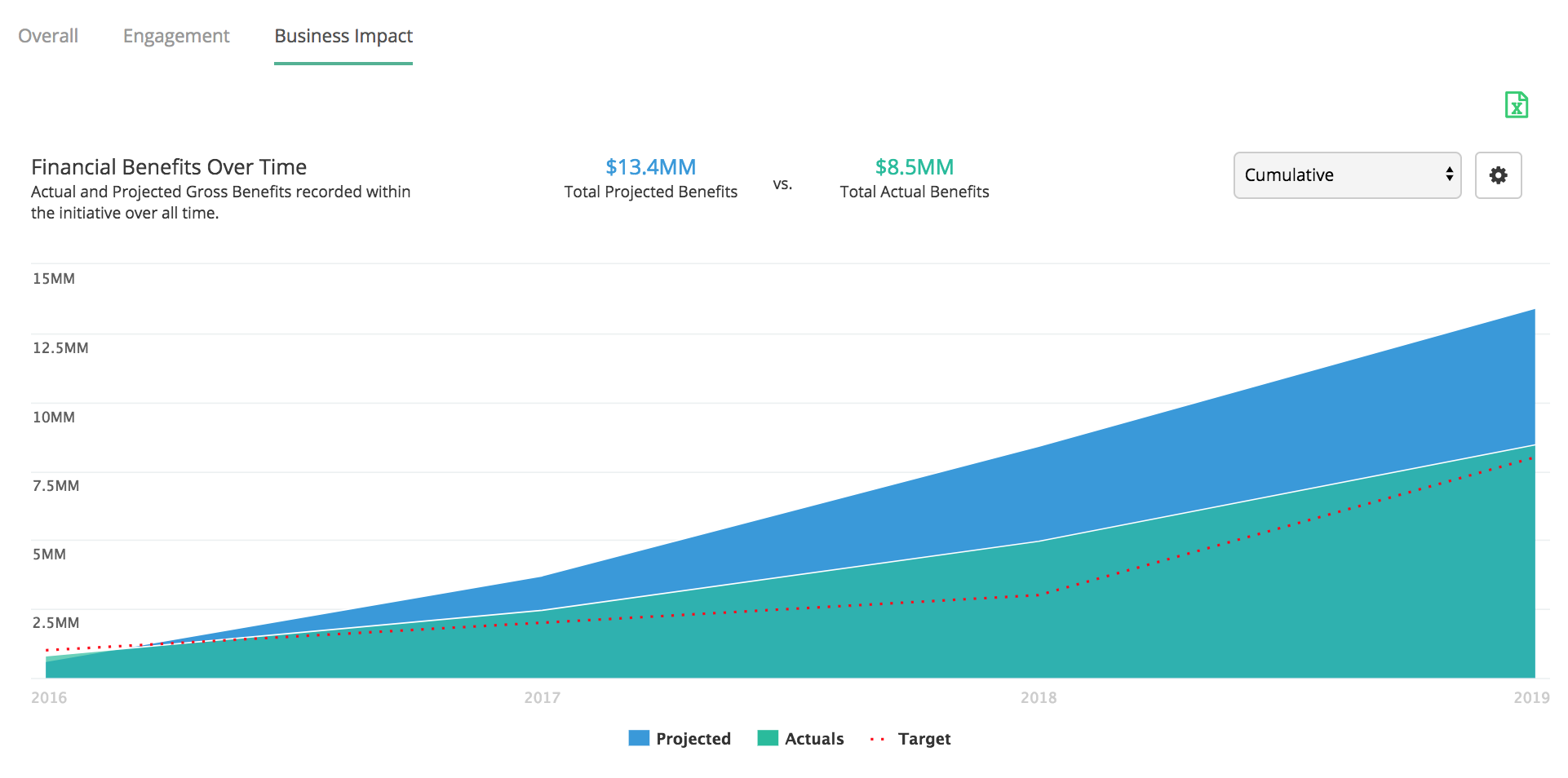 In the Financial Summary by Innovation dashboard, financial impact is reported in the initiative by innovation.

Administrators can see financial details for each innovation, including projected and actual costs and benefits.