Each Pipeline will have its own Rules Engine that can fully automate any process from start to finish. This reduces the amount of manual labor for Admins and gets all Users focusing on innovation! Let's find out more below.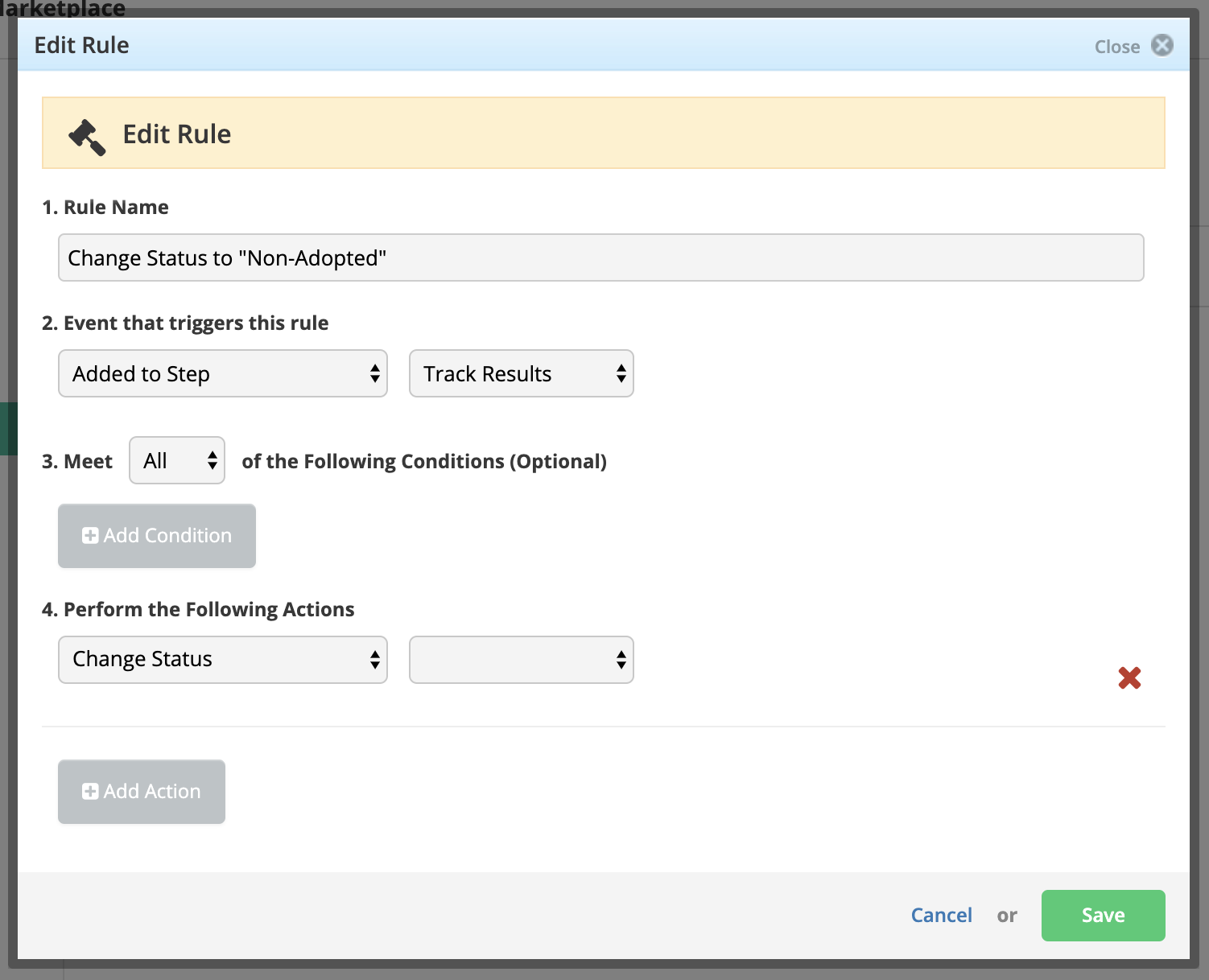 Table of Contents
Getting Started
To access Rules Engine for a Pipeline, you will need to go to Pipeline Setup > Rules Engine tab.

Creating a Rule
Once the Administrator is in the Pipeline Setup area, to create a new Rule, simply click on the Actions dropdown in the top-right, and choose "Add Rule"

Alternatively, Rules can be created through the Pipeline Steps View by clicking into the ellipses icon within each Step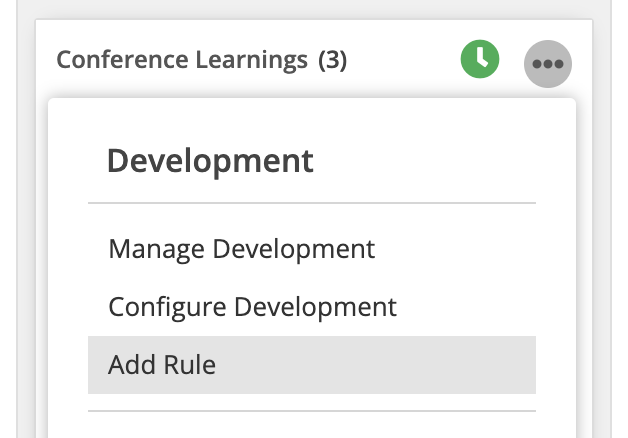 Once the Rule creator appears, Admins will need to properly configure the Rules as they need. Let's go through that process below.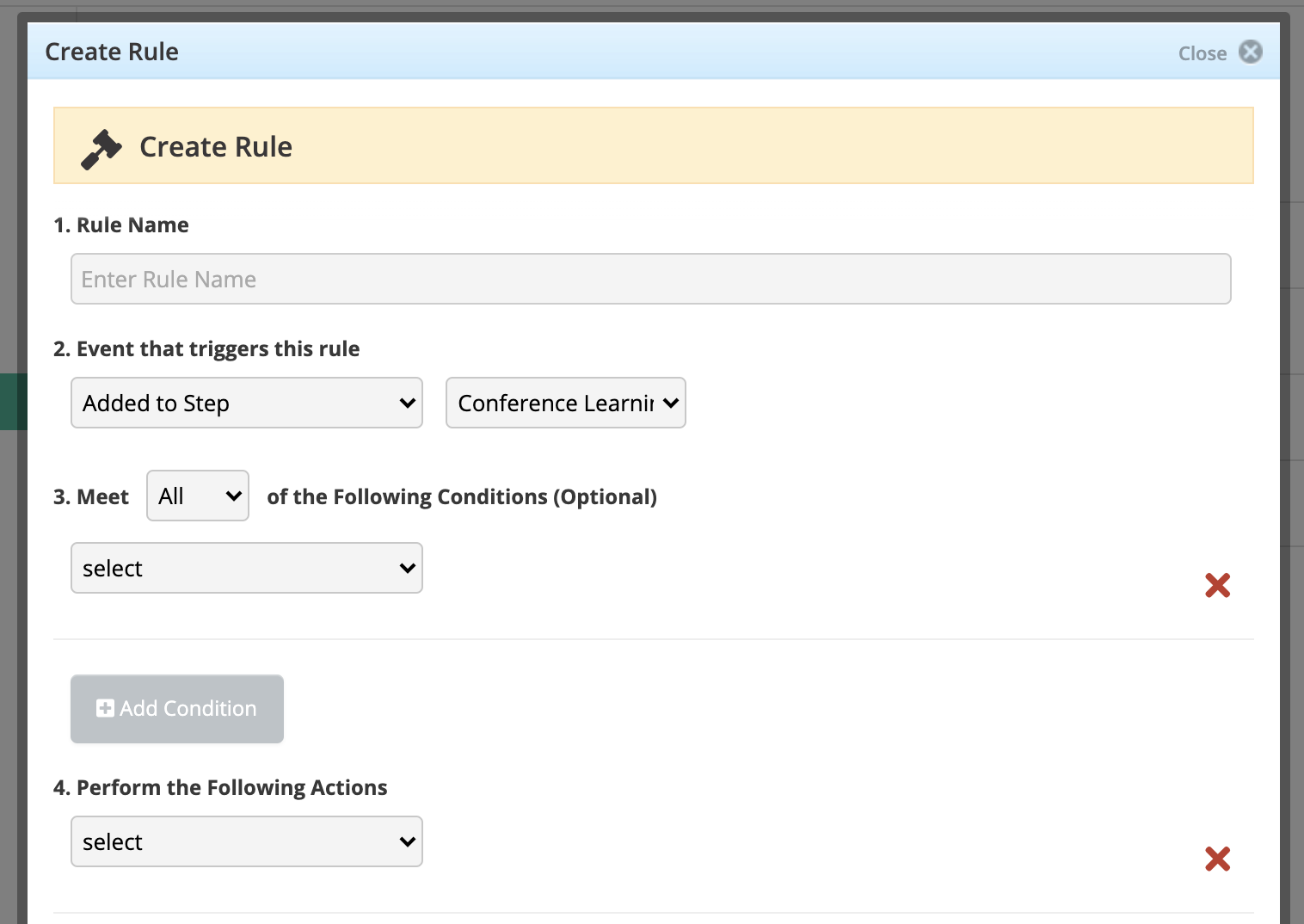 Rule Name
The Rule Name may seem quick to write, but this can help organize your Rules Engine if you need to configure 10+ Rules. We recommend coming up with a naming convention that works for you, try using what the Rule consists of, or where it is in the Pipeline.
Event Trigger

The manager has to configure the event of how the rule gets triggered: Here, the Manager selects what has to happen in order for this rule to fire. The Manager has the following options:
Comment Submitted: When any comment (normal or admin) is made to an idea
Days in Current Status: When any ideas have hit [x] amount of days in the same status
Days since Idea Submission: When any ideas have hit [x] amount of days since it has been submitted
Idea Status Changed: When any idea(s) status is changed
Idea Submitted: When any idea is submitted
Idea Updated: When any idea is updated (when any user triggers the "Update Idea" button when editing an idea - regardless of any content edited)
Vote Submitted: When any vote (chips or normal) is submitted to an idea
Added to Step: When any idea is added to a specific step.
Removed from Step: When any idea is removed from a specific step
Action Item Completed: When an action item is completed for a specific idea.

Scheduler Events: Timing based on scheduler events such as Submission, Voting, Initiative opening or closing.

For our example, we will select ' Added to Step' > 'Track Results' Single Scale Step, so that any idea that gets added to this step, we want something to happen: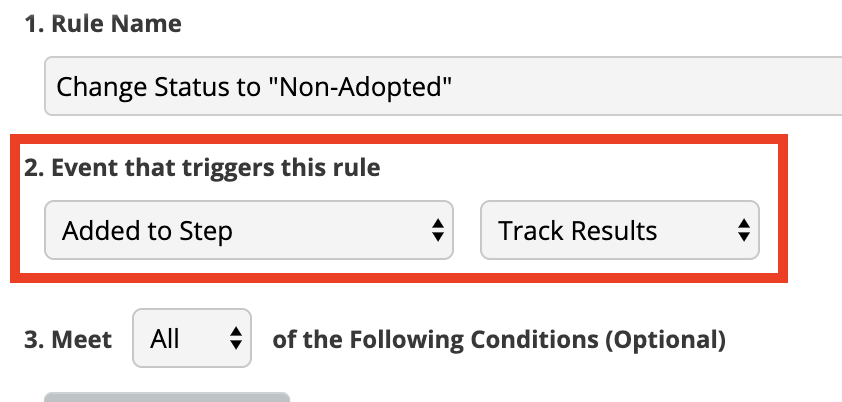 Condition Check

Second, the administrator must select Conditions that the Rules Engine will verify for. Admins can select whether the Events need to meet "All" or "Any" of the configurable Conditions listed:
Additional Info:
Category Is/ Is Not [X]
Comment Count Is / Is Not / Is Less Than / Is Greater Than [X]
Days in Current Status Is / Is Not / Is Less Than / Is Greater Than [X]
Days Since Idea Submission Is / Is Not / Is Less Than / Is Greater Than [X]
Idea Score Is / Is Not / Is Less Than / Is Greater Than [X]
Status Is/ Is Not [X]
Submission Form Question:
Any Additional Info Question Is/ Is Not [X] (based on type)
Any Submission Form Question Is/ Is Not [X] (based on type)

Note: Date selector submission form questions are not supported at this time.
Note: This also includes additional submission form questions meant for 'Idea Development'
Other:
Submitted By Is/ Is Not ____ (The Manager will need to search for a user within the Brightidea system)
Idea View Count Is / Is Not / Is Less Than / Is Greater Than _____
Step Is/ Is Not ____(The Manager will choose from steps in that specific Pipeline)
Single Scale Average Score Is / Is Not / Is Less Than / Is Greater than [X]
Pairwise Rank
Scorecard Score

Note: If the administrator uses multiple conditions, it is an "And" relationship. Therefore, it does not pick either or condition, the condition must be true for both items.
For the example we're following, we are going to specify that only ideas with the 'Business Development' Category will be the idea(s) that activate the Rule to trigger.

Perform Action
Lastly, the Manager must select the Action to take place - from any of the following:
Change Status: Change status of the idea
Change Visibility: Hide / Show the idea.
Send Email: Send an email to a Brightidea user or group

Users may create their own email templates, which can then be selected in the Rules Editor.

Change Step: Move an idea to another step in the Pipeline.

Note

: This event will trigger a chain reaction of Rules if new Rules become true. This chain reaction will occur up to 5 times (to prevent any continuous loops from occurring).

Move Idea to Pipeline: automate moving the idea to another pipeline

Copy Idea to Pipeline

: automate copying the idea to another pipeline
Add Comment
HTTP Request: Send a POST or GET request to a specified URL
Keeping with the example we presented, we will set our events to change the Status to 'Evaluating' & send an email to two specific users noting the Status change. For this example, please note any subsequent actions may also take a place once a Status is changed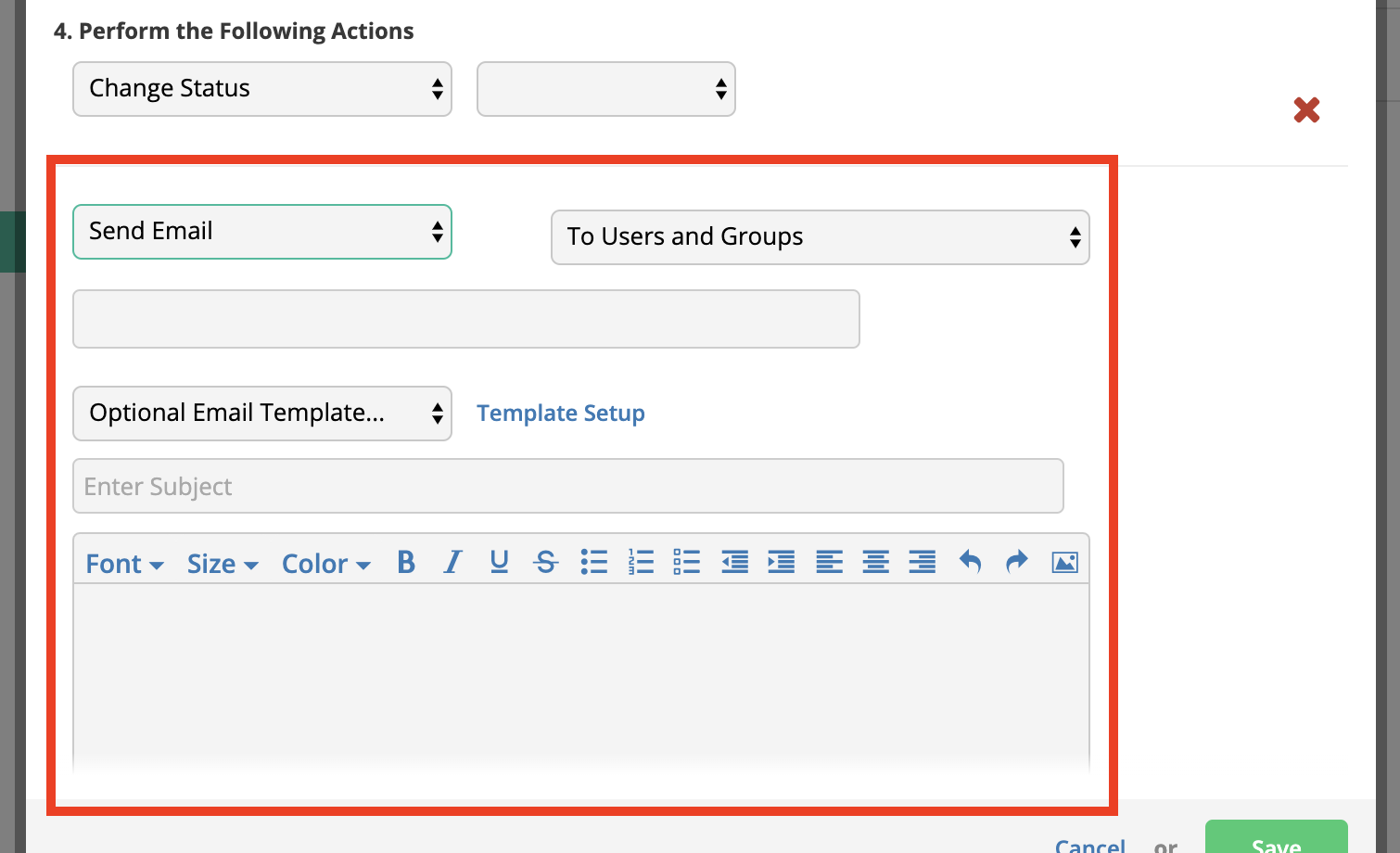 Once all set, the Manager selects 'Save' to save the rule.
Activating / Editing Rule(s)
For a rule to run after it is created, the admin must activate the Rule for it to run in Brightidea. To do this, right-mouse click the rule in the list within Pipeline Setup, select 'Change Status' and move to 'Active'

This will now activate the Rule to run when the conditions are met. The administrator can then deactivate any Rule(s) if they wish to do so. Feel free to select the Rule to make changes (to the name, any events, conditions, etc) and select "Save Rule" when finished updating.
Cloning a Rule
The administrator can save a lot of time by "cloning" or copying Rules within the same Pipeline. To clone a Rule, select the Rule in the Rule list, then select "Actions" > "Clone Rule". The administrator will receive a popup verification to confirm he/she wants to clone a Rule. Select "Clone Rule" in the pop up to confirm.
Note, if the admin clones an active Rule, it will also be active once cloned.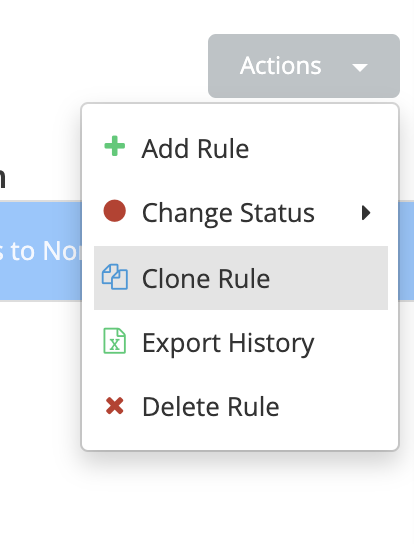 Once the Rule is cloned, the Admin will see a new entry called "Clone of ____". Admins can then go in and edit the name if need be to make the clone distinguishable.
Deleting a Rule
If there is any need to remove a Rule from the Rule list, Admins can always delete it. To do so, select the Rule(s) from the Rule list, select "Actions" > Delete Rule". Brightidea will then prompt the Admin to confirm if they wish to delete their Rule(s). Select "Delete Rule" to proceed. Once selected, the Rule will vanish from the list.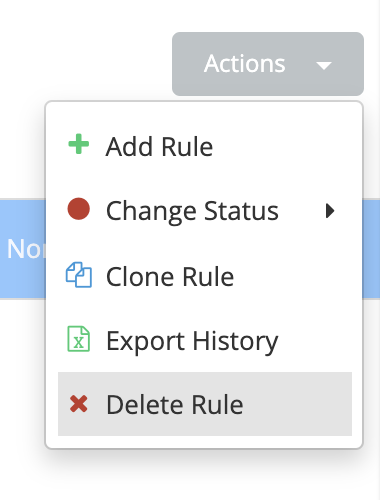 Exporting Rules' History
Within the Rules section, Admins can select "Export History" from the Actions menu drop-down on the far right. In the report, it will generate an Excel report that shows the Rules' name, last time a Rule was run, and what it outputted. This can also be selected in the "Actions" menu as well, by selecting "Export History"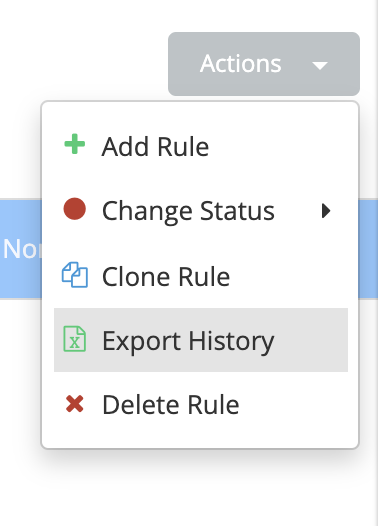 Important Things to Note:
The following notes concern the Rules Engine and its relationship to other Brightidea components:

The administrator cannot select "Greater than or equal to" or "Less than or equal to"
Each Rules Engine section is separated by each Pipeline. (i.e. > Admins cannot view all Rules in one view across Pipelines)
Rules run in chronological order of their placement. (#1 first, #2, etc.)

If Rule #1 is true, it will run this Rule. After it is done, it will continue down the list to check if any other Rules are true.

Rules do not run retroactively, they will only run going forward after they are created.

For example, if you have a rule that is set to trigger X days after submission, it will not trigger for any ideas that previously met that condition in the past.

If the rule triggers a Status change, it will trigger any respective Status change email notifications setup as well.
Respects contact email in Pipeline setup
Respects time zone setup
Rules will run on Hidden ideas
"Quick Add" functionality is currently not supported in the Rules Engine, e.g. it's not possible to specify 'Quick Add' as a category condition.
Team Submissions will only be relative to the main idea submitter of that team.
The Rules Engine respects Initiative specific Statuses if that is what is setup in that Initiative the Admin is creating the Rule for
An "Idea view" is a direct selection of idea i.e. > A user will need to have select an idea and gone to its page.
The number of comments accounts for normal comments, comment replies, and admin comments in total.
The Rules Engine does not respect group restriction for sending emails in an Initiative - the email will be sent regardless, so be aware of any security protocol put into place.
If a Rule is configured to trigger an Email when a Submission hits the first Step, this may conflict with the Idea Import process.

Idea Import will trigger the email to be sent before an idea URL link has been generated. If you have a Rule configured for your first Step, we recommend turning off the rule before the import process starts.