What is the Review tool for?
The Review step is intended to ensure newly submitted ideas meet the qualification criteria for your challenge.
The Review step allows Pipeline Managers or administrators to trigger action items to idea evaluators or subject matter experts to fully review ideas assigned to them.
When a Review action item is triggered, the assignee can perform any of the following:

Further review the submitted idea content
Change Idea Status and/or Category
Toggle Visibility
Add Comments and Tags
Fill in Additional Info fields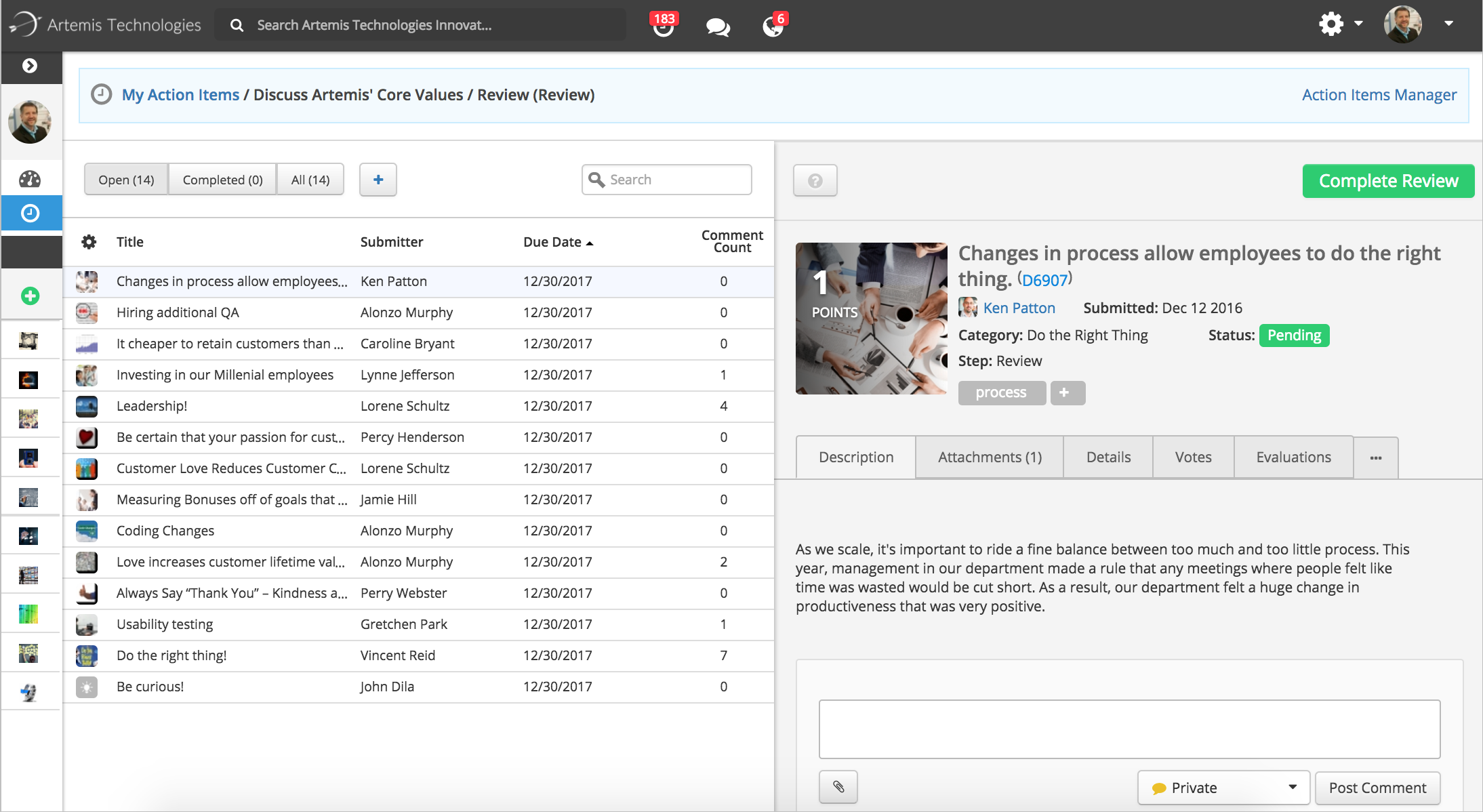 Configure the Review Tool:
Navigate to Step Ellipsis Menu > Configure Review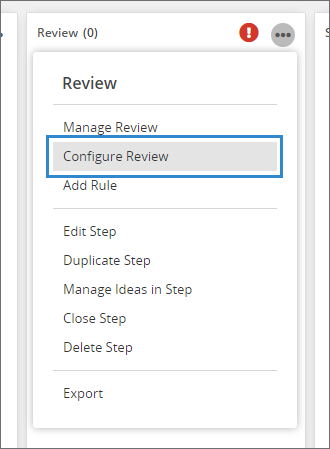 In the configuration section, the Pipeline Manager / Administrator will need to set the following parameters: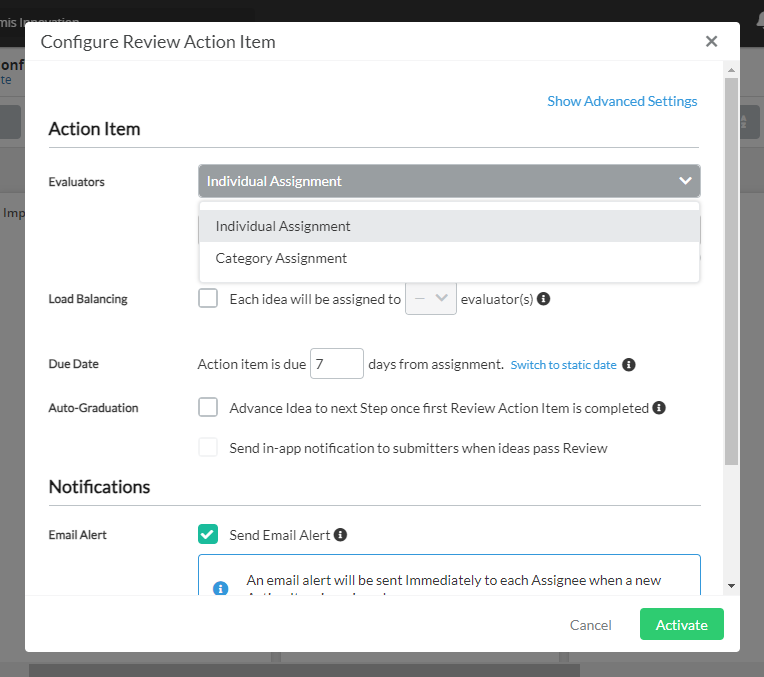 Basic Settings:

Evaluators: Select the user(s) who will review the ideas.

Individual Assignment: Any user configured as an Evaluator will automatically be assigned an action item per each note submission.

Note:

There can be a maximum of 180 evaluators per step

Category Assignment: Action items for by category will be triggered when an note is submitted with the same category the user is assigned to.

Note:

There is a limit of 30 evaluators per category with 180 total for the step

Due Date: The Manager / Administrator can set the due date dynamically from date assigned or manually select a date if needed.
Auto Graduation: An idea will advance to the next step in the pipeline once the first Review action item for the idea is complete.

As of the Spring 2021 release, you can now disable the in-app notification to the submitter when their submission passes the Review Step and is auto-graduated to the next Step in the Pipeline. When disabled, submitters will not receive any notification.

Action Items: Cancel open action items when submission moves out of Step.
Email Alert: Allows the assigner to enable or disable the email alert on assignment.
The user has to option to configure more parameters in Advanced Settings: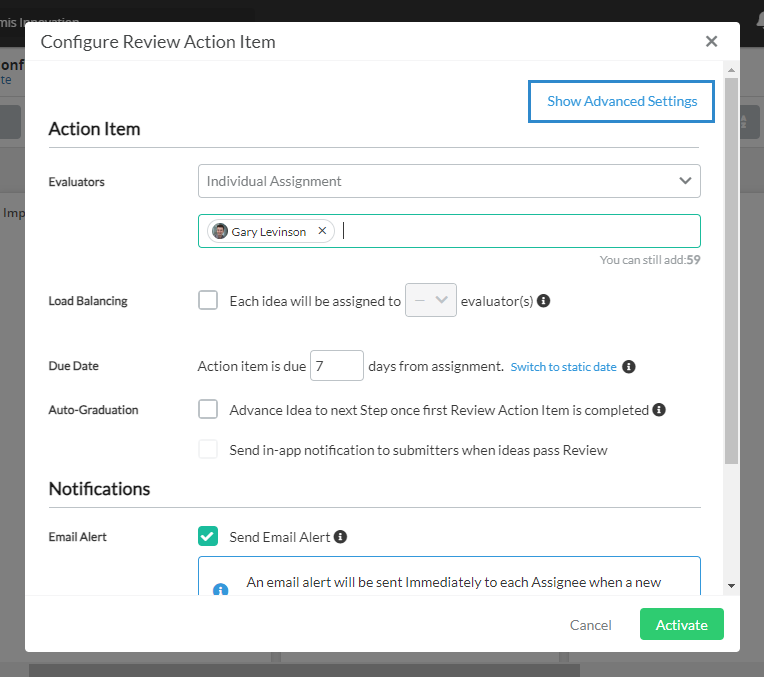 Advanced Settings:

Evaluators Per Idea (Load Balance): When there are many ideas in a step, this setting allows the assigner to control the number of evaluators per idea. E.g. Not every evaluator will evaluate each idea, they are balanced between the entire evaluation team.
Email Alerts: When checked emails will be sent to evaluators when a new action item is assigned
Send Alerts:

Immediately: An email alert will be sent Immediately to each Assignee when a new Action Item is assigned.
Daily: An email alert will be sent to each Assignee when the first Action Item is assigned. Subsequent email alerts will be sent Daily.

Daily emails will include any Action Items assigned from the previous day
Daily, Assignees will receive a single email alert for new Action Items for that step at 9:00 a.m. (this will respect system time zone settings)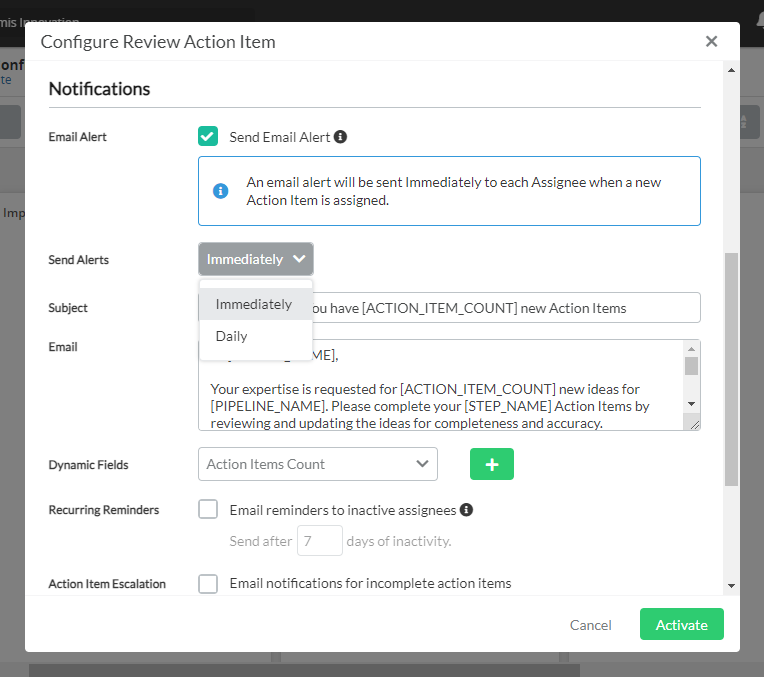 Email Subject and Body: The assigner has the option to enter in any desired email subject and body text - which will be sent to the selected evaluators.
Dynamic Fields: Allows the assigner to include dynamic fields in an Email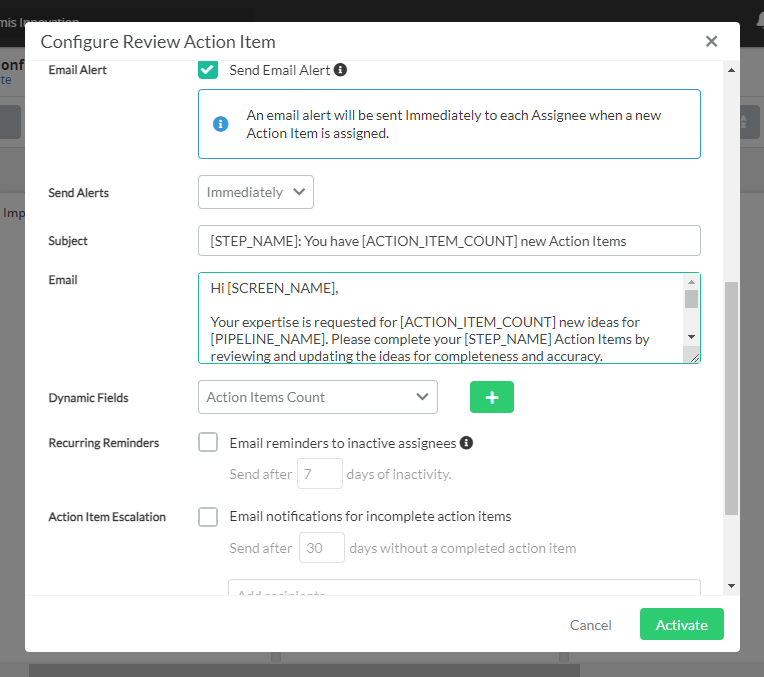 Recurring Reminders: Send email reminders to assignees after X days of inactivity.
Action Item Escalation: Notify certain recipients when an action item hasn't been completed in X days.
Select Activate to complete the configuration of this step.
Assignee's experience:
After the action item is triggered in Brightidea, the assignee will receive an email / notification notifying them of their open 'Review' action item to complete.
Once the assignee / evaluator completes their 'Review' action item, he / she then selects "Complete Review" on each assigned idea.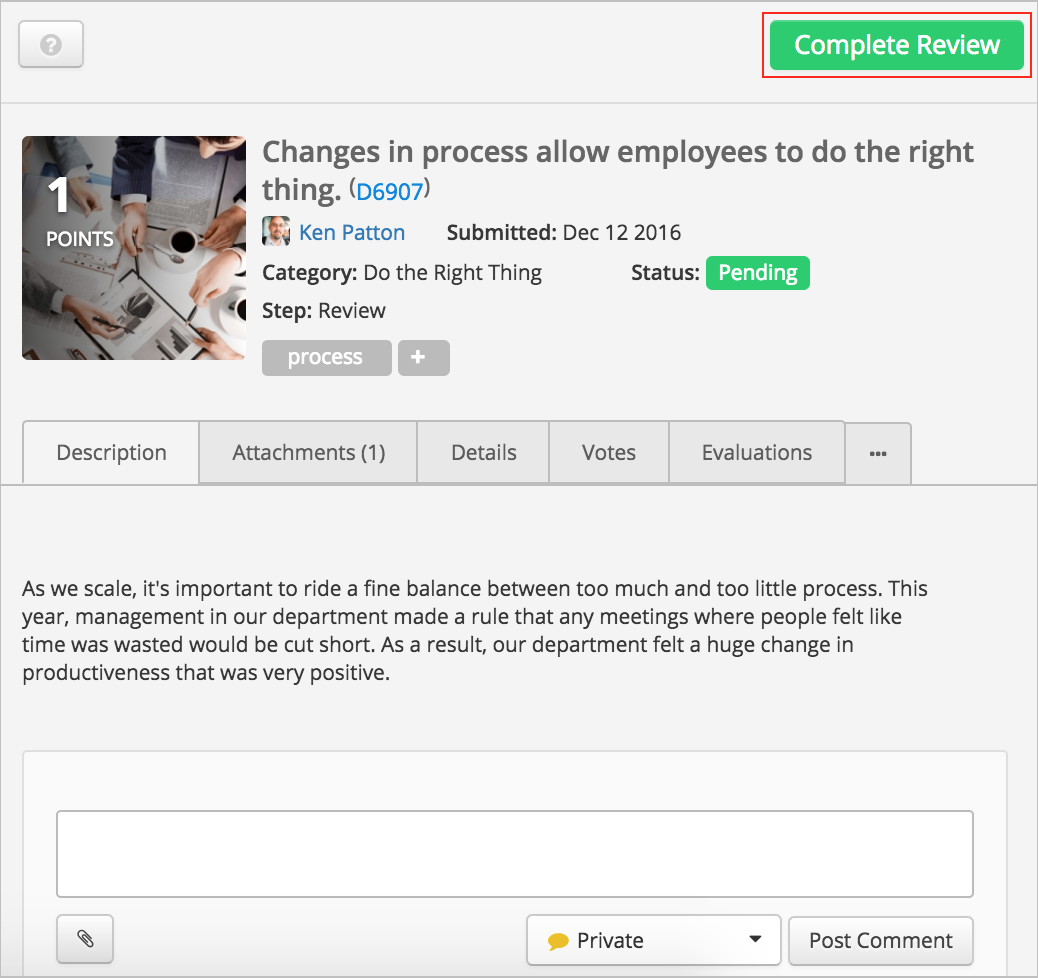 After the assignee / evaluator completes their 'Review' action item, he / she can return to their idea(s) to make any further changes necessary, even after it has been marked 'Completed'
Important Things to Note:
Review step evaluator(s) will only get emails for 1st idea in step, but not for ideas 2-10. The next email will only be triggered for idea 11 and not for 12-20.

However, the evaluator will still get a Brightidea notification (within Global Navigation menu) and the action item will be in their action item list.