Steps View for End Users
We here at Brightidea are so excited to announce the release of the new Steps View for End Users! This feature will allow your end users to easily track the progression of ideas by viewing them in a Steps/Stages View! Let's see all the details below: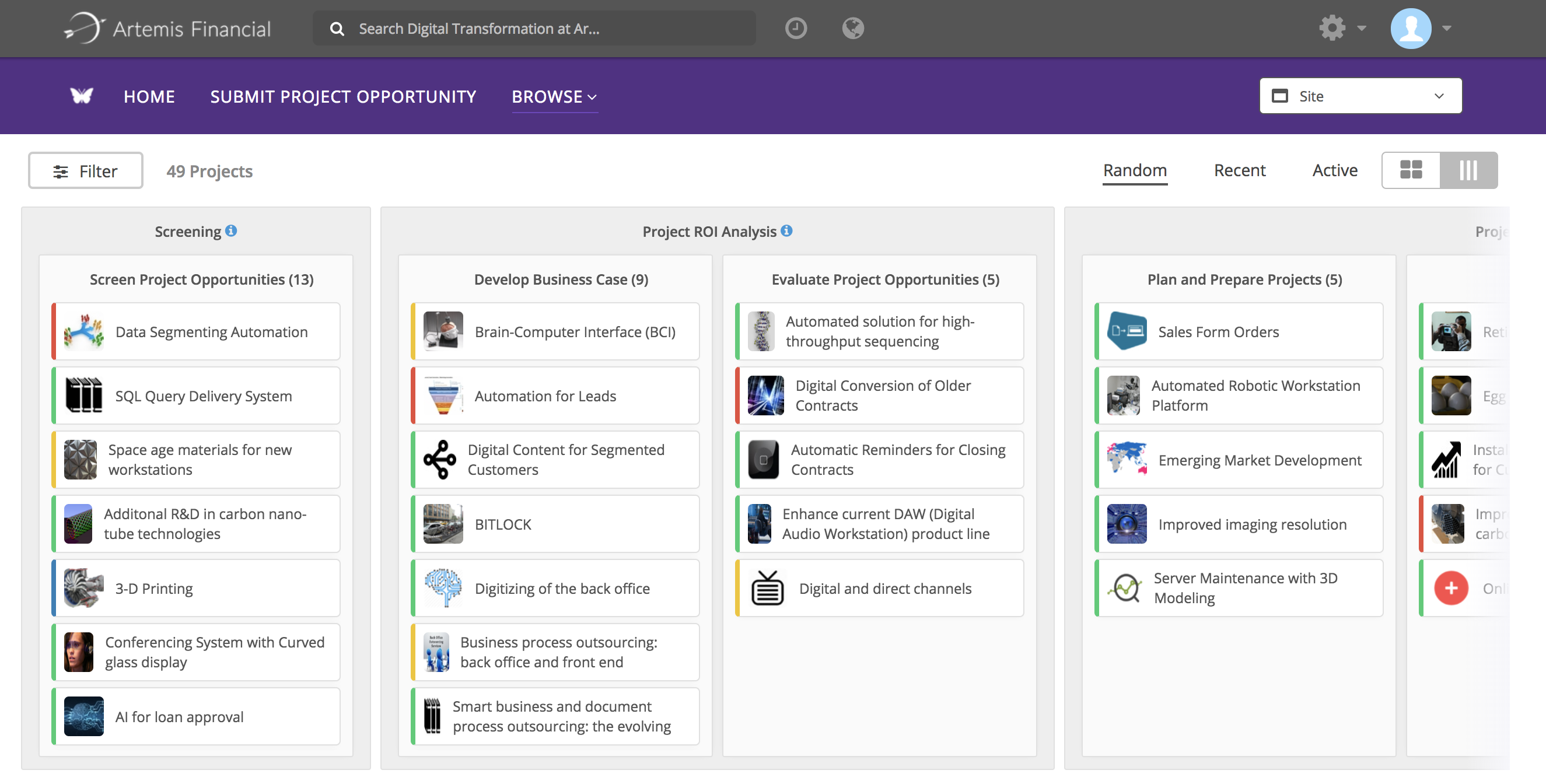 Table of Contents
Overview
The Steps View visibility allows your users to browse submissions in a linear process, also known as Steps/Stages View, which is viewed directly on the Idea Board 3.0 page.The Steps View will be a direct reflection of the Pipeline that Administrators can view in the back-end. This way, users can easily track the progression of different ideas and see which stage/step the submission is in.
Enabling Steps View
Administrators may turn this feature on/off by navigating to their WebStorm Setup.
Locate the Ideas tab > Idea Boards in Site/WebStorm setup. At the bottom there will be an option labeled Steps View for End Users.
If you turn this option on, you can choose between allowing End User's to view only Stages, only Steps or both.
When an App is first created, this option will be turned off.
If the parent option "Steps View for End Users" is turned on, and both child options are left turned off, this feature will only show Steps and not Stages.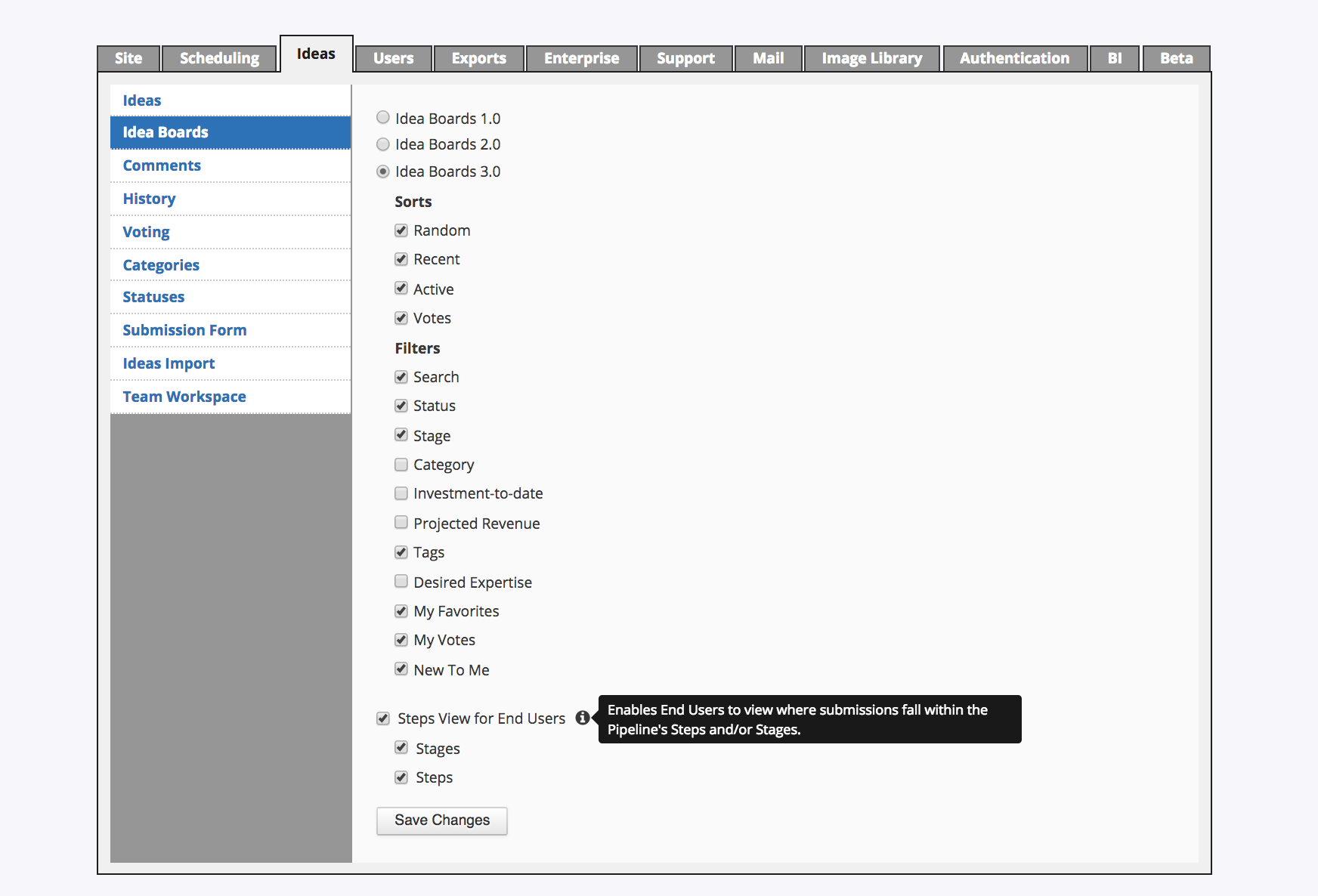 Steps View as End-User
Once the Steps view has been turned ON, all End Users are given the option to view submissions by clicking on the two icons in the top-right corner of the Idea Boards page.

Alternatively, Administrators can link directly to the Steps View of the Idea Board by adding the Steps View URL to their Navigation. For more details on how to accomplish this, feel free to review our 'Dynamic Navigation' article.
This will allow End-Users to view submission based on how Administrators have configured these settings.
See images below for a detailed look when toggling between the views:
Stages-View only
This view will only show End-Users which Stage the submission is in without showing the Step names.
The Stages View gives a simplified view as to where their submission is in process/work-flow without showing the number of Steps or step names to advance to the next Stage.
If colors have been selected for the pipeline stages, these will also be displayed in the end-user view.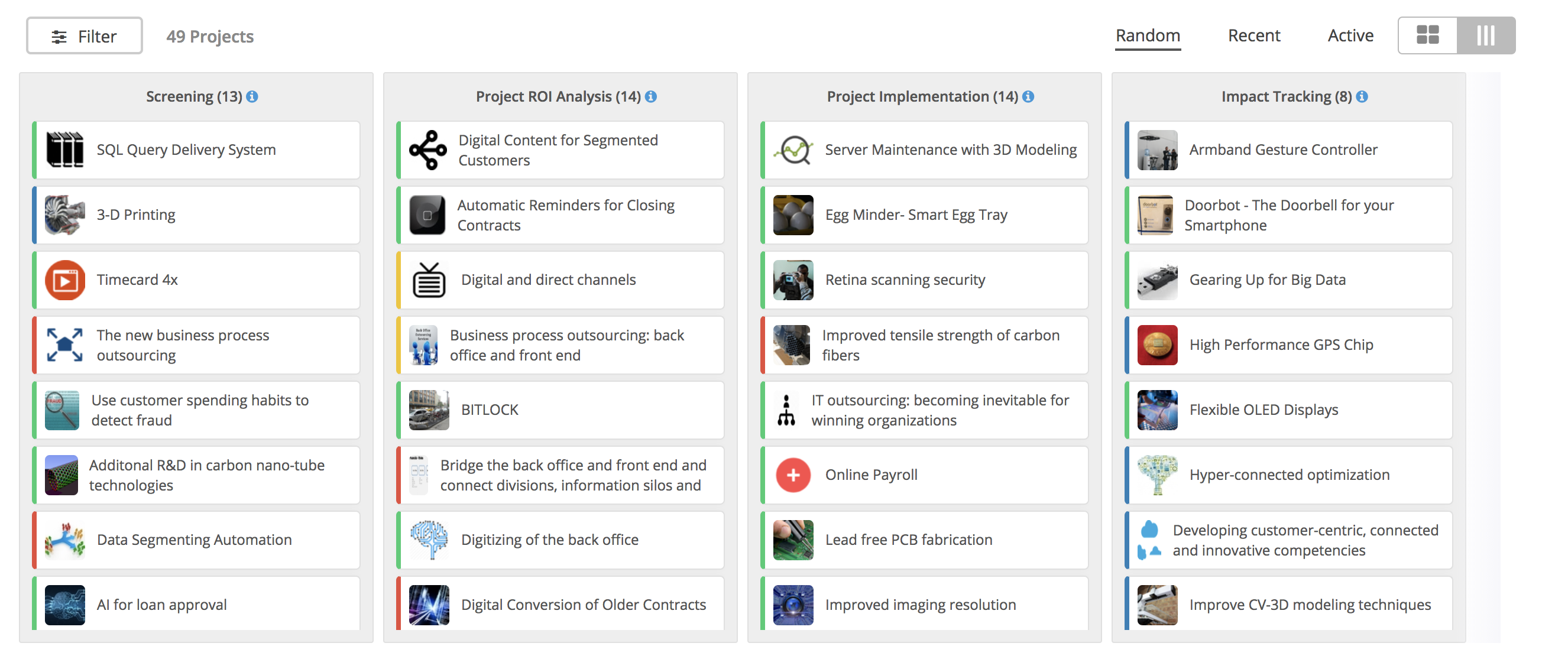 Steps-View only
This view will only show End-Users which Step the submission is in without showing the Stage name. The Steps View gives insight as to where in the process/work-flow their submission is in.

Steps & Stages
This view will display the Steps and Stages that each submission is currently in. This will provide End-Users with a more detailed approach on how submissions have progressed.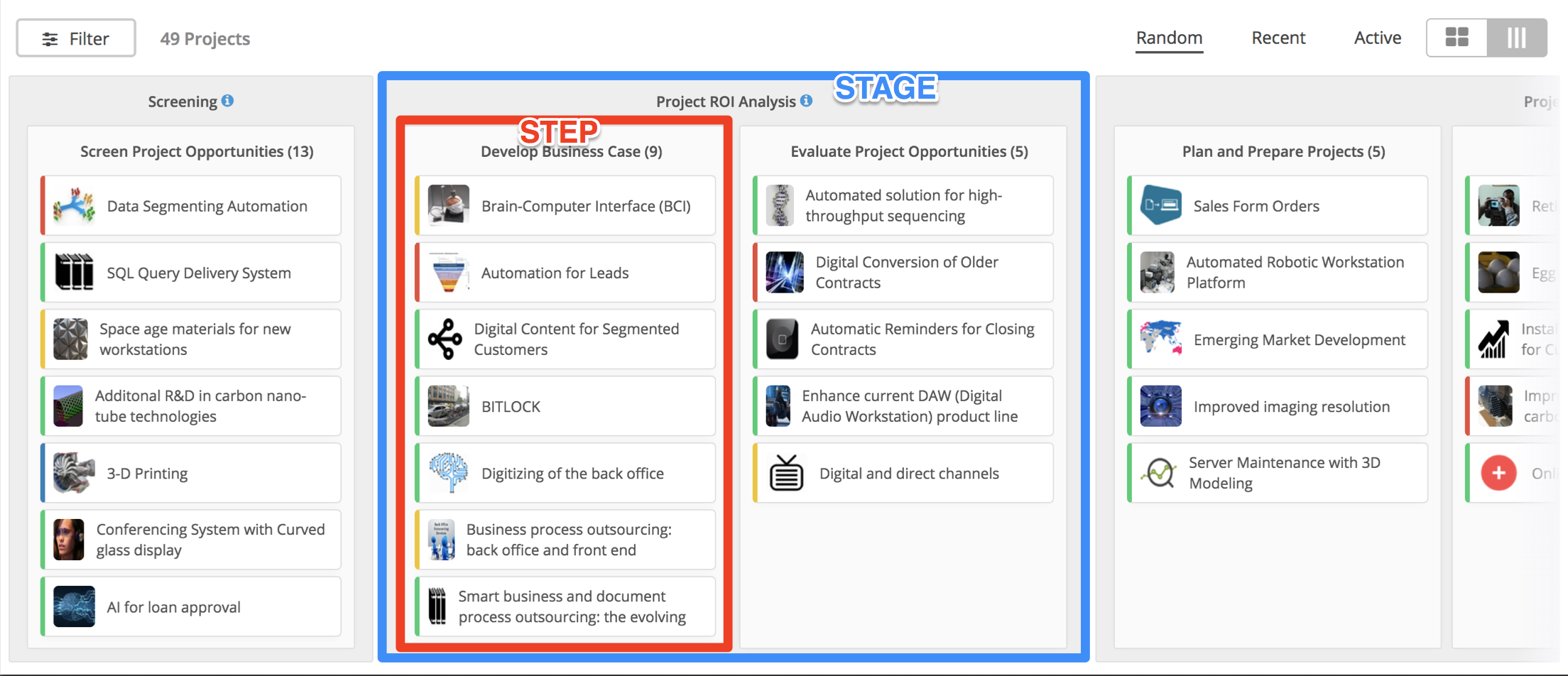 Submission Details When Hovering
When End-Users are viewing the Site/WebStorm in the Pipeline View, they can view more details by hovering over a specific Submission. These details will include the submission title, submitter's username and icon, status, category and description.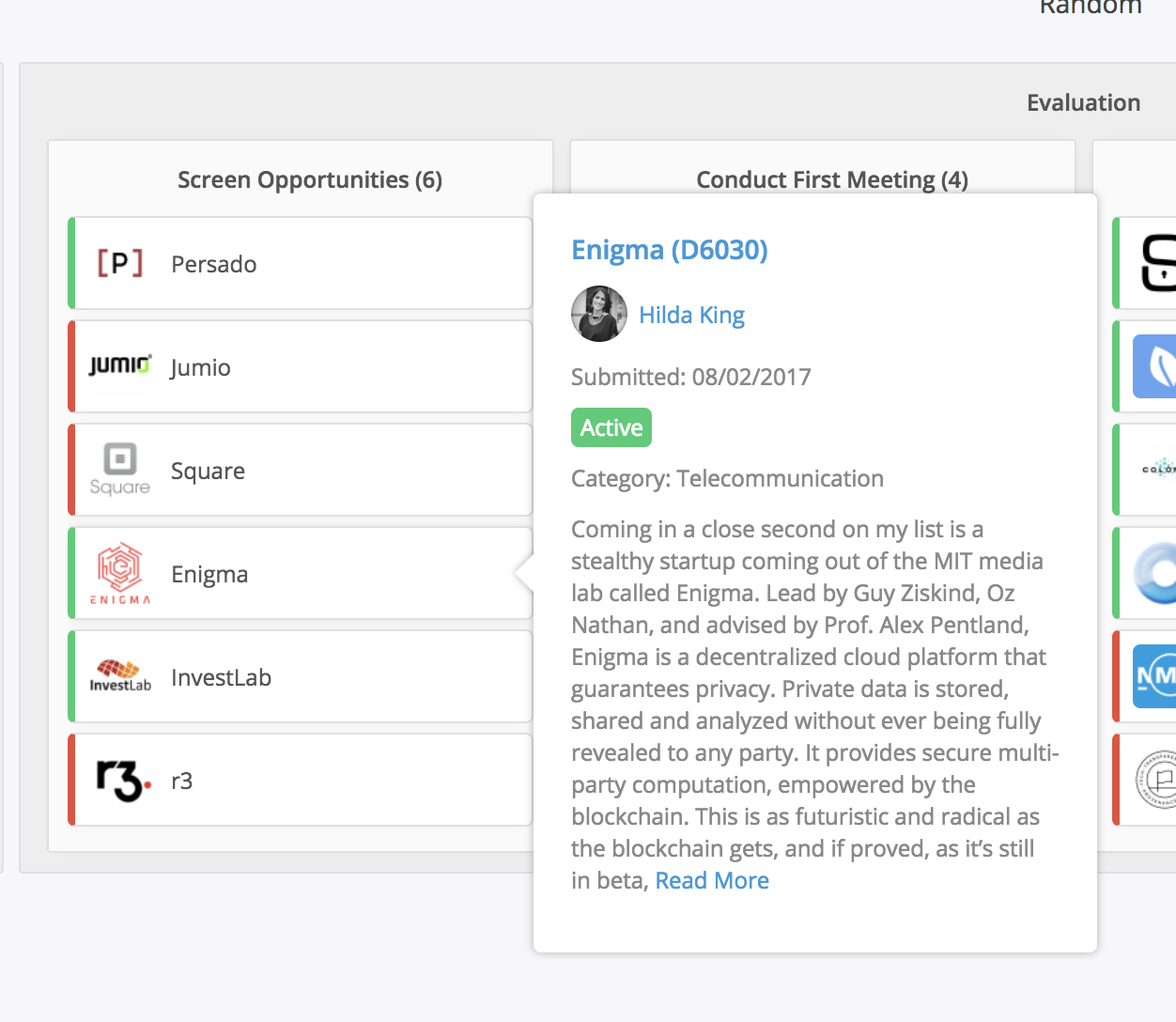 Background Colors for Stages
Background colors assigned to stages in the Admin Steps View will also be displayed in Steps View for End Users as of the Spring 2021 release.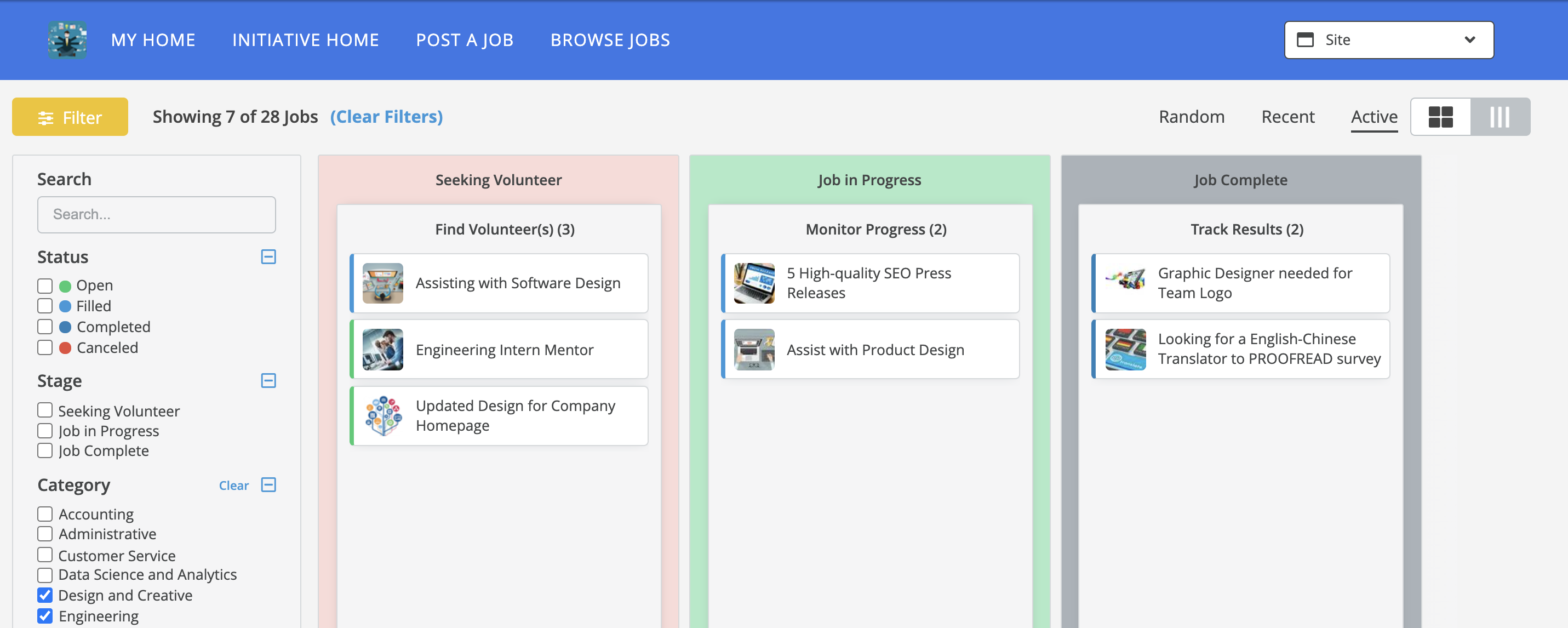 Notes
Steps View is only available with Idea Boards 3.0
Steps View for End Users is read only, no edits or configuration permissions are available on this end user view.