The Apps Pillar allows the IPM to quickly create new Pipelines using pre-built Innovation apps from the Command Center page within the Brightidea Platform.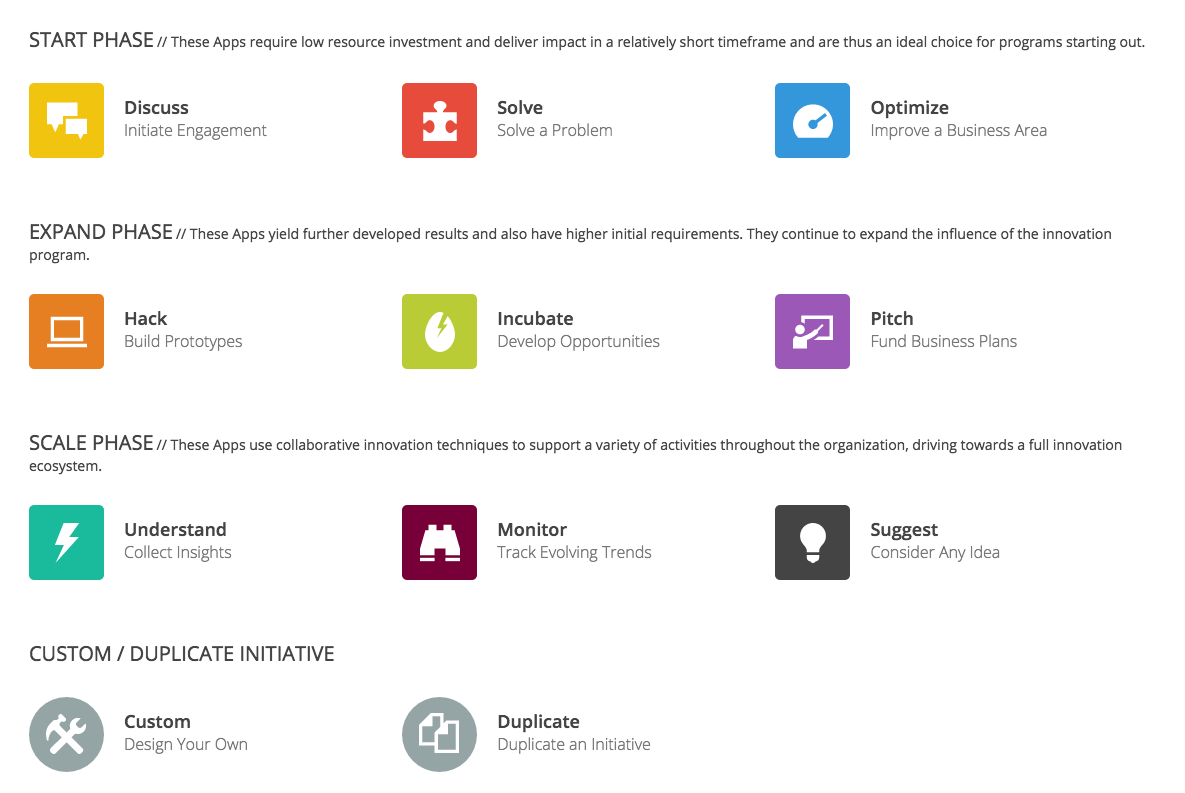 Getting Started
To Get Started select the "Apps" icon from the menu bar on top

The IPM will be prompted to select an App type

Once an App is selected the IPM will be redirected to the Setup Wizard specific for the App they selected.
Available Apps:
Discuss (Initiate Engagement)

Does leadership want everyone thinking about an important theme?
With our Discuss app, you can connect a large number of colleagues in conversation and empower them with tools to share perspectives and exchange discussion notes with one another.
Solve (Solve a Problem)

Got a problem that's blocking progress on a key project?
With a Solve challenge, you can easily set up a challenge for employees to contribute solutions to a critical problem, and then assign subject matter experts to evaluate them.
Optimize (Improve a Business Area)

Want to improve key areas of your business?
With our Optimize app, you can collect suggested improvements to a business area, and easily send them to subject matter experts for evaluation and approval.
Hack (Build Prototypes)

Want to easily set up a Hackathon event?
With our Hack app, you can rapidly build a team to prototype a new project that leverages new technologies, and then have judges evaluate it for a chance of further development.
Incubate (Develop Opportunities)

Need to tackle projects that don't yet have a team?
With our Incubate app, you can submit and develop a business proposal through various stages of research and implementation.
Pitch (Fund Business Plans)

Want to have project ideas funded quickly?
With our Pitch app, budding entrepreneurs can pitch ideas for a new product or service, business model, or process, which executives can then evaluate and grant budget for further development.
Understand (Collect Insights)

Want to gain new insights into your customers?
Our Understand app empowers a research team to set up a large-scale project, where employees contribute to investigating a topic, and then review and analyze its most useful findings.
Monitor (Track Evolving Trends)

Want to stay abreast of developments in your industry?
Our Monitor app provides a collaborative space for employees to converse on market trends, post new information, and get notified of updates, ensuring that everyone stays informed.
Suggest (Consider Any Idea)

Need a suggestion box that drives every idea to resolution?
Our Suggest app gathers ideas from employees and routes each one to an owner, ensuring that it's reviewed by an individual with relevant decision-making power.
Duplicate

To use this option to copy from an existing Pipeline/App by selecting the App to copy from the drop-down menu list
Custom

Use this option to create a custom Pipeline that fits your Innovation workflow and process.