Is your tech team ready to partner with, license with or even acquire new technologies? With our Scout App, you can keep track of emerging technologies in your industry and integrate them into your company.
Read below to learn more about this process and how to progress through the pipeline.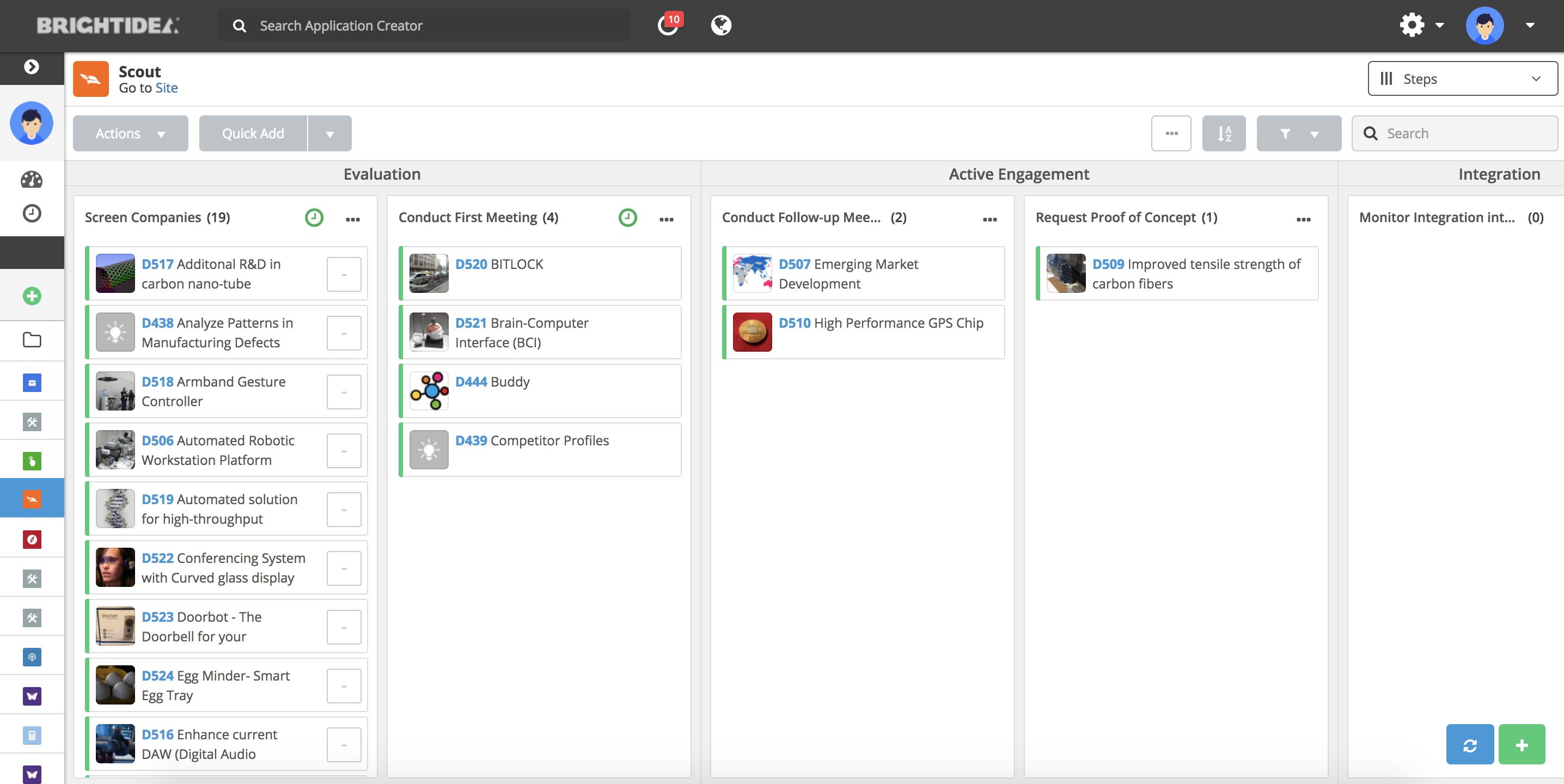 Table of Contents
Getting Started
To quickly recap on how to create your Scout App, navigate to your apps screen, and select the Scout app: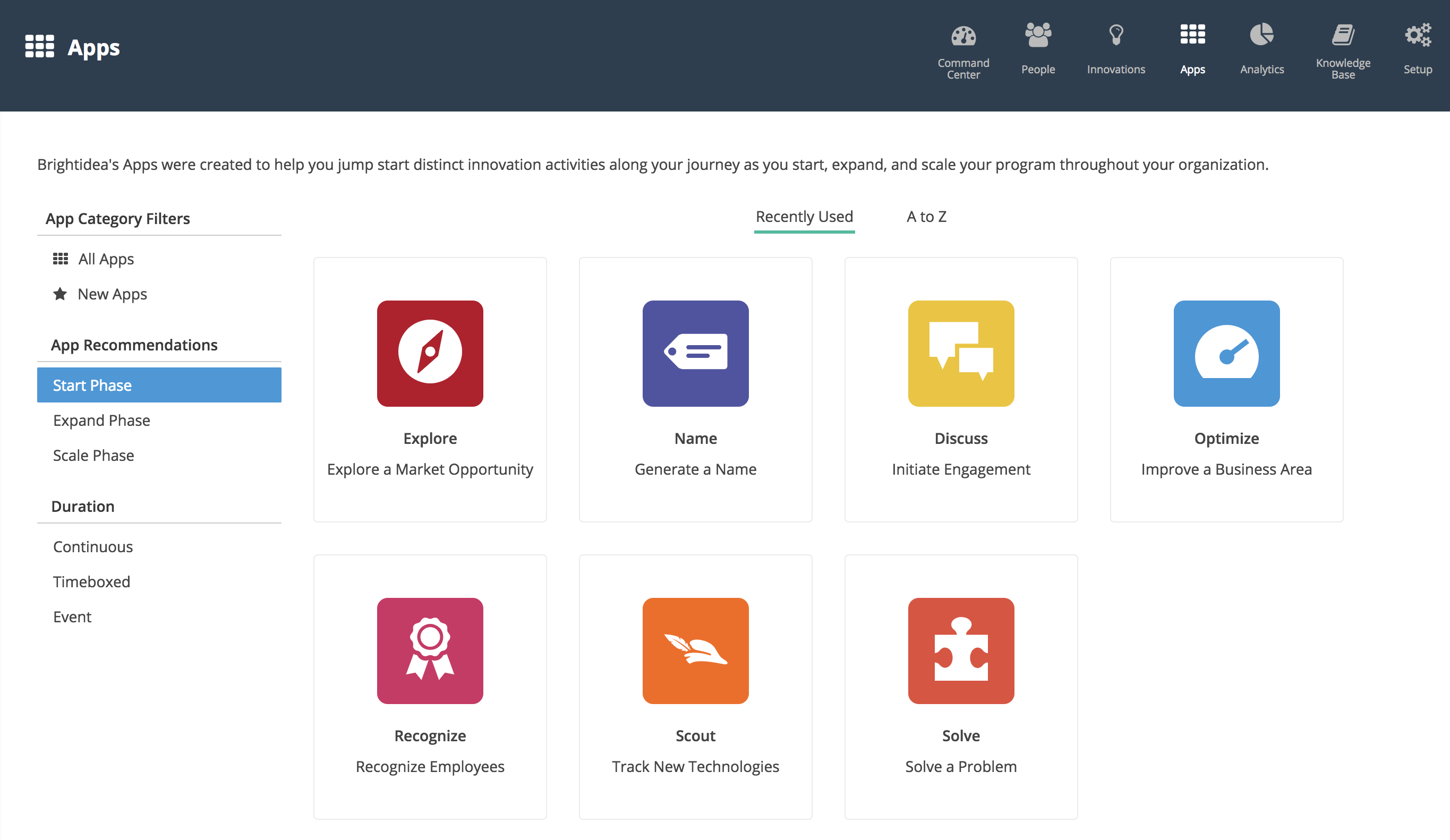 If you are using Brightidea Innovation Cloud 2.0, your Apps page may look like the below: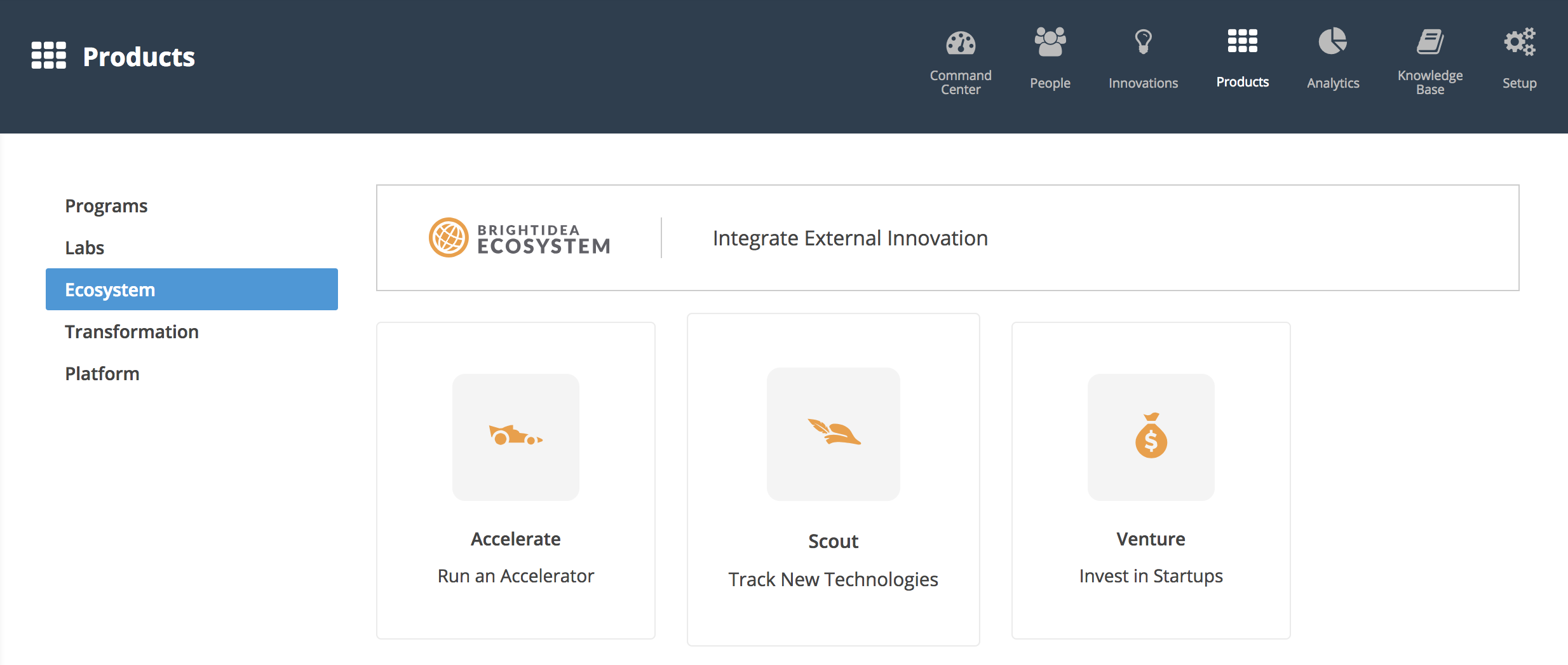 Once there, select "Set Up a Scout Process"
Fill out your title, description, audience to complete the wizard.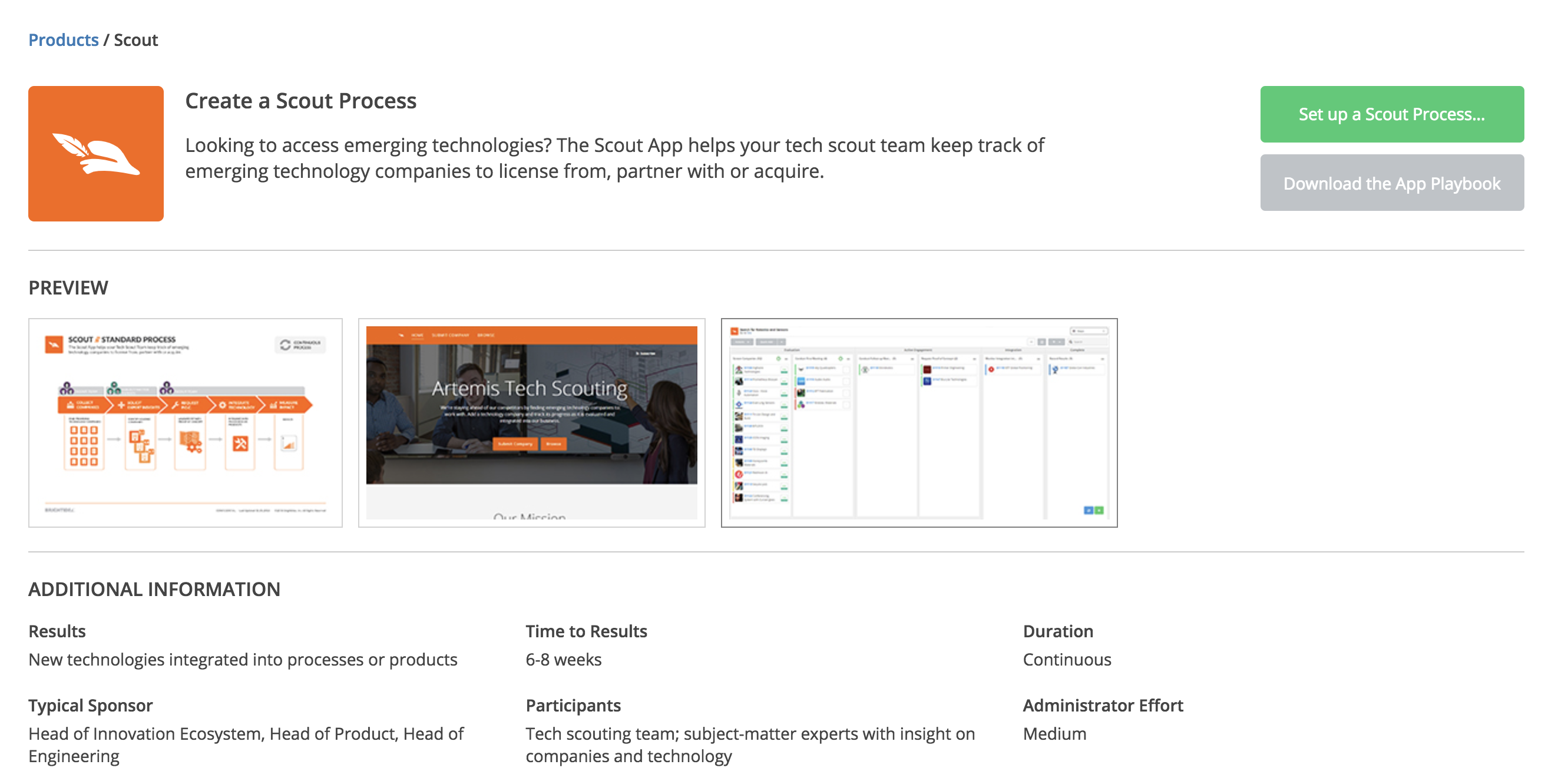 Site Home Page
Once you create your new Scout event, you will be brought to your Scout site home page.
Here, you can update the site hero image, change your submission form, and more!

For more suggested edits, refer to our Scout App - Launch Playbook here.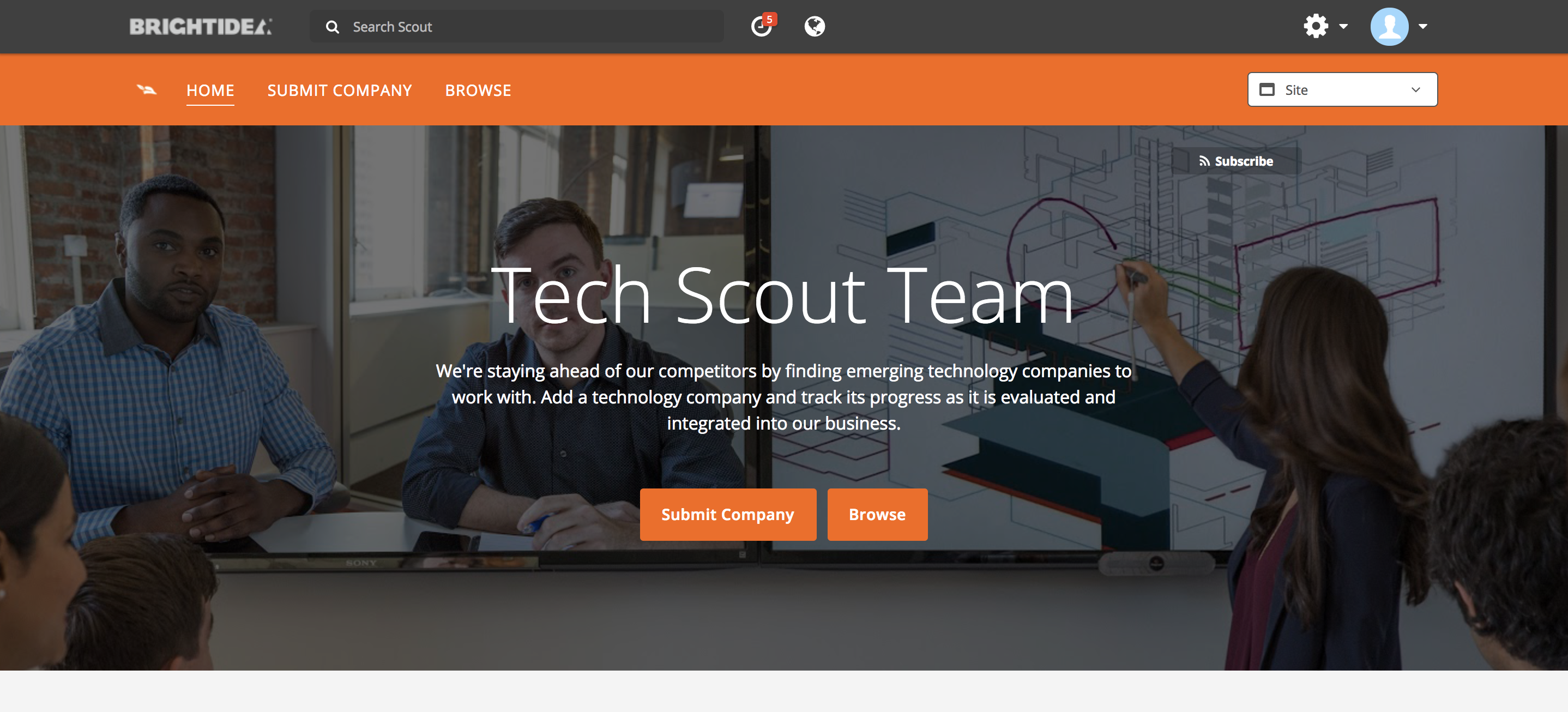 Pipeline Steps View
After successfully creating your Scout app, you will see that it comes with preconfigured Stages and Steps.
To navigate there, select Admin Tools > Manage Pipeline

For a quick recap on the overall Scout process, refer to this process overview here.
The Scout backend workflow consists of the following:
Screen Companies


Find Promising Technology Companies
Single Scale Evaluation

Conduct First Meeting


Develop Initial Information
Identify Leading Companies

Conduct Follow-up Meetings


Continue Discussion
Address Any Open Items or Questions

Request Proof of Concept


Design Implementation Process
Implement New Technologies

Monitor Integration into Business

Record Results

Screen Companies
Find Promising Technology Companies

Understand the product or process you would like to implement.
Accessed Users submit companies that identify the new technology you are looking to implement.
Check out our new AI integration, noted here.

Single Scale Evaluation

Any Scouts that are submitted or imported, will show up in this initial step.

The assigned evaluators will receive an action item to provide a quick single scale evaluation on each company.

Conduct First Meeting
Develop Initial Information

In this step, a 'Development' action item is assigned to ensure each company meets all prerequisites to proceed.

Identify Leading Companies

After research and development are conducted by Scout Teams, they will have identified which leading companies are worth pursuing.
Conduct Follow-up Meetings
Continue Discussion

Teams continue discussion in order to uncover any opportunities or risks.

Address Any Open Items or Questions


Last rounds of discussions are conducted to make sure all Scout Team members understand which companies will be pursued.
Request Proof of Concept
Design Implementation Process

Qualified companies will have an implementation process designed for final review.

Implement New Technologies

After implementation design is complete, implementation process begins.
Monitor Integration into Business
Ensure Smooth Completion


Scout team records implementation process and ensures that completion went smoothly.
Record Results
Measure Impact


Scout team continues to track business impact (projected and actual).
Please comment below with any questions or feedback, Happy Innovating!