Question:
How do I setup my 'Contact Email'?
Answer:
Default contact email will be:

service@brightidea.com
WebStorm/Enterprise Setup
To view or change the contact email navigate to WebStorm or Enterprise Setup --> Site --> Components
Change the Contact Email & Contact Name fields to the desired address
Select "Save Changes" 

Note: 'Contact Name' will be used as the name for the sender field of each email if configured in Enterprise and WebStorm setup.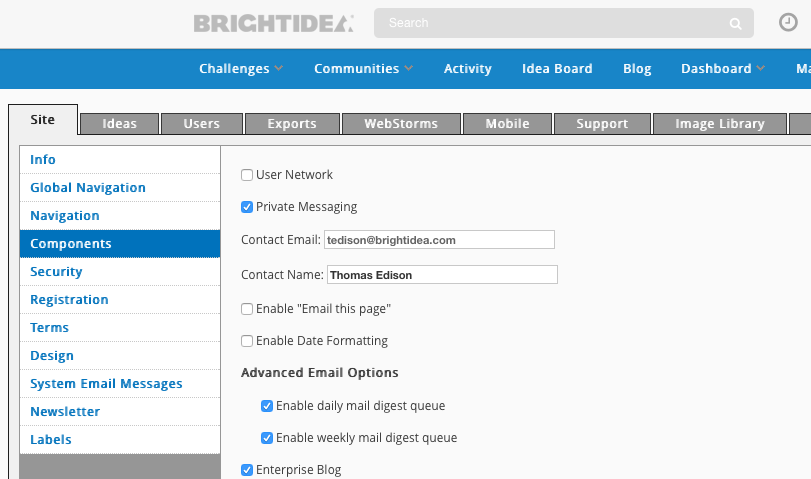 The administrator can make changes to this in both Enterprise and WebStorm levels.

If the administrator removes the "Contact Email" on the WebStorm level, it will default to the Enterprise contact email if empty.   

The WebStorm level will take priority contact email over Enterprise if there is an idea submission within any campaign.

If activity is conducted on Enterprise level (i.e. a Updater comment) then the Enterprise email will be used in the Contact email. 

A "%20" might show if there are spaces - please remove them and save!

This contact email also applies to all emails triggered from WebStorm Admin, Switchboard, and Pipeline

The contact email is also the "Contact Us" email at the bottom of every Enterprise and Webstorm page footer.
Communications Tab
Administrators can also configure contact name and email in the Communications tab in Pipeline