Widgets are available at all levels of Brightidea, and we made sure to include them for Communities as well. Let's break-down the widgets available at the Community level, see below for details.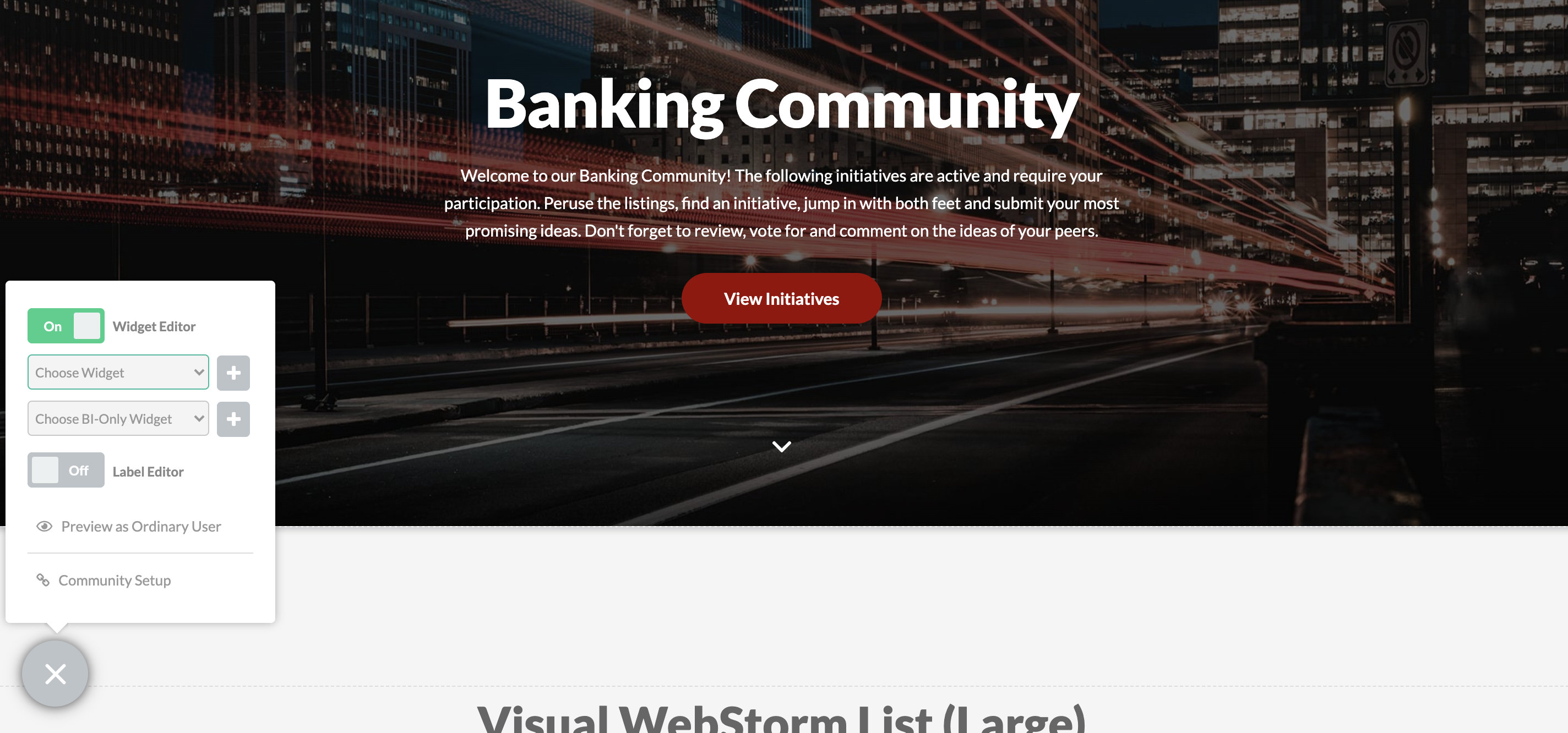 Our Community widgets are separated from Enterprise widgets, even though the Widget options will include Enterprise Widgets. Editing a Community Widget will not affect how it displays on Enterprise pages (and vise-versa).
The Community-level Visual WebStorm List (Large) widget can be used to control which Initiatives are displayed and in what order on each Community home page. This allows each Community in Brightidea to be setup separately, providing closer alignment and collaboration between each Community's members and their related Initiatives.
The following widgets are "community-aware" once they are added to a community. They will only show the activity and data recorded from the Community-level only.
Download Our Mobile App

Enterprise All Ideas

Enterprise All Stats

Enterprise Campaign List

Enterprise Campaign List Widget Wide

Enterprise Invite a Friend

Enterprise Login

Enterprise Mini Contributors

Enterprise Mini Idea List

Enterprise My Blog Drafts

Enterprise My Collaborators Widget

Enterprise My Comments

Enterprise My Ideas

Enterprise My Info

Enterprise My Messages

Enterprise My Network

Enterprise My Stats

Enterprise Tag Cloud

Enterprise Update Results

Enterprise Updates

Enterprise User Community

Image

Request Initiative

Rich Text/HTML

Send Link

Text/HTML

Visual Initiative List (Large)
Visual Initiative List (Small)
For further information on each of these widgets, refer to our Enterprise Widgets article.