The Brightidea 'User Import' feature will make the import process of your users very simple and easy.
Please navigate to Command Center > People Pillar > Add User / Import Users: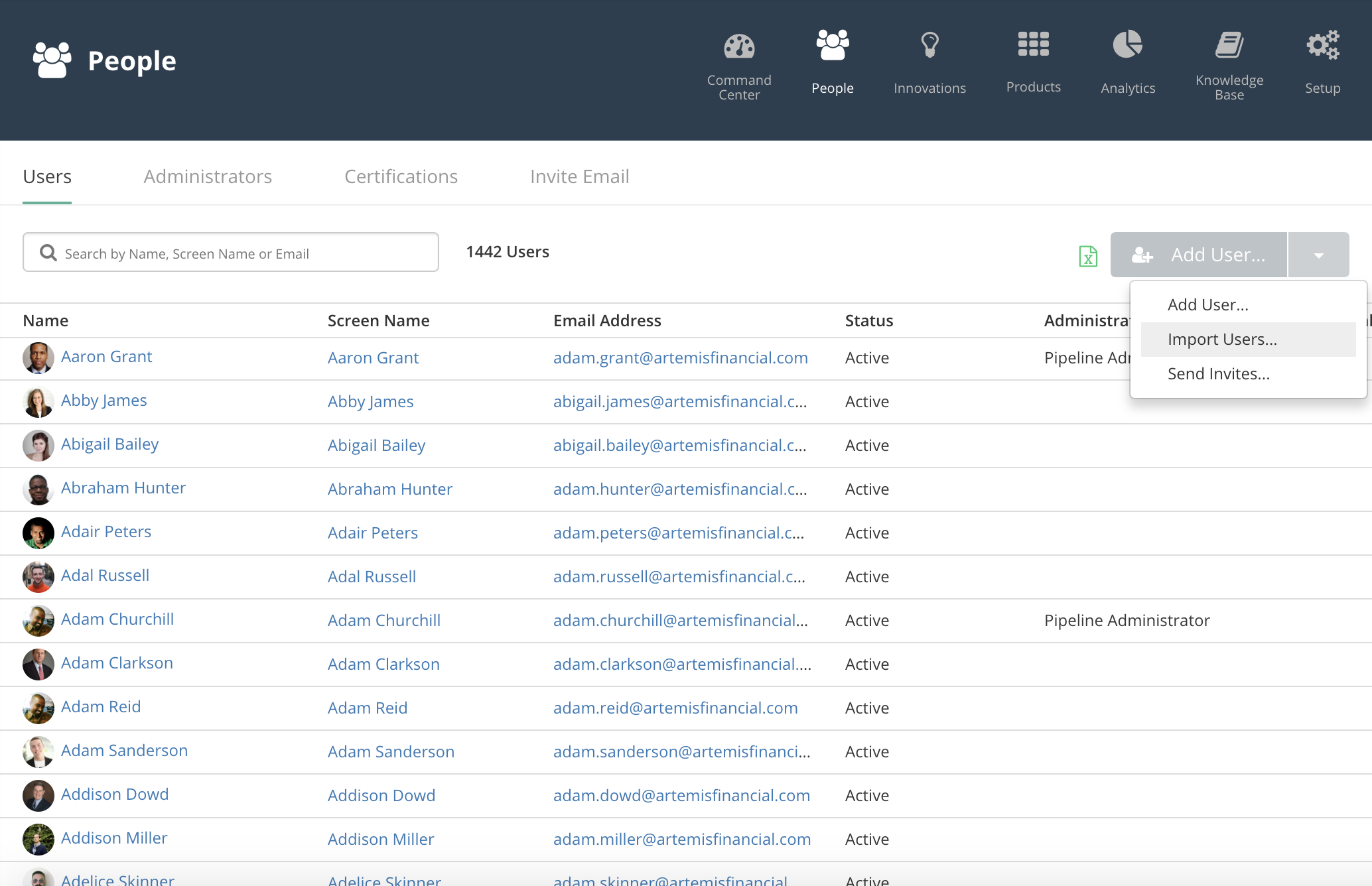 Once you have chosen "Import Users", a dialog box will appear prompting you with two options.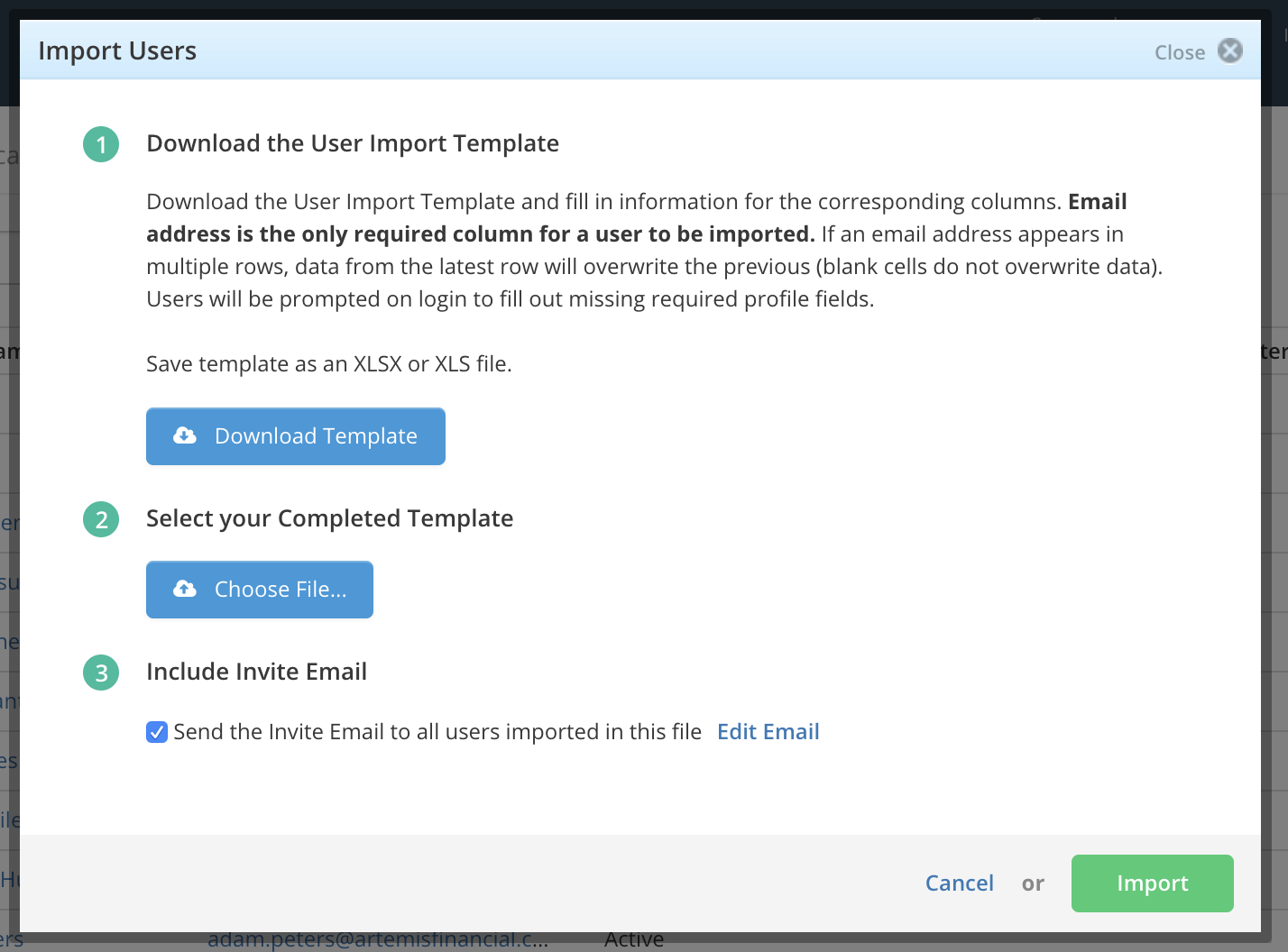 Option 1: Download the User Import Template
If needed, you may download our template that is required to properly import your Users. There will also be "example" users to help guide you filling out the Template correctly.

The only required field will be an Email Address. However, importing a User with just an email address is not the best way to create Users. We recommend adding Screen Name, First Name, and Last Name as well.
However, we also recommend to also fill out important areas such the Expertise, External and Certifications fields in order for Users to get the best experience out of your Brightidea.
The other fields are not required, but are highly encouraged to fill out as well. The more information each User has, the better engagement and experience each of your Users will have.
Once you have downloaded the template and filled out with all your Users, save this file to your Desktop for easy access.
Option 2: Select your Completed Template
If you already have a template that is ready for import, or you have completed your recently downloaded template, you can choose this file for your Brightidea.
Also note, you can choose to send an email to all your newly imported Users to inform them of their newly acquired access.

Once the importer has finished running, you will see a new dialog box of your successful import!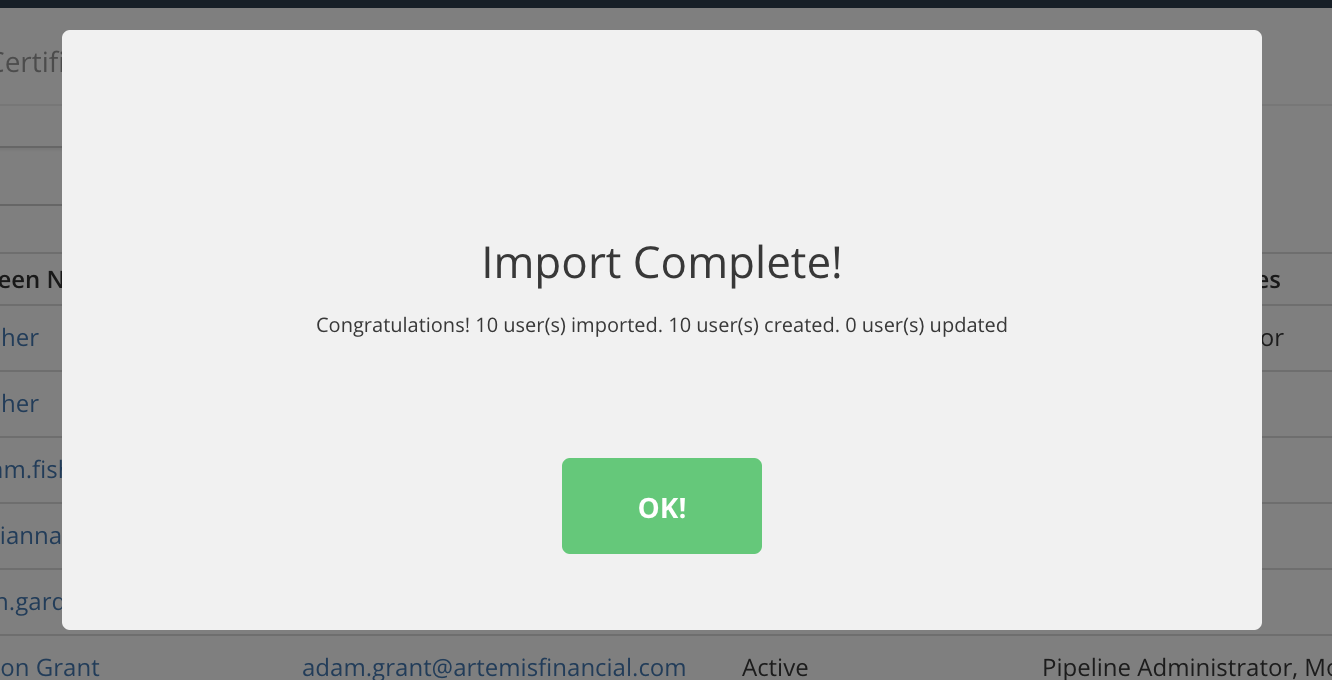 Important things to Note:
Additional Profile Fields can be imported via User Import
If you prefer to just add one user at a time, check out our functionality for "Create New User" here.
The groups field does not overwrite with subsequent imports, any new data is appended.
Administrators can upload profile images within the User Import.

In the template, there is a column for 'Profile Photo URL'.
The administrator can enter in a publicly accessible URL that leads to the respective users' photo
This photo cannot be an internal URL from your organization if it requires authentication to view.

If the administrator does not want any photos to imported, please leave all cells empty.

The Import Wizard will prompt the administrator if it finds duplicate emails already in the system or error'ed email addresses.
Brightidea recommends no more than 500 rows per each import to alleviate any delay into importing.
No emails or triggers are sent to anyone - once users are imported.