Administrators have the ability to restrict Initiatives to specific Groups/Users. These restrictions will only allow the accessed group to view all Initiative pages, and completely block all other End-Users. Access configurations can be made a several different ways, depending on what works best for you. Let's learn more below!
Participant's List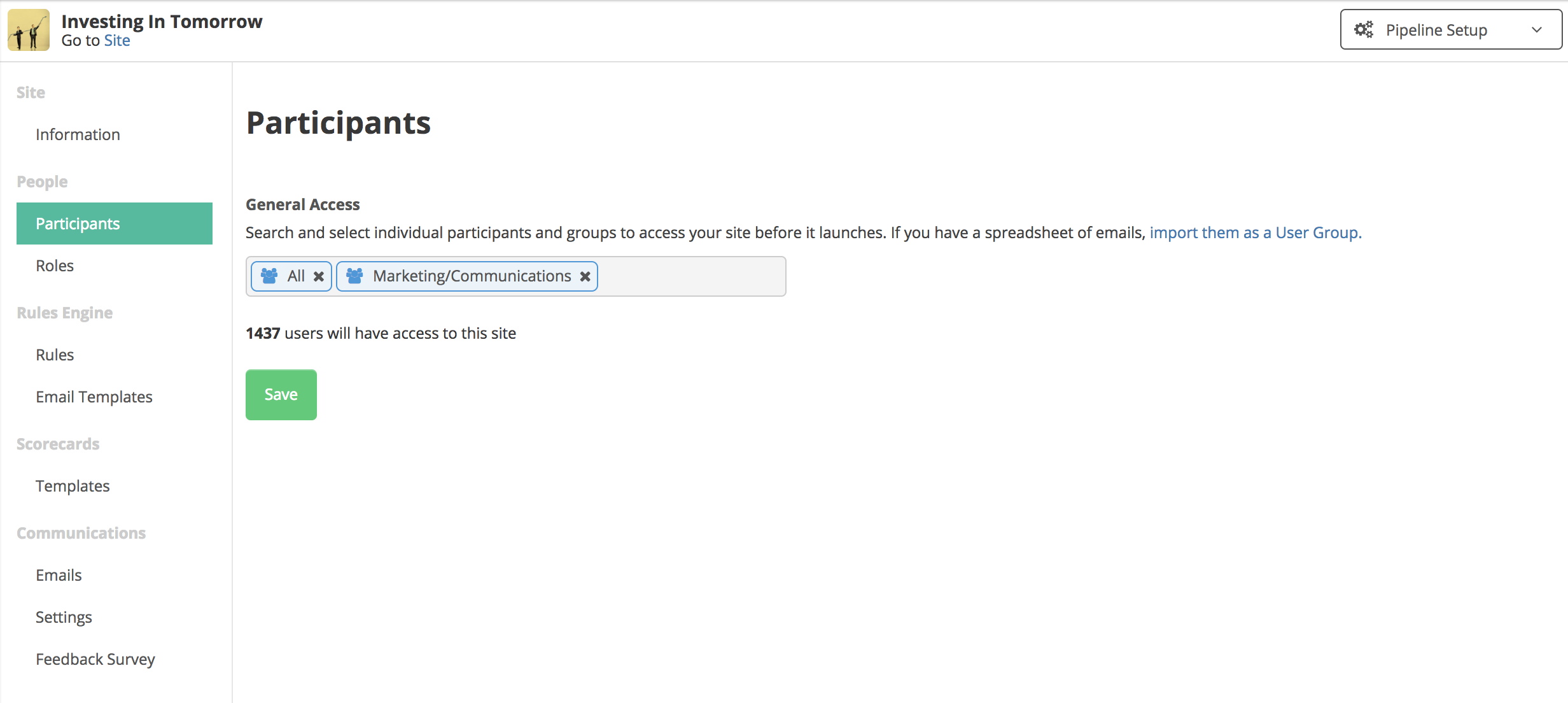 Each Initiative Participants list can be found under the Pipeline Setup. Once on the Pipeline Setup screen, under the People section, there will be an option called Participants. Here is where you can assign users or groups to Early Access or General Access.
General Description
Participants make up all the Users and Groups that have been assigned to an Initiative. Similar to Groups, "ALL" users can be added to the Participants list.
Notes:

Updating the Participants will also update the Groups list.
Groups can be accessed through Site Setup > Users > Groups or through Enterprise Setup > Initiatives > Manage Initiatives
If an Initiative has the "Scheduler" enabled, then the Participants List will show an additional section labeled "Early Access".


Early Access is to allow Users/Groups access before the Initiative Schedule has begun.
Restricting Groups within Site Setup
Another way to restrict Groups is through the Group List in Enterprise Setup
Navigate to: Enterprise Setup > Initiatives > Manage Initiatives

From the dropdown list, you can choose the Initiative you want to manage. Once the Initiative has been selected, you can search for a specific Group or choose the "ALL" selector to find the Group you are looking for.

After the group(s) have been selected, clicking the ">>" button will add the group(s) to the Assigned Groups section. You will then need to Save Changes when you are done.
Notes:

If a user has an Action Item assigned in 'Pipeline Management', they will be able to access their Action Item regardless of group restrictions.
Administrators can easily remove a group by clicking the Remove Selected button.
Restricting by Email Domain
For more information on restricting an Enterprise or Initiative by email domains, feel free to reference our Support article here - Applying Domain Restrictions to your Brightidea