Capturing new ideas is much easier with our My Ideas feature! Brightidea's My Ideas provides a way to capture any idea from any employee at any time! This allows users a place to save their great ideas now and place them in an Initiative at a later time.

Table of Contents
How to Enable
Brightidea's My Ideas feature is enabled for all Users by default. If My Ideas is not enabled, the first place to check is under Enterprise Setup > Site > User Homepage. There will be a setting labeled My Ideas that you will need to enable.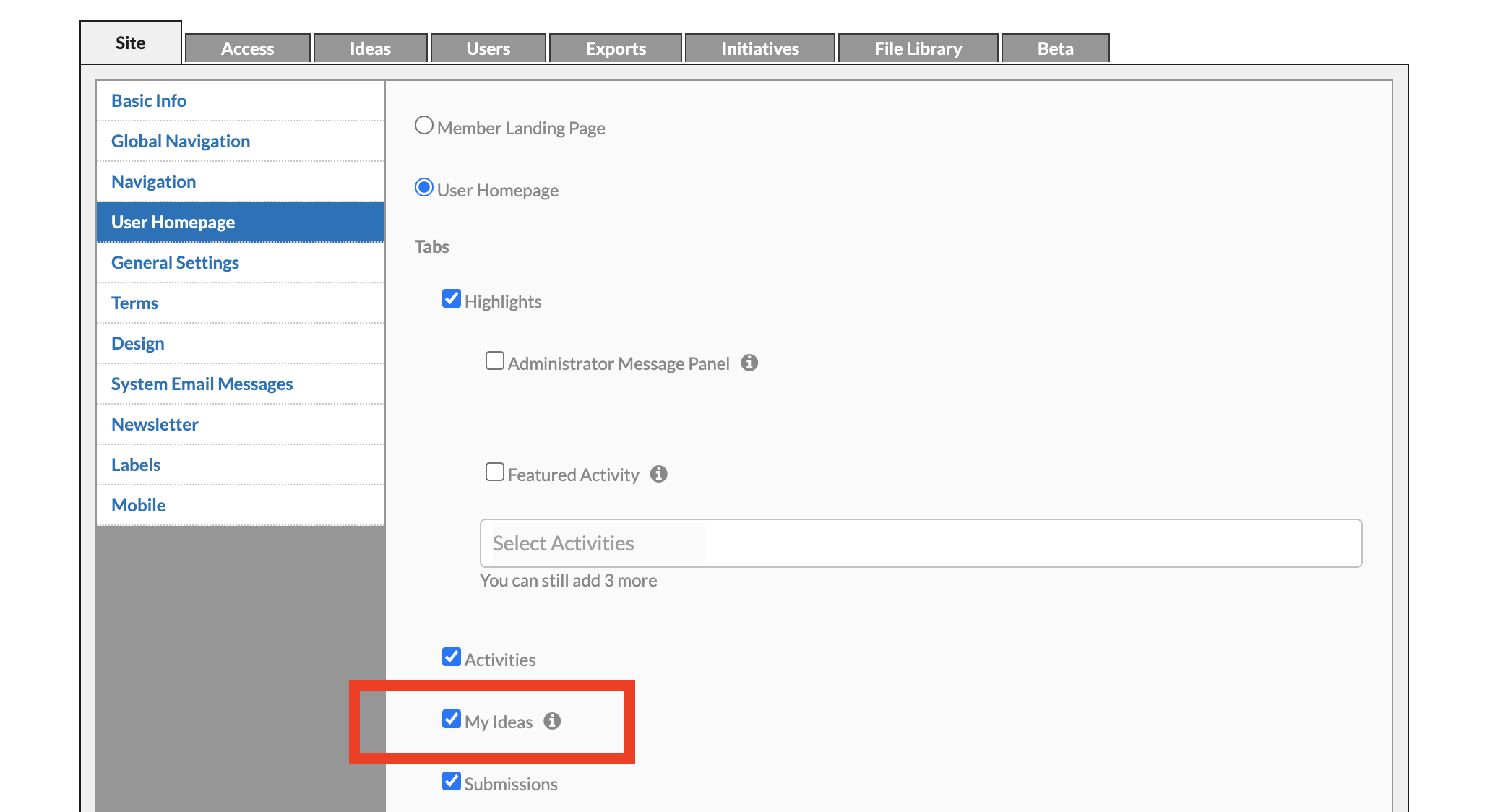 If your Brightidea does not show this feature, please contact your Account Manager or the Brightidea Support team to have them enable for you.
Capturing an Idea
To Capture an Idea when inspiration hits, the quickest way to add an idea is to click the "plus sign" icon at the top-right of your Global Navigation:

Here, a dialog box should appear prompting you to document your idea. You can include items such as Title, Tags and an attachment. Attachments can be dragged-and-dropped into the prompt for a quick import.
NOTE: Any one of the fields will need to have information for the 'Save' button to become active.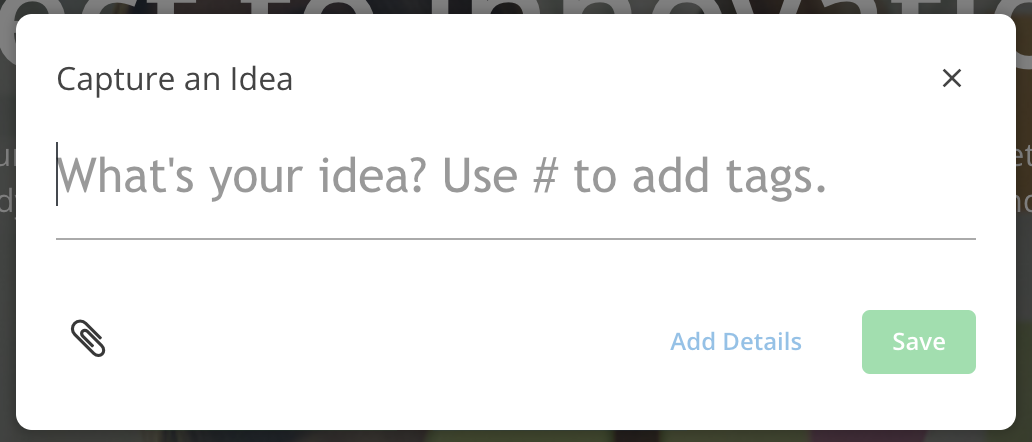 If you wish to further develop their idea during the initial creation, you can simply click the 'Add Details' button. This will redirect you to your User Home where you can find all of your 'My Ideas'.
Once you are all set, you can hit the green 'Save' button to save your new idea into your 'My Ideas' section. (Shortcut - if you are on a desktop, CMND + ENTR will quickly save your idea)
You will notice that there is no Initiative attached when a User captures an Idea. This is because the Idea is not considered a Submission until it is attached to an Initiative.
If you wish to send your Idea via email, you can easily submit your idea to myidea@company.brightidea.com
Replace company.brightidea.com with your company's URL.
If your company is using multiple URLs, you can use either one as long as myidea@ is at the front.
Voice submissions is also available via Alexa and Google Assistant.
You will be asked to authenticate with your account before using the skill to save My Ideas.
Viewing and Editing My Ideas
Once you have entered an Idea, you have the ability to review your Ideas at any time after they have been submitted.
Navigate to your User Homepage, and here you will see a section that has a list of all your personal ideas.
From here, you can edit your personal idea by adding a Description and Images. You can also see the creation date of your Idea and, if you are ready, add it to an Initiative by clicking the "Create Submission..." button: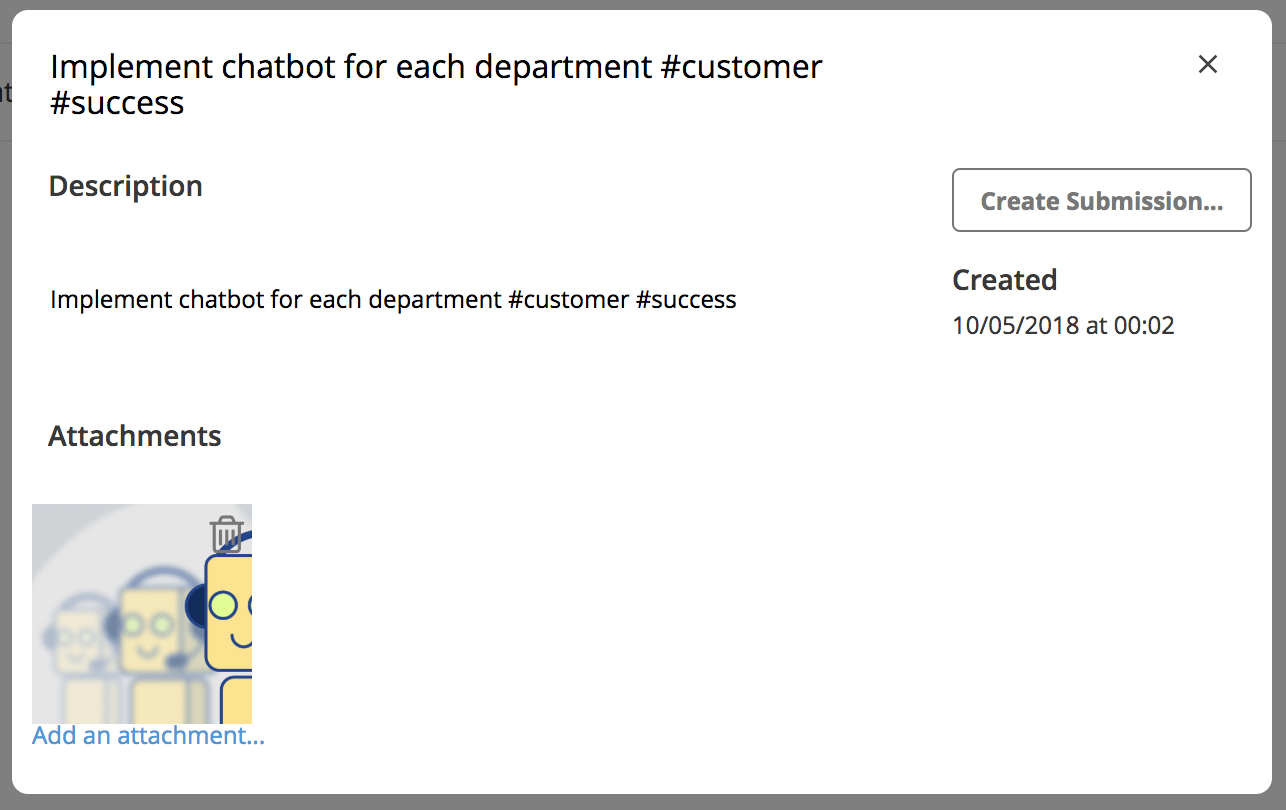 Important Notes
User's 'Ideas' are not visible to administrators/moderators or anyone else other than the user who creates them.

Only the idea creator has access to view/edit their ideas under their user account.

There are currently no exports or reporting available for 'My Ideas'
Please note, 'My Idea' is not a 'Submission', it will only be a submission and visible to other users if the idea creator decides to post it in an Initiative within your Brightidea site.

An Idea can be in thought of as a personal idea, just like your email or personal notes.