Administrators and moderators may now schedule reports at the initiative-level. Once scheduled, reports will be sent on a recurring basis, allowing administrators and moderators to receive regular updated reports from their initiatives. These recurring reports can also be sent as email attachments, to allow easy forwarding of reports to the executive team, or passing to third-party dashboard and reporting software.
Table of Contents
Scheduling a Report
Viewing Scheduled Reports
Editing and Deleting Scheduled Reports
Scheduling a Report
The following report types can currently be scheduled:
Submissions
Users
Trend Tracking
To schedule a report, navigate to your Initiative and select Site Setup > Exports, and select a report. Once selected, configure the time period for the report, as well as any optional information for the report.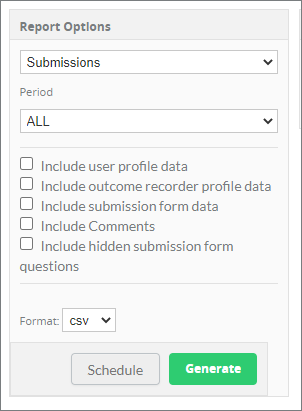 Once the report is configured, select "Schedule" to set the options for report recurrence: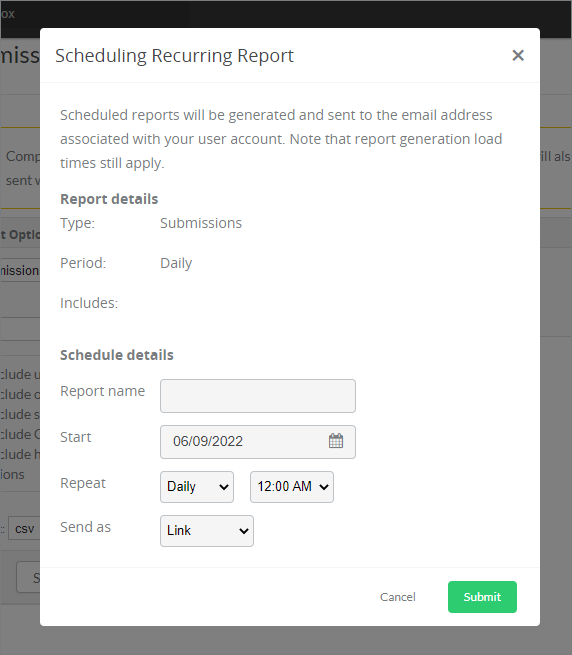 Report name: This will appear in the subject line of the report email notification
Start: The date that the report should first be generated
Repeat: The interval and time that the report will be generated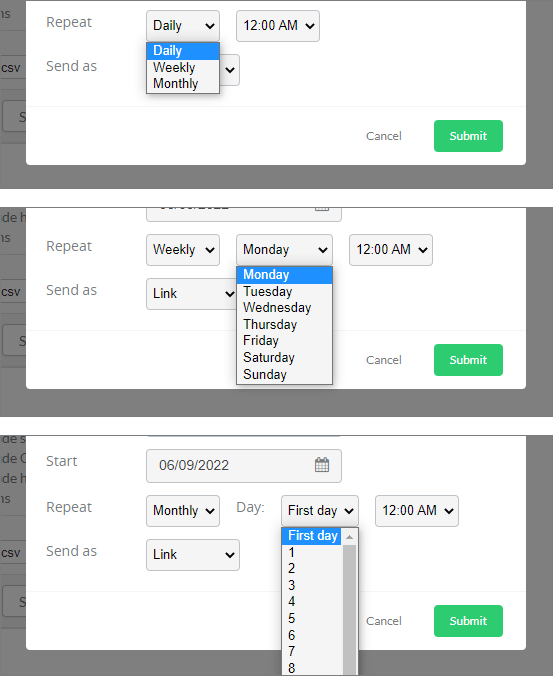 Reports can be generated daily, weekly, or monthly

Daily reports can be set to a specific time
Weekly reports can be set to a day of the week, as well as time
Monthly reports can be set to a particular day of the month, as well as time

NOTE: Recurring reports can be scheduled between 8pm and 4am EST. The configured time setting will also respect timezone settings in System setup

Send as: Whether to send the report as a link to download, or include the report as an attachment in the email notification
After configuring the report recurrence, select "Submit" to schedule the report. NOTE: Each report may only be scheduled for each recurrence setting once (e.g. Submissions export can be scheduled for both weekly and monthly cadence, but cannot be scheduled twice weekly).
At the start date and time, the report will be generated and emailed to the configuring user. Please note that report generation load times will still apply.
Viewing Scheduled Reports
A complete list of scheduled reports for each initiative can be found in Site Setup > Exports > Scheduled Reports.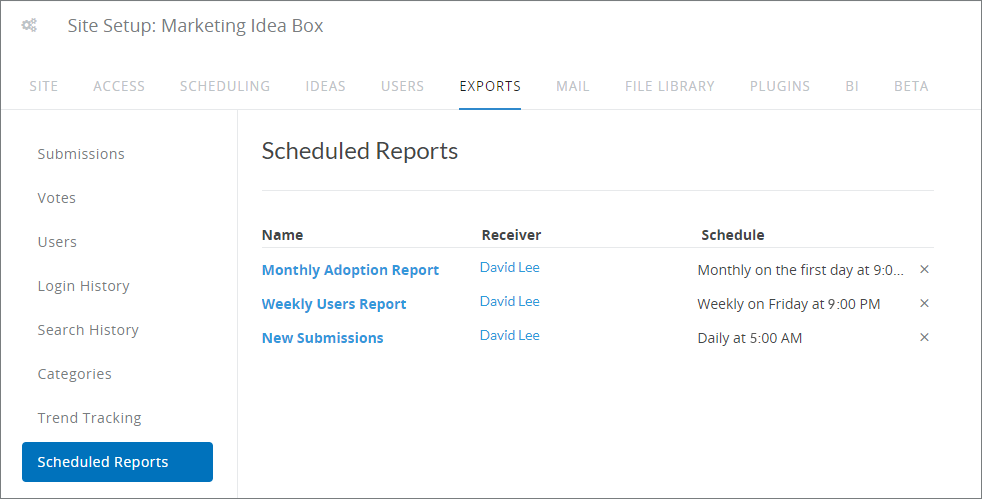 The list of scheduled reports will display the name of the report, the administrator or moderator that configured it, as well as the report schedule. Clicking on the report name will display the attributes for the scheduled report.
If viewing a scheduled report for another administrator or moderator, the information will appear in a read-only state.
Editing and Deleting Scheduled Reports
To edit a scheduled report, select a report from the Scheduled Reports tab. This will display the attributes for the report, which can then be edited. Only the administrator or moderator who created the report will be able to delete the report.
To delete a report, select the "x" icon to the right of the report. Note that any administrator can delete any scheduled report, including a report that they did not create.