There are several locations within the platform that utilize AI. This includes our userhome recommendations engine, Top Ideas meritology, Memo, idea submissions, Whiteboard, and enhanced AI-generated images. Read more about our AI policy here.
Check out the details below to understand the core capabilities:
Userhome Recommendations
The User Home is a personal innovation dashboard that is configured for each specific User. This dashboard is built to be the central hub for Users which will include activity and metrics that inform Users of their engagement level and provide information on relevant innovations. Every innovator can easily see all their Submissions, Activities, Projects, Metrics and much more. Check out more details in our KBA.
Top Ideas Meritology
The Top Ideas interface allows admins to surface the best ideas at a glance via several different criteria such as; top rated from evaluations, most popular, most active, and even those with the most merit.
Our meritology is a proprietary formula that surfaces ideas that have high engagement, evaluation scores, etc. Read more in our KBA.
Memo
The AI writing capabilities are an amazing asset to help when you need help crafting the next line, or need additional fodder to the information you are capturing. To read more about AI in Memo, check out the KBA here.
Idea Submissions
AI is used within the default description field within the submission form. When engaged, the end-user can provide a prompt for an idea description, after selecting generate, the AI will populate the description field.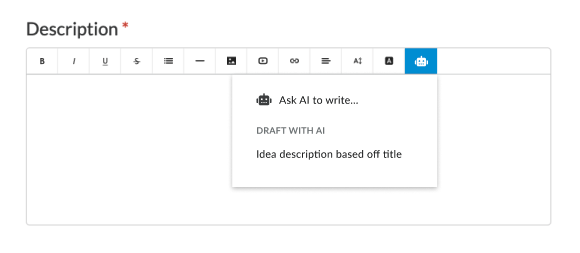 From there, users can interact with the text by highlighting it and requesting additional prompts such as re-word, lengthen, shorten, check grammar, etc.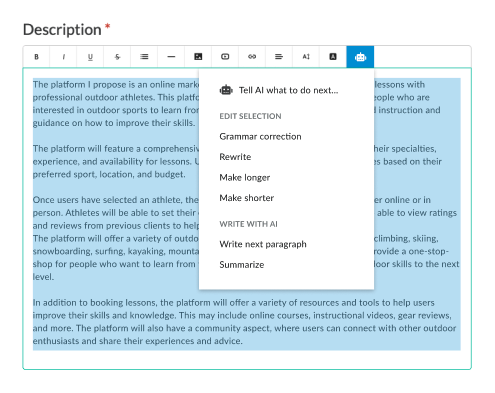 Whiteboard
Whether you are looking to break the ice to get the team moving into a productive session, or you are looking to break through a plateau and get re-invigorated, we built an AI solution to help.
Utilize the companion AI within your Whiteboard by providing a specific prompt. You can use the Guide me tab to dictate the task, topic, style, count of stickies, and more. The prompt field will less guidelines, and allow you to provide a more direct request to AI.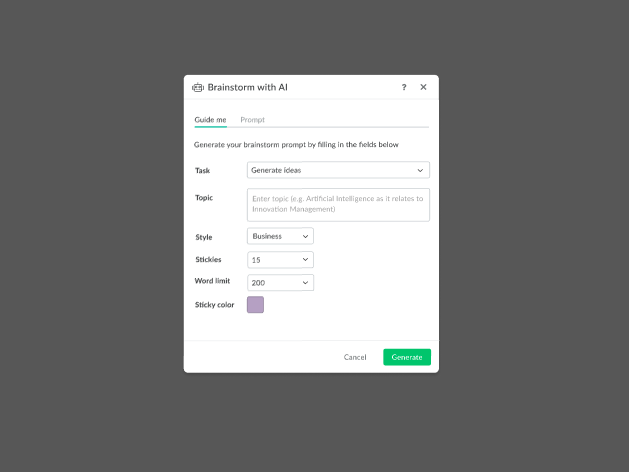 After selecting Generate, watch the stickies appear on your Whiteboard. These stickies can be edited, interacted with, and scored, just like any other sticky.
Check out more about Whiteboard here.
Images
You can now generate images with AI by providing a prompt. This can be used in various locations, including:
Initiative homepage
Idea submission
View Idea 3
Whiteboard
Memo
After the images have been generated, they can be saved locally or selected for use within the site.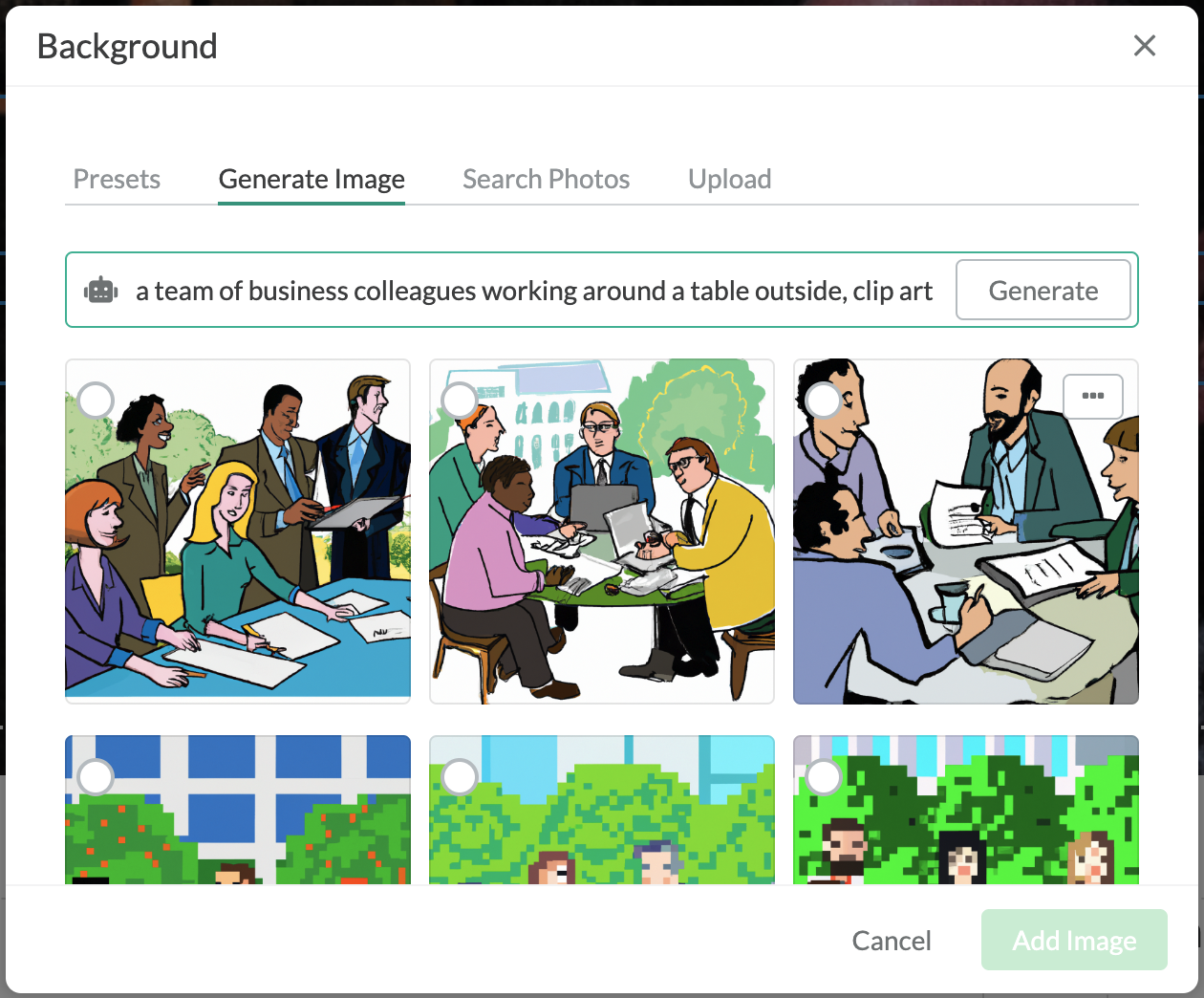 Scout App
We now have AI integration within our Scout app. This allows admins to source ideas through AI and inject those responses directly into their pipeline to track to ensure teams are capturing all current startups and competitors in their market. 


To use this feature:
As as admin, go to any screen that utilizes Quick Add

From the dropdown select the AI option

Add additional context for what industry you are looking to audit

Then inject responses directly into the pipeline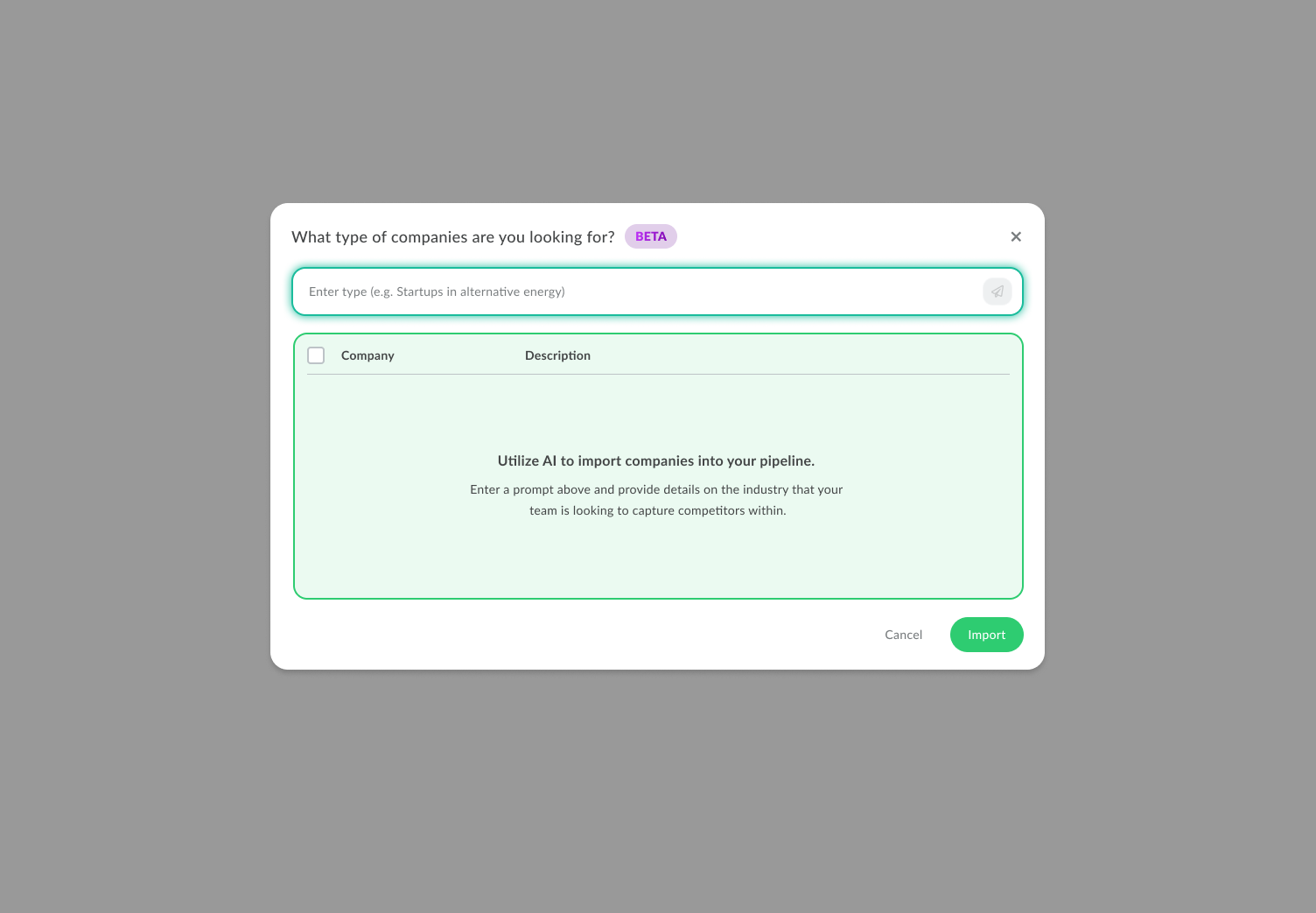 Enabling or Disabling AI
To turn on AI, navigate to System Settings > Site > General Settings. And enable the various components under AI Assist.



Once enabled on the system setting level, each initiative can be controlled under site setup > Ideas > Integrations.