The Submission Form Builder allows the Administrator to configure what question Users see when they submit new ideas. Below is everything you need to know to build a Submission Form.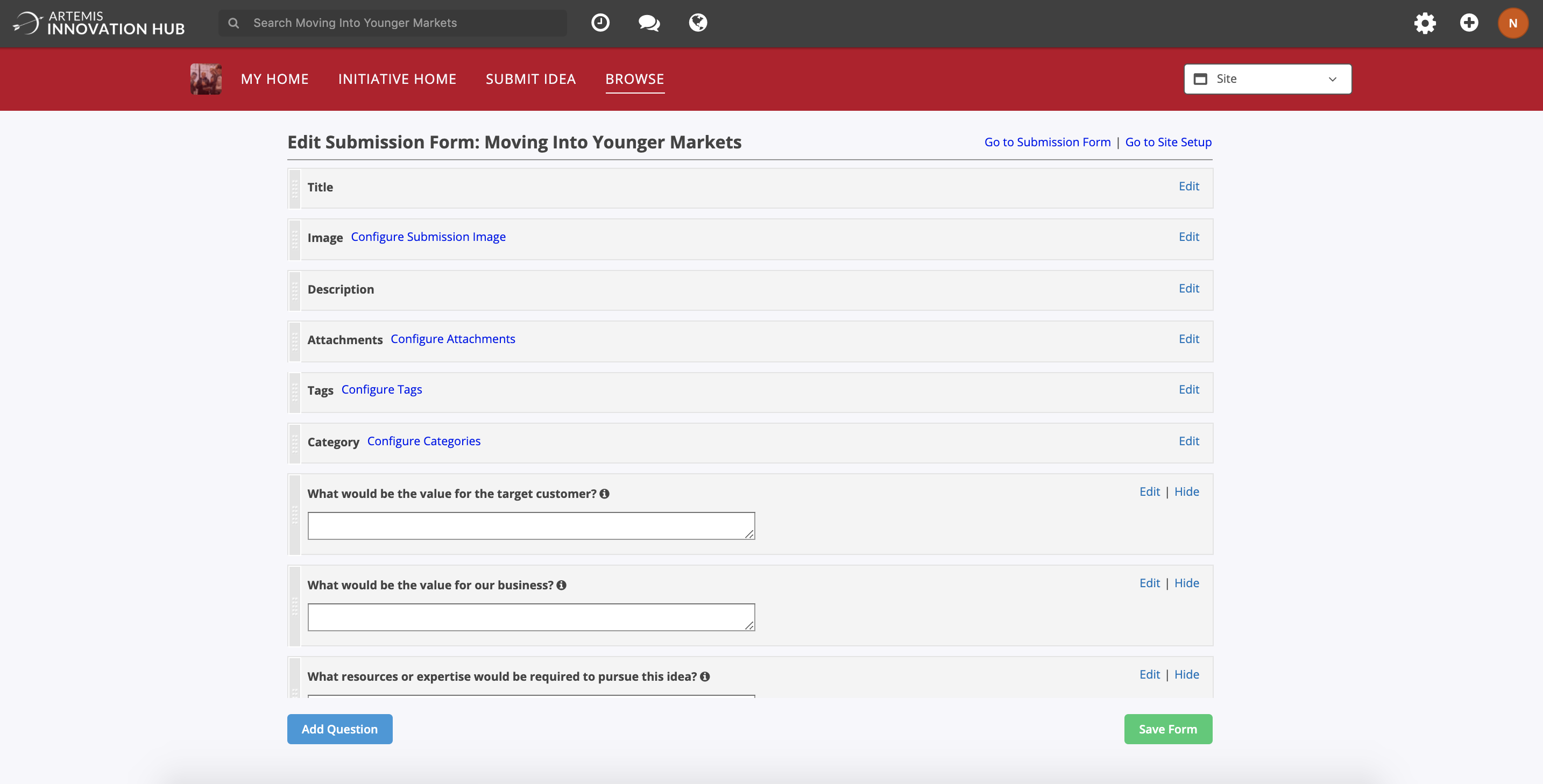 Table of Contents
With the 2023 Fall Release, the "Instruction Text" field can now be configured to show truncated text, with an option to display the full text, or display the instruction text in full.
In the Submission Form Builder, Instructional Text Block fields will now display a checkbox option, "Truncate long text." By default this option is enabled.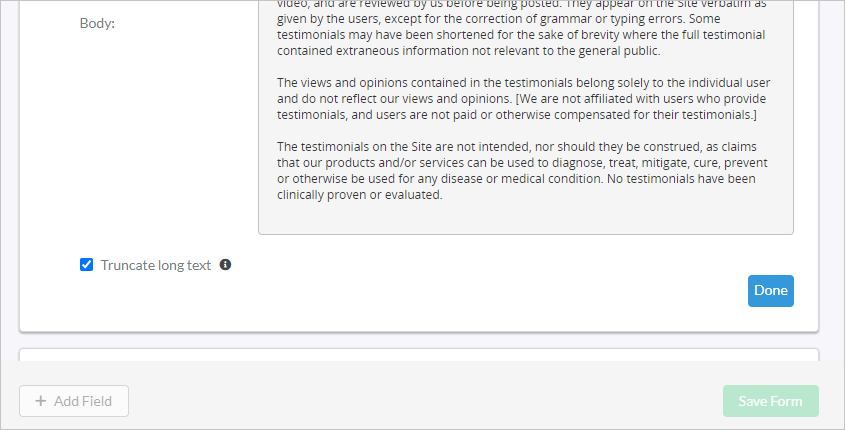 When disabled, the Instructional Text Block will display the full text without truncation.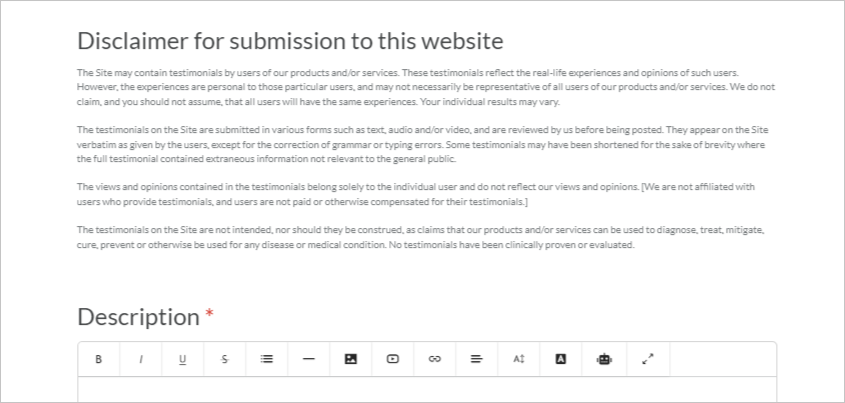 Getting Started
Each Initiative has its own Submission Form Builder that is located within Site Setup > Ideas > Submission Form. Clicking on the Submission Form tab will allow Admins to Launch Form Builder.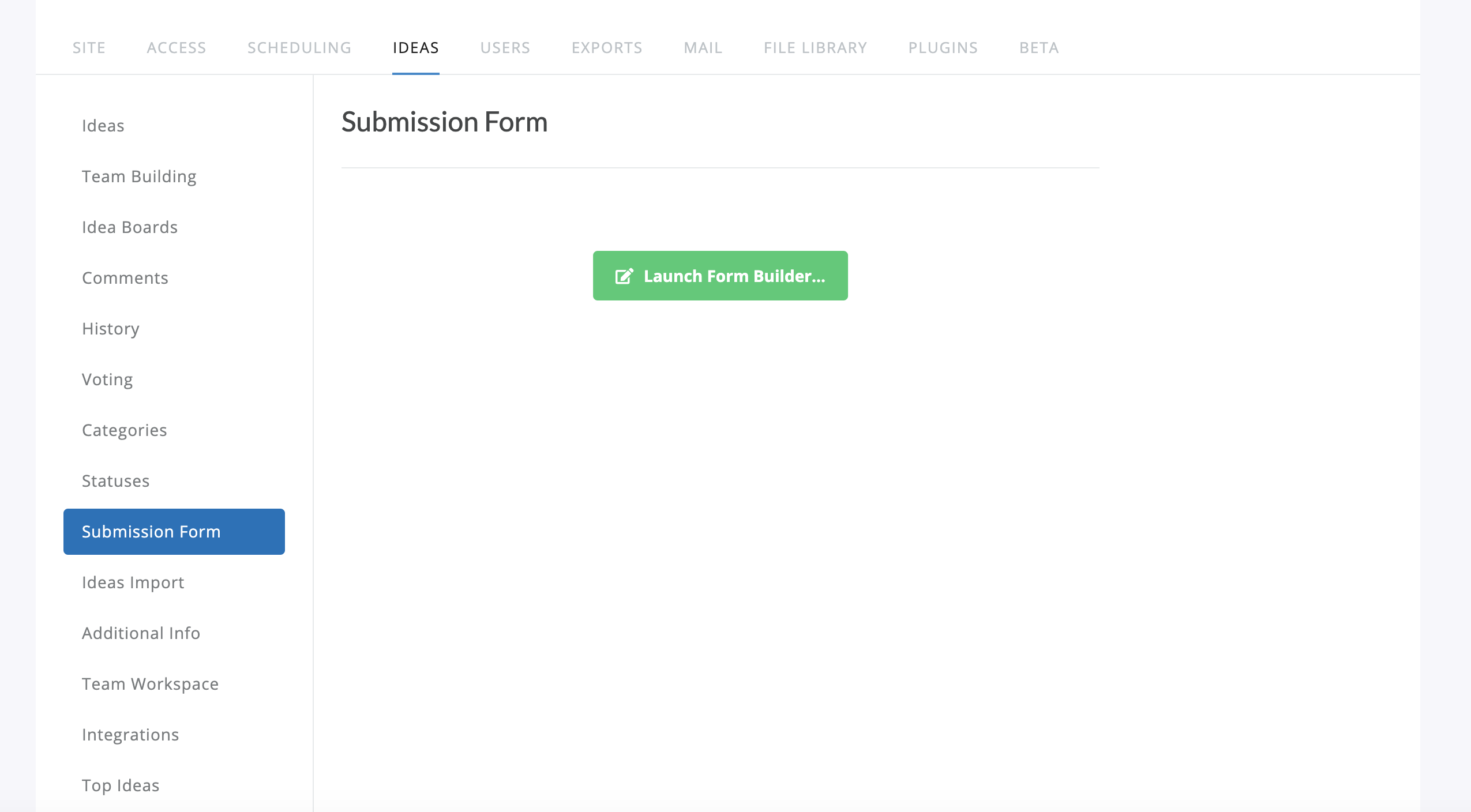 The administrator will be brought to an edit form page, where questions can be added, edited, hidden, removed and reordered.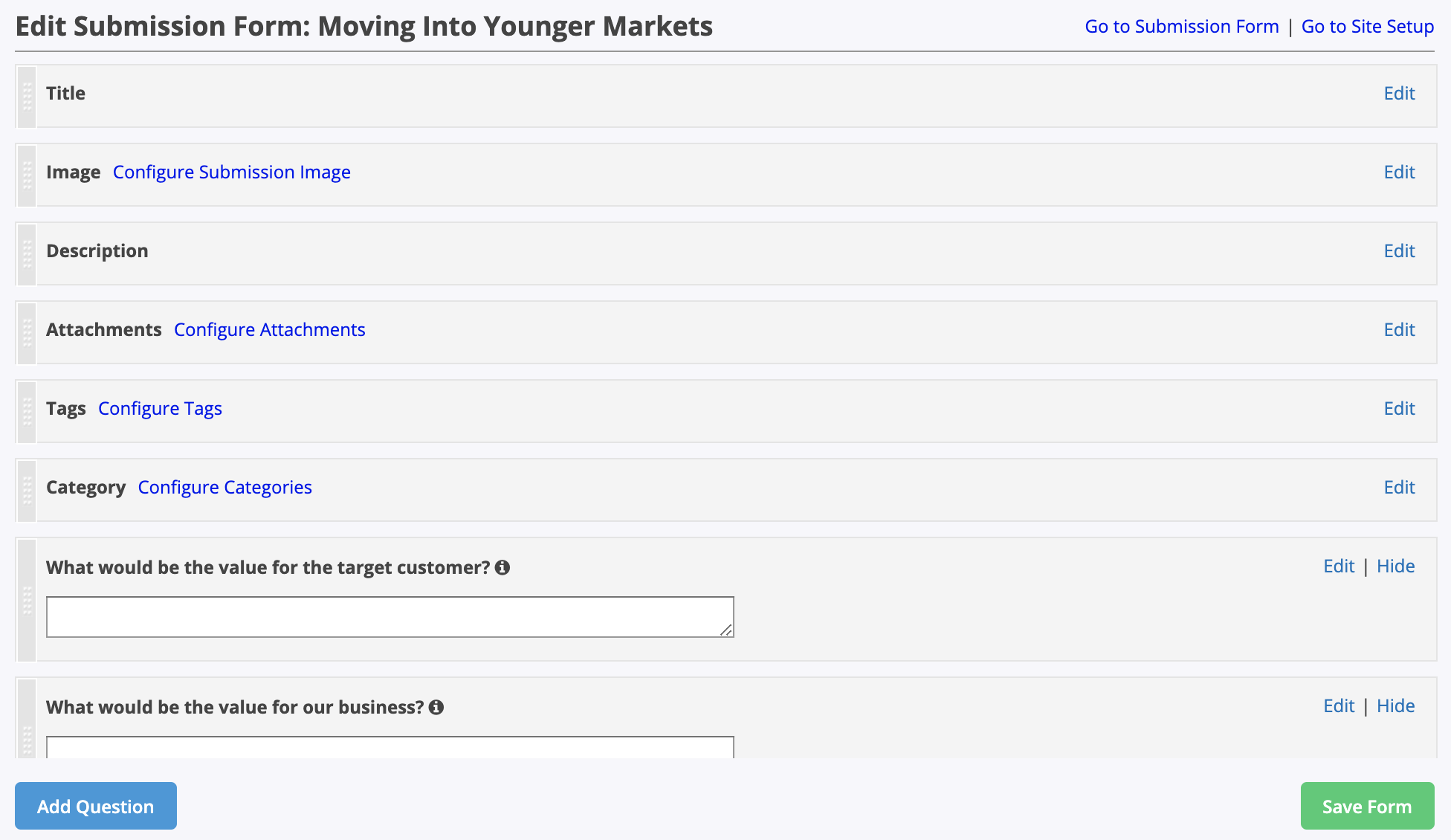 Administrators are able to edit/move the default Submission Form fields. These fields include:
Title (required)
Image
Description (required)
Attachments - Can be set as a Required field as needed




Tags
Category

At any time during your Submission Form building, you can click on "Go to Submission Form" and "Go to Site Setup" in the top-right of your form.

Setting the Question Order
In the Submission form the administrator can drag and drop their questions in any order holding the left bar to drag and drop:
Default questions are now customizable!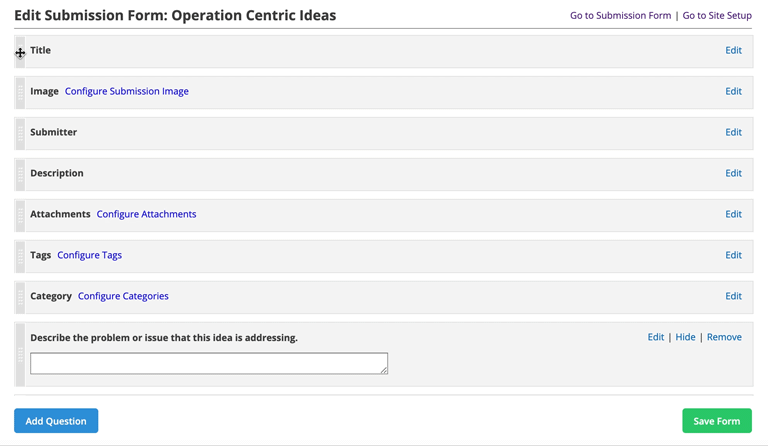 The order in which you set your Submission Form Builder will be reflected on the Submit page as well as the View Submission page.
Adding Questions
Administrators have the ability to create additional submission questions. Select Add Question at the bottom-left of your form.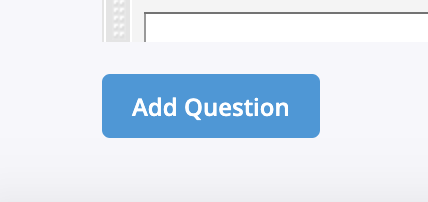 Administrators can freely add any number of questions that are required for their Initiative Submission Form.

The administrator can select:
Checkbox
Date

The date options allows for a calendar date selector on the submission form.

Number

Note

: The number field only allows numerical input (-1, 1.2, 5). No other characters are

allowed

.

Multiple Choice
Dropdown
Short and Long Answer

Note: There is no limit to the amount of text the administrator can add for long and short form questions (questions and answers).

User Selection

Allows Users to select another User




Provides a text field for Admins to use for guidance or instruction.

Linked Submission

Allows administrators and submitters to link related submissions to their idea
The Linked Submissions field will have normal configurable options, including Title and Body text and tooltip text.

Whiteboard

Allows administrators and submitters to link a Whiteboard to their Idea.

Only one field of this type can be added, as only a single Whiteboard can be linked to an Idea record.

Note: this field is only available to add if Whiteboards are enabled at the System level and View Idea 3.0 is enabled at the Site/Initiative level.

Instructional Text Block
Once added to the submission form, it will appear in Post Idea 2.0 Submitters can search and link to other ideas

Note: Submitters will only be able to search and link to ideas they have edit access to (e.g. they've submitted or have action items for). Saving the idea as a draft will retain the selected ideas, but they will not be linked until the idea is submitted.


On submission, the new idea will then be linked to the other selected ideas, and can be edited from the Linked Submissions widget in View Idea 2.0 or View Idea 3.0.
When adding questions, the administrator can choose to make them required by clicking the checkbox that says "Required". The user is forced to answer this question before their form can be successfully submitted.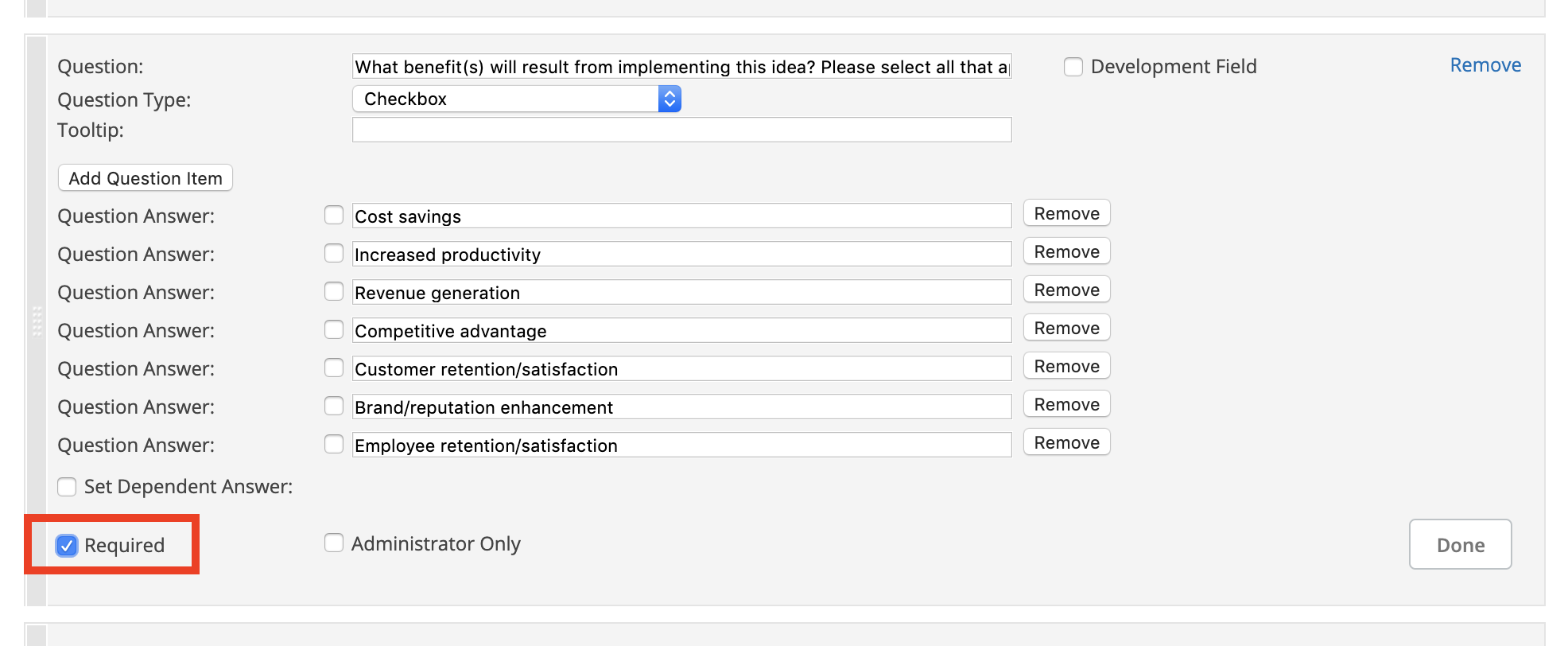 Question can also be set to "Administrator Only" and "Dependent Answer" (please click on each of the links to learn more information).
Submission Forms also support applying a Tooltip to each question.
Information icons will then appear beside questions on the submission page.



To reorder answers for multiple choice submission form fields (i.e. checkbox, radio button, and dropdown), simply drag and drop the answer to the appropriate order, and that order will be reflected in Post Idea 2.0 and when editing submissions. When editing an existing submission form, any previous answers for submissions will not be affected.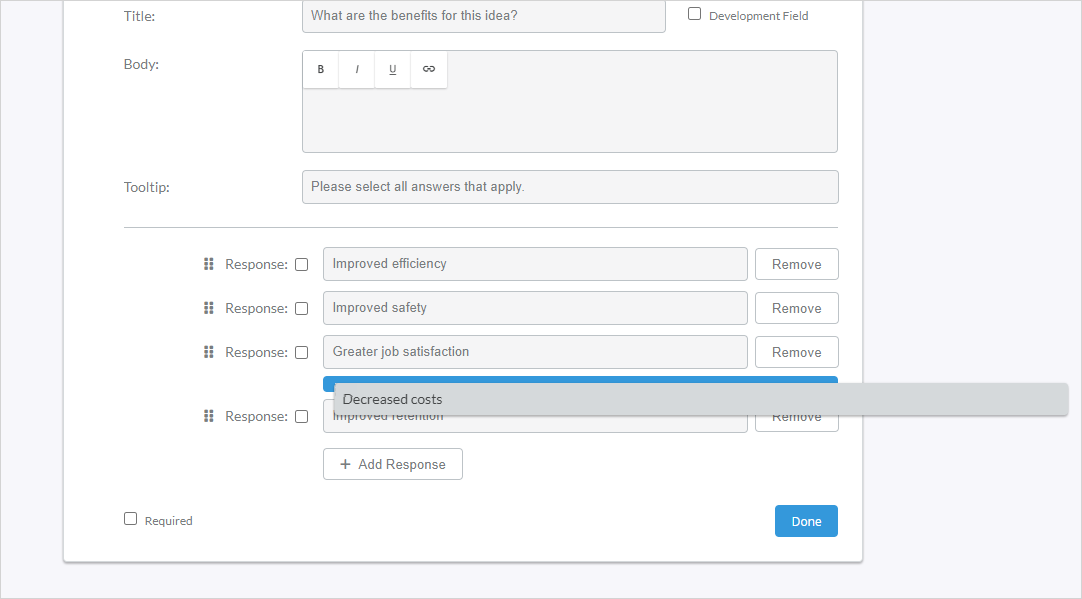 Editing Submission Form Questions
The Administrator can edit submission form questions on the submission form edit page. Select the "Edit" button to the right of the desired question.

Questions which have no associated submissions can be fully edited by the administrator (including the question type and all question answers).
Important Note: If a Submission has already been created using the Submission Form, and an Administrator wants to go back into the Form Builder to modify a question, they will receive a message warning them of their changes.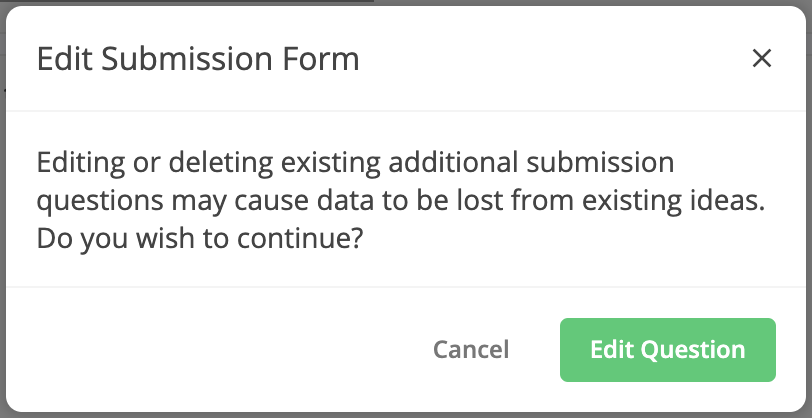 Hiding Submission Form Questions
Administrators also have the option of hiding Submission Form questions which are no longer relevant to their Initiative. To hide a Submission Form question, select the "Hide" button:

Hidden submission form questions will appear with a hidden label on the submission form edit page (Select the "Show" button to make the question visible again)

Image, Attachments, Tags, and Categories can now be hidden. Beside each of the four default questions will now include links pointing Admins to the option to turn them on-and-off.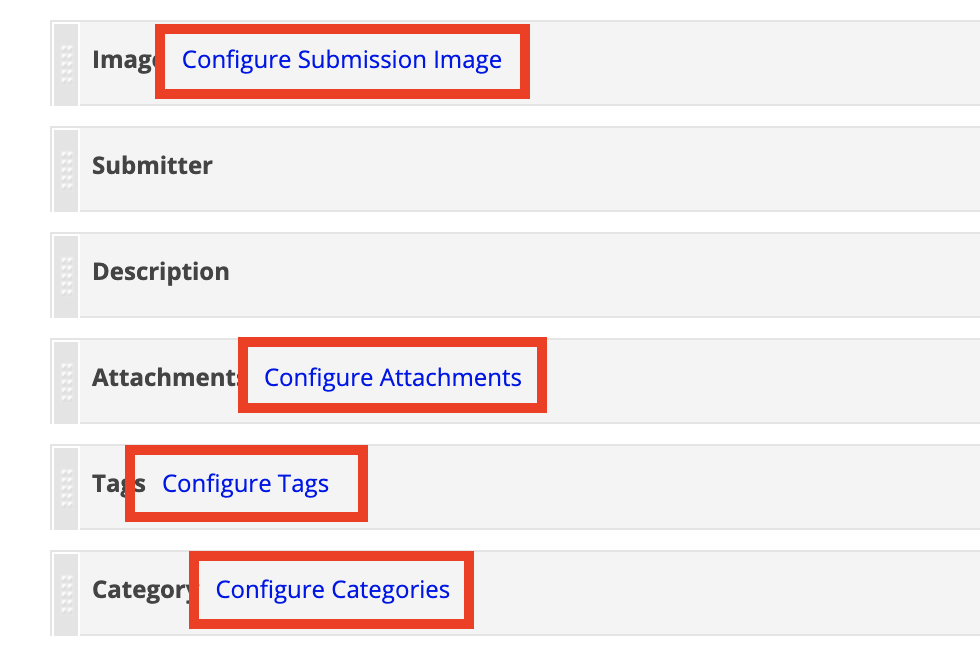 Hidden questions will respect the logic below:
Submit Idea page: Hidden questions will not appear when posting a new submission. If the hidden question is Required, it will no longer be checked.
View Submission page: When viewing any submission in the Initiative, hidden submission form questions will not appear.
With 'Dependent Questions' enabled: If a question is hidden, any other questions that are dependent on it will no longer be dependent.
Example

: Question B is dependent on Question A. Question A is hidden, therefore Question B will no longer be dependent on Question A.
Removing Questions
Submission form questions can be removed by the administrator only if there are no existing submissions which are using that question.
On the submission form edit page, the "Remove" button will appear to the right of the desired question choice:

The administrator will be presented with a pop-up to confirm the delete action:
In this case, the question can only be hidden using the "Hide" option.
Alternatively, if the associated Submissions are deleted or moved to another Pipeline, the question(s) in this case can be removed as needed.
Development Fields
Development fields are used with the Development tool.
Administrators can set a submission form question as a development field by selecting the option 'Development Field.'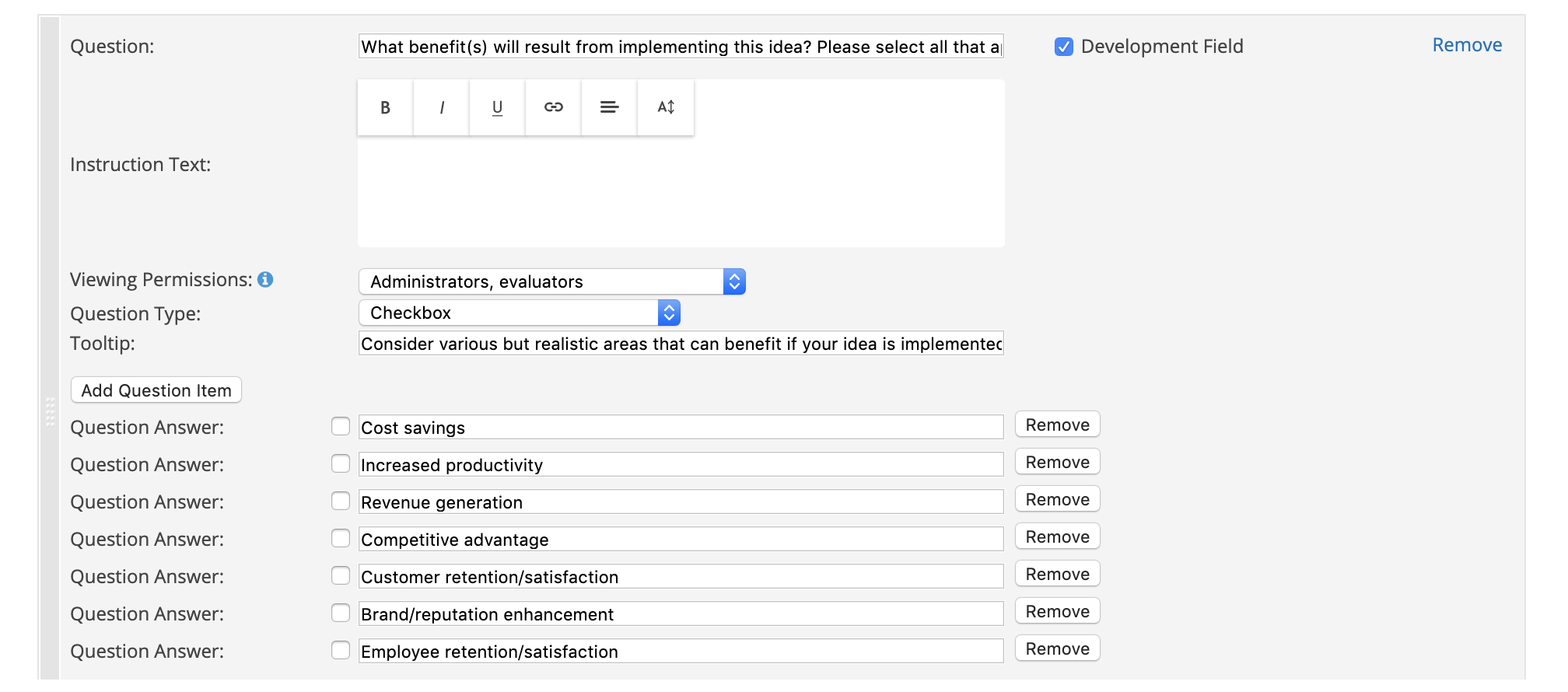 Instruction text can be provided for evaluators on development action items.
Administrators can set the viewing permissions to control which users can view the development fields:
Administrators, evaluators
Administrators, evaluators, submitters
Administrators, evaluators, all other users
The following question types are available for development fields:
Multiple Choice
Checkbox
Short Answer
Long Answer
Dropdown
Date
Number
User Selection
Instructional Text Block
Attachment