Brightidea Community Administrators have the ability to manage Sites/Pipelines within their Community including access to all associated Site and respective setup areas described below.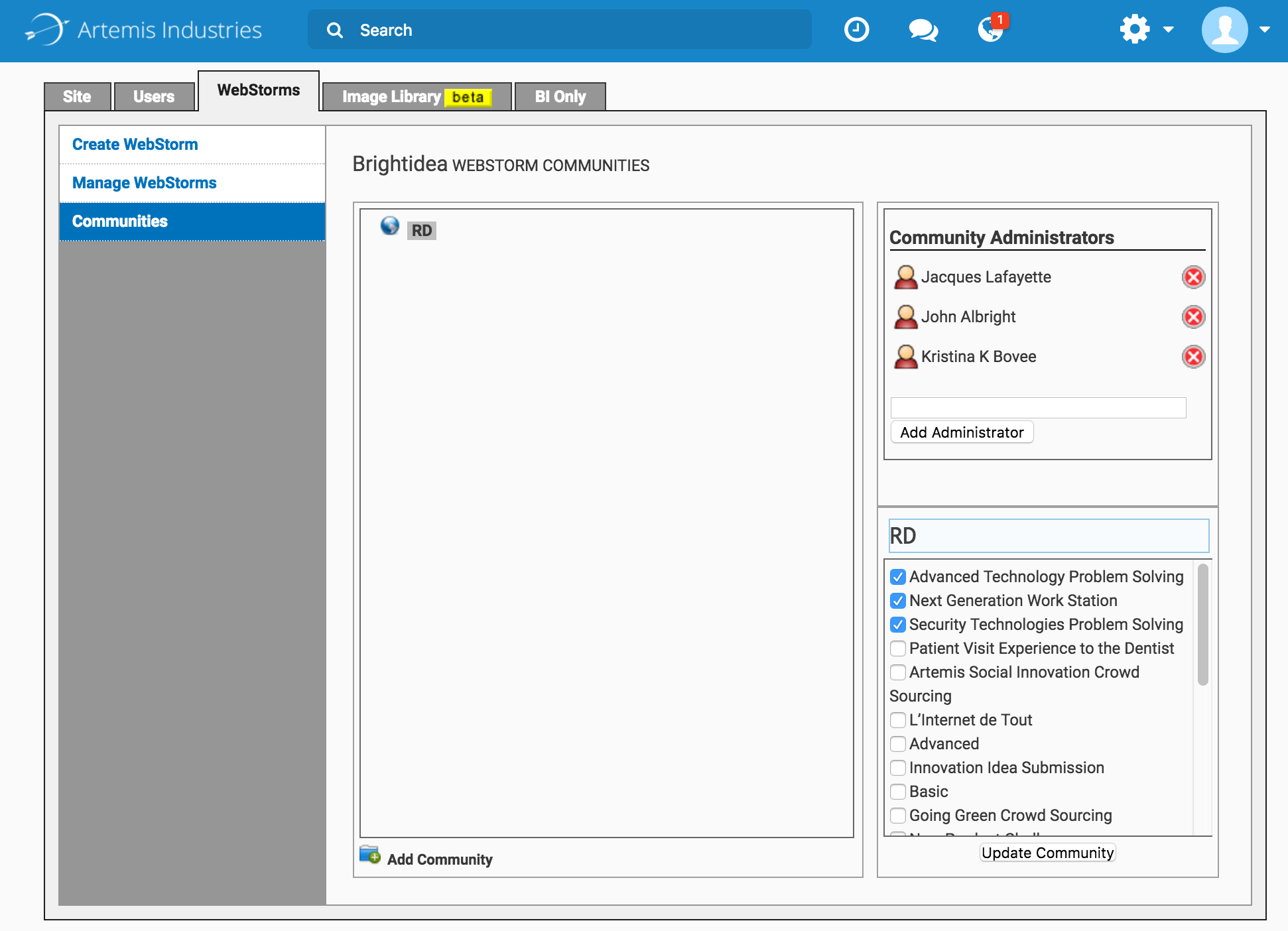 Within Communities, the System Administrator can give a user Community Administrative rights.
To configure Community Administrators please follow these steps:

Go to the Community Landing page, and select Setup link, the administrator should be on an URL that looks somewhat like this:
https://suite.brightidea.com/ct/c_ent_homex.bix?level_id=08D60BDD-F68E-465D-80F7-0BE1C67226E5&a=OD152
Select Setup > Sites > Communities tabs

Select the community from the list.

On the far right, the admin will see a section that says "Community Administrators"

Note: Any system administrator is inherently a community administrator already and do not need to be added here.

Once there, add any users to be a Community Administrator

Once a Community Administrator is configured for a given Community, they will have complete access to that Community's setup area.
With the Community setup area, administrators are able to:

Change the Community design, Navigation links and email settings.
Manage users and groups
Block users
Manage & Create Sites within the community
and more!
Creating a New Site as a Community Administrator
The community administrator has the ability to create new Sites/Initiatives within their community.

Click here to learn more about creating new Sites

Community administrators also have ability to create Sites from Brightidea's pre-built Applications by clicking "Click here" in the top banner on the Create Site tab: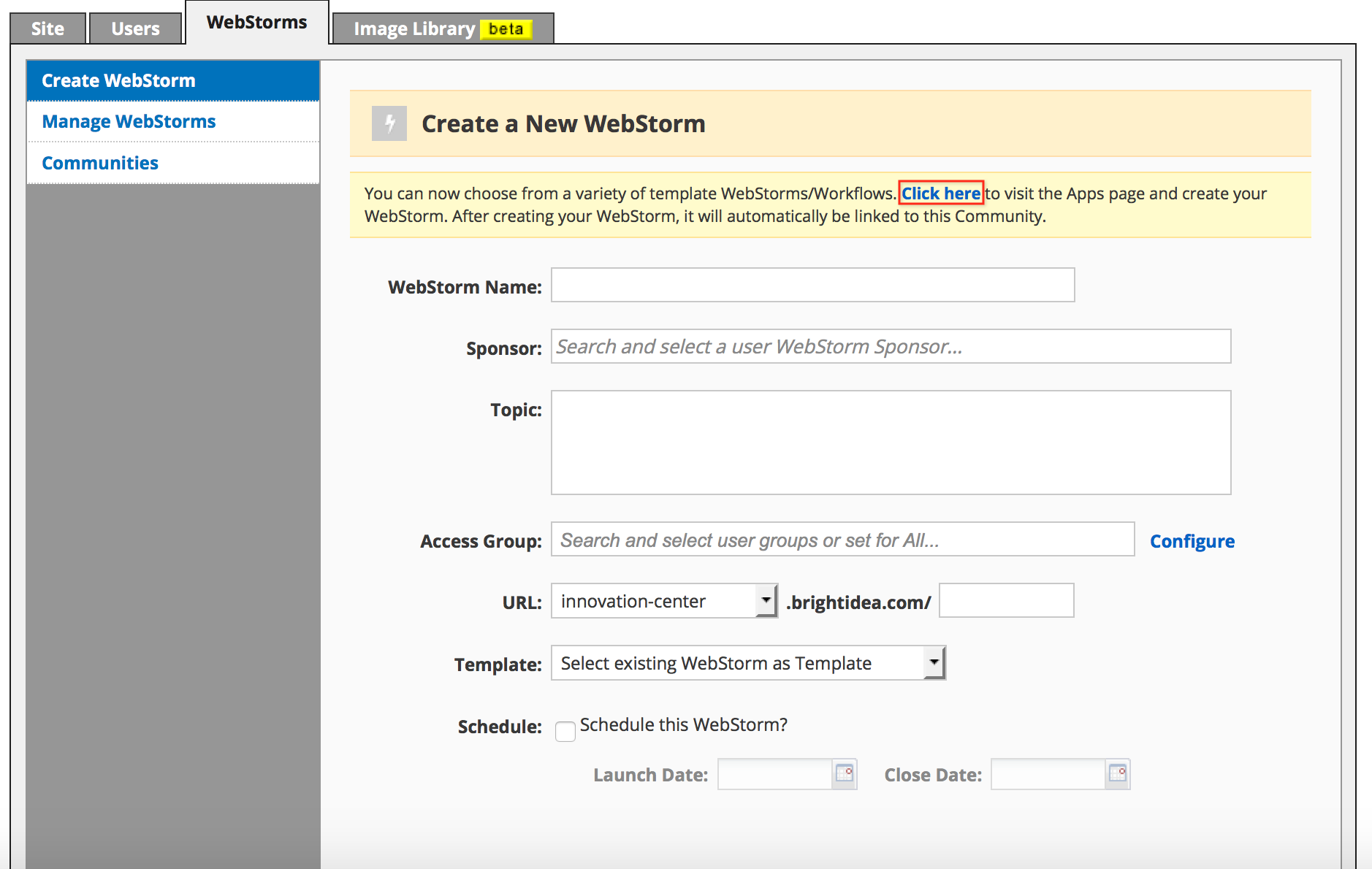 Once selected, they will be redirected to Brightidea's Applications page in our Pipeline Manage area.

To learn more about Brightidea's Applications click here
Note: For any new Site or App created, they will automatically be linked to the Community in which they were created and the Administrator who created them will automatically have Administrator access.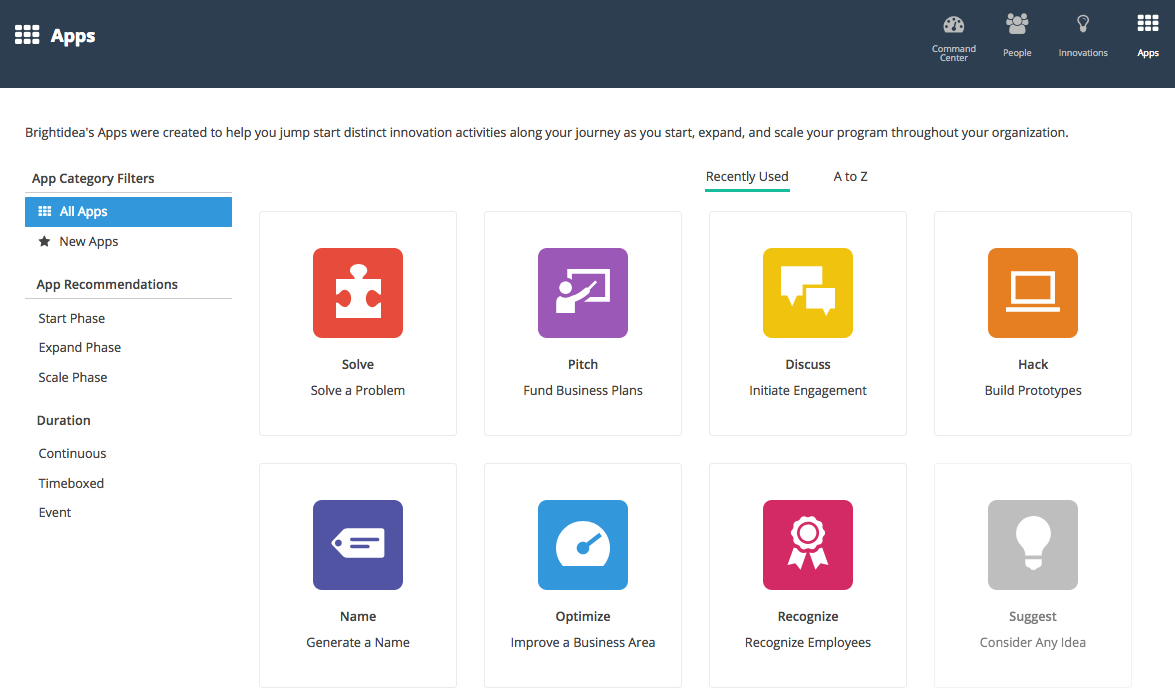 Site Access as a Community Administrator
Once a Initiative/Site is created, it automatically gets added to the Community in which it was created.
The Community Administrator will have full administrator rights in those Sites/Pipelines.
This includes:
Copying a Community
System and Community Administrators can quickly copy a community by visiting the communities section in the setup menu. To make a copy, select the community that should be duplicated. Once selected, a "Copy Community" button will appear beneath the community interface. Click the "Copy Community" button and a new community will appear in the interface.

Important Notes:
If you are on Brightidea's Admin-based licensing, each user who is configured as a Community Administrator on your Brightidea site will count as an admin license towards your Brightidea subscription.