Getting Started:
Access to your WebStorm is controlled using the settings in

Initiative Setup --> Site --> Security > What type of site do you want?: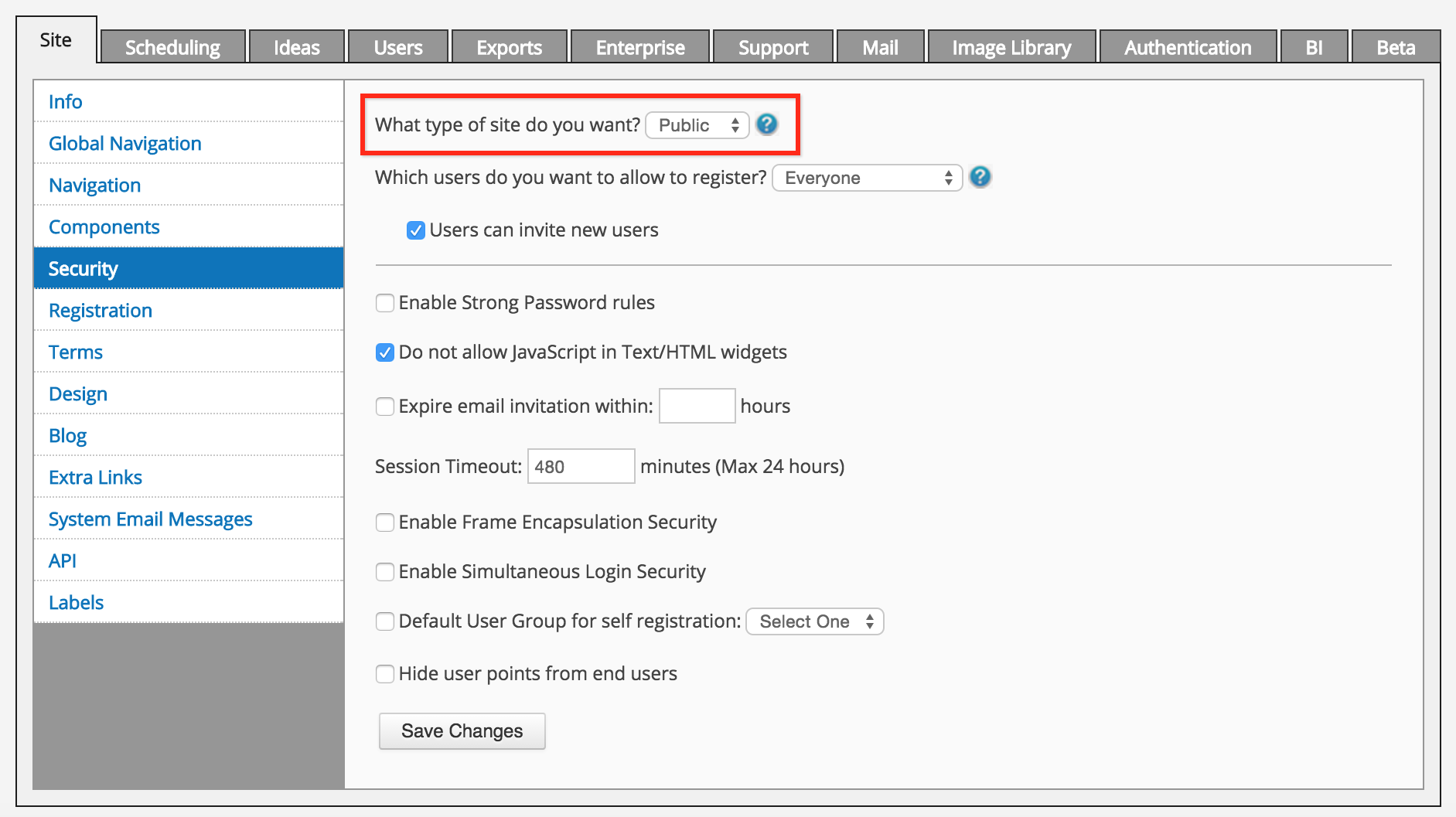 The options in Initiative setup are Public or Private.

Private:

A user must register and log in before browsing the site.

Public

: Anonymous users are allowed to browse the site without login.
In both cases, the user must register and log in before submitting ideas / comments / votes.
A Public Initiative means the following:
External and non logged-in users can view all ideas (except if they are hidden) and all Challenge/Initiative pages.

Users still need to register and login to submit ideas, comment, and vote.

External and non logged users can view all widgets with information.

All content in blogs will be visible if the WebStorm is public.

Self-registration is used to gather new users, but admin invites only can work with this as well.

If site is public, the system will send the user to idea list after logout.

If they are logging out from the homepage, the system will send them to the homepage.

Any ideas that are hidden, will not be visible to any users - logged in or out

An example of a public facing Initiative is our own IdeaSpace (https://ideas.brightidea.com)

A user must log in via the login widget on the top right highlghted in green.

Any public Initiative content is visible, but no participation can be made until users log in and/or register.
Please refer to the section below regarding running private & public Challenge/WebStorms simultaneously
Group Restricting Private Initiatives
To keep people sectioned off in separate Challenges/Initiative, we need to leverage group restriction within Enterprise.
In order to effectively keep the experience of users logging into the correct

Initiative

allowed, we must pre-load these users in appropriate groups and provide them with the URL(s) of the Challenge/

Initiative

- to keep them contained in their

Initiative

(s).
If we give them Enterprise login - their respective public or private

Initiative

will show up (if the

Initiative

is active, marked Enterprise, etc.)

Group restriction is key. - If the user is not in the group, they will not have access or "see" the URL of the

Initiative

in any widgets, etc. You can find more information on group restriction here.
Steps to section off restricted Challenges/WebStorms with new users:
Import users into the system via User Import in Enterprise Setup
Import them into the designated groups via Group Import in Enterprise Setup
Send users email/newsletter with URL of the

Initiative

- informing them they must set their password with the minimum requirements.
Once they set their password - they will login to the

Initiative

.
If you have questions/concerns about this process - please contact your Brightidea representative.
Important Things to Note: