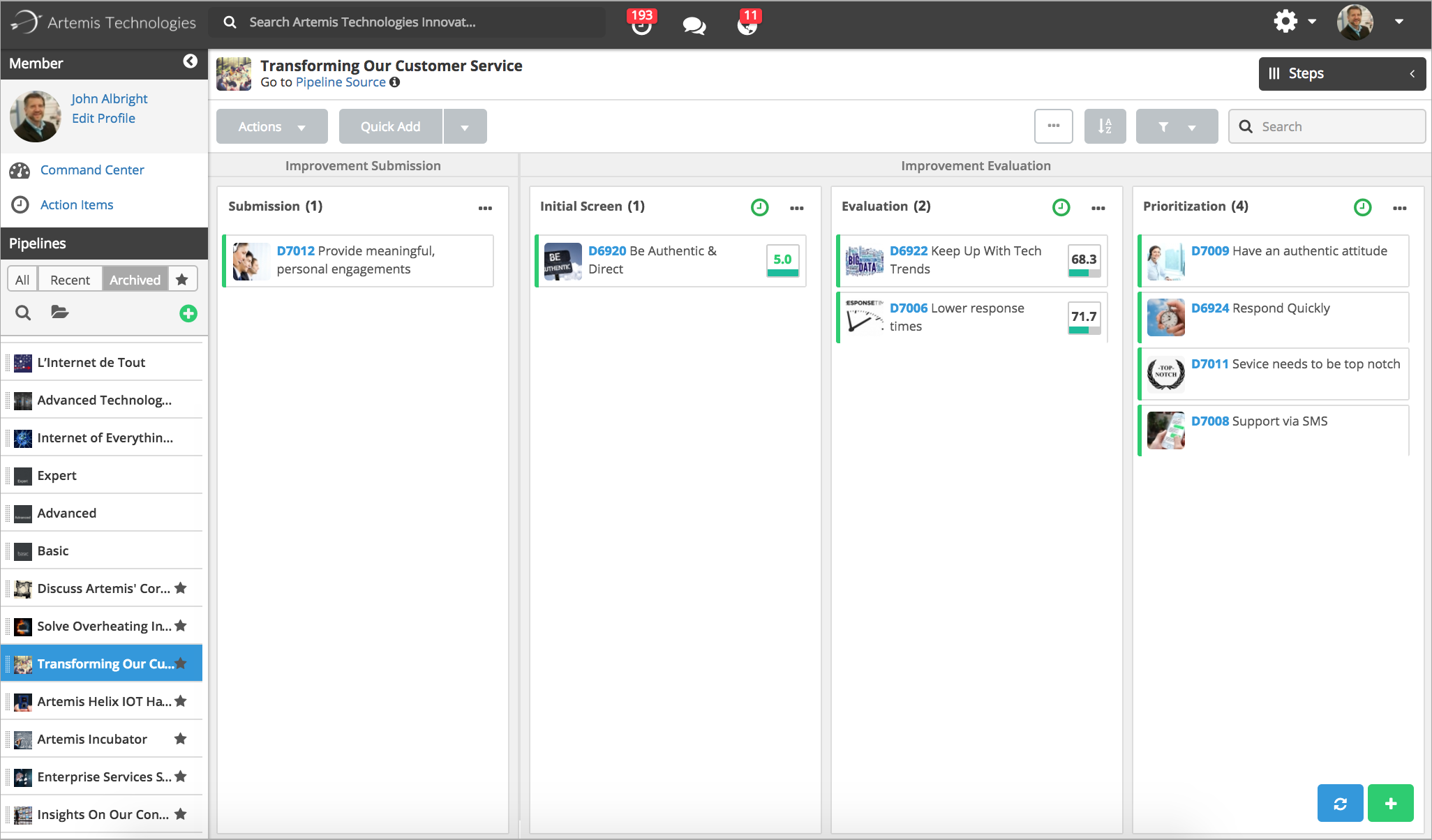 Table of Contents
Getting Started
No two innovation processes are the same. The Brightidea's Pipeline Management is designed for massive flexibility and configurability, so whether you are deploying internally or externally, whether time-boxed or continuous, Brightidea can meet the diverse innovation needs of your business. We know it will have a huge impact on your teams' innovation program going forward.
With that said, let's get to some of the key information we need to review with you.
Browser Requirements
Brightidea's Pipeline Management is supported in the browsers listed below. Older browsers can still be used, but our newest and greatest features may not look or work as intended.
Google Chrome (latest version recommended)
Mozilla Firefox (latest version recommended)
Apple Safari (latest version recommended)
Microsoft Internet Explorer 11
Brightidea's Pipeline Management supports three roles with different privileges:
Site Administrator/Pipeline Manager: This can be any user who is assigned to manage and maintain an Initiative's Pipeline. Once a user is set as the Site Administrator/Pipeline Manager, they can conduct everything needed for their specific Pipeline(s).
Accessing Pipeline Management
The Administrator can navigate to the Pipeline Management area through either Global Navigation or Dynamic Navigation.
Global Navigation: Select the "Command Center" link from the Global Navigation gear menu drop-down menu: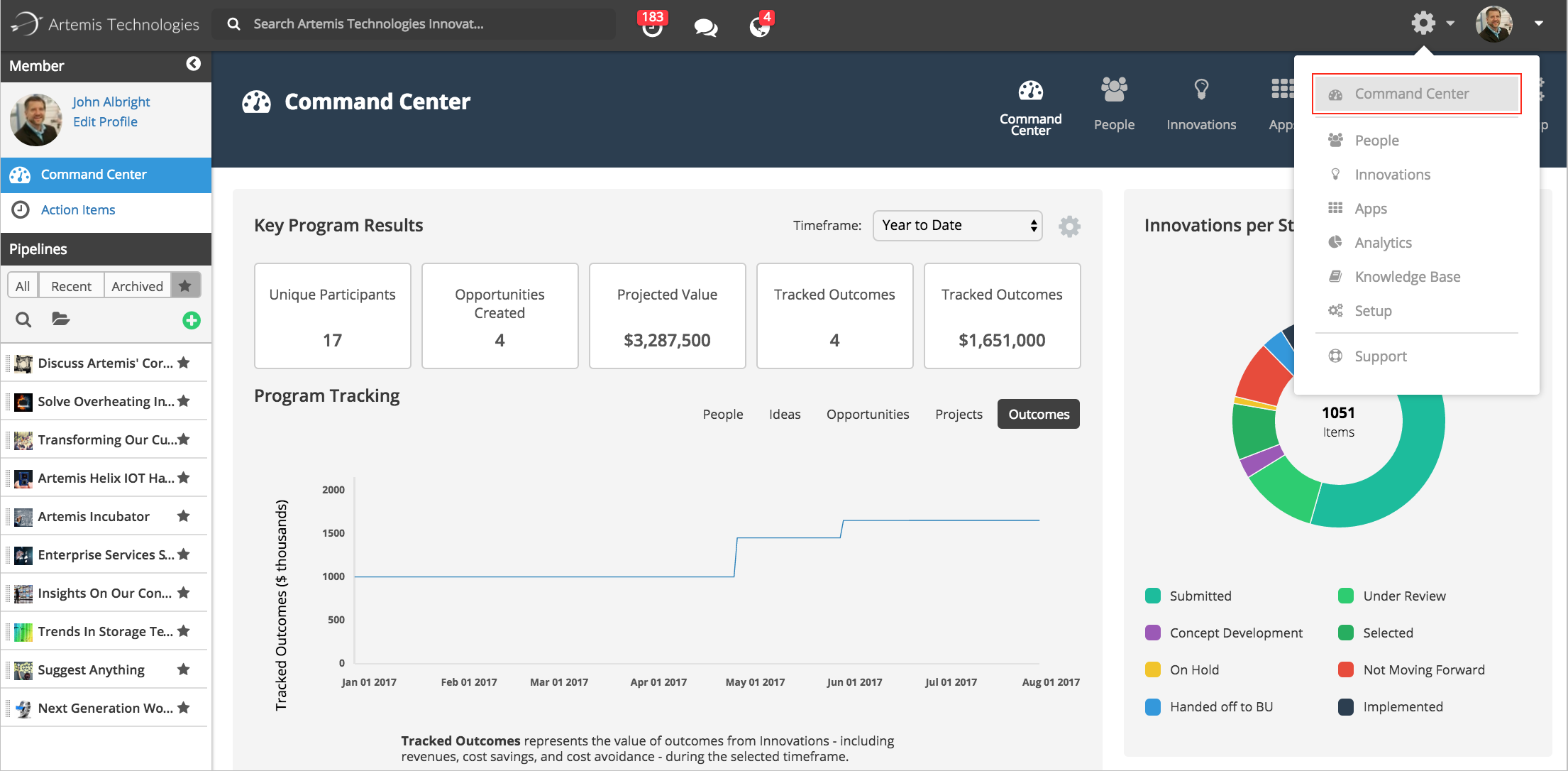 Then, select any Pipeline from the left panel: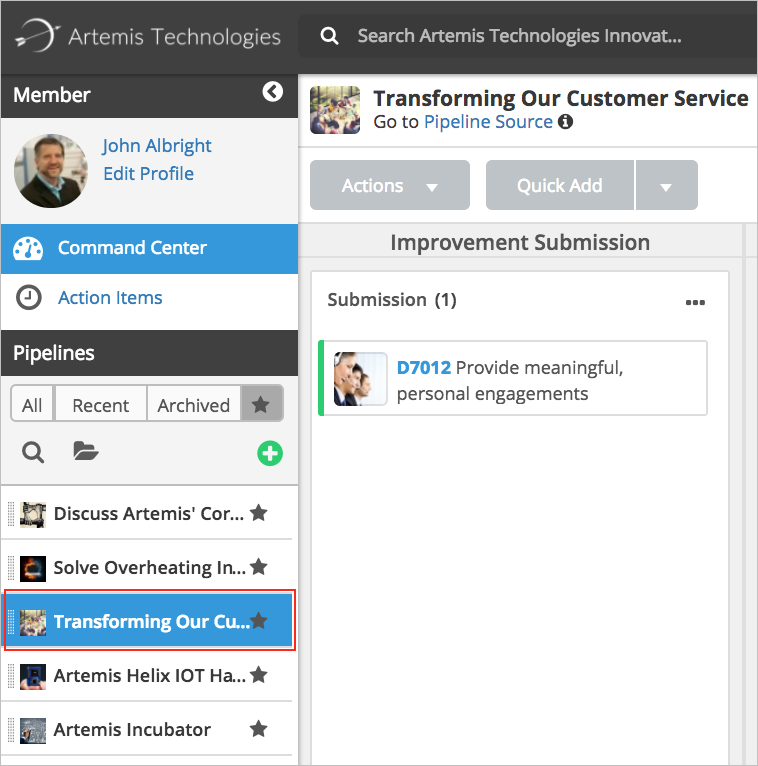 Dynamic Navigation: Select the "Manage Pipeline(s)" link from the Enterprise/Site navigation bar: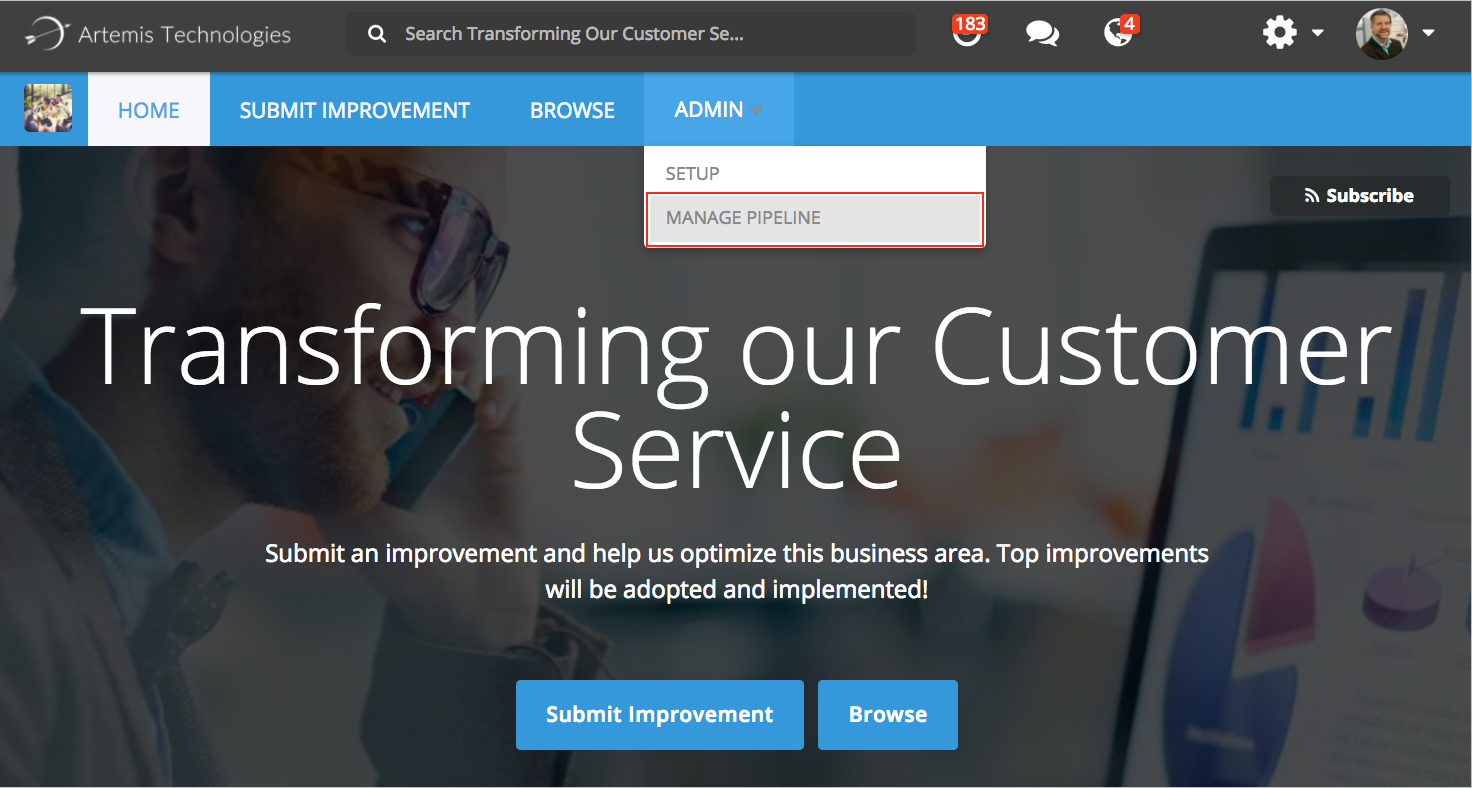 Add the "Manage Pipelines" dynamic navigation field in the setup menu if needed:


Pipelines
One of the things Brightidea knows very well, is that innovation is always changing. As a result, Brightidea has built in state of the art functionality to make sure all maintenance and organization of your team's Pipelines (and ideas in those pipelines) are done without a problem.
A Pipeline is the overall set of tools (including front-end Site) that allows innovation managers to control and automate their idea workflow from idea submissions, to evaluations, all the way to project implementation.

The Member Area & Pipeline Manager (left panel) in Brightidea allows the Manager to view, manage and create any Pipelines:

When creating a Pipeline, a Site is also created in the Brightidea system to crowd-source ideas.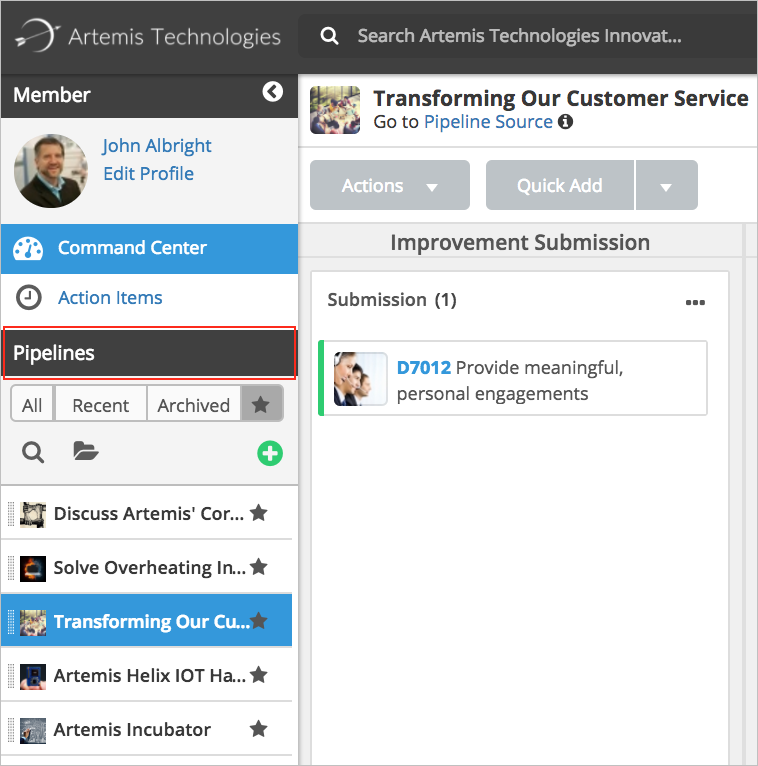 Creating a Pipeline
To create a new Pipeline, select the "+" sign from the left Pipeline Manager left side bar: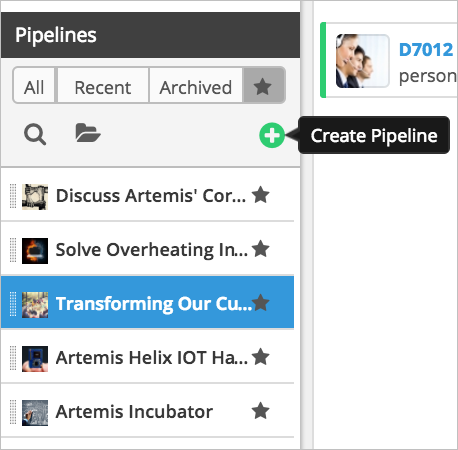 Administrators can also select the "Apps" link from the Global Navigation gear menu drop-down menu: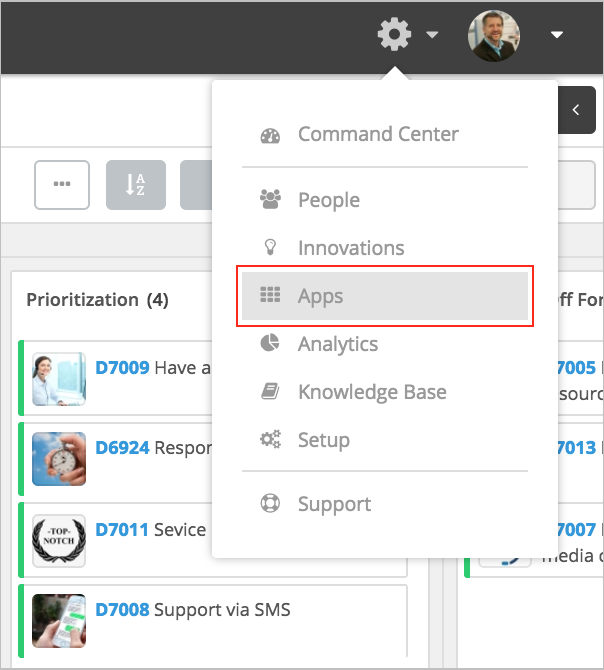 The Manager will be presented with a wizard allowing them to create a Custom Pipeline, Copy Existing Pipeline, or choose from one of Brightidea's Applications

Creating a Custom Pipeline allows the Manager to create their own designated workflow leveraging all tools available.
Copying Existing Pipeline, will copy all stages and steps from a pre-existing Pipeline to a new Pipeline.
Creating a Pipeline through one of the Applications will set up a pre-configured pipeline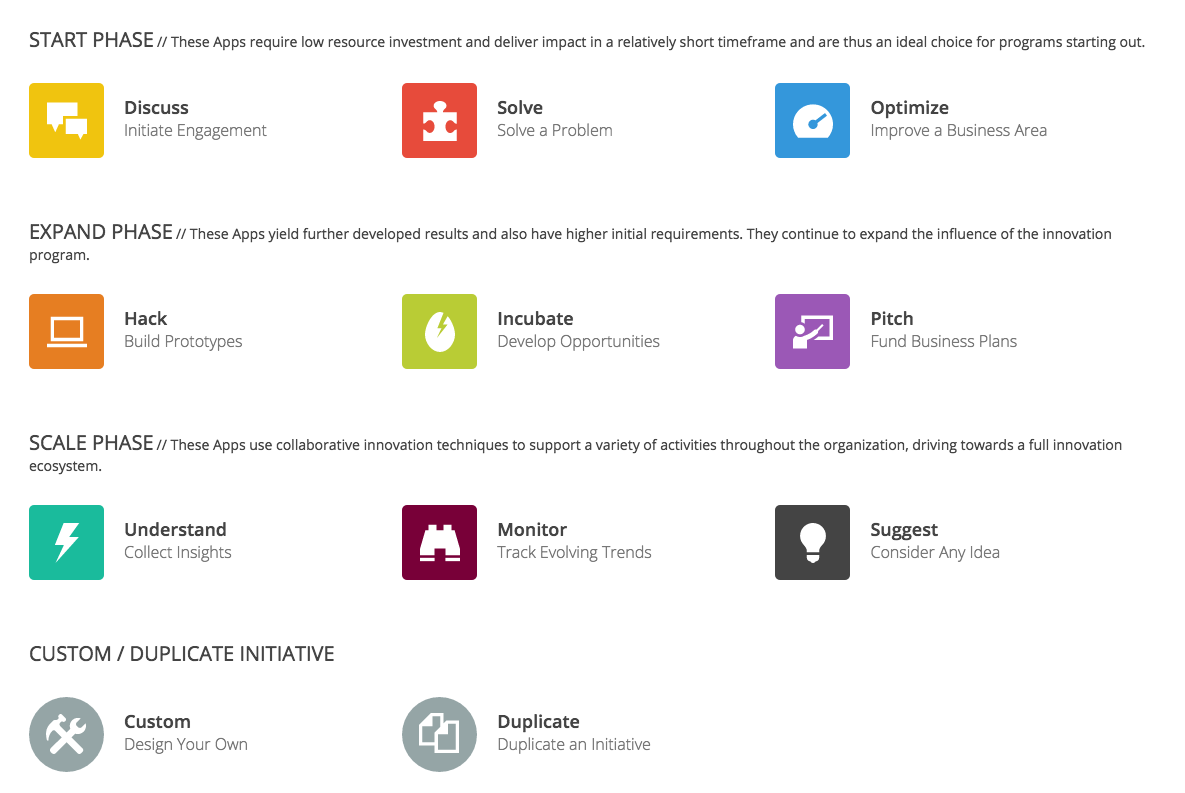 First, fill in the new Pipeline name and description,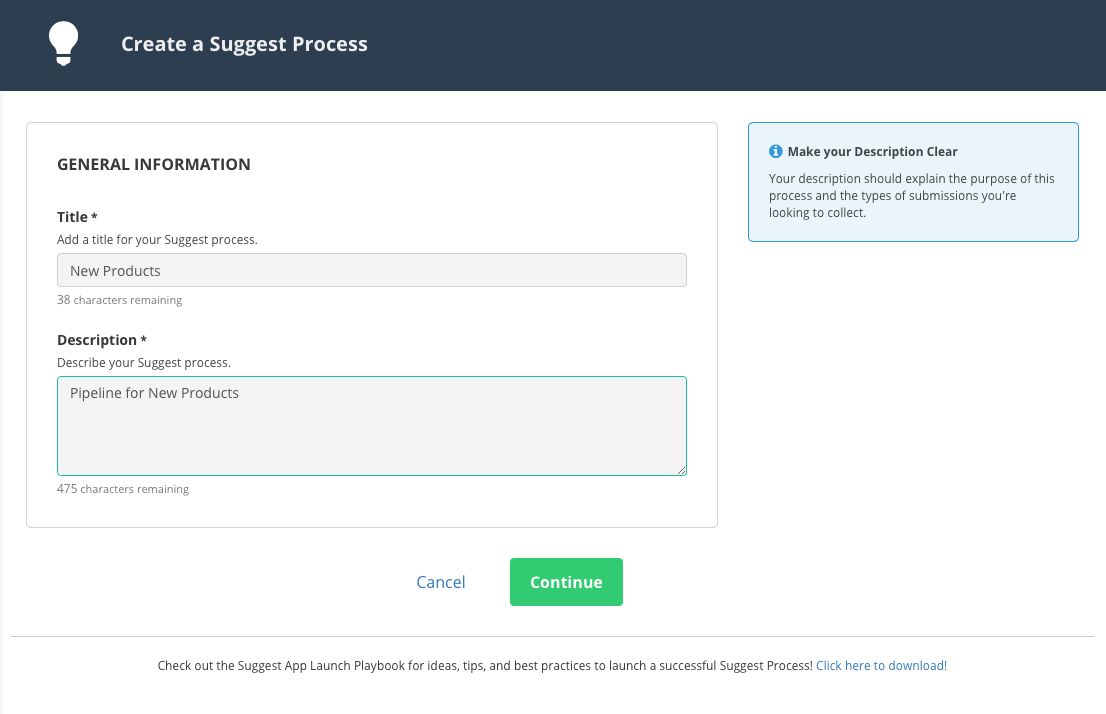 Select "Continue" to proceed to the next screen.
Next, the Manager has the option of using the Default Design, copying from an Existing Initiative, or copying from Enterprise.

Using Default Design provides the out-of-the-box design of the selected App.
Copying from an Existing Initiative allows the Manager to replicate the design of a previous or current initiative.
Copying from an Enterprise Site gives the Manager the ability to match design elements from the Enterprise level.

Managers can choose to copy over Enterprise color, banner, footer, and/or CSS settings.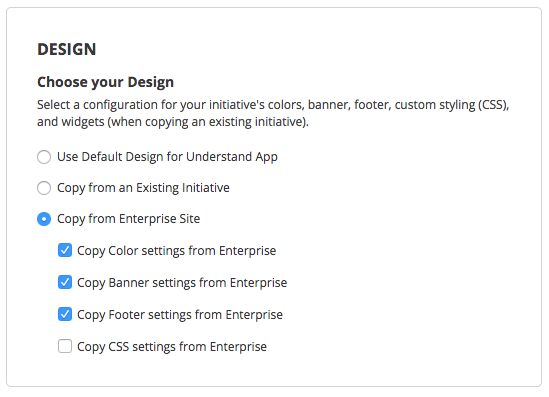 Lastly, fill in the following fields:

Permitted Groups and Users
Pipeline Administrators
Moderators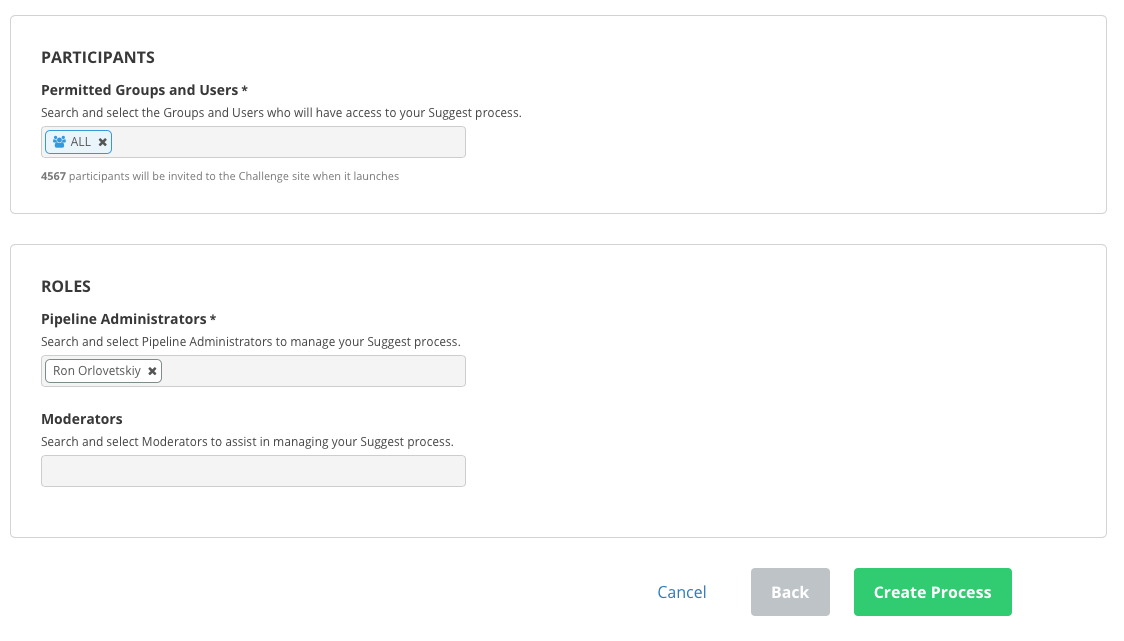 Once created, the Manager will see the Pipeline in the left hand menu.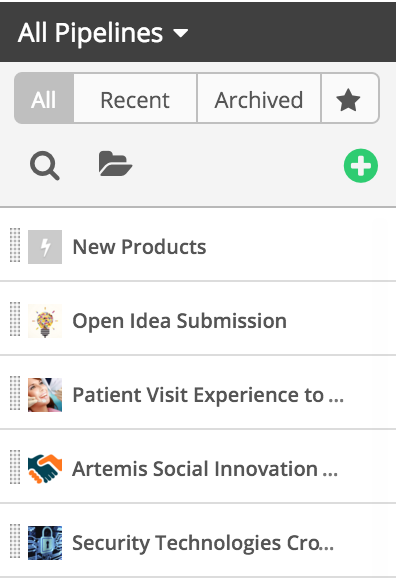 If your team needs to map an existing Initiative to a Pipeline, please contact your Brightidea Account Manager!
Pipeline Manager (Left Panel)
The Left Menu Panel allows Manager(s) to access and manage all of their Pipelines. Within the panel, the Manager has access to the following information and activity:

Action Items: View & review their own open and completed action item
Command Center: Users can navigate to the IPM Command Center
Sort and Filter Pipelines
The left menu panel allows Pipeline Manager(s) to archive, favorite or delete Pipelines.
The manager / user can right click on any Pipeline to view the following:

Deleting any Pipeline will delete all Site data! Including Ideas, Comments, etc)!

Site Home: Direct link to Initiative home page
Add to Archive: Adds Pipeline to 'Archived' section
Add / Remove from Favorites: Can favorite the Pipeline for easy access.
Delete: Delete the Pipeline and all its content / components
Setup: Links the Manager to the Setup page for that specific Initiative.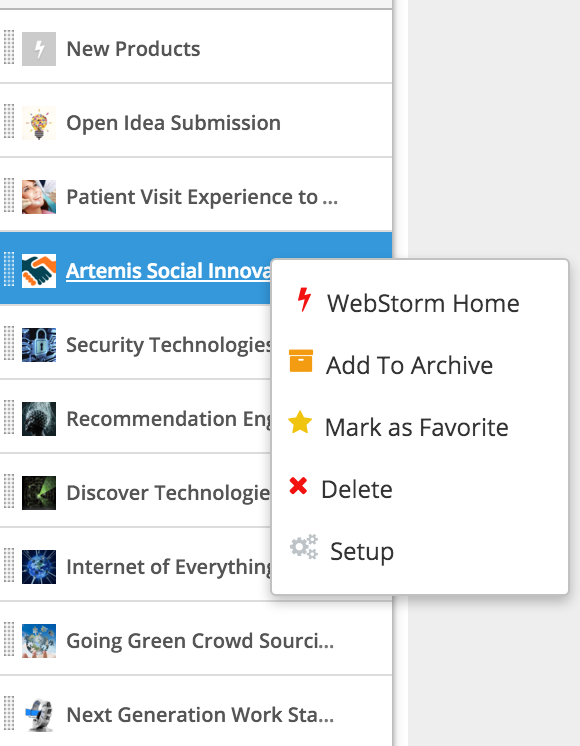 To search or sort Pipelines, select one of the sort options (All, Recent, Archived) or type into the search field to filter.

All: Sorts all accessible Pipelines to the user / Manager.
Recent: Displays, and sorts, all accessible Pipelines by creation date.
Archived: Displays all accessible Pipelines that are marked 'Archived'

Managers can also organize Pipelines into folders

The user / Manager can select the folder icon to create a new Pipeline folder.
Once a folder is created, any user can drag and drop Pipeline(s) into that folder.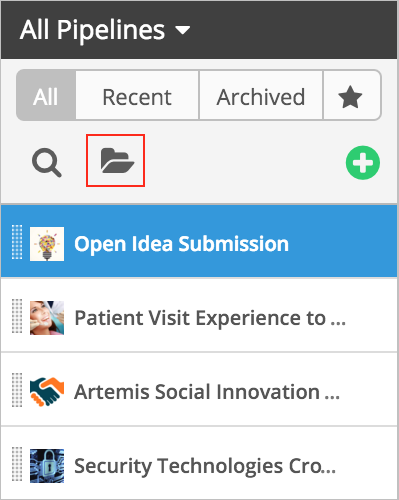 Right Slide-Out Menu
The Right Slide-out menu, allows all Pipeline Managers to access several key areas within the new Platform area.
Steps: This is the main view for each Pipeline. This view displays the all created stages, steps and ideas.
List: Access the list (Grid) section of Platform to manage ideas.
Learn more about lists here!
Dashboard: Review selected Pipeline & Initiative metrics / statistics via this page.
Communications: You can configure certain Site email templates in this tab
Knowledge Base: Takes the users to the Command Center Knowledge Base.
Pipeline Setup: Allows the Pipeline Manager(s) to access Pipeline setup where they can configure site information, rules engine and templates for scorecards.

Please Note: Altering any information in Pipeline Setup will also update onto Site. (i.e. if a Manager updates the Pipeline name or description, it will update the Site name on the front end)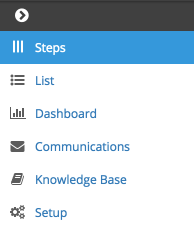 Enhanced Idea List
The Idea List (Grid) section is a powerful way for Pipeline Managers to fully manage all ideas in their Pipelines.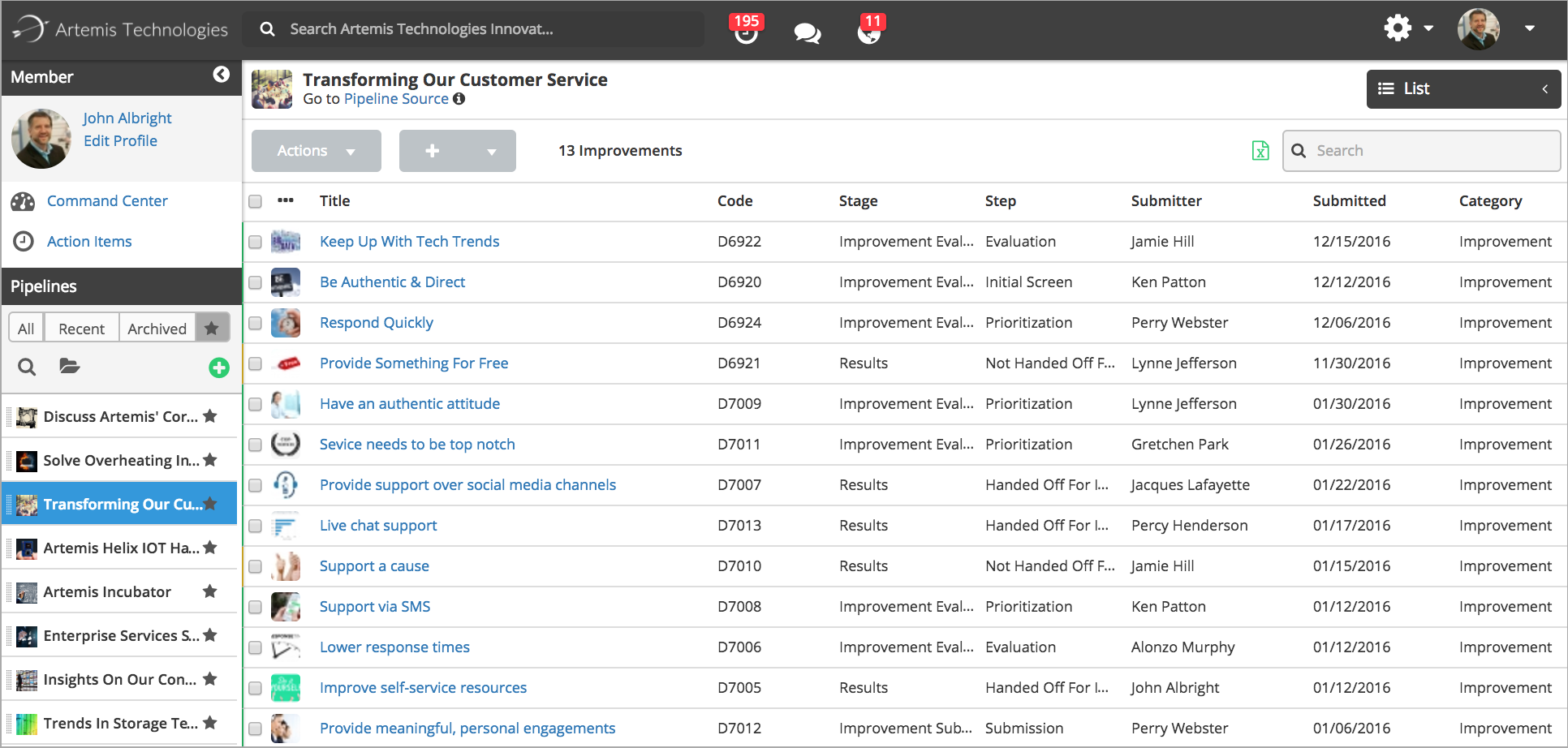 Learn more about the Enhanced Idea List, here!
Stages
Stages are ways to organize the steps into higher groupings in the Manager's Pipeline.

With stages, steps can be grouped into a process work-flow. This workflow can include a process from collecting ideas from participants, to triggering action items to Subject Matter Experts, and to handing off ideas to respective business units.
Sometimes, an innovation teams' stages may include more than just one action. As a result, Brightidea allows Managers to add as many steps as needed to fall under one 'stage' in their innovation process.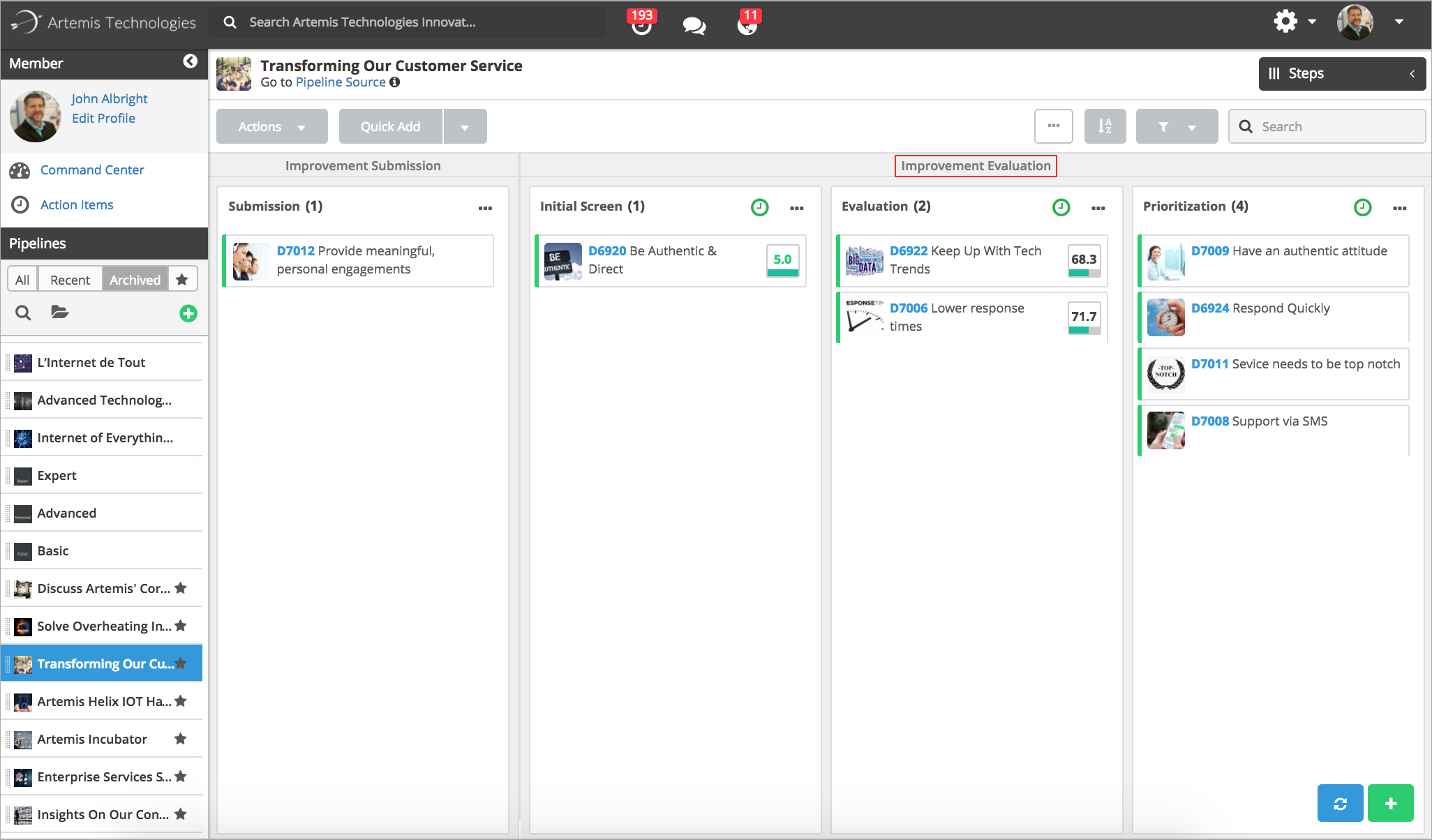 When a new Pipeline is created, the Manager will see the default stages.
The Manager is able to rename these stages by selecting the pencil icon in the Stages top bar above the steps.
To create a new stage, select the "+" sign in the lower right-hand corner of Platform when creating a new 'Step'.
Steps & Tools
Steps are separated instances where the Pipeline Manager(s) can manage and advance ideas through various tool types. Innovation Program Managers can now advance ideas from step to step to flesh out their custom work-flows with ease.
Within Brightidea, the Pipeline Manager can create separate steps. The 'Create Step' pop-up fill in the required criteria:

Step Name: Enter the name for the new step
Select Tool Type: Select the required tool type for the new step.
Select Stage: Select the stage name of where the new step will be placed.
Complete the process by selecting "Create".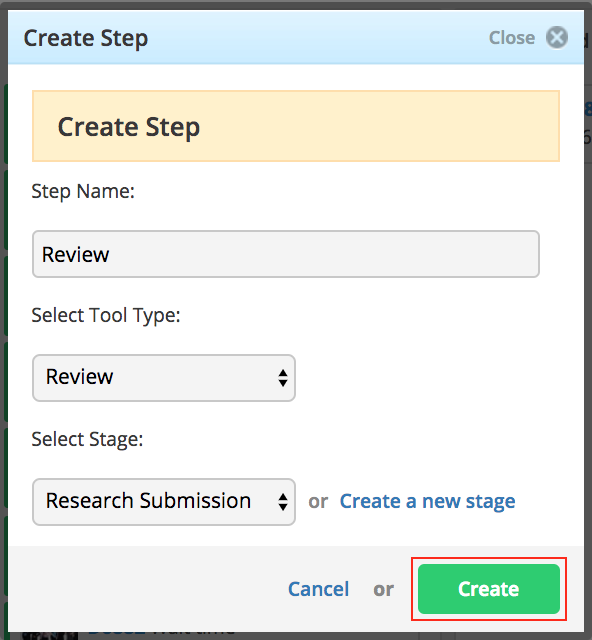 Configuring a Step & Trigger Action Item(s)
By default, the first 'step' in the Pipeline is the Site idea collection. Therefore, all submitted ideas are shown in this first step.
For the second, third, fourth, and so on.. step, the Manager can configure all actions when ideas are dragged and dropped into each of these specific steps.
For this example, we will configure a 'Review' tool for our second step in our Pipeline:

Here, the Pipeline Manager can assign action items accordingly based on the tool type in this step. As a result, as ideas are moved into this step, all 'Evaluators' will be assigned action items automatically. The Manager can specify email communication, when the action item is due, and more!

Navigate to Step Ellipsis Menu > Configure 'Review'
He/ she can then Assign a 'Review' action item to their evaluator(s).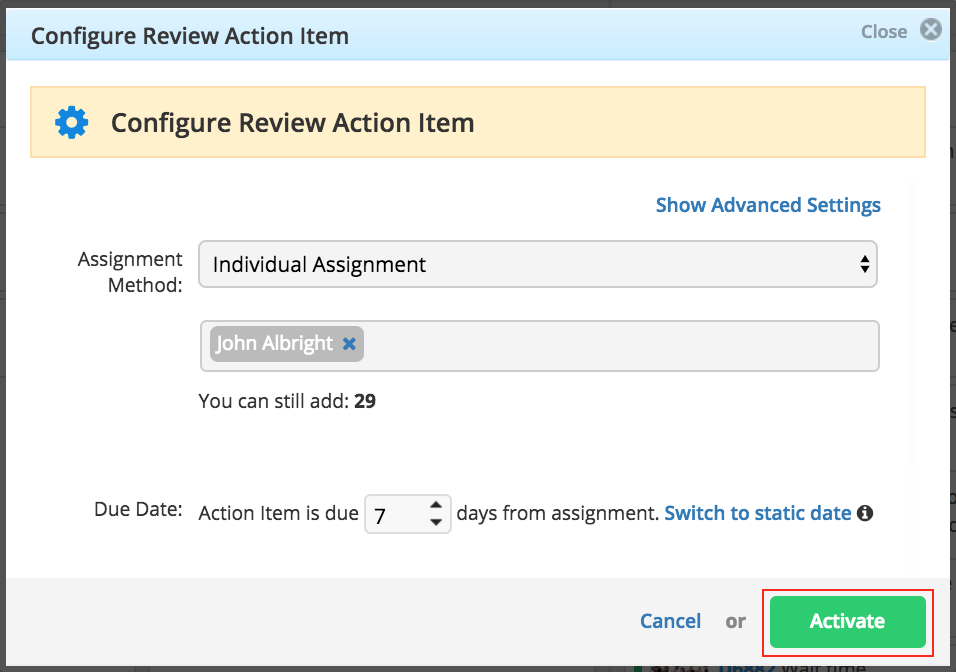 After the action item is triggered in Brightidea, the assignee will receive an email / notification notifying them of their open 'Review' action item to complete.
The 'Review' action item, is just one out of many different action item types available in Brightidea.
NEW: Action Item assignees may now be removed from the Step Configuration modal while preserving previously Completed Action Item data
Open action items will be canceled

Completed action items will remain saved
Completed Action Item results will remain visible in Step Manage pages, evaluation scores and summaries, and exports

The removed assignee will no longer receive new action items

Assignees (along with completed action items) may still be permanently deleted from the Action Items Progress page

Removed assignees may be re-added to the Step

This will not re-assign any previously assigned Action Items to the Evaluator
For Category Assignment, the assignee must be removed from all Categories in order to appear in "removed" state

Assignee may still be permanently deleted from the Action Item Progress page; this deletes them as an assignee from all Categories
To learn more about all the different tool types available (and the experience of assigning action items from these tool types), please refer to this deep dive article, here!
Managing Steps
When ideas are dragged into each step, and action items are triggered and completed, the Pipeline Manager needs to be in the know of everything that is happening. When the Manager selects to 'Manage Step', they will be brought to a high level overview page to review all progress of the step.
For each step, and each tool type, the Manager can review data points such as:

# of Completed vs. Open Action items (associated with that Step)
Names of Evaluators - and their total completed percentage of their action items
Avg. # of days Action Items are open (or take to be completed)

The administrator can export data, make decisions on the ideas from moving forward or not (to proceeding steps), send a reminder to all action item assignees of that step, as well as edit the due date.
To learn more about managing steps, refer to this deep dive, here!
Automating Pipeline Steps with Rules Engine
One of the best features of Brightidea is the incorporation of our Rules Engine.

What this allows is our Innovation Program Managers and Pipeline Managers to automate their pipeline from start to finish.

For one example, a Pipeline Manager can set up a rule to change a status and trigger a custom email, automatically, when ideas are dragged or moved into this specific step: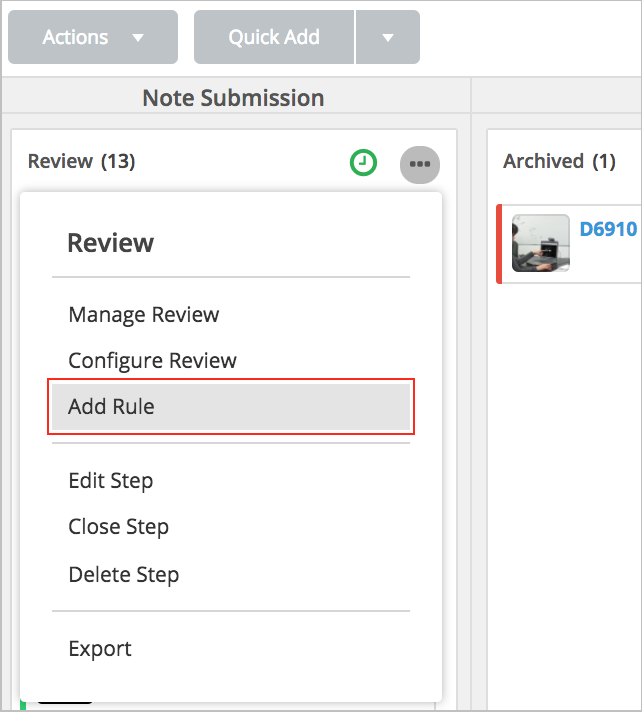 To learn more details around the Rules Engine with Brightidea, refer to this deeper dive article, here!
Additional Important Things to Know:
Pipeline Management is not label editable at this time. (no translation support)
A Site is created as part of any new Pipeline, and will always default to the first step in the Pipeline
Brightidea recommends no more than 20 steps max per Pipeline.
System Administrators have administrative access to all pipelines in the system.
Please see all the additional articles about Pipeline Management below!
Enhanced Idea List
Managing Steps
Steps, Tool Types, & Action Items
Leveraging Rules Engine