This article provides brief descriptions of each setup options available in Enterprise. System administrators can access the Setup page to enable or disable the available options described below. 

To access the Enterprise Setup page, log in to your Brightidea Site with an administrator account.

Click on the Setup link that is located in your 'Global Navigation' bar or a link in your dynamic navigation if available. 

The Enterprise Setup Page is divided into nine main tabs: Site, Ideas, Users, Exports, WebStorms, Mobile, Support, Image Library and Authentication.
Table of Contents
Site
Info

Affiliate Name: Allows you to change the name of your Brightidea Site.
Domain Names: To set or change your Brightidea site Vanity URL (ex: apple.brightidea.com/enterprise), please make the appropriate changes here.

Global Navigation

Administrators can also configure the Masthead, Background and Logo.

Allow you to enable or disable Global Navigation for all Enterprise and the applicable Challenge/WebStorm(s). 

Security

Registration

Terms
Here email templates can be configured for the WebStorm. Please see this article to dig deeper into setting up the individual system email templates.

Administrators can configure and send out a newsletter to selected users. Click here to learn more about the newsletter.

Edit Labels: This section allows you to edit labels within the software that would otherwise be difficult to reach with standard label edit mode (e.g. registration pop-up box).
Import/Export WebStorm Labels: Here admins can export the Enterprise Labels spreadsheet. Once the spreadsheet is filled with the appropriate labels they can import the new labels back into the WebStorm.
Ideas
Show promote only: This option removes the capability of demoting an idea from the Enterprise level using the old Idea List.

In your View Ideas list, only "Promote" will be the only voting option.

Enable Idea Tags Automatic Description: When enabled,this automatically subscribes users to tags that they add to ideas when submitting -OR- any tags users add to an idea when editing an idea.

Here administrators can configure Enterprise statuses including status name, description, system status and status color.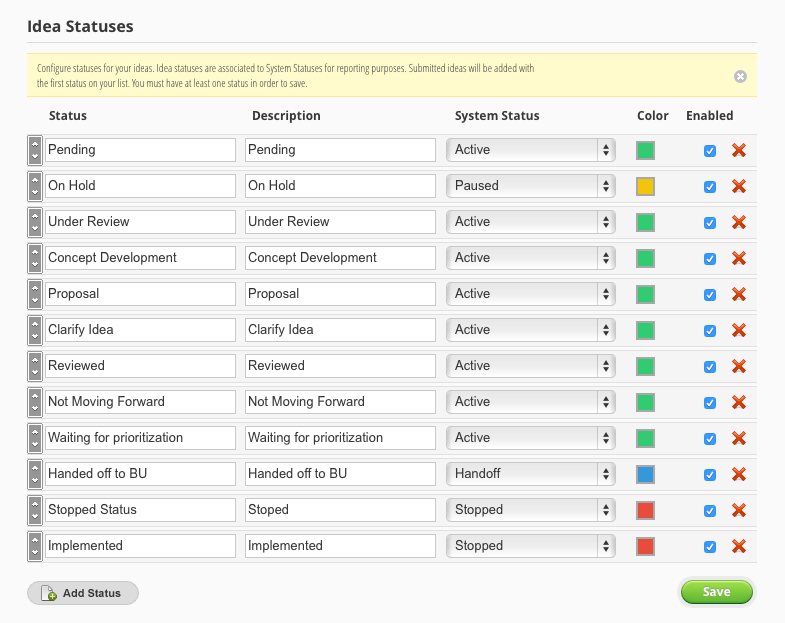 Administrators can create groups, grant or restrict access to WebStorm users across their Brightidea system. Click here to learn more about groups.

Administrators can search for users and create new user accounts. Click here to learn more on managing users.

Here system administrators can configure additional site administrator or remove any existing administrator from administrator access. Click here to learn more. 

Here you will find a list of all Blocked Users on your Brightidea site.
User profiles fields can be configured in this section. Click here to learn more about setting up profile fields for your site.

Here administrators can import users into their Brightidea site by downloaded the default template and importing it back.

Here administrators can import preconfigured groups into their Brightidea system.
Brightidea offers various reports available via export. Reports are organized by WebStorms, Ideas, Users, Login History, Search History, Tag Followers, and Site-Wide.

Click here to learn more about all available Enterprise level exports.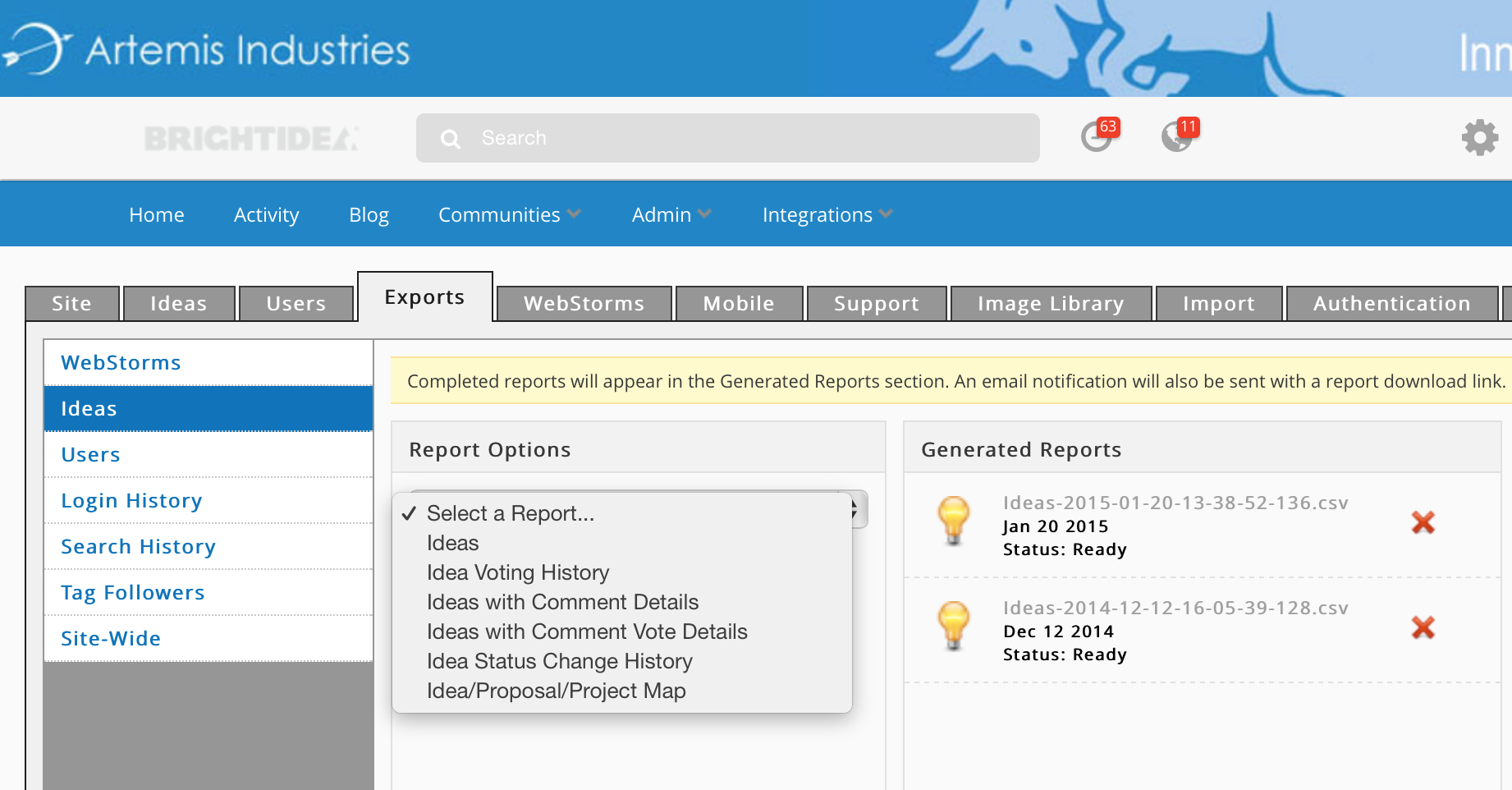 WebStorms
Mobile
In this tab administrators can activate Brightidea's mobile application for their system. 

Click here to learn more about getting started with Brightidea Mobile.

Once enabled they can modify the design, labels, and mobile link.
Support
Allows the administrator to quickly access the Brightidea Support Portal.
Please utilize the Support Tab to find articles, guides and submit any tickets to further assist you.
In the Image Library the administrator can upload images, documents, or media files for use for the Enterprise system.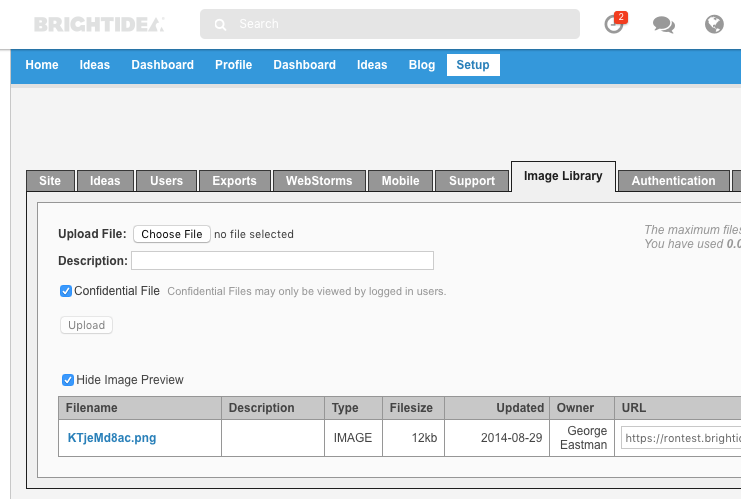 In this tab, Single-Sign-On can be configured for their Brightidea Site. Click here to learn more and read our complete SAML SSO documentation.